Best Hydroponic Weed Kits 2023: Hydro kits for Marijuana Growing
Cannabis growers are well-informed that hydroponic farming is the most authentic technique for growing cannabis for a higher level of Cannabinoids especially, THC and CBD. Since hydroponic depends on soilless mediums for growing cannabis, it ensures both quality and the quantity of the product in the shortest possible time. Several hydroponic weed kits are available in the market, facilitating the weed growers to carrying all cropping operations.
A quality hydroponic weed kit could allow growers to obtain multiple products in one cropping season. For achieving this milestone, many hydroponic marijuana growing kits are accessible along with several short marijuana strains that support this perspective approach. Marijuana growers' ambitions give rise to several innovative farming ideas within a hydroponic culture that consents them to adopt the best farming practices and quality tools to proceed. A complete marijuana hydroponic kit also does the same for the growers since they are keen to automate cannabis farming amid busy schedules.
The cannabis industry is on the move, and many interesting developments are taking place throughout the world. The cannabis being partly legalized within a few states in the US and Canada along with its active farming in Europe and few Asian countries, it emerges as the most popular and high revenue-generating crop in the world during 2023. The same is true for the cannabis growers, where they actively utilized several indoor marijuana hydroponic kits for medicinal and recreational use. Since the hydroponic kits give you a comprehensive command over total growth factors that results in quality product and bigger harvests. The cannabis growers can regulate these factors in some semi-auto cannabis kits. Otherwise, a fully automated cannabis kit could do it for you for all growth of your marijuana plants.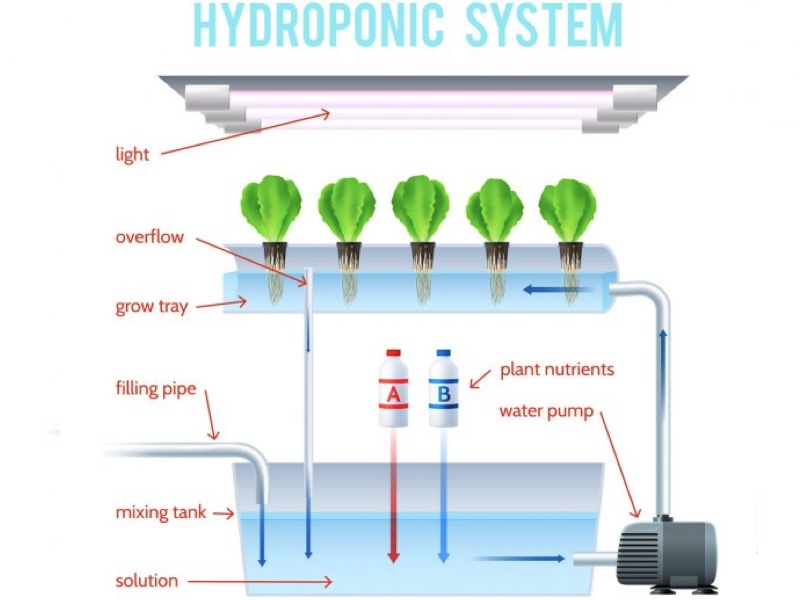 What type of growing kits to choose and which strain could suit your planting design all depends on your need and a type of hydroponic technique that you prefer under your circumstances, however, the majority of commercial cannabis growers prefer NFT, a system that use concealed water tubes to deliver nutrient-rich water directly to the roots of cannabis plants. It enables a cannabis plant to grow faster than usual and could also help you get the second crop soon after the first cannabis crop matures. The hobbyist and beginners could start with the Wick method or could jump to a DWC which is very effective in speedy cannabis growth and easy as well.
Before going into the final selection of marijuana hydroponics kits, it is also necessary to highlight why growing cannabis indoors is crucial. Firstly, Cannabis plants need a lot of attention like all other plants. If you grow cannabis indoors, you could better monitor the growth process and necessitate them immediately. Secondly, you may not be in a zone where it fully legalizes. But, you might have a certificate to grow it indoors, or you could have a medical prescription to use marijuana. Both factors make it a top choice for growing indoors since it could attract someone who is not legally authorized to use it.
Moreover, an experienced cannabis grower could better describe to you the speedy growth pattern and the larger harvests while using hydroponically-enabled cannabis kits available in the market place. However, there could be a definite increase in cannabis production that varies between 30-50% depending on the hydroponic system in use. Another advantage is to complete a speedy lifecycle that permits the growth of a successive crop. Now, we could move on to choose which type of hydroponic kits could better supplement your cannabis plant growth, leading to a higher yield. The entire range of the selected cannabis growing kits operate on the same principle But, they could differ in certain factors. Let us proceed with a few hydroponic grow kits for cannabis and see how they could help you growing cannabis indoors;
Reviews of Best Hydroponic Weed Kits 2023
#1 AeroGarden 903100-1200 Black Ultra LED, 1 Kit
AeroGarde-Black Ultra is an LED enabled cannabis to grow kit that allows the growers to produce cannabis indoors. The cannabis plants grow directly in the nutrients rich solution up to a height of 12 inches, and it could grow seven cannabis plants at the same time. It is a fully automated kit that informs you when to add nutrients to the water flowing over the cannabis roots and regulates LED lights switching on and off using its interactive smart control display. The smart display also guides you off the prospective steps and growing tips to optimum utilization of the input resource to the bigger harvests. Though it contains Gourmet herb seed pods that could easily replace with the cannabis seed. A 30W LED light delivers a spectrum that meets the light requirement of cannabis plants throughout its growth while placing it at a distance of 24 inches above the cannabis plant's canopy. See customers' rating and reviews here;
#2 PowerGrow Systems-(DWC) Hydroponic Bucket Kit 5 Gallon, 6 inches
This inexpensive hydroponic weed growing kit is a great option if you're looking to grow cannabis plants in hydroponic culture. It uses Deep Water Culture that is easiest to handle its entire operations. The cannabis roots get engrossed in nutrient-rich water solution contained in the reservoir. The reservoir is a 5-gallon High-Density Polyethylene bucket with a lid. It also includes a growing medium, air tubes, and a small pump to push nutrient dissolved solution. It also includes an air pump to push oxygen through the air stones so that the cannabis plants don't become oxygen deficient. The important factor while growing in DWC is the pH of the nutrients solution, and the growers need to buy a separate pH testing meter for this purpose since it doesn't include in the package. You could monitor water level through an indicator, and drain out is possible using a hole near the bottom of a bucket. The product warranty is one year from this US-based manufacturer. See what the buyers say about this product performance;
#3 HTG Supply Bubble Brothers DWC Hydroponic System 6-Site Classic
Amid hydro kits weed, 6-Site Classic is an excellent hydroponic marijuana growing kit that is easy to grow with and giving you a harvest like a professional cannabis grower. It also enhances the taste and aroma of cannabis buds with increasing Cannabinoids. For the kit aeration, HTG installs a large commercial pump while using quality bubble stones. It also outperforms several other units for an increased level of oxygenation and diffusion. 6-Site Classic for six classic cannabis plants of medium stature with individual air tubing and 10-Liters of the growing medium made with clay pebbles with each cannabis growing kit. Its electric pump operates on only 41 Watts. Other advantages that HTG offers their entire product range is the cheapest in the market place and arrives in attractive packaging. For product specification and buyers' rating, here is a link;
#4 Hydrofarm RS5GALSYS Root Spa Deep Water Culture Bucket System, 5 Gallon, black
It is another type of hydroponic system that gives you the liberty to grow your cannabis plants to their full potential. It uses Deep Water Culture, one of the best and easiest method to grow plants. However, it doesn't include an LED grow light, so the cannabis growers could better adjust it at a location that receives the full sunlight.
A 5-gallon bucket could effectively allow cannabis plants to develop a root system to the full extent and the plants could reach full height depending on the strain grown. The process in DWC is not complex as a simple air pump pushes air into nutrients solution while cannabis roots keep suspended in the solution to absorb nutrients coming in direct contact with the water. Plants keep on progressing growth speedily provided they receive a sufficient amount of light either from the sun or an artificial source. It is an eight bucket hydroponic system and could push air through a single air pump. See clients' satisfaction level and product ratings using this Amazon link;
#5 TopoLite-Dark Room Indoor Hydroponic System Kit with LED Grow Light and Tent
TopoLite's new marijuana hydroponics kit has everything that a newbie or a hobbyist is looking for growing cannabis. A darkroom that contains twin doors each measuring 24 inches across the height of the darkroom, a highly advanced 300-Watts UFO-LED Grow Light, and a hydroponic kit with all the accessories and equipment needed to grow cannabis indoors. UFO LED Lights are environment-friendly and don't produce heat in the growing environment even if they operate for more than 18-hours a day. Moreover, these LEDs have a long service record than an ordinary LED Light.
Across giving full spectrum to your lovely cannabis plants, it could complement the lighting needs for all growth stages of cannabis plants in this hydroponic arrangement. Moreover, the darkroom contains a rectangle ventilation system with mesh and vents for an exhaust fan and outlet filter. Overall, it's a type of system that often cannabis growers dream. See product description and buyers' ratings here;
#6 TopoLite Grow Tent Room Complete Kit Hydroponic Growing System
If you can handle hydroponic marijuana grow kit professionally and want to become a Pro then this system is typically for you. Topolite uses 600 Watts LED grow light in this dark room along with rapid heat dissipation for the consistent growth and development of your marijuana plants. The installed LED grow light could handle germination, seedlings, and vegetative growth of your marijuana plants leading them into the flowering stage comfortably.
They also advise using a layer of 1.5 inches' thickness of activated carbon to control CO2 level and mitigating odor from the darkroom. The material used in the making of a dark room is 600D oxford cloth with durable zippers to stop light leakage from the system. The size of a darkroom could better fit in the limited spaces as it measures only 48″X48″ X80″. LED grow light consumes only 240 watts. You could better grow up to 16 small, 6-8 medium, and 4-full size cannabis plants inside this dark room.
See detailed product description and performance through this link;
#7 The Bud Grower-Complete Indoor Grow Kit with Fan & Soil (24″x24″x60″)
If you're looking for a complete indoor cannabis growing solution, this system could suit you since it contains everything you need to grow in a hydroponic arrangement. It's a 2×2 grow tent with Mylar lining and fitted with 150 Watts HPS grow light with a bulb. However, it could replace with an LED grow light of 100 Watts to save energy consumption that could complement cannabis plants during the entire stages of cannabis growth.
Moreover, the indoor hydroponic kit consists of one 5-Pounds bag made by Foxfarm Bushdoctor potting mixture. The installed Inline fan size is 4 inch while the exhaust fan could operate at five different speeds. The carbon air filter also measures slightly above 4 inches. Growers only need to connect a hydroponic kit with an external nutrient reservoir to start cannabis growing. You could see customers' ratings and reviews using this Amazon link;
#8 HTGSupply-3 x 3 (39″x39″x79″) Grow Tent Kit Complete with 400-Watt HPS Grow Light DWC Hydroponic System & Advanced Nutrients
HTG install 400 Watt HPS grow light in this hydroponic weed growing kit which, uses Deep Water Culture and pH balancer in the nutrients solution. HTG use liquid fertilizers made by the Advanced Nutrients that includes one-liter bottles of pH balancer, a one-liter bottle of micronutrient, and one-liter of bloom nutrient fertilizer. Recently, there are several hydroponics kits for weed in the market, whereas this "plug & play" kit is the easiest to grow.
Overall, HTG uses quality equipment and has more than a decade of experience in the making of hydroponic grow tents and supplies. This system is fully harmonized and could meet all cannabis growing needs effectively. The system comes with an instruction manual, and you could assemble it easily without using any tools. Overall, 9 square feet is sufficient for growing approximately nine cannabis plants up to the initial vegetative stage. But, during the later stages of growth, it would suit growing only 2-3 cannabis plants. For complete accessories that arrive with a package, you could check this link;
Related Products