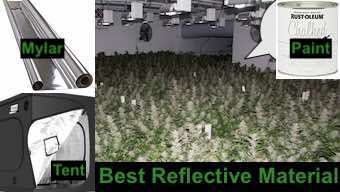 When growing marijuana indoors, the best reflective material for light will prove to be essential. This is going to increase the intensity of the light that is produced in an enclosed space, which is important given the fact that there is no sunlight that encourages photosynthetic activity and improves the overall growth of the plant.
Choosing a reflective material can be a challenging task, especially for the uninitiated. If you are just starting to discover the wonderful world of marijuana cultivation, we are here to extend a helping hand. In the rest of this post, we will quickly discuss some of the best products that should be under your radar, as well as the reasons why they are amongst the most exceptional picks.
Top 5 Best Reflective Material for Grow Rooms (2023 )
Best Light Reflective Material – Mylar
#1 Apollo Horticulture 2 Mil Reflective Mylar Sheet Roll
Based on the technical specifications from the manufacturer, this mylar sheet has a width of 48 inches, length of 50 feet, and a roll diameter of 2.25 inches. In the case of most grow rooms, this will be more than enough, especially if you are just a casual grower.
It is made of a highly reflective polyester film. According to the maker of this reflective material, it is effective in improving the reflectivity of light by as much as 92 to 97%. This allows huge savings as the light becomes more intense without the need to consume more energy. It is also instrumental when it comes to the heat retention in a grow room.
Q&A: Is it prone to mold and mildew?
This is a polyester film. Therefore, it is important to note that it is prone to the formation of mold and mildew. See to it that it is stored properly to prevent such problems. When in the grow room, watch out for the temperature and humidity levels to prevent the presence of mold and mildew in the reflective material.
Q&A: Are both sides reflective?
As with most of the mylar sheets that you can find on the market, both sides are shiny. However, one side is more intense than the other.
#2 Earth Start Reflective Mylar Roll 25 Feet Long
This Reflective Mylar Roll from Earth Start is also an ideal choice that growers should add to their priority list. Not only does it work well, but it also comes at a low price, so it's perfect for growers on a tight budget.
This product is easy to set up and fix. So newbie growers can also easily set it up with accessories like wire, staples, etc.
It's metallized on both sides so it's very durable and keeps 100% light. It's also water resistant and won't tear. This material acts as a light, large and extremely flexible mirror.
Q&A: How thick is this material?
The material is 2 Mil thick and it is really durable. It is also equipped with a poly backing so it has the ability to completely prevent water vapor. Therefore, growers do not need to worry too much about their plants when using this material.
Q&A: Are both sides reflective?
Of course! Both sides of this material are metallized, so that it is reflective on both sides. Growers can use any side of the product to set up the growing area.
#3 NAVAdeal 2 Pack Silver Highly Reflective Mylar Films
If your cannabis plant is having problems caused by lack of light such as dull foliage or stunted growth, you should think about increasing its reflectivity. Using this Silver Highly Reflective Mylar Films from NAVAdeal is a budget-friendly yet highly reflective approach to houseplants.
This silver film can help reflect light evenly over a substantial growing area. It will help to retain 95% of the light and from there this light can cover a wide area of ​​​​the indoor growing area.
This material is also very easy to set up. It comes in 2 large packs so growers can easily secure it with tape to the wall or whatever setting suits it. This material is very durable and growers can use it for a long time.
Q&A: Is this material easy to tear?
Absolutely not! This material is tear and puncture resistant and made in the USA. In addition, the material is vapor resistant and completely eco-friendly.
Q&A: Is it possible to use this material for a large planting area?
Entirely possible. This film package includes two sheets of film each measuring 82" x 47", so growers can set them up in a substantial indoor growing space. And these 2 films are quite cheap, so growers can buy more to set up a larger space.
Best Paint for Reflecting Light
#4 Rust-Oleum 285140 Ultra-Matte Interior Chalked Paint
If the interior of the grow room can be painted, such as in the case of an old cabinet, this paint will make an excellent choice for a reflective material. It can be used on a wide array of materials, including wood, ceramic, and metal, among others.
With the latex formula of this paint, you can be sure that it will emit a minimal odor. Because of the use of latex, cleaning it up will also be almost effortless for you. Ease of application is another reason why this is well-loved by its users. Just after thirty minutes of its application, the surface will dry in an instant and you can already touch the paint without worrying that it will end up being damaged.
Q&A: How much can it cover?
The paint is in a 30 fluid ounces container, which is equal to roughly 887ml. Based on the information from the manufacturer, this will be more than enough for an area that is 150 square feet. You will only need one application of the paint to take advantage of its reflectivity.
Q&A: Is there a need to use a primer?
While it is important to make sure that the surface is clean beforehand, the good thing is that there is no need for a primer. Nonetheless, if you will apply it on bare wood, this is the only time that you will have to use a primer.
Best Grow Light Reflector Tent
#5 iPower Hydroponic Mylar Grow Tent
Make your life easier by investing in a grow tent that is already installed with a reflective material instead of having to install them separately. This hydroponic tent is one of the best examples, which already comes with a Mylar sheet on its interior walls.
With a size of 5×5 feet, this is 99% light-proof. This means that it is protected from the external environment, making it possible to maintain the condition that is ideal for the growth of plants, especially when it comes to its lighting requirements. It has double stitches and premium zippers that will prevent the penetration of light from the outside.
It is also a good thing that there is an observation window. This makes it easy to monitor the condition of the plants without the need to open the door.
In terms of construction, the tent comes with heavy-duty poles that stand upright and can be able to withstand the test of time. Inside the tent, there is also a removable water-resistant cover. Plus, there is a convenient organization bag for keeping the tools handy.
Lastly, the tent comes with a one-year warranty from the manufacturer.
Q&A: Are there holes for ventilation?
Definitely! There are three ductworks that will provide the space where you will enter the source of ventilation, making sure that enough air is circulating in the grow room.
Q&A: What are the poles made of?
Based on the information from the manufacturer, there are all-metal poles that are included. They have smooth edges for safe handling. The metals can handle a maximum of 110 pounds, which will be more than enough for the equipment that you will hang or install inside the grow tent.
The Importance of a Reflective Material for a Grow Room
If you are still wondering why a reflective material is a great investment to have in a grow room, this section will answer that question. Before anything else, allow us to point out that light is the driving force in the growth of plants in a grow tent, not just for cannabis. The light emits energy that allows photosynthesis to take place even without being reached by the sun.
To use the light in its full capacity, one of the most important is the reflection. This is where the importance of a reflective material enters the picture. As it has been mentioned in the introduction, this increases the intensity of the light. You do not need to use multiple lights at a time. This also means that it is going to be an energy-saver. This makes the grow lights brighter and more powerful without the need to use more electricity.
According to some growers, the use of a reflective material will help to increase the light that reaches the cannabis by as much as 30%.
What Reflects Light the Best? A Look at the Options
When looking for the best reflective material for light, you might end up being overwhelmed with the choices that are available. In this section, we will briefly look at some of the popular options and their effectiveness.
Mylar
This is one of the most popular from the reflective materials and this is basically because of the fact that it has the ability to reflect up to 97% of light. This is basically a polyester film with varying thickness, which is usually from 1mm to 2mm. It produces radiant heat, so there is a need to have the right ventilation to avoid the grow room from being too hot.
Aside from the radiant heat, another problem with Mylar is that cleaning can be quite difficult. Also, there might be a need for frequent replacements, although this is not much of an issue for most people since it is pretty much affordable.
Foylon
This is a material that a lot of people confuse with Mylar. The two have their similarities, but one of the key advantages of Foylon is that it is more durable. For this reason, it is also understandable that it is a more expensive material.
Spun polyester fiber is the main material that is used in Foylon. A foil laminate is used as a reinforcement. Because of the latter, it is not easily prone to fading. In terms of reflectivity, it allows up to 95% of light to bounce back to the plant.
Flat White Paint
If you are using a cabinet as a grow room for your weed, you can use flat white paint as a reflector. It is also an ideal choice if you are transforming a large room into a grow room. On average, the light reflectivity is at 85% to 95%. It is known for being a budget-friendly alternative, although this will not have the hammer-like texture that you will find in other materials.
One of the benefits of using paint is that it is easy to clean and maintain. Also, it does not produce too much heat, making the interior cool. There will be no hotspots or air pockets, as long as you apply the paint the right way.
Panda Plastic
It may not be as popular as the other materials that we have listed, but this is another option that is worth considering. Also known as a black and white polymer, the approximate light reflectivity is from 85% to 95%. It is white on one side and black on the other, which is why it is also called panda plastic.
If you will use this as a reflector, you should look for one that is thick, which also means that it is going to be more durable. Because it is plastic, it can produce extreme heat that can cause too much stress to the plant. The best way to avoid it is to not keep it too close to your grow light.
Orca Grow Film
It has an average reflectivity of 90% to 94%, which makes this another choice that is hard to match. The surface looks much like the skin of an orca whale, which is from where it got its name. This is one of the most expensive materials you will find on the market, but the steep price is sure to be worth it. It is one of the most durable options.
Grow Tents
At the end of the day, this is what most marijuana cultivators will recommend. Invest in a grow tent that already comes with an interior wall that has a reflective material. The material can be anything from those that have been mentioned above. Since they are already built-in, there is no need to exert effort in its installation.
When choosing the reflective material to use in the grow room, one of the first things that you have to take into consideration is the temperature. If it is cold in the grow room, it will be best to choose orca, mylar, and foylon, among others. Meanwhile, when it is hot, the grow room will do good with a flat white paint.
Reflective Material Light for Grow Room Tips and Tricks
Before we end this post, here are some tips that you should know to make the most of the reflective material that you are using:
It is better if the reflective material is closer to the plant. However, you have to be careful as some of them can produce too much heat, which will not be good for the cannabis. To be sure, see to it that there is enough ventilation to manage the heat in the grow room.
You have to carefully plan the installation of the reflective material. Pay attention to the instructions from the manufacturer and follow them religiously. If you are using reflective films, it is important that there are no wrinkles or creases once they are installed. The latter can cause hotspots.
Using an adhesive tape is recommended when using films or plastics as reflectors. Using staples is not recommended as this can easily tear the material.
If you are unsure whether or not you need to use a reflective material in the grow room, it will be good to invest in a light meter, also known as lux meter. It measures the light that is received in a specific area. If it is below what the marijuana needs, this is a sign that a reflector is needed.
We have earlier talked about the materials that are best for reflection. You should also know what you have to avoid. In this case, two of our least favorites are mirror and aluminum foil. They have less than 50% reflectivity, and hence, they will be almost useless.
Conclusion
It is important that you pay attention in the selection of the best reflective material for light that will be used as it is essential for the success of growing marijuana. Whether it is Mylar sheets or paint, among others, make sure that it is effective in increasing the intensity of the light to make the internal environment more suitable for growing cannabis.