Whether you are planning to plant your cannabis in containers outside, or straight in the ground the type of soil you use is very important – it isn't the case of just finding some dirt to fill your pots or flower bed. This is because by choosing the correct soil, it will provide essential nutrients to your plants and help them to prosper.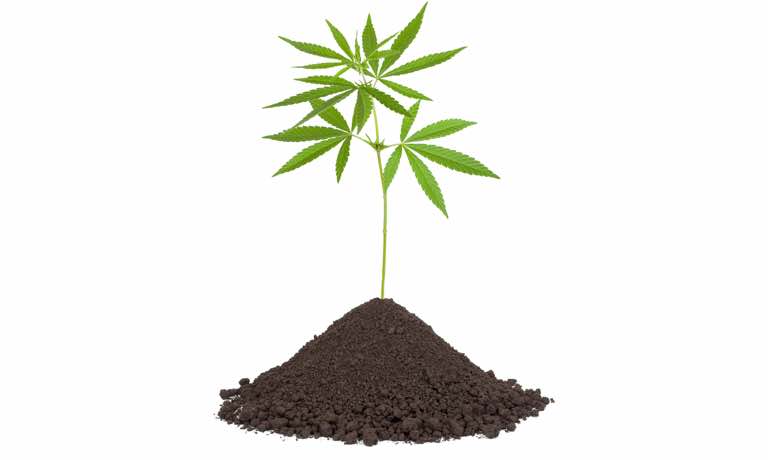 Some people make up their own soil mixes, but if you are new to growing there are plenty of pre-prepared soil mixes on the market that have been created by professionals. When growing cannabis outdoors you need to look out for soil that has the correct pH balance for weed and has a mixture of nitrogen (N, phosphorus (K) and potassium (P).
Here we review some ready made soil mixes, as well as some additives which would serve your plants well.
Top 10 Best Soil for Outdoor Cannabis 2023
#1 (Editor's Choice) Black Gold 1311002 8-Quart Seedling Mix (2 Pack)
If you're looking for nutritious soil that is both perfect for creating a perfect environment for seedlings and for improving long-term root growth and resilience, then you should look no further than Black Gold's superb seedling mix. This soil will also help to encourage oxygenation of your roots by improving drainage and is packed full of other nutrients that will ensure a healthy growth.
With an abundance of minerals, including peat moss, this soil not only helps with drainage but also helps with water retention, even without the addition of perlite. It is also certified organic but free from any pesky pests in the soil, further adding to its benefits for establishing seedlings in the outdoors. To make this soil perfect it is well worth mixing it with the worm castings discussed in this list.
Sometimes getting started is the hardest part of a task, however, with this superb soil seedling mix, you will get superb results giving your cannabis plant the perfect introduction to the outdoors.
#2 (Best Soil Mix) Michigan Peat 1225 Baccto Premium Potting Soil 25 Pound
This potting soil mix from Michigan Peat is ready to go as soon as you receive your bag. It is a great choice for when you are just getting started with outdoor growing as it works well with plants even from seed. The fertilizer within this soil is dual purpose – serving to give your plants what they need as they are beginning to grow and then delivering slow release nutrients to make them prosper. Grab a spade and get planting.
#3 (Best Organic Soil) Espoma Company (VFGS1) Organic Vegetable and Flower Soil
If you're after rapidly improving a large area of ground soil, that you know has nothing left to give, then this nutritious and cheap soil from Epsoma will act as a great base layer when mixed with a blend of the soil additives on this list. With nearly 30-liters worth of soil, you'll be able to rapidly turn a wasteland into a weed plants paradise with soil which is packed full of peat moss, earthworm castings, and peat humus.
#4 (Best Blood Meal) Epsoma DB3 Dried Blood Meal  3 pound
While it might sound a little gross, the blood of animals is a great source of organic nitrogen for your cannabis plants. This blood meal from Epsoma is a dry powder that you can add to your soil mix to really enrich your soil. The presence of nitrogen is particularly important during the vegetative growth stage so make sure you have a drop of this in your soil then. It is a little too 'hot' for seedlings and clones so avoid if your plants are at this stage.
#5 (Best Bone Meal) Jobe's Organic Bone Meal Fertilizer 2-14-0 Organic Phosphorous Fertilizer, 4 Pound Bag
Here is another organic product which will really enhance the soil you use for growing your outdoor cannabis. It is made out of animal bones which are rich in both phosphorous and calcium, and there is even some nitrogen thrown in there too. This great combination will help your roots develop healthily and give your buds a good chance at doing well.
#6 (Best Perlite) Hoffman 16504 Horticultural Perlite 18 Quarts
Even if you are planning to grow your weed outdoors it is vital to think about the quality of your soil, with the three key components being: good texture; good water retention; and good drainage. This excellent Perlite from Hoffman will take care of improving your drainage.
Whether you are planting directly in the ground or in plant pots, you'll be impressed by the additional oxygen given to your plants by working this into your soil. You'll get the best results all-round with the addition of the guano castings and soil mixes discussed in this list.
#7 (Best Vermiculite) Espoma VM8 8-Quart Organic Vermiculite
If you are looking to work in some extra drainage components to your soil but know your soil is highly porous so don't want to risk upsetting the balance too much, then you might want to opt for vermiculite rather than Perlite as it holds more water. With this excellent mix, you'll also improve the aeration in your soil, encourage strong root growth, and help to work against cloggy over-compacted soil.
#8 (Best Dolomite Lime) Pure Dolomitic/Calcitic Garden Lime
If you are needing to neutralize the acidity in your soil because the pH is too low (which means that your cannabis will not be able to absorb the nutrients in your soil effectively), then you need a dose of Dolomite Lime in your soil mix. This product from Grow More will do just the job, derived from limestone it is a completely organic addition to your soil and will also add additional calcium and magnesium to further supplement your precious plants.
#9 (Best Worm Castings) Unco Industries WWSB30LB Wiggle Worm Soil Builder Worm Castings 30 lb
Worm castings are an essential element for any outdoor cannabis soil mix due to the presence of a multitude of Micronutrients within them, as well as being a source of the all-important nitrogen. This product from Unco Industries is an extremely popular choice with fellow growers thanks to its effectiveness as a fertile topsoil and helpful hand to cannabis plants. Worm castings work really well when paired with vermiculite and perlite, so have a think about making up this cocktail for your nutrient thirsty plants.
#10 (Best Guano) Hydrofarm BGC1002 Vegetative Guano Grow Crazy 5-1-1. 3 Pound Bag
Here we have another organic animal product which is extremely effective at feeding your cannabis plants. Derived from bat poo which, it turns out, is a great source of nitrogen and phosphorus – both of which your weed is hungry for. Coming in a powder form, sprinkle this into your soil and witness the magical effects – fast growth, healthy plants, and a successful crop.
Conclusion
As you can see, there are some amazing ingredients out there that are available to keep your cannabis plants not only healthy but able to deliver the goods that you want. Whether you want to opt for a ready-made soil mix or have a go at creating your own perfect cocktail there are plenty of options out there to help you on your way to a productive outdoor cannabis harvest.