[Personal Experience] ILGM Reviews 2023 (I Love Growing Marijuana): Best Quality Seeds with 100% Germination Guarantee
ILGM is a leading popular and well-known seed bank. They are our favorite seed bank as well as many other growers for a variety of reasons.
ILGM offers a wide range of strains of cannabis with top-quality and popular strains. They are also known for their free growing resources for beginners as well as experienced growers, and more.
We have bought seeds from ILGM many times, and through these seed orders we have obtained a review of this famous seed bank. Of course they have many advantages, but there are also many things to improve.
And we have summarized our experiences in the article below and you can see if ILGM is the best seed bank for you.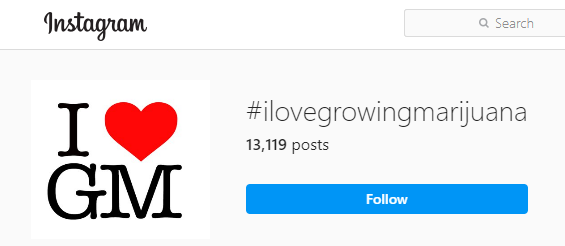 ILGM seed bank was originally blog ilovegrowingmarijuana.com founded by Robert Bergman in 2012. This is a place where the cannabis community can exchange, learn and share knowledge about cannabis.
Robert Bergman is just an avid cannabis grower, he started his business with 5 home-grown cannabis plants and grew up from that small scale. Robert Bergman has spent 25 years sticking to and understanding the cannabis plant. It is with this burning passion that Robert Bergman was motivated to develop a blog into a leading cannabis seed bank in the world.
Although ILGM has only been established for a decade, it is really popular and famous. You can see this name appear on any cannabis forum and wherever it is, at least a few people talk about it.
Not only is ILGM a huge and rewarding arsenal of cannabis knowledge for growers, but it is truly a place where you can buy quality cannabis seeds without wasting money. When you buy seeds here, you can also buy more fertilizer and get more detailed instructions.
Robert Bergman loves sharing his knowledge and experience, so every order comes with ILGM's in-depth development guide and much more additional information. We find this information very useful for growers who are just starting out in their cannabis farming path. And it's not superfluous for experienced growers either.
In general, ILGM is not only a reliable, quality cannabis seed place, but it is also a place where you can get more knowledge about cannabis, experience, cultivation and tips, and share similar stories.
Is ILGM Seed Bank Legit?
Yes, ILGM is 100% legal for sure! Customers who buy seeds at ILGM can rest assured because this seed bank is very reputable and safe for buyers.
As we mentioned above, ILGM owner and founder Robert Bergman has 25 years with the cannabis plant, he also knows a lot and learns a lot about the cannabis plant. This knowledge is also drawn from him from practical farming experience, so it is not unrealistic knowledge.
And above all else, ILGM also has a team of professional specialists who work carefully and meticulously to provide the best quality cannabis strains to their customers.
Not only focusing on seed quality and expertise, ILGM also develops its best service so that each customer has the perfect experience when buying seeds at this seed bank.
We have bought seeds many times from ILGM and have never encountered any such cases as seed swapping, or any of the malicious sales practices. With ILGM, a reputable seed bank based in the Netherlands, growers can rest assured.
IloveGrowingMarijuana (ILGM) Review 2023
It can be said that ILGM is one of the top seed banks today and they really have good growth. However, nothing is 100% perfect and ILGM is the same, besides many advantages, they also have certain shortcomings.
We have purchased seeds from ILGM countless times and have also compiled these seed bank reviews. This is our personal assessment, based on personal experiences of purchasing seeds and using ILGM's services. Maybe it won't match your opinion, but hopefully it will be of some help.
Overall, the ILGM has:
Pros
Huge cannabis strain collection
100% Germination Guarantee
Very high germination rate
Free shipping (standard delivery)
Highly reputable and popular
Great customer service
Diverse payment options, with discounts
Guaranteed delivery with discreet packaging
Cons
Only ship to US, Australia & some countries in EU
Order tracking fee is quite high
Pricey cannabis seeds
Those are our overall ILGM assessments and these are based on our own experience. We have also prepared deeper, more detailed ILGM reviews to give other clients a more holistic view of them.
Below are more detailed ILGM reviews based on my opinion and my personal experience.
Cannabis Seeds Quality & Selection
The seed warehouse of ILGM can be said to be the most diverse and rich in the current seed banks. They supply high quality seeds from the top seed banks around the world. When you visit their website, you will inevitably find a strain of cannabis that suits your level and farming size.
We love that ILGM meticulously and carefully selected seeds to deliver to our customers. They retain only the top strains, germination rates and quality genetics.
Whether you buy seeds in small quantities or serve them commercially, ILGM can satisfy you. They have seed packages from small quantities to larger packages. They have strains of cannabis suitable for indoor, outdoor, feminine strains and auto strains, and more.
ILGM provides only the best quality cannabis seeds to our customers. They also select seeds from other breeders very carefully. ILGM has their own genetics, and we love the Bergman's Gold Leaf strain.
We bought a lot of seeds from ILGM, some strains that have left an impression on us including White Widow , Gold Leaf, Girl Scout Cookies  Blueberry, Gorilla Glue and more.
Fortunately, the seeds we have paid for are able to sprout, genetically stable. Those strains all gave significant yield and thick, resin-filled buds.
If you are a beginner growers then we recommend you to choose seeds from ILGM. Not only are their seeds genetically stable, but their germination rate is also very high. They also give you very detailed instructions on how you should germinate the seeds, as well as other farming tips. Buying seeds from the ILGM will make your journey with the cannabis plant a much smoother start.
100% Germination Guarantee
ILGM is a rare seed bank that offers a 100% germination guarantee for its seeds, which not even other older seed banks do. It is this assurance from the ILGM that proves that they have complete confidence in their seed quality.
We have not yet bought cannabis seeds from a seed bank that guarantees such absolute germination. And we have also not come across a case where the seeds we paid for were unable to sprout.
This is what we love most about ILGM and we are sure that many people also love this absolute germination guarantee. If you find that the seeds you have purchased contain seeds that cannot germinate, contact an ILGM staff member immediately.
Please provide a picture and clear statement of the problem you are facing to the ILGM consultant. They are always ready to advise you and try to solve your problem as quickly as possible.
If their seeds do have a problem, ILGM will send you new seeds to replace the seeds that cannot germinate. Of course, you will not incur any additional costs, it's completely free.
ILGM is comfortable with returning and replacing seeds that cannot germinate to customers. We have gathered comments on cannabis forums and found that instances, where seeds cannot sprout, do not happen much. And if so, ILGM will handle it very flexibly and reasonably.
If you are newbie growers then follow this guide to sprout seeds like this photo. If following these ILGM instructions and the seeds are still not able to germinate, contact their staff for assistance.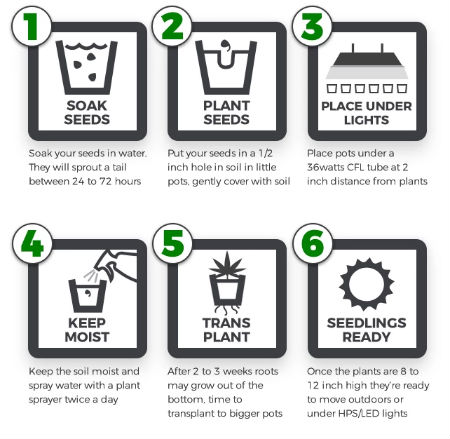 Cannabis Seeds Price & Payments
In my opinion, seeds at ILGM are a bit expensive compared to other competitors. But we think with high quality, stable genetics, 100% germination guarantee and excellent service paying some extra cost is what we are willing to pay for.
You will find that, seeds at ILGM cost a few dollars to tens of dollars more expensive than other seed banks, depending on the type of cannabis. If growers with a limited budget want to save more for their crops, they can consult some other major seed banks in the EU.
We found some seed banks like Seedsman or Sensi Seeds, which have a cheaper seed price than ILGM, but the quality of service and the guarantees at these seed banks are not comparable to that of ILGM.
Not only that, ILGM also offers many different payment methods such as Credit card, Debit card, Bank transfer, Check, Bitcoin, Cash. Although not shipping worldwide, ILGM is still preparing a variety of payment methods so that our customers still have the best experience, and do not have to face any inconvenience when buying seeds.
Especially, when customers pay for their orders in Bitcoin, they will receive 10% discount. This form of payment is completely anonymous and secure.
If you don't want the hassle of international transactions with credit card or debit card, then bank transfer is a safer option as you can transfer money straight from your account to your bank account. ILGM. This is a secure form of payment that can ensure absolute privacy for customers.
In general, you can pay in many different ways when buying seeds at ILGM, they offer many different payment methods, so when paying, you will find the one that is most convenient and most suitable for you. . So even non-EU customers like the US or Australia will have no trouble buying seeds at ILGM.
Shipping & Return Policy
The ILGM delivers its seeds to countries in the EU, to 50 states in the US and to Australia. They have large seed warehouses in two places, Amsterdam, Netherlands and one in California, USA. That is why their seed delivery times are always optimal and fastest.
When placing seeds at ILGM, you will receive the fastest, safest and safest delivery service. They always use sneaky deliveries so seed orders are shipped smoothly and smoothly.
These orders never include any billing statements for the order, or any other information regarding cannabis seeds or the company you order. In general, others won't know that you ordered the cannabis seed just by looking at the order.
Delivery time of ILGM is quite fast. They guarantee the fastest delivery after you checkout to maintain the best seed status and genetics. Any delay will lead to certain effects on the germination rate of the cannabis seeds.
If after 25 days you have not received any seeds from the ILGM, immediately contact a seed bank employee. 25 days is the maximum amount of time you can receive your seeds after completing your payment.
If you still do not receive your order after this time, an ILGM staff will contact you and send you a new order. Keep track of your order time to ensure that you won't miss out on the entitlements you enjoy.
If both the resubmission time for a new order and your original shipping lead time exceed 90 days, you will not receive any additional orders from them. So order tracking is a form that you can more optimize your interests and orders.
In addition, ILGM also offers free shipping for orders in the US and Australia valued at over $ 150. This free shipping, of course, does not include tracking. If you want to track your order directly through their website, add a little extra.
The shipping costs of ILGM are also not too expensive. This delivery fee will depend on the geographic location from their seed warehouse. The highest delivery fee is for single shipping to Australia, which is around $ 25.
Regarding the return policy, ILGM is quite flexible and professional. They will accept your returned seeds and replace them with new ones if you honestly provide your photos and problems.
If anything goes wrong with your seeds, first contact the staff first so they can grasp the problem. They are always in a position to reimburse you for new seeds, but first they will help you solve your problem. ILGM will probably give you a discount on your next order and we appreciate this workaround from them.
And refunded orders to be replaced with a new one won't cost you an extra amount.
Customer Service
We value ILGM's customer service very well and professionally, and there are few competitors today who can beat their customer service. ILGM has leading experts in the cannabis industry and they've trained their staff professionally.
ILGM's customer care staff are trained to understand good farming techniques, tips or knowledge about cannabis plants. From there they can answer customer questions and problems in addition to company policies.
So we always feel like we've come to the right place because they have really good knowledge. Besides, they also always appreciate personalization so that customers will not be upset, or feel despised because of prepared answers.
Customers can communicate with the ILGM team through a variety of means. They all have staff on duty on the phone, email, and many other channels. But you will have to wait a bit as these employees are always busy with large numbers of customers every day. And we sympathize with that.
One more thing is that we have bought ILGM seeds so many times, but rarely encountered a staff member who was upset. Although they can work tiring all day, they maintain a professional attitude to customers, unlike some other seed banks.
Website & Promotions
The ILGM website is truly a potential resource and will grow even more in the future. Their website has a lot of things to do and can really help our clients, especially those who are just starting out.
The layout and interface of the website are streamlined and easy to navigate. Growers can find many strains of cannabis, many other farming tools when they visit their website. You can also find what you want quickly through the search bar.
They also display their promotions prominently so that any customer cannot miss a visit to the ILGM website. This is a plus point because all customers can access these offers for their orders.
In addition, ILGM has a blog containing enough information about different strains of cannabis and techniques and tips so that you can get a significant yield from them. This really helps the beginner growers to easily learn about cannabis strains, as well as to be aware of what to harvest a successful crop without much experience.
We also can't help but mention "Marijuana Grow Bible", a cannabis handbook that you can download for free on their website. Or "Marijuana Grow Bible" will also be included with your order. The ILGM was really delicate and dedicated.
In particular, you can also access ILGM's forums. This place brings together a lot of questions, knowledge as well as stories from the cannabis community around the world. By participating in this forum, you will likely find many solutions to your crop related problems.
Moreover, the members on this forum are very active, they always want their knowledge to be widely shared and make the cannabis community stronger.
This ILGM cannabis forum is also a highlight and feature of the ILGM. It was the driving force behind Robert to set up the present ILGM seed bank. And we firmly believe that both beginner growers or veteran growers will find something useful for you.
In terms of promotions, ILGM is well known as a liberal seed bank with many regular incentives. Especially not to mention their "Buy 10 Get 10" offer. This is a popular offer and is mentioned the most of ILGM because customers can save 50% of their costs.
We also participated in this "Buy 10 Get 10" offer from ILGM and were amazed at the high quality of the seeds. There is no reason to ignore these 10 high quality seeds from ILGM.
In addition, customers will have the opportunity to reduce the cost of their order by 10% when paying via Bitcoin. This is a form of payment that is both safe and highly private, so many people choose this method. They also receive a 10% discount on their seed order.
ILGM also offers a loyalty program (VIP) for the customers who buy seeds on its website. This program allows customers to earn their points after each order. And then these plus points will be redeemed for free discounts or gifts from ILGM.
Or you'll also get access to exclusive ILGM strains once you earn enough points. There are many other incentives for loyal customers that you can get from ILGM.
To increase this point, customers just need to like the Facebook page, follow Instagram or refer a friend to buy seeds from ILGM. These simple ways will help you get extra points from ILGM and help a lot for the next payment.
IloveGrowingMarijuana (ILGM) Conclusion
ILGM is truly a leading, reliable and service seed bank today. Overall, this seed bank offers quality cannabis strains, stable genetics, safe transactions, plenty of deals and great services.
What impressed us most about ILGM was their seed quality and service. We have purchased cannabis seeds at many different seed banks but have never had the same experience in terms of seed quality and service quality as at ILGM.
But ILGM still needs to overcome its price and delivery range so that many other customers can access the ILGM's seeds. For these reasons, we rate the ILGM with 4.7 stars out of 5.
The contact information
You can contact ILGM seed bank with phone line:  (719) 884-1137 or (415) 906-0434
Their address: 931 10th Street, #272
95354 Modesto
California
USA