If you have tried weed or alcohol, then you'll know that the experiences of both are extremely different. For us, the question is an easy one to answer, but in this post, we take a look at some of the differences so you can make your own mind up.
Both of these substances have been consumed across the globe for thousands of years. This has led to their use being heavily embedded in the cultures they have been used in. However, with globalization there has been a crossover and their use has become more varied in their new locations. Here, we bring you everything you need to know about why we think weed is better than booze hands down!
Drinking Vs smoking weed
So, what are some of the main differences between weed and alcohol and being high vs being drunk? Well, for one thing, there is the huge cultural differences that depend on where you come from. For some people, alcohol is completely taboo and smoking weed can be more acceptable. However, equally, the reverse can be true, and in a lot of Western countries, until very recently, this has certainly been the case with alcohol tending to be seen as much more acceptable than cannabis use.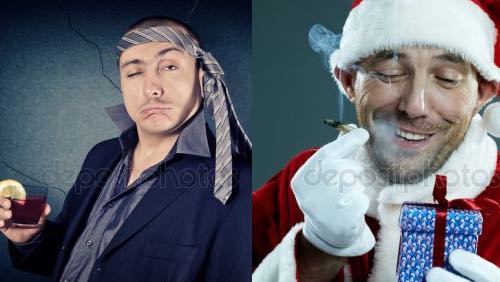 Cannabis and alcohol also interact very differently when we consider their effects on the brain which is why the feeling of being drunk vs high is so different. For example, alcohol has a quite dramatic effect on the brain's cerebellum. This is the part of the brain that controls movement and balance so if you've ever noticed yourself getting clumsier after drinking too much alcohol or felt wobbly on your feet, this is why. Alcohol also has an effect on your decision making, making you more likely to make rash decisions, because of the way it interacts with your cerebral cortex.
Unlike alcohol, cannabis works by binding to receptors in our brains and works with the body in ways similar to cannabinoids that occur naturally in our bodies. It does this by targeting our CB1 and CB2 receptors in the brain and, in the case of cannabis containing THC, can have psychoactive outcomes. Similarly to alcohol, can make the user lower their inhibitions although it is far less likely to make you act completely out-of-character.
What are the health differences of weed vs alcohol?
As we've already explored, alcohol works very differently in its relationship with the body and whereas cannabis acts with our body in more natural ways, alcohol is actually working on our body in a manner similar to a poison. In fact, alcohol can be deadly, whereas there have been no recorded deaths from a weed overdose. As well as being able to overdose on alcohol, it is also possible to die from alcohol withdrawal due to the fact that bodies can become dependent on it.
Given that there have been no reported deaths from cannabis and there are an average of 6 deaths due to alcohol poisoning in the U.S. alone every single day, it is a wonder that cannabis has had such a bad rep for such a long time whilst alcohol tends to get off scot-free. Moreover, alcohol is not just a fast killer but a slow one too as it can cause liver disease, cancer, terrible withdrawal symptoms, and be extremely addictive and difficult to come off safely. Obviously, when people smoke cannabis, the usual health considerations apply in relation to smoking, especially if used with tobacco and this should not be ignored.
Conversely, there are a whole range of health benefits that have been associated with cannabis, although far more research needs to be done for any conclusive decisions to be drawn on these. Nevertheless, research that has been done has certainly contributed to changes in attitudes towards cannabis in the medical community with many people now being prescribed cannabis medicinally.
The cannabinoid CBD, in particular, has been shown to have potential benefits in tackling anxiety, fighting chronic pain, and reducing the frequency and intensity of certain types of seizure. Indeed, in addition to evidence showing that cannabis is safer than alcohol it seems there is a growing body of evidence that it also has a range of health benefits. That's before we even get to feeling drunk vs stoned.
What is better, the weed vs alcohol feeling?
As we have explored, alcohol's effect on the body is addictive and heavy use leads to people feeling a variety of negative effects collectively understood as the 'hangover'. Being hungover can have a depressing effect on your productivity, mood, and well-being. However, even if you smoked so much weed that you passed out, you will not find it has the same effect the next day and there is not even a word for a weed hangover. You may green out on the night though which can feel a lot like a hangover at the time so you should avoid smoking until you get to this stage!
Another way that cannabis is better than alcohol is that it won't lead to those long blackouts in memory that people get from a heavy drinking session, leading to feelings of 'oh god, what did I do last night?' before the hangover has even kicked in. That is not to say cannabis has no effects on your memory though, as in the short-term you may well become more forgetful and find yourself in the kitchen wondering what you went in there for.
Interestingly, studies have also shown that cannabis can make sex more pleasurable. Whereas alcohol before sex can leave you feeling more focussed on spinning out, fighting off nausea, and actually have a numbing effect on what you feel, cannabis enhances your body's sensations. Increased sensations equals more pleasurable sex and potentially an increased sex drive.
Top 10 reasons cannabis is better than alcohol
You won't get a hangover
Your liver won't be damaged
It's not addictive
You cannot overdose on cannabis (or at least no one ever has thanks to it being 114 times less deadly than alcohol according to recent research)
It encourages creative thought
It makes everything funny rather than making people want to fight – just listen to The Streets – 'The irony of it all' for the full low down
There are a range of medicinal and health benefits associated with cannabis
Research shows it makes sex more pleasurable
You won't wake up with memory loss (although you might experience short term memory loss of course)
It won't change your character dramatically
Top 10 Best Cannabis Strain 2020
#1 Best Cannabis Strain for Energetic High: Seed Supreme's Super Lemon Haze CBD Feminised Seeds
If you love a cerebral high that makes you feel energized and don't like your weed to hit your body hard with a heavy stoning, then you'll love this strain. Its sativa-dominant makeup means it provides a buzzy high that will also aid focus and help you to shake off fatigue in no time. The smooth citrus-scent and smooth smoke alongside the intense high can leave you feeling creatively energized.
Other major pros of these seeds are that: they have a high content of both THC and CBD; the high can heighten users' sense of creativity alongside boosting energy; they grow into pretty short plants when grown indoors but produce big yields so you can maximize the use of space. The downside of this strain is it hits you fast so you'd better be ready for an intensely cerebral high.
#Energetic_Weed #Cannabis_Seeds #Cerebral_Highs #Super_Lemon_Haze #CBD&THC
#2 Best Cannabis Strain for Euphoric High: Seedsman's Buddha Kush Feminized Seeds
If you fancy growing some weed that is going to give you a truly euphoric high to make you more life and soul than sofa slug, then you should definitely try these seeds. The 60% Sativa and 40% Indica blend leads to a euphoric high that will inspire your mind and have you chatting for hours thanks to this truly eye-opening experience. Crossed with the Amnesia strain, this Buddha Kush won't let you down if you love getting high.
Other benefits of these seeds are that: they are suitable for indoor and outdoor; they grow really quickly and can be ready for harvest in 8-9 weeks; they produce huge yields even for beginners which is great because you will love this high, and; it forms nicely dense buds. The downside of this strain is that it can grow pretty tall so you'll need a decent size for your grow space.
#Indica #Sativa #Buddha_Kush #Feminized_Cannabis_Seeds #Yields
#3 Best Cannabis Strain for Uplifting High: Crop King Seeds' Lambs Breath Autoflower
One of the many reasons people opt to drink alcohol is because it gives them a boost in energy and, despite the fact it is a depressant, makes them feel uplifted, at least for a bit. Well, this strain does all those things without the inevitable hangover that alcohol brings and with less damage to your liver! This strain was also said to be one of Bob Marley's favorites which pretty much means it should be yours!
You shouldn't really need to know more good things about this weed given Bob Marley's endorsement. However, in case you do, other good things about these seeds are that: they are auto-flowering making them a good choice for beginners to growing; they produce feelings of creativity, energy, and help to reduce anxiety and stress, and; they flower in as little as 7 weeks! The downside is yields are small so you'll want to grow a few at a time probably.
#Cannabis_Seeds #Bob_Marley #Lambs_Breath #Autoflowering #High_THC
#4 Best Cannabis Strain for the Giggles: Laughing Buddha Feminized Seeds
If you're after a strain that will make you feel elated, relax your mind, and make the smallest things seem funny, then you'll love this Laughing Buddha. Taking its name after someone who knows about how to reach bliss through a relaxed mind, this strain will certainly help you take a light hearted approach to life. Head out into nature with some mates as the bright sunshine really sets off the high and gets the giggles going.
Other benefits of these seeds are that: it grows nice and compact, not surpassing 1 meter in height; it has huge yields of 600g per meter-squared; it produces a high that is energetic and laughter inducing, and; it has high (22%) THC and a decent amount of CBD (1.6%) to foster a relaxed mind and spirit that leads to happiness. The downside of this plant is that it takes quite a long time to flower and can only really be grown indoors.
#Cannabis #Feminized_Seeds #Laughing_Buddha #Weed_Giggles #THC_Seeds
#5 Best Cannabis Strain for Anxiety: Marijuana Seeds' Cannatonic Feminized Seeds
If you suffer from anxiety, then smoking weed with really high THC levels could be risky, but strains that pair a bit of THC with a high CBD content can be a good way to go if you love to feel the high of weed and want to help defend against the potential dangers of a bad trip. CBD has been shown to be beneficial for helping people feel more relaxed even in stressful situations and feel more in control of their thoughts and emotions.
Other pros of this strain is that: it is low in THC and very high in CBD which produces an uplifting high that is relatively short and mellow; it is a great medicinal strain with benefits fighting pain and migraines as well as anxiety; it is perfect for cannabutters and other oils and tinctures; it makes you feel truly relaxed, and; it grows well in SOG & SCROG setups. The downside is it is not really a strain for the beginner.
#Cannabis #Cannabutter #CBD_Oil #CBD_Seeds #SCROG
#6 Best Cannabis Strain for Confidence: Seed Supreme's Moby Dick CBD Feminized Seeds
If you're keen to grow a cannabis strain that can be supportive to your self-esteem then it's important to steer clear of strains that could increase your anxiety levels and a good idea to choose a strain that offers a 1:1 ratio of THC: CBD. These seeds do just that, producing a plant with between 5-10% of CBD and THC. This strain also produces terpenes that contribute to a balanced and mellow high that can help you manage challenging social situations.
Other great things about these seeds are that: they produce huge yields indoors and out; they are very easy to grow and don't grow too big; the weed these plants produce can help people suffering from a range of psychological issues; the high is nice and mellow, and; the high is not too long-lasting. The downside is people who love an intense long-lasting high aren't going to get it from this strain.
#Equal_THC_To_CBD #CBD_Weed #CBD #Cannabis_Seeds #Feminized
#8 Best Cannabis Strain for Making Hash: Crop King Seeds' Hash Plant Feminized
If you like getting gently high, then you might want to consider growing a strain that produces copious amounts of trichomes that turn into great kief and make great hash. These seeds include hash in the name and won't let you down in terms of making some of the finest hash possible. At just 12% THC and 3% CBD you get a truly mellow high with the hash you make from this plant.
Other great things about these seeds are that: it grows incredibly quickly with the flowers ready for curing after just 8 weeks; they produce a long-lasting buzz; the medium CBD means this has some medicinal benefits such as mild pain relief, and; they have reasonably good yields when grown indoors. The downside is they are not the easiest to grow so you will need to take good care of your plants.
#Hash #Cannabis #Feminized_Seeds #Hash_Plant #CBD
#9 Best Cannabis Strain for Edibles: Seed Supreme's Blue Dream'matic Auto feminized Seeds
This Sativa dominant strain originated in California and has been incredibly popular on the West Coast for years because of its full-body relaxation and subtle euphoric high. If you love the sound of getting high but don't fancy smoking it, this cannabis strain is also the perfect strain for making edibles with due to its sweetness and woody taste that goes great in a chocolate brownie with a difference.
Other pros about these seeds are that: there are high in THC content and have a decent amount of CBD too; they don't grow too big; they also smoke nicely after decarboxylation and a decent cure; they are auto-flowering so are easy to grow for beginners; they are a decent medicinal strain, and; they can be grown both indoors and out. The downside of these seeds is that they don't produce massive yields.
#THC_Seeds #Medium_CBD #Edible_Cannabis #Weed_Edibles #Medicinal_Cannabis
Top 2 Best CBD Oil 2020
Best CBD Oil for Anxiety: Lazarus Naturals' Chocolate Mint High potency Tincture
www.lazarusnaturals.com/shop/tinctures/chocolate-mint-high-potency-tincture
If you suffer from anxiety or PTSD, then you should definitely speak to your doctor about the potential benefits of CBD. This CBD form Lazarus Naturals is high potency meaning it works fast to bring your emotions under control very soon after you begin taking it. This company also offer up to 40% discounts to veterans with PTSD and those who rely on CBD demonstrating they are well worth supporting if you want to try CBD.
Other pluses about this CBD oil are that: it is full-spectrum so you get all the beneficial terpenes and a range of cannabinoids alongside CBD that help you manage rising anxiety levels; it takes just 2 hours to take effect, unlike some oils which require regular use to kick in, and; it tastes like chocolate so what is not to like! On the downside it uses ethanol so will not suitable for everyone.
#CBD #CBD_Oil #Flavored_CBD #Chocolate_CBD #Anxiety_Relief
Best Uplifting CBD Oil: Ambary Gardens' Full Spectrum Daily CBD Hemp
www.ambarygardens.com/product/230/
If you're looking to add something to your diet that can be beneficial for your mood, help you deal with stress, and can also be an effective pain reliever, then what you are looking for is CBD oil. With no intoxicating effects, CBD oil is widely accepted and having a positive effect on reducing the stigma against cannabis products more generally. This oil is perfect for regular use and will noticeably improve your overall mood after a week or two.
Other benefits of this CBD oil are that: it is third-party tested so you can be sure of its purity and that it will consistently have the same effect; it improves wellbeing; it contains a range of other beneficial cannabinoids and terpenes, and; it does not require you to take it sublingually as most CBD oils tend to. The downside of this CBD oil is that is not 100% THC as many CBD oils are so might not be suitable for people who may face drugs tests.
#CBD_Oil #Uplifting_CBD #Wellbeing #Mindfulness #Full_Spectrum
Conclusion
The way cannabis makes people feel is different for everyone, but from our perspective, it's easy to see which is better in a battle between weed and alcohol. Whether you consider it from the angle of the way it makes you feel whilst you consume it, the way you feel the day after or the short-term and long-term health benefits, there's no question cannabis wins hands down!