What you need to know about Seed Supreme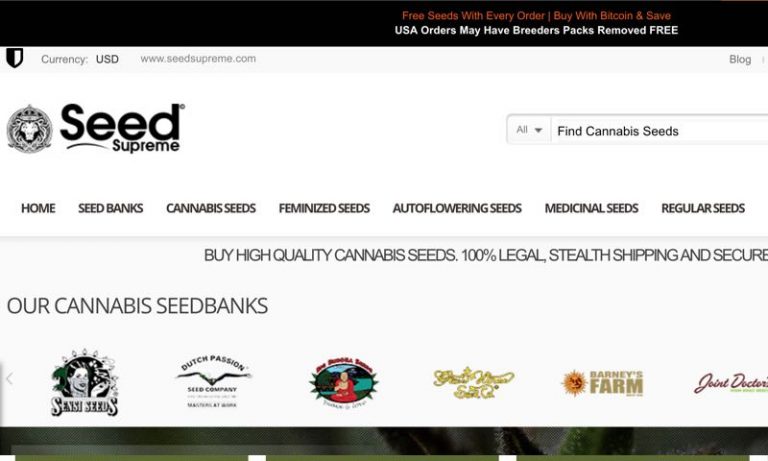 Seed Supreme Seed-bank is the best online shop to go for high THC strains, auto flowering or feminized seeds. They have sticky buds and specialize in particular strains. Whether you are looking for THC levels, CBD content or specific strains; seed supreme is your webshop. They are famous for their breeder selection process and take great care in developing stable strains. They also provide flash deals, which have very competitive prices.
We will make sure you know everything about Seed Supreme after reading this article. We gave them a solid rating of 4.3 stars out of 5. As 420BigBud we have almost a decade of experience with seeds, CBD-oils, hemp, growing and guidance. This is why we only allow the best seed suppliers on our website. Seed Supreme is one of them.
What makes Seed Supreme such a popular option?
The mission of seed supreme is great and they assure the following: "BUY HIGH QUALITY CANNABIS SEEDS. 100% LEGAL, STEALTH SHIPPING AND SECURE PURCHASING." Seed supreme offers free seeds with every order that you purchase and they became very popular with this deal. Some other seed-banks even copied this deal from seed supreme.
Seed supreme has some great promotion deals but also a very nice blog. A few times per month seed supreme posts a new blog post on their page. The information is great and it is widely used for beginners and experienced growers. They provide tips for not ruining fresh buds or how to get the most CBD out of your plant.
You can find their blog here: https://seedsupreme.com/blog.
Promotion & Sales (Seed Supreme)
Seed supreme is also popular because of 25% discount every time you pay with Bitcoin. With Kush Money, another great option from seep supreme you can build of kush money to get a discount on future orders. If you have enough Kush money saved up, you can even get some seeds for free.
Ones per month, seed supreme sells a part of their stock online for a bargain. These seeds are being sold on cost price and you should really check them out! You only have to enter your e-mail and receive the newsletter from seed supreme. They will update you when another bargain deal comes by. Seed supreme is a popular option with beginners and experienced farmers that grow in and outdoors.
Payment options (Seed Supreme)
The payment options of seed supreme are not as wide and good as other seed banks. This is also why we had to downgrade their start rating. They really want customers to pay with bitcoin and this is also the most widely used payment option on their webshop. You can however still pay with cash and debit card. Although with checks you cannot pay your order at seed supreme.
Because they highly promote paying with bitcoin, they even recommend some website were you can pay with bitcoin.
Shipping & return policy of Seed Supreme
Because seed supreme is a seed-bank from the United Kingdom, the fastest shipping will be within the UK. They have a great option which we never found with another seed bank; guaranteed delivery. This option is awesome because you will be sure your order is delivered. When there are any problems with your shipment, seed supreme will then send you a new order right away.
Because seed supreme ships internationally they have different delivery times. For orders within the UK, the package will be transferred within 2 to 4 business days. Sometimes, in longer periods, it can take a little bit longer. For European orders they assure a delivery time of 5 to 20 business days and international orders can take up to 35 days of delivery.
They also provide stealth shipping and refund items when it is the wrong item, size or quality. They do provide refunds when you can prove the original packaging and give solid explanation of why you think your order was not executed correctly.
The contact information
The contact information of Seed Supreme: their contact form or online help desk.
Seed Supreme Cannabis Seeds review #1
Stefan Peterson from the United Kingdom. I bought the 2 pounder feminized seeds for my ADHD condition. I was actually looking for some seeds on the internet when I came along one of the blog posts of seed supreme. Because I have ADHD I needed a plant that was easy to grow and took care of my impulses. This plant has been so good for my ADHD impulses because of the kiwi genetics that they established.
The 2 pounder are best growing outdoors and provide a THC level of 5-10 procent with a CBD strain that lasts very long. In a good season, the plant can easily get me 1 kilograms of buds from just one plant. Seed supreme bank even has a medical corner on the website with breeds especially for your condition. Do you have migraine, PTSD or asthma? Seed supreme has a breed for every condition.
The customer service of seed supreme seed-bank has been great so far. I had 1 problem with an order and it was resend within 2 days (even without the assured delivery option). Because I pay with bitcoin, I would highly recommend anyone seed supreme seed-bank that likes to pay with crypto currency. 25% off every order is a great way to safe some money:)
Seed Supreme Cannabis Seeds review #2
Martin Bowdels from Russia. Me and my friends wanted to grow a legend and this is why we ordered the Amherst Sour Diesel Feminized Seeds from seed supreme. It is a clone that was made by the Mendocino partners and it has the best and most intense taste we have ever had.
The flowering time of the Amherst Sour Diesel Feminized is around 9 to 10 weeks and has a low 0-1% CBD strain. It is not a CBD strain but a real stoner. Me and my mates use laugh for hours and you can easily grow these plants inside. Seed supreme gave us some great info about the Amherst Sour Diesel Feminized and we paid with cash.
Seed Supreme Conclusion
A great seed-bank with some great information (blog) and promotion materials that can be very beneficial, especially when buying in bulk. The payment & shipment is below the standard but not bad. We would recommend buying at seed supreme when you are a frequent bitcoin buyer and when you can wait on your order a solid time for one of the best prices out there.