VIPARSPECTRA is a Chinese superior brand, engaged in the manufacturing and supplies of state of the art LEDs since 2015, while their manufacturing facility located in Guangdong, China.
They own an extended range of LEDs including Time-Control, dimmable, Reflector, and High Penetration Series which, is a result of their dedicated and professional research team.
They also own a marvelous customer's network and accept constructive criticism and feedback from the users and use it to improving the quality and efficiency of their wide range of products.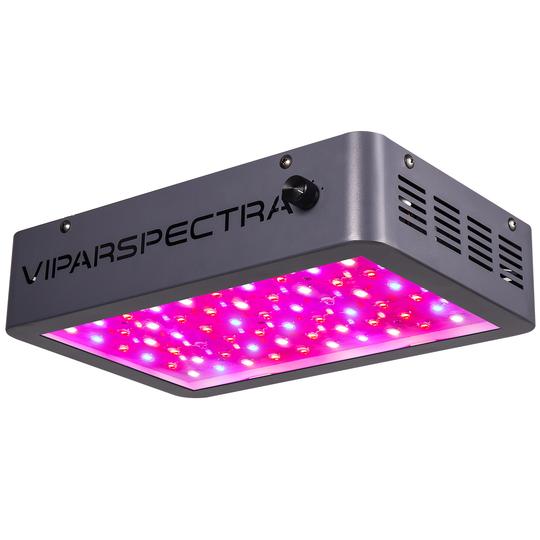 Vipraspectra Company Reviews
The (Company) Vipraspectra review customer\'s feedback regularly and inform them about the improvements and ask for further feedback. Hundred of clients review Viparspectra's product quality, customer support services, and Company\'s response daily.
The Company also manufactures LEDs for aquarium. Generally, product selling is through the website, and this method allows them to minimize intermediaries\' commission, while they believe that the process is highly effective in keeping prices in check. Moreover, this method also allows them to offer the best economical prices to their customers around the world.
VIPARSPECTRA's LED Design
Since they specialize in making LED lights of varying intensities, VIPARSPECTRA 600w LED lights are compact with superior quality Aluminum heat sinks, full-spectrum, and growth-stage switches.
They also install noise-free big fans compared to their competitors, and the majority of product design for lifetime usage, i.e., VIPARSPECTRA 600w. Another advantage that customers get from Viparspectra 600w is worry-free installation and operating manual.
Moreover, they also provide complete guidance about lighting distances for different crops. They offer 15.3 x 12.8 x3 inches size with 12 band spectrum that weighs only 11.5 pounds. Most common series they offer;
#1 Dimmable series
VIPARSPECTRA 600w is generally equipped with three switches that permit users to expose their plants to white, red, and blue wavelengths depending on the stage and plants need. These are among the most widespread series and the quality products they offer.
#2 Reflector series
VIPARSPECTRA 600W Reflector series allow growers to divert the maximum amount of light towards the plant\'s canopies without producing any heat in the system. Small and medium lights could perform better for getting maximum light absorption rather than placing high-wattage lights for the same function.
This series is also a super-seller, and users claim that efficacy is of high quality.
#3 Timer and Remote Control
The timer allows the grower to adjust the schedule for running it for the required number of hours per day. Nevertheless, remote control helps in adjusting the brightness as and when needed according to the growth stages and plant\'s development patterns.
Spectrum
The Viparspectra 600w lights are acknowledged for their full-spectrum and could prove an ideal selection for the entire phases of crop growth and development. Moreover, these lights are the choice of professional growers for several types of growing environments such as hydroponics and aquaponics.
Overall light combination holds 120 blue, white, and red lights, each of them powering 5-Watts that are manufactured by Epileds and Bridgelux brands. This combination yields a full spectrum that ranges from 380nm to 780nm and replaces the sunlight and includes 12 brands spectrum with infrared.
Viparspectra also offers 600 Watts reflector series that reflect more light to the canopy of plants to enhance the coverage area. The reflectors series are an out of the box experience where lights of small or medium intensity could meet the requirements of plants more effectively.
Power Efficiency
Vipraspectra 600 Watt LEDs while running on a full capacity, both Dimmable and Reflector series would draw hardly 260 Watts from the power source. That\'s the reason they are recognized as power-efficient lights in this range. Since you run lights of varying strengths during propagation, vegetation, and flowering stages, the power could further reduce and they become the most efficient lights during the entire growing operations.
Coverage Ability
Again the coverage is great compared to other lights of a similar capacity. You could install them 32 inches above the canopy of plants to cover 9 square feet area and plants could receive PAR equivalent to 305. The height could reduce to 24 and 22 inches respectively during the flower initiation and extreme flowering phases and coverage would decrease between 6-6.5 square feet.
The advanced hydroponic system even allows you to install light 18 inches above the canopy during flowering stages. Grow Tents try maintaining height as far as you could manage.
Cooling
The Viparspectra uses two fans on the back cover of an individual light, each measuring 4.72 inches of wings diameter. One fan installed on each side of the ventilation slots. So, there is no need to worry about the accumulation of heat in the system.
As you know well, it\'s the heat within the system that kills the plants, not the light. Moreover, the noise is reduced to a negligible level equal to a common oscillating fan in your house. On the other hand, the 600 Watts reflector series uses superior heat sinks to absorb extra heat that keeps the system cool while running at full throttle.
The overall range of grow lights produces heat in the grow room but, LED and specially Viparspectra 600w keeps a check on the heat and allows plants to grow under cool conditions. These and all other salient features allow you to maintain and achieve Viparspectra 600w yields significantly high. As an average, you could manage to get about 2 grams per watt and 500 grams per plant per cropping season.
Warranty
Since Viparspctra offers 3 years of minimum maintenance warranty to its customers, they positively review this warranty, while their customers support program and technical assistance are also marvelous. They not only offer 30 days\' money-back guarantee but, act on what they say.
However, such cases are very limited and the majority of customers are happy with the product and services they offer.

Product List Related to VIPARSPECTRA 600w LED
Conclusion
In my opinion, which bases on customer reviews and user experience, Viparspectra offers one of the best 600 Watt series. Generally, customers agree that their 600-watt series are exceptional for the prices they sell in the market. This series allows you to grow a variety of plants in several indoor arrangements.
Especially if you are willing to grow Cannabis, these series are doing marvelously fine. Also, their durability allows it to run this series up to 50000 hours. Careful selection could lead you to get extra produce that you can\'t even think of getting with ordinary light.