I Welcome Cannabis Growers to the Best Kelvin for Flowering Growth 2022
I understand how hard it becomes for cannabis growers when they need to select the best light out of many dozens of products that are currently available on the marketplace. Every manufacturer claims the supremacy of their product. But it is real-time testing that evaluates which one to trust. I also kept myself busy with the trialing of a few dozen lights in my grow room where I often test the performance of different cannabis and vegetable varieties.
This time, I had several advantages for having a few short stature cannabis strains in the flowering stage that took me two weeks to evaluate the performance of several lights and determine which Kelvin scale is best during that stage. Besides some difficulties that every grower faces, I am glad to share which lights contributed the most to achieving higher productions. Trust me since I evaluated light performance under the guidance of many scientific articles that could help you find the right lights match for growing cannabis.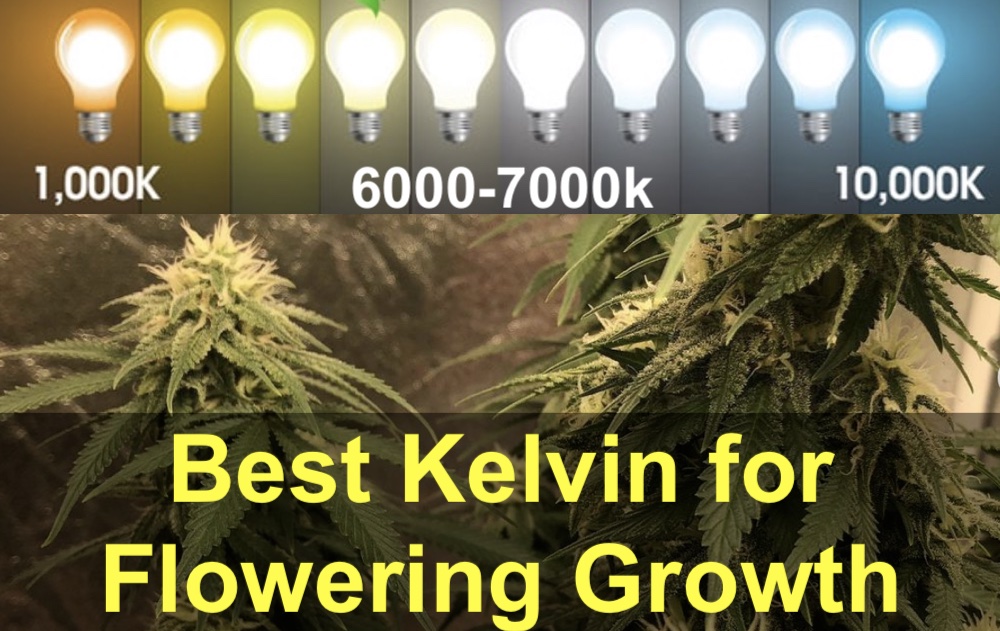 Grow Lights Kelvin
Since cannabis growers are well informed that Kelvin is the warmth of light. The higher the Kelvin scale, the more cool light is. Grow lights Kelvin which, is above 5000 is the product of blue light. In other words, the bluer light will possess more kelvins. Similarly, when the Kelvin scale drops below 5000, the warmness starts increasing. It is the product of red light. The redder a light is, the greater is the warmness. Besides, the Kelvin scale could drop eventually, from 5000 to below 2000 kelvin.
That\'s the reason the cannabis growers need lights having a color temperature between 2700K to 3000K for flowering their plants, and it continues to perform well up to 3500K. It never means that role of blue wavelength finishes while flowering as it keeps on complementing plants\' growth processes such as food assimilation, stem elongation, adding more nodes to the stem, and splitting up branches to form denser canopies. Therefore, a combined effect of cool and warm light could better promote flowering and subsequent growth of cannabis plants in any sort of indoor growing.
Depending on the types and make, the grow lights may scale between 2000K to 7000K. Don't mix Grow Light Kelvin and Lumens at all since Lumens are entirely a different thing. Lumens only deal with the brightness of a light and the majority of plants need different Lumens throughout their lifecycle. For instance, Cannabis plants demand 10000 Lumens per square foot of grow space. But, it could help cannabis plants grow successfully, even if they drop to 2500.
Otherwise, the optimum growth could observe Lumens between 7500-10000 per square foot, average being 5000, and minimum level that Cannabis plants could continue the entire growth process are 2500-3000 Lumens per square foot. Usually, every watt consumed for running an LED light could produce between 80-90 Lumens. But, it entirely depends on the performance and efficacy of any light. Some LED grow lights are even 40% efficient. Besides, the best lights are up to 60% efficient. Additionally, the LED grow lights that use 3W, or 5W chips are highly efficient.
HPS Kelvin
High-pressure sodium bulbs produce red light, and the cannabis growers are fully aware that they are associated with low Kelvin scales that vary between 2100 to 2700K. It is the scale that suits well when the cannabis plants move into the flowering stage. The growers can compare HPS light with the sunset in autumn, and this is the time when cannabis steps into maturity if it grows in the outdoors. The cannabis plants maybe wanting redder than the blue to promote a high floral index at this stage. Any grow light that provides a dimming option could induce flowering in cannabis plants by proving them with a more red and less blue spectrum during the flowering stage.
Moreover, combining two different kelvin scales from light different sources could also improve flowering in cannabis plants. It\'s always necessary to note the flowering starts with age, and there is a huge variation between different cannabis strains when we talk about flowering. You can\'t induce flowering in cannabis plants before time because it could stress plants\' growth resulting in lower yields. However, the cannabis plants growing in the unattended environment could behave differently depending on the climatic condition. They could either produce early flowering or delay, as far as indoor growing is concerned, the primitive focus is to get higher yield along with superior taste and aroma. So, let the cannabis strains grow to their set potential to get the desired results for higher THCs.
Best Kelvin Lights for Flowering Growth Reviews
#1 MARS HYDRO TS 1000W Led Grow Light (Premium Brand)
I found it an exceptional performing light and got nearly 500 micromoles per square meter per second by hanging them 18 inches above the cannabis canopy. Its coverage could extend up to 9 square feet with a consistent Kelvin scale of about 2700 micromoles per square foot per second. The dimmable options also allow cannabis growers to regulate light needs during different growth processes. Overall, 342 LEDs burn about 150 Watts of energy while running at a full capacity. Moreover, you could check the temperature and humidity in the grow room with a free and precise Thermometer and Hygrometer that come free with the package. It can potentially give you a harvest that reaches up to 1.5 gram per watt that it draws from the power source. Besides the flowering stage, it could complement the light need for seedlings and vegetative growth as well. here is a link to see customers' ratings and reviews;
#2 King Plus 1000w LED Grow Light (Runner Up)
Runner up in the yield competition and economical. Switching over to the bloom modes gives cannabis plants an additional boost for inducing flowering and getting quality buds. Though it\'s helpful throughout the cropping cycle of cannabis plants, its response during the flowering stage was exceptional. King Plus Incorporate Bloom Kelvin with white light, and there is no harm in switching to this mode for increased flowering. The temperature of the cannabis grow room also remains ideal in the ranges between 50 to 60°F, and there remains a little need to dehumidify grow room. They use 10W chips instead of 3W or 5W. That\'s why it could effectively replace a 600W High-Pressure Sodium light. Moreover, it runs cool and saves energy, and could buy one unit under $110 from any marketplace. The growers could check detailed specs through this link;
#3 SPIDER FARMER SF-4000 LED Grow Light (Economical Choice)
SF-4000 presents an extended flowering output to a 25 square feet area and suits the commercial cannabis growing facilities. Its bright light and Kelvin scale ranges between 3000 to 5000K which, means it could add more to the flowering induction than vegetative growth. Moreover, SPIDER FARMER uses Samsung Diode series-LM301B that considerably enhances both canopy light penetration and active footprint. Along with an enhanced footprint, it could effectively deliver up to 2.7 micromoles per square meter per second, much higher than any other light of the same capacity. Additionally, it\'s a power-efficient light that could run between 350-450 Watts Samsung LM301B diodes, high Energy Efficiency with 2.7 micromoles per square meter per second that optimize yield. The 3000 Kelvin scale diodes specially design to boost flowering and turn most of the vegetative growth into productive buds. Commercial cannabis growers would love it. For more details, click this Amazon link;
#4 Advanced Platinum Series P300 300w 12-band LED Grow Light
P300 is essentially more powerful than the majority of the LED grow lights of the same capacity and their coverage is also way bigger than traditional lights that intensify by integrating 90-degree focusing lenses. The footprint extends to 16 square feet while hanging them 18 inches above the cannabis plant\'s canopy. The Kelvin scales lies between 2700-3200K that greatly impacts flowering at the later stages of growth. Moreover, there is minimum lights waste for the technology adopted in the making of P300. Power consumption varies between 93W for the vegetative cycle and 180W for flowering. Moreover, vegetative and bloom switches allow the cannabis growers to select the desired switch according to the changing state of the plants. One advantage is a prolonged warranty. It is a bit pricy But, it\'s hard to find its close match.
Here is a link to see its performance and detailed specs on Amazon;
#5 HLG 550 V2 Rspec 500w 120 Volt- Horticulture Lighting Group Quantum Board LED Grow Light
Another super performing US brand But, a costly option that could deliver 3000 Kelvin you\'re your cannabis plants need at the flowering stage. It\'s another useful light for commercial cannabis growers that could cover nearly 20 square feet of planting space during the flowering stages of cannabis plants. Its\' quantum board contains 2-special boards for delivering Deep Red light with 3000 Kelvins with an efficiency of up to 2.65 micromoles per square meter per second. The cannabis growers couldn\'t\' find even a close match to HLG 550. They also offer a warranty for 3-years with superior customer support. Here is a link to see customers\' feedback and reviews;
HPS and CMH grow light Related
| Top Sales | Product Link Related to Article | Price |
| --- | --- | --- |
| | Grow Co. 630W CMH Ceramic Metal Halide System w/ 2x 3100K Full Spectrum Bulb 240V Power Cord and 120V Power Cord | from $467.37 |
| | Grower's Choice Horticulture Lighting with Full Spectrum 315W Ceramic Metal Halide light (3KR Red Enhanced) Complete… | from $338.22 |
| | TopoLite CMH 315W/ 630W CDM 120/240V Grow Light Fixture Kit w/Bulb & 120V Plug Hydroponic Indoor Growing Light System… | from $335.99 |
| | Sun System LEC 315 120v Light Emitting Ceramic Metal Halide Fixture w/ Free Ratchet Light Hangers | from $561.49 |
| | Gavita 906050 Pro DE Complete Fixture, 1000-watt 240v Only | from $420.00 |
| | Grower's Choice Horticulture Lighting with Full Spectrum 315W Ceramic Metal Halide light (4K Veg Phase) All in One… | from $315.71 |
| | Grow Co. 630W Ceramic Metal Halide CMH Fixture w/ 240v Cord | from $228.21 |
| | iPower GLLECX630D grow light fixture, CMH | from $241.99 |
| | GROWERS CHOICE Double Ended CMH (3K) Grow Light Lamp Bulb, 630W | from $158.99 |
| | Grow Co. 315W Ceramic Metal Halide CMH System w/ Philips 3100K Full Spectrum Bulb 120V US Standard Power Cord | from $270.44 |
| | Sun System Grow Lights - LEC 630W | 120V | 3100K Lamps - Indoor Grow Light Fixture for Hydroponic and Greenhouse Use… | from $833.54 |
| | Hydrofarm PHR31504KT Phantom CMh Reflector, Ballast and Lamp (4200K) Bulb Kit | from $474.56 |
| | iPower GLBULBDECDM630K3 Double Ended Ceramic Metal Halide Grow Light Bulb CDM/CMH Lamp, 630W, 3100K | from $75.29 |
| | Advanced Platinum Series P600 600w 12-band LED Grow Light - DUAL VEG/FLOWER FULL SPECTRUM | from $750.00 |
| | Eye Hortilux 1000-Watt Super HPS Grow Bulb, 1-Pack, Red | from $72.99 |
| | iPower GLLECX630D2CDMK3 grow light fixture, 630W 3100K Bulbs | from $359.99 |
| | GROWERS CHOICE GC3153KR Single Ended CMH Light Bulb (3Kr), 315W | from $72.89 |
| | Sun System Grow Lights - Magnum XXXL - Air-Cooled | Single End | Metal Halide / HPS | Reflector - 6" Air Duct Fittings… | from $157.00 |
| | Philips HGC901575 Master GreenPower Elite Agro 315W/930 CDM-TP Lamp 3100K (Full Spectrum), White | from $91.00 |
| | Gavita HGC906087 Pro E-Series 6/750e DE Flex Light Fixture 120/240 Volt Comes With 8' 240V Power Cord White/Silver | from $333.25 |
| | iPower GLLECX630D2CDMK4 Hydroponic 630W 240V Double Lamp Ceramic Metal Halide CMH CDM Grow Light System Kits with 2 x… | from $359.99 |
| | Advanced Platinum Series P300 300w 12-band LED Grow Light - DUAL VEG/FLOWER FULL SPECTRUM | from $1138.70 |
| | TopoLite CMH 315W CDM 120/240V Grow Light Fixture Kit w/Bulb & 120V Plug Hydroponic Indoor Plants System (Enclosed CMH… | from $173.25 |
Led grow light Related