Best Quantum Boards 2023: Quantum Board LED Grow Lights Reviews
Horticulture Lighting Group devised the word "Quantum Board", and this concept spreads the diodes on a board in LED grow lights manufacturing. With this innovation, the blurple light changes to a form that contains a full spectrum consisting of a higher amount of light which, promotes vegetative growth and flowering in plants under them. Quantum board LED grow light got an overwhelming response from the growers soon after its release in the market due to the splendid yields growers got in cannabis farming.
There is no doubt about their performance of Quantum LED lights since a significant number of growers are convinced of their smart spectrum string that adds too much to the growth and yield of plants compared to the ordinary LED grow lights. HLG is still an authority in the manufacturing of quality Quantum LED grow lights in this industry across the world, and they are consistently working to improve the quality of their quantum board LED grow lights. HLG\'s Research & Development wing is one of the most vigilant and zealous departments in the LED grow lights industry.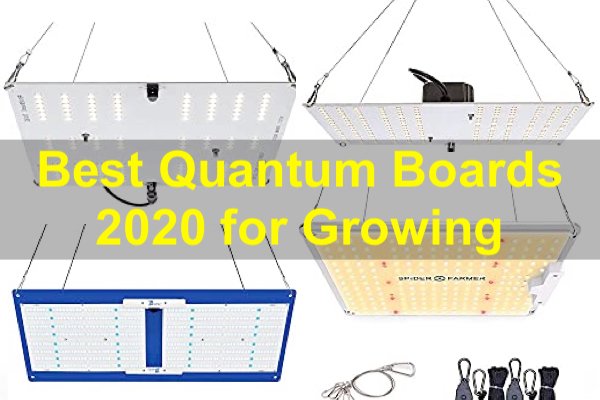 The Quantum Grow lights mount on a circuit of several diodes in a series containing average-powered LEDs that make a string. The strings then use a parallel configuration and are made companionable with drivers that contain a high power.
The growers could enjoy more advantages and a few cons if they compare Quantum Board LED grow lights with any other existing lights such as COB or ordinary LED grow lights.
Advantages of Quantum Board Lights
For the time being, only COB lights appear a small competitor for the Quantum Board grow lights. Both Quantum Board and COB lights use the same principle for yielding a full spectrum light, while the characteristic difference is mounting several diodes in close proximately to each other in a smaller and tight space when making COB lights whereas spreading them over a huge area in Quantum Boards. This increases the Quantum Board grow light ability to disperse the light in larger space compared to COB light that throws light in concentrated areas. Moreover, scattering a light source saves the plant surfaces in contracting less heat compared to other lights that keep the growing environment cooler. General advantages are;
#1 Heat Management
Heat management in Quantum Board lights is much easy and simpler. Usually, a board mounts on a thin Aluminum plate that doesn\'t need active cooling, such as installing fans or vents. These Aluminum plates stay cool for longer and are sometimes used as reflectors to increase the spreading area of lights.
#2 Uniform Light Spreading
Quantum Board lights spread light over more area as the surface area of the strings is often 12 inches or more, whereas COB throw lights from a single source that measures hardly 1 inch in diameter. The emitted from the Quantum Board is also uniform in wavelength and spectrum.
#3 More Lumens Per Watt
Quantum Board lights are more efficient. Comparing 50 watts\' efficiency for getting more lumens per watt shows that Quantum Series produce 180 Lumens whereas, a COB may be limited to 160 Lumens per watt only.
Disadvantages of Quantum Board Lights
There could be disadvantages when comparing with ordinary lights;
Horticulture Lighting Group has a monopoly over Quantum Board Lights, and they often get out of stock.
Quantum Board is different to manufacture if you do it yourself.
You could manage more lights at the price you need to buy a single Quantum Board light. Usually, 3 COB lights make the price of one Quantum Board light.
How to Handle and Care Quantum Board Lights?
Do follow these instructions while handling, clearing, and storing Quantum Board Lights;
Avoid shocks and jerks, and don\'t drop Quantum board.
Avoid touching LED resin and bending PCB.
Avoid storage in a dusty environment.
Avoid disassembling for the fear of VOC's leakage.
Avoid relocating Quantum Board lights when they are working.
Also, avoid touching the circuit when in operation.
Cleaning Quantum Board
Isopropyl Alcohol is the best agent for cleaning LED modules. Non-recommended cleaners could temper the shape and cause trouble to the circuits. However, if it is necessary to clean using other cleaning agents, be sure that the cleaner doesn\'t dissolve the resin or VOC\'s used while cleaning a module. It is advisable to try other solvents or cleaners on a small scale before cleaning the entire board. Avoid using Freon and Ultrasonic techniques for cleaning your product since they have some impositions by regulations worldwide.
Quantum Boards need anti-static electricity, voltage regulator, and well grounding for smooth and stabilized function. Wearing shockproof gloves is also mandatory while handling Quantum Boards.
BEST QUANTUM BOARD LED GROW LIGHTS REVIEWS
#1 HLG-65 V2 4000K Quantum Board LED Grow Light
HLG-65 V2 series contains 120 pieces of Samsung LM301B LEDs that emit more than 10000 Lumens while consuming hardly 65 Watts. It also contains Bloom and vegetative buttons to switch the power to two stages according to the plant\'s need. HLG-65 V2 also provides full-spectrum light for all phases of cannabis growth. Overall, HLG offers quality as they established their reputation as one of the best manufacturers of Quantum Board lights for thousands of their satisfied customers. It\'s a smart and light unit that weighs only 2.6 pounds. It\'s an ideal light in the small fixtures of 4 square feet area. This link contains the customer's reviews on brightness, heat output, and weight;
#2 HLG-100 LED Grow Light (3000K/4000K)
Another product from HLG draws 92 Watts and weighs 3.8 pounds only. Build with a large Meanwell driver and could replace 200-250 Watts of conventional lights with 192 Samsung diodes. Its PPF output is around 225 umol/s, and the PAR efficacy is nearly 2.3 umol/s.
HLG-100 is full-spectrum white light, and it offers 3000K during the flowering phase and 4000K for the vegetative growth of the cannabis plants. If the cannabis yield is a concern, then prefer 4000K for increasing productivity. It offers an active flowering footprint is around 4 square feet, while 6-9 square feet for vegetative growth and development. You could hang HLG-100 at a distance of 36 inches from the canopy of plants during the vegetative phase and 12 inches during the flowering phase. Here is a link to see customer\'s reviews, rating, and detailed specification of HLG-100;
#3 HLG-550 V2 500 Watts-Quantum Board LED Grow Light
One more quality addition to the HLG Quantum Board series that growers often use to increase cannabis production in the grow room. It\'s ready to use light. Just plugin and enjoy harvesting maximum.
HLG-550 also uses Aluminum heat sinks to manage and reduce heat without making noise in the growing environment. It hardly uses 480 Watts of electric power if run on a full capacity. otherwise, the dimming option allows you to reduce power consumption up to 200 Watts. With high PPF up to 1257 umol/s and PAR Efficacy of 2.6 umol/s, it could increase its footprint to 36 square feet during the vegetative phase and 16-20 square feet during flowering. This sun-like spectrum light offers a 3-year limited warranty for its users. You could review rating and customer's responses through this link;
#4 SPIDER FARMER SF-1000 LED Grow Light
SF-1000 is Quantum Board grow light from the Spider Farmers that resembles HLG Quantum Board series in the color spectrum but, they additionally mix Deep Red and Infra-Red light to make it a sun-like full-spectrum. You get Spider Farmer\'s products at a much lower price than the Horticulture Lighting Group with a similar type of components and make.
Since it offers multiple wavelengths and a wide color spectrum, it could perform better than several lights of the same capacity and build. Moreover, SF-1000 is completely sealed against moisture absorption and make it a waterproof unit that fits in a hydroponic arrangement.
Shockproofing and noise-free operations are also worth noticing. It could cover a growing space of 9 square feet during vegetative and 4 square feet during flowering stages. We are adding a link below to see user's rating, reviews, and product specification;
#5 SPIDER FARMER SF-4000 Quantum Board Grow Light
SPIDER FARMER SF-4000 applies a high yielding technique by combining Deep Red and Infra-red in the color spectrum that matches sunlight. Installed Samsung LM301B diodes offer energy efficacy of 2.9 umol/J. The additional feature involves deep light penetration into the canopy of Cannabis plants that brings quality produce along with boosting Cannabis yield. SF-100 consumes hardly 450 watts of electric power to keep a lot of money intact into the growers\' pocket. You could go up to 36 square feet of vegetative footprint and 25 square feet of flowering footprints after installing SF-4000 in your grow room. The dimming option allows controlling light intensity during variable phases of crop growth that additionally save a lot of cost on power consumption. Other salient features include a MEAN WELL driver and a shock-free and noise-free unit. Spider Farmer also offers a considerably extended after-sale warranty of up to 3 years.
Check detailed specs and customer's reviews here;