Humboldt Seed Company Review 2023: Top US Breeder & Seed Bank from 2001
Humboldt Seed Company is a large and fairly popular seed bank & breeder in California. This cannabis seed bank is known for its genetically stable collection of cannabis seeds, some of the best genetics in the world.
If you search for Humboldt Seed Co reviews at any cannabis forum, you'll find that most of the reviews are positive. But there are still some underrated reviews. And to clarify whether Humboldt Seed Company is the best place to buy seeds, we have prepared this article.
In this article, we will summarize some information about this US seed bank. And based on that information, growers can decide for themselves whether to trust Humboldt Seed Company or not.
Humboldt Seed Company Review 2023
We have placed marijuana seeds in Humboldt Seed Company many times, enough to give an overall review of this seed bank and breeder. We found that, Humboldt Seed Co has the following pros and cons:
Pros
Breeders and growers with extensive industry experience
Environmentally friendly farming methods
Genetically stable cannabis seeds
Unique collection of cannabis seeds
Good reputation
Great customer service
Various payment methods
The price of cannabis seeds is in line with the quality
Cons
Germination is not guaranteed
Seed collection is not too big
Not many promotions
That's our overall review of the Humboldt Seed Company by purchasing marijuana seeds from them. Overall, Humboldt Seed Company is a trusted source for seeds, especially for the US cannabis community.
If you want to learn more about Humboldt Seed Co, please refer to the information we list below.
About Humboldt Seed Company
Founded in 2001 by biologists in Humboldt County, CA, Humboldt Seed Company breeds the highest quality cannabis strains to bring to the market. Humboldt Seed Co's goal is to provide the best, highest quality, most genetically stable marijuana strains for growers who want to grow their own cannabis at home.
In particular, Humboldt Seed Company also works with local farmer friends to create the most unique strains of cannabis. Their farming methods are also towards being as environmentally friendly, green and clean as possible.
This cannabis seed bank & breeder also takes full advantage of Humboldt County's favorable climate to grow cannabis plants to create the most amazing marijuana strains. The Humboldt Seed Company catalog contains unique top-of-the-line marijuana seeds with good genetics. That's why Humboldt Seed Company sellers are found with long lists, spread all over the world.
Growers in particular should be careful not to confuse the Humboldt Seed Company with the Humboldt Seed Organization. Humboldt Seed Company is a seed bank and breeder based in CA, USA, while Humboldt Seed Organization is a seed bank based in UK.
During the past time, Humboldt Seed Co has built a good reputation and a solid foundation for its brand. The founders of Humboldt Seed Co have over 25 years of experience in the cannabis industry and they want to share the good values ​​that the cannabis plant has to offer more widely.
Is Humboldt Seed Company Legit?
Yes, absolutely! Humboldt Seed Co has been a company that has provided cannabis seeds for the past two decades to the US cannabis community in particular and the world cannabis community in general. Humboldt Seed Co is also quite vocal in the industry and they are a figure that always strives to bring out the most positive image of cannabis.
Humboldt Seed Co produces its own seeds, and their goal is to maintain the rare and unique cannabis strains that have been around since the old days in Humboldt seeds. The company has put a lot of time and effort into successfully breeding its cannabis seeds and bringing them to market.
Humboldt Seed Co seeds have stable genetics and high germination rates. They also supply their seeds to many other retailers around the world and customers can rest assured when ordering seeds from this company.
Besides, Humboldt Seed Co is a reputable and extremely ideal place to buy marijuana seeds for growers looking for rare and unique cannabis strains. This seed bank and breeder is based in Humboldt County, CA, USA.
Interestingly, US growers can find Humboldt Seed Co seeds at local drug stores. In addition, Humboldt Seed Co is also very active in legalizing and activating the image of weed in the community. All in all, Humboldt Seed Co has a very good reputation.
Cannabis Seeds Quality & Selection
Compared to other large seed banks such as ILGM seed bank, or Crop King Seeds, the quality of Humboldt Seed Co's cannabis seeds is not inferior. You should remember that Humboldt Seed Co is a breeder that supplies seeds to many other retailers, so the quality of cannabis seeds is always first.
The climate and soil conditions in Humboldt County, US are also a leading genetic determinant of cannabis seeds. Since time immemorial, Humboldt has always been known in the US cannabis community as the most ideal land for cannabis plants to grow.
Some special and rare marijuana strains are also found in this land. However, over a long period of time, these indigenous strains gradually disappeared. That is why the founders of Humboldt Seed Co bred and maintained these unique genetics.
They also want these indigenous cannabis strains to become more widely known, and after working with local growers, Humboldt Seed Co has gradually formed a solid foundation in the industry. Their cannabis seeds have received rave reviews from the world cannabis community.
While it doesn't have a four-digit marijuana seed collection like other major seed banks, Humboldt Seed Co boasts their own collection of weed seeds. These cannabis seeds are outstanding and cannot be easily found in any seed bank.
Furthermore, we also highly recommend this breeder's clean, green cannabis cultivation method. Humboldt Seed Co is also a major campaigner for the protection and preservation of Mother Earth. The cannabis seeds produced under this cultivation method are genetically more stable than conventional cultivation.
Humboldt Seed Company's weed seed collection includes regular seeds, feminized seeds, autoflower seeds, and hemp CBD seeds. If growers are looking for rare and unique cannabis strains, this collection is the ideal choice.
Customer Service
Not only does it offer top notch cannabis genetics, Humboldt Seed Company also offers exceptionally good customer service. Humboldt Seed Co has built a fast and reliable customer service team.
In particular, these staff also have a very good knowledge of cannabis cultivation, so if growers have any questions during the cultivation process, they will be happy to give you advice.
To contact customer service staff, you can contact via phone number or email. However, they will only work during office hours. We wish Humboldt Seed Company to establish a chat box in the future so that customers can reach the staff more quickly and conveniently.
Customers in the USA can contact staff at the Humboldt Seed Company phone number. It's the fastest way for customers to get their answers. Email communication is more appropriate if you need to reflect on an issue in detail, but it will take some time for staff to respond to your email.
Furthermore, the employees of Humboldt Seed Company have a passion for the cannabis plant and a desire to build a stronger US cannabis community. They also contribute a lot to the local cannabis community.
Cannabis Seeds Price & Payments
At the time of this writing, the seed prices at Humboldt Seed Company are reasonably priced for the quality of their cannabis seeds. Some might consider this a little more expensive than other seed banks in the area. But compare this price with their seed quality.
The seeds from the Humboldt Seed Company are all seeds they have bred, which is their own cannabis seed. Moreover, cultivation associated with green, clean, environmentally friendly methods will help the cannabis seeds have more stable genetics.
There are also many Humboldt Seed Company sellers/retailers selling the company's seeds. Therefore, customers who buy seeds directly at the Humboldt Seed Company website will receive a more favorable price.
The selling price of seeds among seed groups is also not the same. While regular marijuana seeds are the most affordable of the bunch, feminized seeds have the highest prices. But there are some exceptions as feminized seeds cost about the same as auto flowering strains. And these exceptions only occur in certain strains of cannabis.
The average seed selling price at Humboldt Seed Company that growers can refer to is:
$22-32 for a pack of 3 seeds
$35-55 for a pack of 5 seeds
$70-100 for a pack of 10 seeds
$170-215 for a pack of 25 seeds
Regarding the payment methods of Humboldt Seed Company, they offer a variety of methods to provide the best customer experience. This company accepts credit and debit cards (Visa and MasterCard), bank transfers.
Humboldt Seed Co also accepts customers to pay its bills in Bitcoin, and cash. This flexibility of the company has brought a big plus because customers have more options to find a payment method that works best for them.
Shipping & Return Policy
Humboldt Seed Company is a seed bank that ships to the USA and many other regions of the world. In particular, they deliver extremely fast seed orders to states in the USA. Growers in the United States will receive their order within 1 to 2 days of placing an order on the Humboldt Seed Co website.
Other areas will take longer to arrive. Depending on the distance between the destination and the headquarters of Humboldt Seed Company, the shipping cost and shipping time will vary. Areas outside the US may take 10-30 days for your order to arrive.
Standard delivery times may take longer than expected if customers choose to send by regular mail. However, Humboldt Seed Co will ensure order preparation and dispatch as quickly as possible so as not to affect the freshness of the cannabis seeds.
Humboldt Seed Co's return policy is non-public on their website. We recommend that customers email or call the company's hotline if there is a problem with their order. The staff will try to solve your problem and provide the most profitable and reasonable solution for these problematic orders.
Website & Promotions
We highly recommend the Humboldt Seed Company website. This company builds and designs its website to be very clear and easy to navigate. Their website looks pretty simple but is neatly organized.
When you visit their website, you will find prominent and remarkable information on the homepage. Accompany it with clear headings and sections so you can instantly navigate to the information you need.
We love that the Humboldt Seed Company's website has plenty of space and has a bright, uncluttered interface. The headings have clear forms and colors for customers to easily find and identify information.
This seed bank's list of the most popular seeds is divided into separate categories. These include Regular Seeds, Feminized Seeds, auto flower Seeds, and CBD Seeds. Customers will find the cannabis seeds at their disposal when clearly classified into such categories.
Besides, the website of this seed bank has many other useful additional features. A simple example would be a search bar that allows customers to quickly find their favorite strains of cannabis. Minimize searching and time to do other tasks.
We can't help but mention the built-in cannabis cultivation lessons on the Humboldt Seed Co website. This company has prepared these lessons for growers who don't have much experience growing marijuana.
These lessons have been drawn from the experience and knowledge of cannabis cultivation from the company's breeders and growers. They are eager to be able to help their clients from the very first lesson on how to germinate cannabis seeds. The company hopes to contribute more to the growing cannabis community.
When accessing this 'Learn' section of Humboldt Seed Co, growers will find many lessons related to growing cannabis seeds and very useful for their crops. The lessons will be accompanied by information and specific video tutorials from this seed bank.
While we highly recommend the Humboldt Seed Co website, promotions are one of their weak points. This company does not run many promotions for customers, and it is a big pity to drive more customers to pay for their seeds.
You won't find many offers on their website, nor will there be any special offers regarding payment methods. Perhaps Humboldt Seed Co aims to develop itself as a breeder rather than a retail seed bank.
If Humboldt Seed Co develops and invests a little more in promotions, we believe that more customers will know about the company. However, customers always want to be able to buy seeds at the most favorable price.
Some famous cannabis strains (Must try)
#1 Family Jewels
Family Jewels is one of the newest and best Humboldt Seed Company strains that we highly recommend. This 80% Sativa dominant cannabis strain is a cross between Lost Coast Lemons and Old Growth OG. These two parent strains you will never find on the market and also rarely have the opportunity to see them in person.
Family Jewels is part of a research project involving 10,000 cannabis plants that Humboldt Seed Company collaborates with Bless Coast Farms and the Grow Sisters collective. This unique cannabis strain has been put a lot of effort into by Humboldt Seed Co.
Humboldt Seed Co spent thousands of dollars rediscovering the last rare clone, Family Jewels. It is very unique and rare to appear at any seed bank or breeder. Humboldt Seed Company is the only place where you can pay for Family Jewels cannabis seeds.
This cannabis strain provides an almost psychedelic effect, and is both uplifting and creative. Family Jewels has a very special scent of lime, pine and diesel.
Family Jewels seeds will grow into plants that have the characteristics of Sativa plants. It can thrive both indoors and outdoors and has moderate growing difficulty.
Growers can expect to obtain fatty colas on sturdy branches with above-average resin density. These colas are usually purple in color, large and quite long. Family Jewels seeds are high yielding and genetically stable.
#2 Magic Melon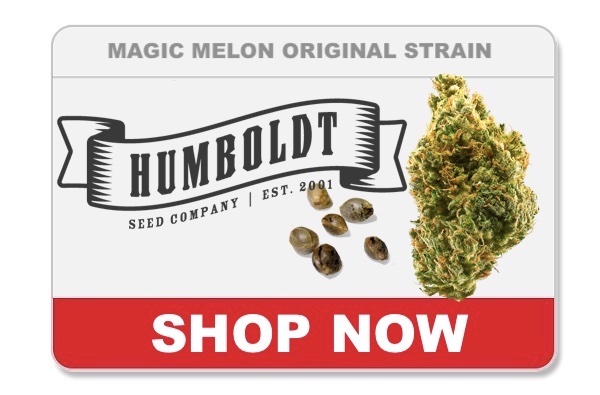 Magic Melon is a 40% Indica 60% Sativa hybrid cannabis strain. This unique cannabis strain originated in connection with a breeding program involving Honeydew Melon, Mango Sherbet and Mango Trees. This cannabis strain has made a big splash thanks to its unique taste, unlike any other cannabis strain on the market.
Magic Melon is a potent weed strain with a high THC content of around 22%, and 1-2% CBD. In particular, this marijuana strain contains a large amount of myrcene. Myrcene is a valuable terpenoid as an analgesic, sedative, anti-inflammatory, antibiotic, and THC and CBD booster.
Magic Melon produces large buds that smell like delicious shiitake or cantaloupe. The effect that this weed brings is quite strong, it will hit hard and bring out your inner philosophy. With high THC and CBD content, Magic Melon is definitely a potent and intense weed.
This cannabis strain has a fairly long flowering period. Growers need to feed the plant enough nutrients so that it can produce large, heavy buds.
#3 Vanilla Frosting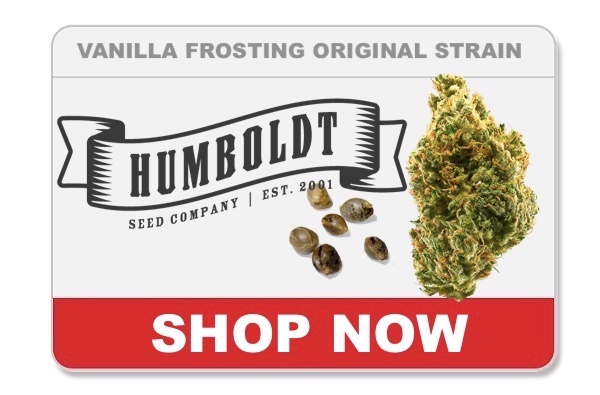 Vanilla Frosting is probably the most delicious, unforgettable weed we've tried. This Indica dominant cannabis strain possesses the best genetics of Humboldt Frost OG and Humboldt Gelato.
Vanilla Frosting has a very sweet and seductive taste. It has a rich vanilla ice cream flavor with a hint of OG. The amazingly high THC content of this strain, 30% offers a lofty, giggly high effect. The taste and effect is so good that you want to share it with everyone.
Vanilla Frosting seeds will develop into plants with strong branches, with flowers facing the sky. So the stem is probably less likely to break than the parent strains. The vitality of this cannabis strain is also significantly enhanced, and easier to grow.
Growers can expect to harvest dense, giant trichome-covered buds. Besides, it closes the gaps perfectly allowing growers to be easily pruned by machine or by hand. All in all, this cannabis strain is not too difficult to grow.
These are just some of the unique and delicious cannabis strains we've picked out from the ones we've tried. In addition, Humboldt Seed Company has a lot of good varieties that growers can hardly find in the market.
Growers should note that Humboldt Seed Company's breeding is manual, so they don't store a large number of cannabis seeds like other seed banks do. We therefore recommend placing a substantial amount of their seed, in case the seed supply runs out before you want to place certain genetics.
Humboldt Seed Company Conclusion
Through what we have experienced, Humboldt Seed Company is one of the best seed banks in California and the best US cannabis breeder. They have created the most unique, rare marijuana strains based on the strengths of Humboldt County, something that very few breeders can do.
In addition, we also appreciate Humboldt Seed Co's in-depth industry knowledge, responsive customer service team and multiple payment methods. We also recognize and respect their contributions in maintaining, cultivating, and promoting the image of weed in the community.
We hope Humboldt Seed Co will pay more attention to invest to bring its image to more customers. All in all, Humboldt Seed Company is the best place for growers to buy the rarest and most unique marijuana seeds. For these reasons we are giving Humboldt Seed Company 4.8 stars out of 5.
The contact information
If you have any questions or problems with your order, you can contact Humboldt Seed Company at their phone number: (707) 740-4201
Or customers can also email them via the email address integrated on the Humboldt Seed Company website, or [email protected]