The LED light is the most important factor when growing indoor that needs time to time adjustments in the spectrum, distance from the plant's foliage, light scheduling, watering, and brightness level at a different level of growth.
There is little need for overall light and water at the start of growth and need to be gradually adjusted when the vegetative growth increases until it moves into flowering leading to maturity.
It is advisable to follow the user's manual to adjust light distance during different stages of the plant's growth while for watering, never let your plants soggy at any growing stage as the LEDs are cool and don't let evaporate too much moisture due to low heat emission.
Below we will give you the Top 10 Best 300 Watt Led Grow Light list and hope it can help you.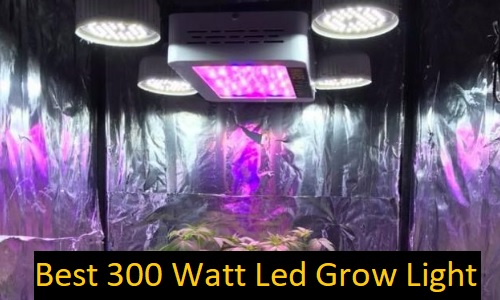 Top 10 300 Watt LED Grow Light Review 2021
#1 Advanced Platinum-Series P300
The light with the highest PAR output compared to any other light in a similar capacity. A good aluminum heat sink with mute fans provides 12 bands of full spectrum for indoor plants to replace 400 Watts of HPS light while consuming only 93 Watts during the vegetative stage and 180 Watts during the bloom period.
The foliage coverage is 4.5 feet x 3.8 feet when placed 18 inches away. Vegetative and Bloom switch installed while the product guarantee is long enough for 5 years. The only con is that it is highly-priced worth it for its features.
#2 VIPARSPECTRA-UL Certified 300 Watts
Viparspectra is a good energy-saving option due to this reflector series. Moreover, compact in design and sturdy with aluminum reflectors suitable for 2 feet x 2 feet area during vegetative and 1.5 feet x 1.5 feet during a blooming period at 18 inches away from the foliage. Light is similar to the sun and equivalent to 250 HPS light while consuming only 130 Watts when running at peak.
The reflector series increase the light penetration into the plant's foliage for optimum photosynthesis while vegetative and bloom switches help you to set light during different stages of growth. The daisy-chaining allows you to hang at the desired location and making possible to connect several lights at the same time.
It is also equipped with superior quality chips that produce high PAR value for the plants growing indoor. The guarantee is limited for 3 years.
#3 Relassy-338 LEDs Reflector
This correct balance light enables healthy and vigorous growth to the plants growing indoor for its built feature to automate timing depending on the need of the plants. Moreover, its UV range helps your plants stay away from the fungal diseases that grow much healthier than usual.
No fans noise but the strong heat sinks behind each chip along with an aluminum sink to dissipate heat. This comes in a foldable design so you take it any corner of the house.
This 300-Watt LED grow light coverage is much better than the rest of the lights in a similar capacity and the same is true for 300-Watt LED grow light power consumption. Power Consumption is about 60 Watts while yield is similar to 300 HPS light whereas it works well from below -2°F to above 122°F. The only drawback is that it is without cooling fans.
#4 VIVOSUN-300W LED Grow Light
Vivosun makes durable units using metal casing for heat dissipation to extend the life span of chips up to 100,000 hours. Additionally, large fan works well to keep the system cool during longer working. Moreover, it is an excellent light for different indoor growing conditions with maximum PAR value and large coverage. Again, this product comes with a 3-year limited warranty and a valid return policy within 30 days of purchase.
the coverage during the vegetative stage is 2 feet x 2 feet keeping the distance of 24 inches and during flowering 1.5 feet x 1.5 feet at 24 inches from the foliage.
#5 iPower-GLLEDXA 300
The manufacturer claims about saving 80% energy using low maintenance techniques with a full spectrum of bright light having low thermal footprints due to excellent aluminum heat sink and noiseless fans. The product considered excellent for growing in soil, aeroponics and hydroponics arrangement.
Each system contains 60 LEDs of 5 Watts chip power and an extended lifespan up to 50000 hours while power consumption is 135 Watts while the output is equivalent to 300 Watts HPS.
This comes under 2 years of the limited warranty and 30 days return policy.
#6 MSMKEJI 300W Led Grow Light
This is an excellent light for growing leafy greens, flowers, and vegetables such as tomatoes, peppers, lettuce along microgreens in a grow room whereas this light can be used in any of the growing environments.
This LED grow light is equipped with many smart and convenient features such as remote control mode, timer setting and 3-mode option. Since then, growers do not need to always be standing next to their growing area.
The dual Epiled/Bridge lux chipsAvg used in the making of light excellently dissipates heat and prolongs the lifespan of chips. The customers' service is extraordinary with 2-years of limited warranty.
#7 Olafus 2 Pack 300W LED Grow Light
The grow light installed with Waterproof 72pcs LEDs that are the big yielder of white grow light hence delivering high PAR values for the valuable plants in the grow room. It delivers Red, Blue, IR light for plants. Each type of light has its own special support for each vegetative stage of the plant.
The design offers the best ventilation system with mute fans working smoothly to cool down the system. Olafus 300W LED Grow Light yield may surprise you.
High LUMENS for the selected plant's growth while service and parts warranty make it an ideal choice to go with.
#8 Open World 300W 54 LED Grow Lights
This might be 300-Watt LED grow light near me as I clue. Its output is equivalent to 300 Watts of HPS light while it consumes only 30 Watts where the reflectors are used to magnify PAR that increases the light penetration into the plant's canopy.
The full spectrum allows the plants to grow vigorously to enhance their productivity. Moreover, the system is best for growing in all types of growing environments.
This system is excellent for 2 feet x 2 feet during vegetative stage 1.5 feet x 1.5 feet during the flowering stage of growth. The upgraded Epistar LED Chips produces high PAR output while warranty is offered on purchase.
#9 TopoGrow LED 300W Grow Light
It's a full-spectrum light that is effective during all stages of growth. Its brightness offers high PAR and LUMENS output with a full spectrum and is ideal to grow plants with improved vegetative and flowering switches to turn on when necessary.
The 100PCS x 3W LEDs are supposed to generate less heat than the traditional lights. it possesses very durable metal casing while LEDs are supposed to work for 50000 hours.
#10 Exmate 300W LED Grow Light
The absorption of the output light is high as the light resembles that of the sun. The magnificent combination of White, red, and blue yields much higher than the conventional lights of a similar capacity.
It contains 100 LEDs of 3W chip each that guarantees high PAR and Lumens output while consuming only 83 Watts of energy.
Powerful double fan and quality heat sinks keep the heat under control during high temperatures. 30 days money back while the light is good to check whether this LED works well or not.
What to look for when buying 300 Watt LED grow light?
The search for an LED light is not that easy as it looks because there are a variety of lights available in this range while a huge difference in prices is also confusing. A high-priced light may not necessarily be as effective as told by the manufacturer whereas some cheap lights might have been geared for the most demanded salient features that gardeners love to grow their plants. It is advisable to look for the following features before making any purchase decision.
#1 Chip Wattage
Always look for the high wattage chip. The LED lights are available with varying wattage from 1 Volt to 10 Volts. A 3 volts chip can provide consistent light that covers the maximum area compared to the low voltage chip. The chip higher in wattage will provide more superior light.
#2 Hight Output
Read the entire product description so that you get an idea about the exact output of the light. Be sure that the claimed output is never met due to losses in output due to one of the many reasons as there is always dropping when talking about the LED's output. Always go for minimum output of 300-Watts so that the wattage dropping least bothers you and you get the desired amount of light for your plants.
# 3 Full Spectrum
Be sure that plants need blue, red, Infra-Red, and Ultra Violet spectrum for the successful growth of plants especially Cannabis. Look for the light that has a spectrum range of 380 nanometers to 780 nanometers. Read the label carefully before you purchase the full spectrum is the lifeline for better growth of any plant.
#4 Heat Sinks
There must be proper arrangement for cooling down the system as your lights are supposed to be working more than 16 hours a day or more in some cases. Check whether the system is installed with the internal fans or it has a thick aluminum heat sink that repels the heat away from the chip. Having installed both at the same time is a blessing but it makes the system high priced in some instances. The poor heat sink and fan-less systems may be prone to injure plants due to low repulsion of heat from the system. Make a wise choice and let your system be cool for an extended period.
#5 Optical Lens
An optical lens is used to magnify the light that allows better penetration of light to the plant foliage. More light absorption means more photosynthesis that in turns means for nutrition for the plants. Often, such systems are a bit costly over the conventional systems but worth increases the productivity as well.
#6 Durability
Always look for the sturdy materials that extend the life span of the overall system as they are purposefully built for many years to stay. The materials like aluminum and steel may prolong their life span up to 10 years or above.
#7 Product Guarantee
When a manufacturer claims of installing a quality chip in the making of full-spectrum light with good heat sinks and optical lens installed, he has the right to claim a bit more priced product contrary to the others but in response, you need to have a product guarantee that works for the years. If you are supposed to pay more, you must have the right to guarantee for 3 years at least. The guarantee is given on the replacement of parts whereas the chip is supposed to be guaranteed for a hundred thousand hours while you don't run a chip more than 6500 hours in a year working on its full capacity.
How many plants can I grow with a 300W LED light?
Most of the LED lights cover approximately 4 square feet area to grow any sort of plants. For cannabis, you can grow 2 plants under this coverage while for seedling, it may cover about 100 if sown keeping Plant to Row spacing of 2 inches each.
What is a 300-Watt LED grow light equivalent to?
The majority of the quality lights in the 300W LED category are equivalent to 300 Watts HPS or Metal Halide Lights. The week light may exhibit equivalent to 250 HPS but the lights with bright LED perform equivalent to HPS output.
How much electricity does a 300-Watt LED grow light use?
Depending on the quality of the chip, heat sinks and fans used in the making of the system, a good LED grow light may use as minimum as 80 Watts and a maximum up to 140 Watts.
How much does it cost to run a 300-Watt LED grow light?
Overall, the average price is 10.58 cents kWh in the US while it varies from state to state. Multiply the Watt on your LED with average running time and again multiply it with the average cost to get a true estimate of the annual cost to run LED light. So, the annual cost to run a 300 Watts LED should range between $150-175.
Are COB LED Grow Lights better?
The COB LED lights are a modern alternative of most of the LEDs in use while they are better performer over the conventional LEDs due to one or many reasons. They draw less power compared to ordinary LEDs but yield more uniform and bright light that penetrates deep down to plant's foliage for better food synthesis. In response, plants grow bigger and taller with high yield and superior quality produce.
300W LED Grow Light vs HPS cheap comparison
The 300 W LED Grow Light uses much less energy compared to HPS light of a similar capacity. For example, 300 Watts LEDs may run on 80 Volt to 130 Volt depending on the quality of manufacturing and the Chip used along with the reflectors and heat sinks whereas 300 Watts HPS would take more than double energy to run. The overall cost saving is more than 60% when using an LED.
Next comes the heat production that HPS is familiar for while you need to keep your grow environment with additional cooling cost whereas LEDs don't produce that much heat and if it does to some extent, it can be controlled with smaller fans installed into the system. The same heat causes plants to burn when using an HPS Light whereas you don't need to worry about heat injuries when using an LED Light of a similar capacity.
Overall life and running costs in the case of 300 Watts HPS are much higher than 300W LED Lights due to early replacement and energy costs.