Gardening is a passion where growing plants is an art, caring your plants is the kindness towards nature while controlling pest in your garden is a technique that needs a lot of attention and focus that makes you companion with the nature and environment around you where we have the responsibility to keep you informed about the carcinogenic effects of the different agricultural chemicals and synthetic pesticides so that your passion is harmonized with the nature.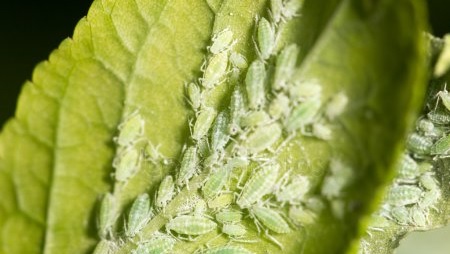 Best Aphids Control 2022 on Amazon
How to Get Rid of Aphids in your edible garden?
#1 Systemic Insecticides: Imidacloprid (75 WSP) (Chemical – Editors' Choice)
These are the last resort for controlling Aphids in your edible garden that can be applied directly on the plant foliage for controlling all sort of sucking pests using a pressure sprayer. Adonis 75 is Wet able soluble powder that contains Imidacloprid and has a very powerful killing effect on aphids.
#2 Entomo-pathogenic Fungus (Natural – Editors' Choice)
Beauveria bassiana is one of the many existing entomo-pathogenic soil-borne fungi that act as a parasite on many arthropods and is used as biological insecticides to kill aphids, termites, thrips, and whiteflies on edible plants in any organic garden. BotaniGard ES and Mycotrol WPO are highly effective fungi and best aphid killer for Cannabis, vegetables and fruit trees and available online stores across the US.
#3 Predatory Beneficial Insects
Adopt a strategy to release beneficial predatory insects such as Lady Bird Beetle, Syrphid fly, and green lacewings in your garden systematically to overcome the population of Aphids that is damaging your cannabis, vegetables, and fruit trees and other leafy greens. Aphid Killer-Aphidius colemani is Braconid wasp and Dragonfli Ladybird Adults is live adult beetle that lives on aphids to keep their infestations in control and available on some online stores.
#4 Insecticidal Alkaloids
These are the pesticide having an insecticidal, acaricidal and nematicide action obtained from plant extracts. Their basis is low toxicity for mammals and low persistence in the environment. This pesticide has a composition that is based on plant extracts that may contain Isoquinoline, Nocotinide and Flavonoids and their derivatives. These are purely organic and can be used as the best aphid killer for vegetables and fruits.
#5 Garlic Pesticides (allicin)
Garlic contains chemical allicin that is considered to have insecticidal properties and works against a variety of sucking and chewing insects without leaving any residual effects on the produce or environment. Allicin is obtained after crushing fresh garlic cloves to prepare a ready to use insecticide that is the best natural aphid killer for any organic garden growing cannabis, vegetables and fruit trees.
#6 Diatomaceous Earth (DE)
Thickly ground DE will work against aphids only due to the size of the aphids which is often bigger than the size of the pores in these naturally occurring fossilized rocks. The best option is to place a piece of DE rock near the main stem of the plant that is being affected by the aphids. You have the option to spread fine granules on the floral parts of the plant to restrict their movement to other parts of the plants or nearby plants.DE can directly be poured on the bodies of the aphids that are best aphid killer for roses and honeysuckle. You can select from the variety of the products available on garden store, online.
#7 Neem Oil Pesticides (Azadirachtin)
Azadirachtin is the basic constituent of all Neem oil pesticides that helps disrupt the chemoreceptor mechanism, necessary for the aphids to shed their old skin and move on the next growth stage. This is the best organic aphid killer on hibiscus and the Cannabis plants. Applying on regular intervals keeps aphid's infestation well controlled on all edibles growing in your garden. It can be applied using a mist sprayer to cover the undersides of the leaves, tender shoots and flowers. Many Neem oil-based products such as Neem Oil Pest and Disease Control, Neem oil extract concentrate, Neem oil ready to use Pesticides are available on online market places. Please refer to the user manual and label instructions before applying any insecticide on your garden plants.
#8 Essential Plant Extracts & Oils
It's another class of botanical insecticide that contains essential oils of Rosemary, Geranium, and Peppermint that possess insecticidal properties. They are mixed to create safe and eco-friendly insecticides for the edible gardeners. Such type of oils must remain at hand throughout the growing season for any type of pest and disease infestations and can be applied frequently using a hand-held garden sprayer to your edible garden. Essentria IC3 Insecticide, Monterey Horticultural Oil, Ultra-Pure Oil Horticultural Insecticide, Thyme Guard Organic Extract are the prominent products of this class.
#9 Spinosad (Organic)
Spinosad is the derivatives of a naturally occurring soil-borne bacterium (Saccharopolyspora spinosa) that is capable to kill a variety of sucking & chewing pests including aphids on edible plants without leaving any harmful effects that's why Spinosad is getting popularity in organic gardening due to environment-friendly reasons. Spinosad(Natroba) has an ovicidal effect that can be used on the places feared to have aphid's eggs. Conserve SC Insecticide, Naturalyte Insect control, and Monterey Garden insect spray are the products to contain Spinosad that can be applied to the edible landscape using a fogger or hand-held sprayer. Spinosad is also the best root aphid killer due to ovicidal nature.
#10 Rubbing Alcohol (Isopropyl alcohol 70%)
Add 1 part of rubbing alcohol with 4 parts of water and spray thoroughly on all edible plants including cannabis and vegetables. Evening sprays are often more productive against all sucking insects like aphids, thrips and mites and whiteflies. Don't mix any adjuvant as there are chances of stress and burning of leaves after the application. Apply on the undersides of leaves using a mist sprayer if you have a limited number of plants growing in your garden. Rubbing Alcohol is available from all online stores across the US and UK.
#11 Systemic Insecticides: Acetamiprid(20%SL)
It's another systemic insecticide that is commonly used to control all strains of aphids such as Black and wooly aphids in any garden.
Add 7ml Acetamiprid (0.24 ounce) in 1 gallon of water to spray on all parts of the affected plants. Especially focus tender shoots and flowers. Apply water immediately after spraying on your plants. Insecticide spraying practices must be carried out in the evening to save garden plants from any possible fear of burning or stress. Repeat spray after 7-10 days if the pest pressure continues.
What are Aphids (Aphidoidea)?
Aphids are true bugs that vary in size from 1 to 10 mm having a different color that depends on the type of climate where they grow & reproduce. Generally, they are pale-green & black while commonly found aphid in a home garden is green. They possess two whip-like antennae at the tip of the head opposing a pair of cornicles. Female aphid's hatching takes place at the beginning of spring that produces more female nymphs. Aphids may have 7 generations in a cooler climate that may go up to 20 in hot tropical areas. This rapid multiplication creates a big menace for the gardeners to rip them fully. They overwinter as eggs on plant debris and stubbles and become active in the next spring.
These tiny creatures live on the tender shoots and flowers of the plants and suck sap leaving honeydew which becomes excellent growing media for fungi growth causing different sort of mildews and wilts on the Cannabis plants. Stunted plant growth leads to death of the plants eventually these pests move to other shoots and leaves of the neighboring healthy plants.
Aphid's infestation is more common on weak plant or plants having stunted growth, deficient in Phosphorus & Potash fertilizers. Aphid infestation is more frequent when the days are hot and the nights are relatively cooler. Aphids pierce their stylus to suck the sap of the plants looking greener due to excessive nitrogen application. Aphids feed on the plant Phloem, rich in minerals and sugars, responsible to carry these nutrients to other parts of the plant. The result is the more Honeydew and more chances of fungal & bacterial disease attack on the Cannabis, vegetables, fruit trees and roses.
Prevention of Aphids on Garden Plants
Work on the plant vigor by increasing fertility of the garden soil by adding organic matter.
Increase moisture absorption and retention of your garden soil with enhanced cultural and organic practices.
Clearing un-decomposed matter under garden plants, weeds, and plant debris will help to destroy the eggs laid by Aphid's, preparing to hibernate for winters.
Try to increase predators like Lady Bird beetle, which eats aphids in your garden. Try to increase the beetle's population to keep aphids under control by growing plants such as geraniums, sunflower, parsley, and Sweet Alyssum. Syrphid fly and Soldier beetles are also well-known predators for aphids.
Try planting Catnip, Garlic, and Chives in your garden space as they all repel aphids.
Always apply a balanced and slow-release fertilizer on your plants as excessive nitrogen is an attraction for aphids in any garden.
Despite following all preventive measures if their infestations go beyond control in your garden, here are the most authentic ways to kill them using different biological and organic techniques leaving minimum or no harm on the environment and your personnel health as well.
Comparison of the best ways to kill Aphids
The entire aphid controlling practices are organic, natural or biological except one that involves systemic control if the aphid's infestations go beyond control or the slow organic practices are unable to deter and control heavy infestations. All these methods are safe and provide organic solutions to your gardening plants either they are edible like Cannabis, Vegetables and fruit trees or ornamental such as Roses, honeysuckle, and hibiscus.  It's always advisable to stick to the organic practices for the long-term prevention and control of aphids in your edible garden for the solid reasons to stay healthy and keep your environment free from the residual effects of synthetic systemic insecticides.
Generally when we talk about the passionate gardeners, there are two types of readers, one who need quick information for their time to time gardening endeavors, simply memorize some brand names without going into the details of the active ingredients that brand contains, dosages and the label information and remain stick to the brands until they see the side effects of that brand when it is no more working against the pest, it was recommended. Others are totally divergent to the first type of readers; they go into details starting from A to Z, never stick to the brands and keep studying details such as active ingredients, their percentile, active doses, mixing procedures and hazards associated with the longtime uses of that particular product or brand that's why they are good beneficiaries for the information they possess and have the choice to make decisions based on their information.
Here is a complete guideline showing a list of products for the best aphid killer on different edible and ornamental plants that include their active ingredients, application rates, and dosages, application frequency, mixing techniques, spraying methods and appropriate timing;
#1 Best aphid killer for cannabis, vegetables and fruit trees
Garden Safe Brand Fungicide3:- is ready-to-use, a 24-ounce organic pesticide that is equally effective on Aphids, mites and sooty mold associated with spreading other fungal diseases and is considered the best aphid killer for cannabis, vegetables, and fruit trees in your edible garden. Its active ingredient is Azadirachtin that is derived from the Neem plant and is safe for organic gardening.
#2 Best aphid killer for roses
Cyonara Lawn & Garden: – It contains Lambda-cyhalothrin (0.5%) and is considered best for spraying outdoor lawns, garden beds, Patios and Roses for the effective control of aphids. Try to avoid edibles as it resides for 8 weeks after spraying. Its doses change as per percentile of the active ingredient in different formulations that may vary from 0.5% to 9.7%. Read the label carefully before making emulsions for spraying outdoors.
Add 4 ounces of Cyonara Lawn & Garden in 1 gallon of water to spray with the hand-held pressure sprayer in the evening and irrigate beds and lawn immediately after application.
#3 Best aphid killer for honeysuckle
Captain Jacks Deadbug Brew Flower Vegetable Garden Dust: -It's ready to use dust containing 0.001% Spinosad, safe for organic gardening and especially for the honeysuckles as their flowers are edible. Simply spread this dust near the stems of the plant and on flowers that are more infested with aphids.
#4 Best organic aphid killer for hibiscus
Woodstream Safer Brand 5118 Insect Killing Soap: – It contains fatty acids of Potassium salt up to 50% approximately. It targets aphids along with other sucking pests including bugs, hoppers, and whiteflies. Add 2.5-3 ounce in 1 gallon of water to spray on the plant foliar using a mist sprayer to get insecticide penetrated deep into the leaves. It's organic and environment-friendly. You can make any harvest immediate after applying on your edible and hibiscus plants.
#5 Best natural aphid killer
Take Down Garden Spray: – This pint comes in concentrated and ready to use version as well. The product contains Pyrethrins 5% and canola oil. It works well against adult aphids and eggs as well. For complete adult and eggs control, add 2 ounces of concentrate in 1 gallon of water using any garden sprayer for the complete coverage of plant foliage. There is no compulsion on harvests soon after its application.
#6 Best root aphid killer
Bonide Rose Rx Systemic Drench Concentrate: – This systemic drench is a combination of Tebuconazole 0.80% + Imidacloprid 0.15% that keep their residual effects and control for 6 weeks. 1 quart is sufficient for 16 rose plants or other plant bushes of similar height and size. For individual plants, add 2 ounces in 1 quart of water and apply near the main stem in the soil. For beds, 2 ounces in 2 gallons of water treats 12 square feet area. This application kills aphids, termites, mites and soil-borne fungi before they attack your garden plants.
#7 Best homemade aphid killer
Take 200 grams of fresh garlic cloves. Grind cloves to make a paste by adding a few drops of water. Move this paste to a saucepan and add 2 liters of water. Note time so that it keeps boiling for 5 minutes only. Add 2 tablespoon of vegetable oil preferably canola after you have removed it from the boiler. Stir well to mix the content and wait till it gets to a normal temperature. Strain the entire content and pour into a spraying bottle or a hand-held sprayer to spray on the plant foliage. You may repeat spray after 3 days depending on the infestations.
#8 Best systemic aphid killer
Bonide Systemic Insecticide Granules: – Best systemic aphid killer contains a combination of Attapulgite 99.2% and Imidacloprid 0.22% that is highly toxic to aphids on plants and causes sudden death through a knockdown action. Granules can be spread as such in the area of the infestation or can be applied in mixed with water to spray on plants. Add I ounce of granules in 1 gallon of water and spray plants using a mist sprayer in the evening to follow watering immediately.
#9 DIY aphid killer
Take natural vinegar and fill 1/3rd of the spray bottle, add 2/3rd water and 1 tablespoon of vegetable oil. Stir it thoroughly and target sights with the aphid's infestations in your garden. No harm in repeating spray after 3 days. Be careful about using white vinegar and liquid soaps as there is always a fear of stress and burning.