Best Hydroponic Nutrients for Weed ( 2023 Reviews & Buying Guide)
Growing cannabis can be an intimidating task, especially for beginners. It won't take long before you are frustrated. The latter is common if you do not know the right techniques. More so, you will also need to have the right tools, and more importantly, the right nutrients that will supplement the growth of the weed.
To help you out, here are the buy marijuana seeds that work in any country.
If you plan on purchasing hydroponic nutrients that can help in growing weeds, read the rest of this post and we'll help you make the right decision. With the use of the right nutrients, as long as you make sure the right proportion, it will be easier to succeed in growing marijuana. That being said, make sure that you take the time to pick the right product. Our Top Picks for Hydroponic Nutrients
The table below shows a summary of some of the best products to consider, followed by a short discussion of what you can expect in each of them.

#1 Humboldts Secret Golden Tree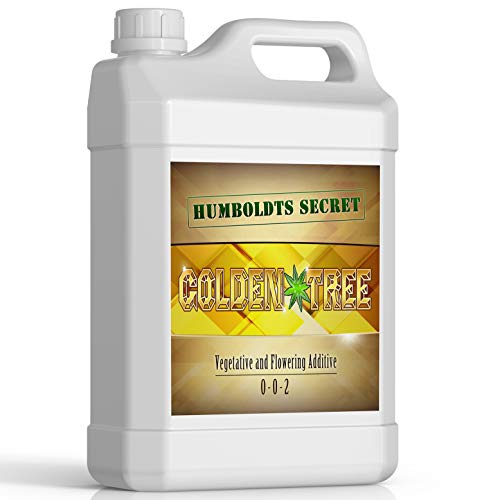 You can never go wrong with this hydroponic nutrient. Yes, it is expensive, but its price can be justified by its premium quality.
Among others, one of the best features of this product is that it is an all-in-one additive. It can provide the essential nutrients needed by cannabis without requiring other products as a supplement. Its effects include increasing yield by as much as 50% and decreasing vegetative growth time by as much as 20%.
You should never mind the steep price of this nutrient. As specified by the manufacturer, ¼ gallon of the product can already make up to 500 gallons of solution for treating weed and other plants.
#2 General Hydroponics Flora Grow, Bloom, Micro Combo Set
This trio can be considered as a classic when it comes to hydroponic nutrients. No wonder, this is one of the most reviewed from the options that you can find on the market.
It has the innovative Building Block Nutrient System, which has been imitated several times by its competitors, but up to this point, it has never been duplicated. With this proprietary system, yields can be increased and the quality of the crop will improve significantly.
It will also be good to note that even NASA scientists have used this set, which is a proof that it has an exceptional formulation and can deliver exceptional outcomes.
#3 FoxFarm FX14050 Big Bloom, Grow Big, & Tiger Bloom Fertilizer
With this trio, you will start with Grow Big Hydro to initiate growth. After which, Tiger Bloom will be used from the first appearance of buds. Lastly, apply Big Bloom throughout the growth cycle of the weed.
Each of the three products has a special formulation to deliver maximum benefits. The Grow Big, for instance, can improve the vegetative growth to promote the health of the plant. Meanwhile, the Tiger Bloom will improve the quantity of the yields. Lastly, Big Bloom will increase the cycling of nutrients and will heal roots.
#4 Advanced Nutrients Voodoo Juice Fertilizer
The highlight of this nutrient is the use of eight microbial super strains. It is a blend that has been exclusively developed by the manufacturer. Some of the benefits that you can expect from this include increased yield and better root development.
Each of the strain used in this product is individually-bred. This improves its quality, which in turn, will improve the overall quality of the nutrient. It is time-consuming but critical in enhancing the effectiveness of the product.
To deliver the best products, the company employs the best microbiologists in the world. With their expertise, you can be confident in the quality of this product.
#5 Root Organics Buddha Grow Fertilizer
Among others, one of the most exceptional features of this product is that it is made using 100% organic materials. To be specific, it contains worm casting, bat guano, molasses, and kelp extract, among other things. They will effectively improve the quality of the soil to enhance the growth of weed.
As it improves soil quality, vigor will also be promoted and yields will be increased. It will work to promote what is best for the plant throughout its vegetative growth.
This product is available in an exclusive formulation, which is not only easy to use, but can also be easily absorbed by cannabis.
#6 General Hydroponics MaxiGro
This is a powdered concentrate, which is why it is usually cheaper compared to those that are available in liquid form. For maximum effectiveness, it should be followed with the use of MaxiBloom.
This dry nutrient is effective in initiating the growth of cannabis. During the vegetative stage, the nutrient will help in speeding up the growth. Plant yield can also be improved. To add, it works well not only in hydroponics, but even in a traditional garden.
Lastly, this nutrient is also pH-buffered. This means that the pH drift can be minimized. This also removes the need to modify the pH level in the soil throughout the growth of weed.
#7 Superthrive VI30155 Plant Vitamin Solution
This is a highly-concentrated and non-toxic solution. Whether you are a hobbyist or a professional gardener, this is a good choice for hydroponics. Even for growing cannabis, this can prove to be an effective choice.
The product contains a blend of 53 ingredients, all of which will work with one another to be absorbed by the weed. They are soluble, and hence, absorption will be quick.
However, there is one important thing to note in the use of this product. You should mix only one drop per gallon. Using more than the required amount will lead to the death of your weed, which is surely one thing that you do not want to happen.
#8 Advanced Nutrients B-52 Fertilizer Booster
For root growth and seed germination, this is another option that should be on the top of your list. It raises the vitamins in plants, encouraging healthier growth. This is made possible by the potent combination of special ingredients, which include B-vitamins. It also corrects the pH level of the plant, which allows it to develop effectively.
The product contains Vitamin B5, which is critical in cellular processes. To add, it also has Vitamin B1 or thiamine. The latter helps in the creation of carbohydrates that will strengthen the weed throughout its growth. It also strengthens the immune response of the plant to have a defense against external factors.
#9 Advanced Nutrients Big Bud Liquid Fertilizer
For a lot of people who grow marijuana, one thing that they like the most is to cultivate big buds. It might seem a big challenge at first, but with this nutrient fertilizer, it will be possible. As specified by the manufacturer, it can help to develop denser and heavier buds.
Aside from the development of the buds, this fertilizer also makes the flower develop more essential oils, phenols, and terpenoids, among other things that will have a positive impact on the quality of the cannabis.
Lastly, it contains L-form amino acids, which supplement the nutrients that plants are not able to retrieve from the sun and soil.
#10 Flower Fuel Superior Bloom Booster
With organics, vitamins, amino acids, and nutrients, this is another hydroponic nutrient that will be effective in improving the overall health and quality of your weed. The harvests will be denser and heavier. There will also be more essential oils and it is anticipated as well that the weed will have a higher potency.
In each jar, there are more than 40 proprietary ingredients that work together to deliver the anticipated outcome from its use.
A 250-gram container of this bloom booster can already be already enough for 200 gallons of water, which shows its efficiency in terms of cost.
Tips for Choosing Hydroponic Nutrients
As you try to narrow down the choices, here are some of the most important things to keep in mind:
Nitrogen, phosphorus, and potassium are the main elements that should be present. These nutrients allow healthy health growth and increase crop yield.
At different stages of growth, cannabis will have different needs. During vegetative stage, they require high nitrogen, medium or high phosphorus, and high potassium. On the other hand, during the flowering stage, they need low nitrogen, high phosphorus, and high potassium.
Liquid fertilizers are better since they are easy to use. With powdered fertilizers, mixing can be more complicated, although it is a cheaper option.
If you want to achieve results faster, chemical fertilizers are great. On the other hand. natural fertilizers will be good if you want one that contains organic ingredients, which are also eco-friendly.