With its Head office and production facilities in Canada & UK, Canuk Seeds are also delivering elite cannabis strains from its South Africa office. They have a large number of cannabis varieties, hybrids, feminized, and autoflowering strains, and a great attraction for both hobbyists and professional growers across the US, Canada, and Europe.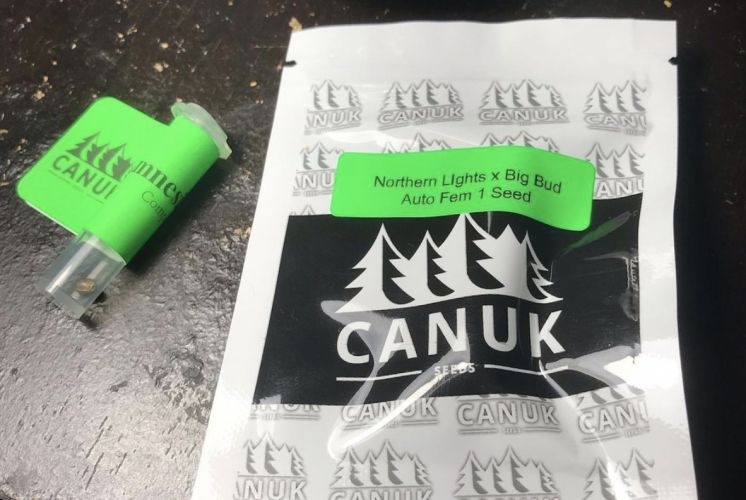 Canuk Seeds also offers many Afghan strains of feminized, autoflowering, and hybrid strains for cannabis growers across Africa. Their office is located in Cape Town where they could be reached via phone number (+27 11 083 8526). They also offer cannabis cultivars that are easy to grow, while their selected genetics are of superior type. They collect superior genetics around the globe, cross them to refine according to users' needs, and offer cultivars that are highly demanded by medicinal marijuana growers.
They developed more than fifty cannabis strains through their breeding program and offer the entire cannabis regime for growing in the US and the rest of the World. While considering Canadian seed bank reviews, the cannabis growers place Canuk Seeds at the top for both quality and services. Since Canuk Seeds and True North Seedbank are sister companies, the former conducts the majority of its selling operations through True North Seedbank where the Canuk Seeds focus more on breeding operations and climate adaptation studies of superior multiple strains for releasing in variable climatic conditions.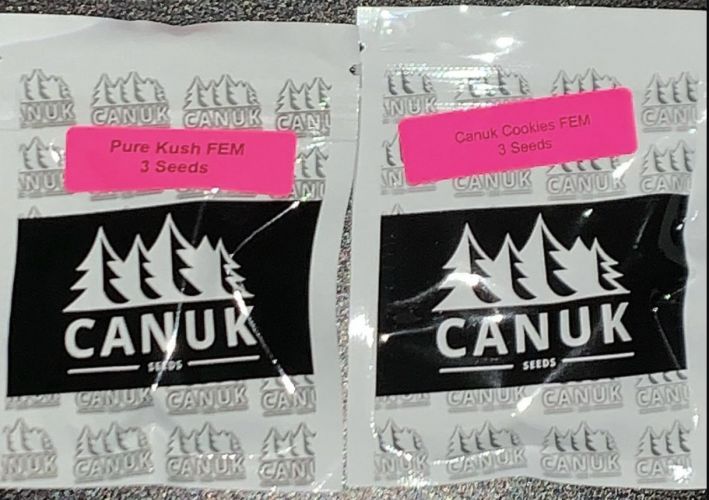 Location and Phone Number
They are located on one of the busiest streets in Ontario, Canada, and can be reached via phone number (+1) 416-309-0359 during working hours.
Canuk is the best Canadian Seed bank that offers a huge range of the most promising strains from all over the world with healthy arrangements for delivering online orders to the US, Canada, Europe, and Africa. They also offer an Insurance guarantee for delivering cannabis seeds within Canada for which they charge a minute amount along with charging for discreet packaging.
Discount Code
Canuk Seeds offer many discount packages if you buy directly from True North Seedbank that could go up to 50% and growers don't need Canuk Seeds discount code for getting Cannabis Seeds at half price on 20th November only. Moreover, True North Seedbank also offers a 10% extra discount for every purchase made using Bitcoin. However, the growers could get time-to-time coupon deals from Canuk Seeds by signing in for notifications from their website. Some online coupon selling sites such as Cannabis Coupon Codes, Coupon Birds, and Coupon w Code also allow generating codes when discount selling in on.
Germination
Since cannabis growing is a new business and the majority of the hobbyists struggle with growing cannabis seeds both indoors and outdoors that's why Canuk Seeds focuses more on the germination of elite genetics and makes them easy for such growers. Several new growers report that Canuk Seeds germination was up to 100%. Every individual seed sprouted and reached the bud formation stage. It's a great milestone that other seed companies and Seed distributors couldn't achieve besides years of extensive research.
Some growers even report between 70-90% germination but, that is equally fine as there are a lot of factors that contribute to the successful germination of any seed. Canuk Seed Review bases on either cannabis growers or the users of strains that are practically involved in growing Canuk Seeds for direct consumption of medicinal weeds. However, the hobbyist and professional growers also contribute largely to the reviews on different marijuana sites.
Canuk Seed Bank Review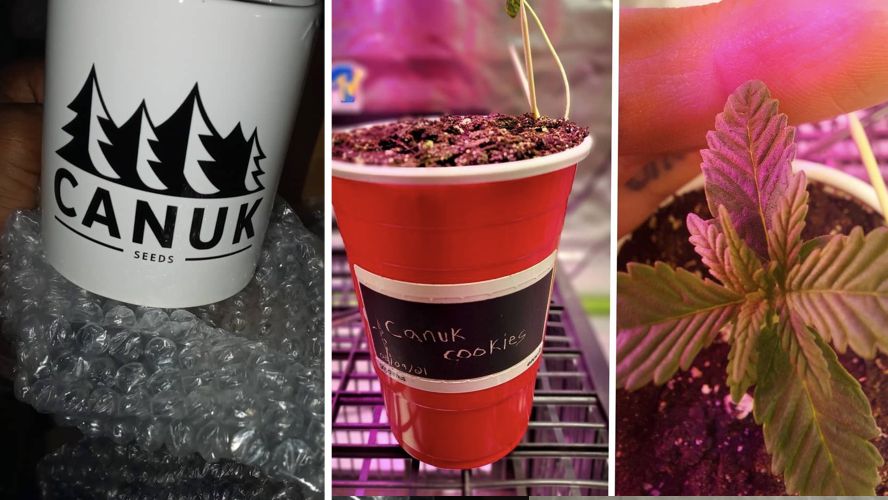 Canuk Seed Bank not only offers cannabis seeds of multiple strains but, also handles bulk selling and offers many cannabis accessories at cheaper prices that could deliver with the seeds. Canuk Seeds also offer pure line Indica strains and the hybrids of Sativa and Indica. Moreover, they also breed both low THC, and high CBD cultivars for their growers. The growers may find Canuk seeds review on Reddit where thousands of satisfied customers post their comments and growing experience with the seeds shipped and bred by Canuk Seeds.
Canuk Seeds Blueberry is a Cannabis indica strain, and the majority of hash prepares from this strain in Afghanistan and around the world. Blueberry is available in feminized seeds and could successfully grow and flower within 10 weeks if grown indoors. It takes much longer to mature and flower outdoors and could flower in September or early October through its adaptable areas. It needs no care to grow outdoors, while there is no match to its quality, aroma, and relaxing effects and get you high within no time, if smoked. Pure Indica strains are native to Afghanistan, Pakistan, China, and Indian Kashmir.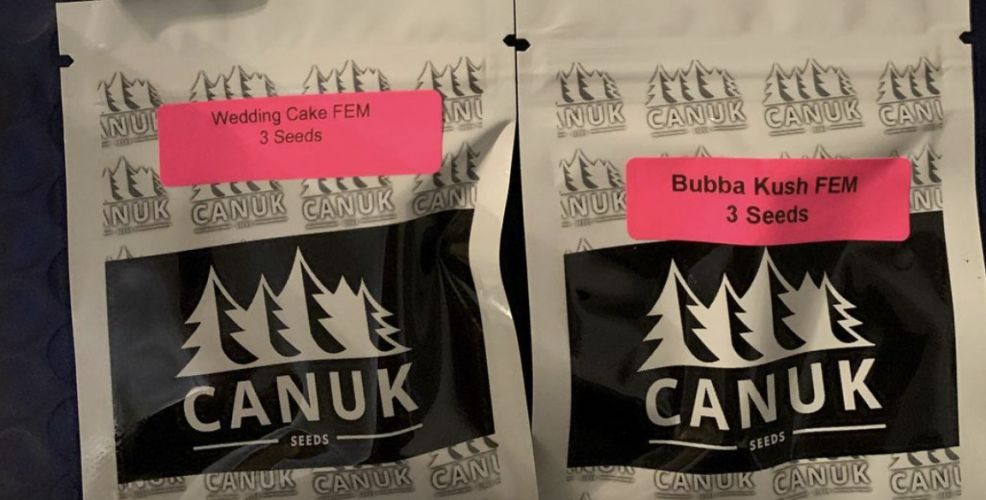 Canuk seeds wedding cake contains a huge list of strains including Wedding Cake Regular and feminized seeds while S1, Cale, Gelato, and Elite are also among the list. Wedding Cake is an aromatic hybrid that produces by crossing Cherry Pie with Girl Scout Cookies and is notoriously famous for possessing extremely diversified levels of terpene. It's rich tasting and sweet aromatic herb that reminds a pepper tone. Wedding Cake is a highly relaxing, joyous, uplifting, and creative strain that the growers dream of growing in their lovely garden both outdoors, and indoors.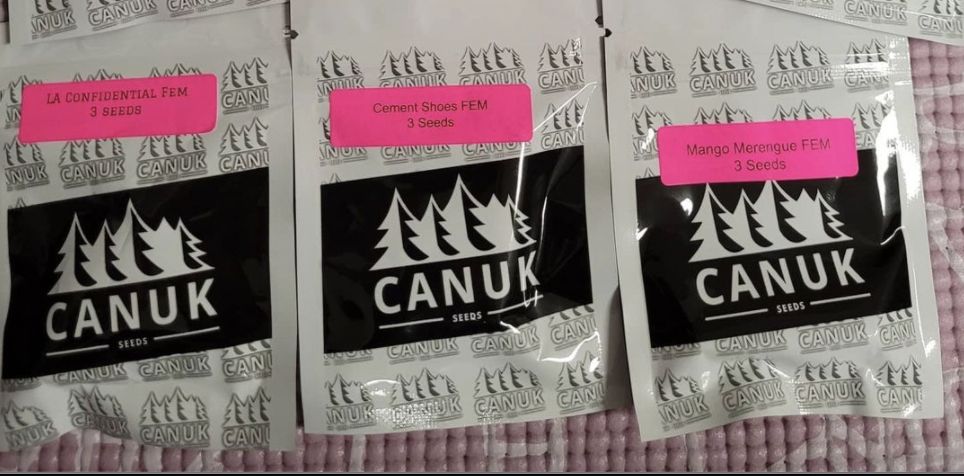 Canuk Seeds Cement Shoes is a hard tone indica that originated as the result of crossing OG Kush with Animal Cookies. It's another elite genetics of Afghan origin and the users could feel like flying in the air with wings. It is also famous for increasing the users' appetite while they could sleep for hours after taking a normal dose. It is citrus tasting and sweet aromatic weed that is high in terpene. The growers and medical practitioners consider it a strong sedative if consumed during chronic medical conditions. Moreover, this genetic is high-yielding, and the growers could obtain between 300 to 500 grams per square meter of foliage coverage. Its THC content remains between 24-30% if grown under good cultural practices, where it could mature in late September or early October, outdoors. However, indoor farming allows it to flower between the 8th to 10th week.