[Not ship To USA] Canuk Seeds Review 2023: Great Canada Seed Bank Ship to Canada, South Africa & More
Canuk Seeds is a seed bank based in the UK and Canada, this seed bank is very well known for its top quality cannabis strains in the world. Canuk Seeds owns a unique collection of cannabis seeds and receives a lot of positive reviews on cannabis forums.
We have also purchased seeds many times at Canuk Seeds. They have good service and are always ready to ship their seeds to all over the world. But according to our assessment, they still need to improve many factors to become better.
With our personal practical experience, we have put together this article, including a review and some information about Canuk Seeds. If you are thinking of buying seeds at this seed bank, please take some time to read it.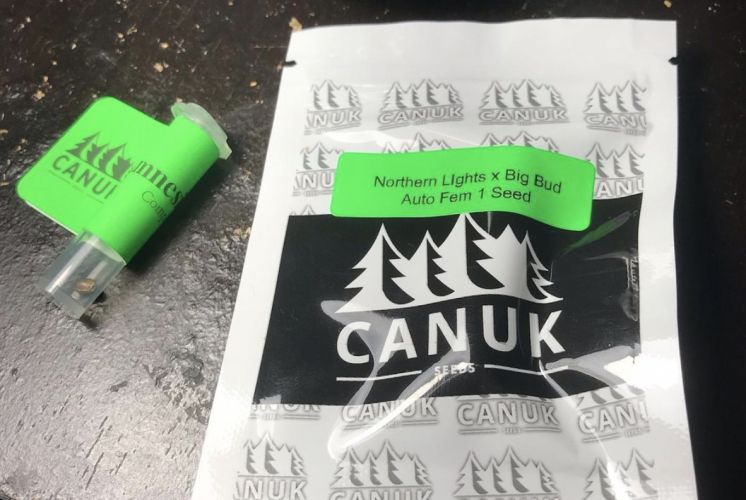 About Canuk Seeds
With its Head office and production facilities in Canada & UK, Canuk Seeds are also delivering elite cannabis strains from its South Africa office. They have a large number of cannabis varieties, hybrids, feminized, and autoflowering strains, and a great attraction for both hobbyists and professional growers across the US, Canada, and Europe.
They developed more than fifty cannabis strains through their breeding program and offer the entire cannabis regime for growing in the US and the rest of the World. While considering Canadian seed bank reviews, the cannabis growers place Canuk Seeds at the top for both quality and services.
Since Canuk Seeds and True North Seedbank are sister companies, the former conducts the majority of its selling operations through True North Seedbank where the Canuk Seeds focus more on breeding operations and climate adaptation studies of superior multiple strains for releasing in variable climatic conditions.
All in all, Canuk Seeds is a seed bank that supplies quality seeds to customers around the globe. With seed warehouses located in the UK and Canada, it helps to optimize and reduce the time it takes to transport seeds to neighboring countries.
When you buy seeds at Canuk Seeds, you will find for yourself unique strains with a fun experience.
Is Canuk Seeds Legit?
Sure we have! Canuk Seeds is a reputable seed shop for both beginner and seasoned growers. They have provided their cannabis seeds continuously for many years and have also built a certain reputation.
This seed bank offers seeds from top breeders around the world. They also have several hybrid strains and they are all premium quality.
Canuk Seeds also built a secure ordering and payment system. All customer information is kept confidential and completely safe. Canuk Seeds does not illegally use customer information for other commercial purposes.
Besides, Canuk Seeds guarantees to deliver the seeds that you order to your place, ensuring that customers receive their orders correctly. They also did not disclose any information related to the cannabis and the supplier on the order.
In general, you can rest assured when buying seeds at Canuk Seeds. Whether you are in the UK, Canada or any other country, choosing Canuk Seeds to buy seeds is a safe choice.
Canuk Seeds Review 2023
Canuk Seeds are like other seed banks, they are not a perfect individual either. Although they have many great advantages, at the same time there are many limitations that need to be overcome.
We have purchased seeds from Canuk Seeds many times and it is through these real experiences that we have drawn reviews about this seed bank.
We found that Canuk Seeds has:
Pros
Very large cannabis strains collection
High quality cannabis seeds
Great perfect customer attendance
Fast shipment
Two shipping positions in UK and Canada
Worldwide shipping
Legit seed bank
Various payment methods
Cons
Seeds are quite expensive
Many cannabis seeds cannot germinate
No guarantee of germination
These are our general reviews of Canuk Seeds after many seed purchases from them. This seed bank gets mixed reviews on the cannabis forums but we believe what we have experienced.
And we also prepare more detailed reviews about them. You can take some free time to learn more about Canuk Seeds through our detailed review below.
Cannabis Seeds Quality & Selection
Canuk Seeds offers many Afghan strains of feminized, autoflowering, and hybrid strains for cannabis growers across Africa. Their office is located in Cape Town where they could be reached via phone number.
They also offer cannabis cultivars that are easy to grow, while their selected genetics are of superior type. They collect superior genetics around the globe, cross them to refine according to users' needs, and offer cultivars that are highly demanded by medicinal marijuana growers.
Since cannabis growing is a new business and the majority of the hobbyists struggle with growing cannabis seeds both indoors and outdoors that's why Canuk Seeds focuses more on the germination of elite genetics and makes them easy for such growers. Several new growers report that Canuk Seeds germination was up to 100%.
Every individual seed sprouted and reached the bud formation stage. It's a great milestone that other seed companies and Seed distributors couldn't achieve besides years of extensive research.
Some growers even report between 70-90% germination but, that is equally fine as there are a lot of factors that contribute to the successful germination of any seed.
Canuk Seeds review bases on either cannabis growers or the users of strains that are practically involved in growing Canuk Seeds for direct consumption of medicinal weeds.
However, the hobbyist and professional growers also contribute largely to the reviews on different marijuana sites.
Cannabis Seeds Price & Payments
The price of seeds at Canuk Seeds is quite expensive compared to the common ground. We recognize this because of our experience buying seeds from various seed banks around the world.
However with good seed quality and unique cannabis strains, the price is not too expensive, acceptable. If you want to buy seeds at a cheaper price, you can refer to Seedsman or IloveGrowingMarijuana.
In terms of payment methods, Canuk Seeds offers a wide variety of payment methods and ensures that international customers can choose the most convenient payment method.
This is a plus for global delivery seed banks like Canuk Seeds. But there are many other global delivery banks that don't understand the issue like Canuk Seeds.
At Canuk Seeds, customers can pay for their orders via various methods such as Credit / Debit Card, International Money Order / Cashier's Check, Cash, Bank Transfer, E-Transfers, Bitcoin, Litecoin, Ethereum and other cryptocurrencies .
However, not all payment methods can be applied to all customers in all countries. For example, the Bank Transfer method is only available to customers in Canada and the USA.
In particular, the E-Transfers method is only applicable to customers in Canada. Besides, if customers want to pay via Credit / Debit Card method, they must ensure that their card can make international payments.
These payment methods are safe and very secure. Canuk Seeds also provides very detailed and dedicated payment instructions for customers.
Overall we did not find any inconvenience when paying for our order at Canuk Seeds.
Shipping & Return Policy
Canuk Seeds distributes its seeds to every corner of the world. Through two shipping positions located in Canada and the UK, Canuk Seeds ensures they can deliver seeds to customers in every region of the world in the shortest time possible.
Canuk Seeds also offers order tracking, from which customers can understand the route of their orders and expected delivery times. Canuk Seeds does not require the recipient to leave a signature, but they ensure delivery to the right person and to the right of the order owner.
This seed bank also offers delivery insurance to its customers. Shipping insurance will cost you CA$19.99 extra but in return they will make up for it if you don't receive your order.
If your order is lost and you have purchased guaranteed delivery insurance, Canuk Seeds will resend you a brand new order. They will resend a new order that will replace the old one no matter how much it's worth.
Canuk Seeds also accept returns and refunds for your order if it has problems. What you need to do is give them the reason as well as the problem you have, if Canuk Seeds agrees, they will refund or refund you.
Of course any return costs will be borne by you and Canuk Seeds only accept returns or refunds for orders within 14 days of your receipt.
Customer Service
Canuk Seeds builds a team of quite professional and enthusiastic staff. We did not have any unpleasant experiences working with the Canuk Seeds team.
They are also very knowledgeable about cannabis and can answer your questions regarding cannabis cultivation. Canuk Seeds build multiple channels so that customers can contact them with the most suitable method.
Customers in Canada, the US or UK should contact the Canuk Seeds team by phone. In our opinion, this is the fastest and most personalized way to get your questions answered.
On the cannabis forums, there are many customers leaving positive comments regarding Canuk Seeds customer service. While there were some critics who underestimated Canuk Seeds' customer service, it seems Canuk Seeds listened and corrected.
Website & Promotions
We rate Canuk Seeds as having a website that is easy to navigate, has a clear layout, and contains enough information. Their website is quite simple but it is that simplicity that makes for a good experience for customers like us.
This website contains only the necessary information, without any frills or messy layout. The titles are neatly arranged, prominent for customers to quickly find what they need.
They also arrange their promotions prominently on the homepage. From there, customers can hardly miss the ongoing offers at Canuk Seeds.
Canuk Seeds has also prepared information as well as Q&A about them for customers to better understand this seed bank. All in all, they build their website well, which, combined with regular offers, greatly enhances the customer experience.
Some famous cannabis strains of Canuk Seeds (Must try)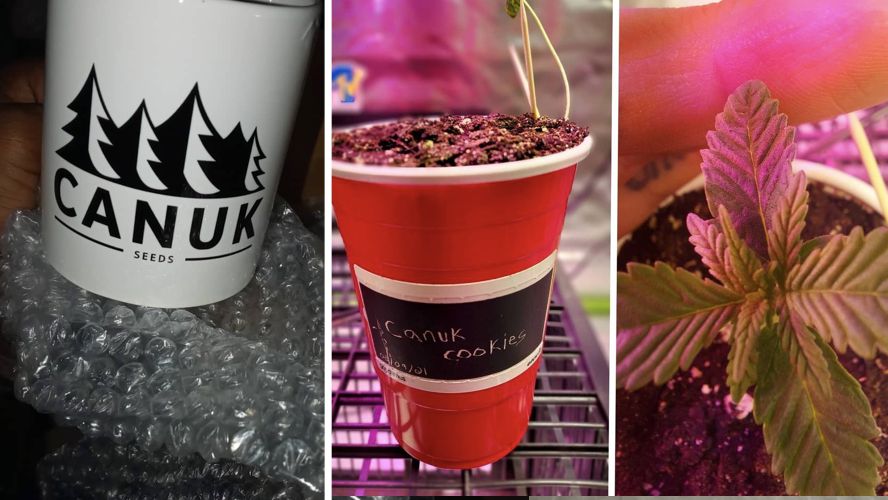 Canuk Seed Bank not only offers cannabis seeds of multiple strains but, also handles bulk selling and offers many cannabis accessories at cheaper prices that could deliver with the seeds. Canuk Seeds also offer pure line Indica strains and the hybrids of Sativa and Indica.
Moreover, they also breed both low THC, and high CBD cultivars for their growers. The growers may find Canuk seeds review on Reddit where thousands of satisfied customers post their comments and growing experience with the seeds shipped and bred by Canuk Seeds.
Canuk Seeds Blueberry is a Cannabis indica strain, and the majority of hash prepares from this strain in Afghanistan and around the world. Blueberry is available in feminized seeds and could successfully grow and flower within 10 weeks if grown indoors.
It takes much longer to mature and flower outdoors and could flower in September or early October through its adaptable areas. It needs no care to grow outdoors, while there is no match to its quality, aroma, and relaxing effects and get you high within no time, if smoked. Pure Indica strains are native to Afghanistan, Pakistan, China, and Indian Kashmir.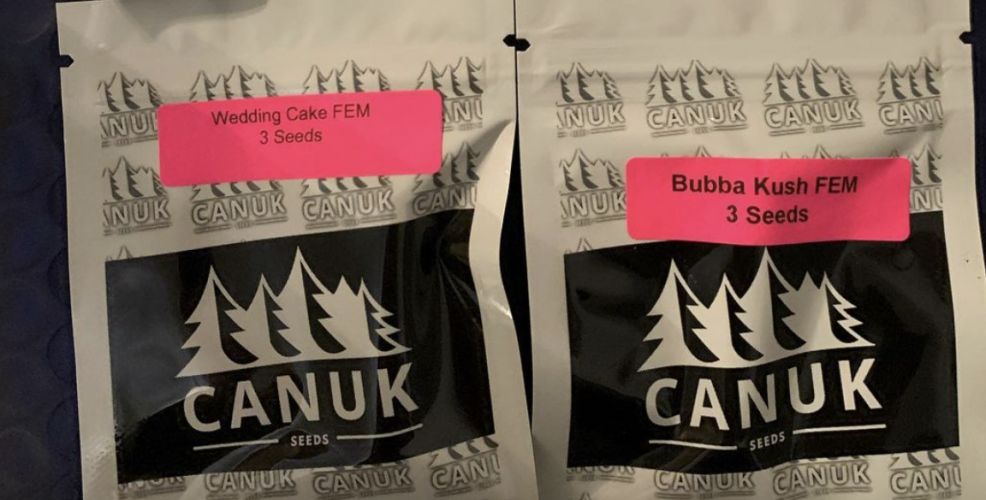 Canuk seeds wedding cake contains a huge list of strains including Wedding Cake Regular and feminized seeds while S1, Cale, Gelato, and Elite are also among the list. Wedding Cake is an aromatic hybrid that produces by crossing Cherry Pie with Girl Scout Cookies and is notoriously famous for possessing extremely diversified levels of a terpene.
It's rich tasting and sweet aromatic herb that reminds a pepper tone. Wedding Cake is a highly relaxing, joyous, uplifting, and creative strain that the growers dream of growing in their lovely garden both outdoors, and indoors.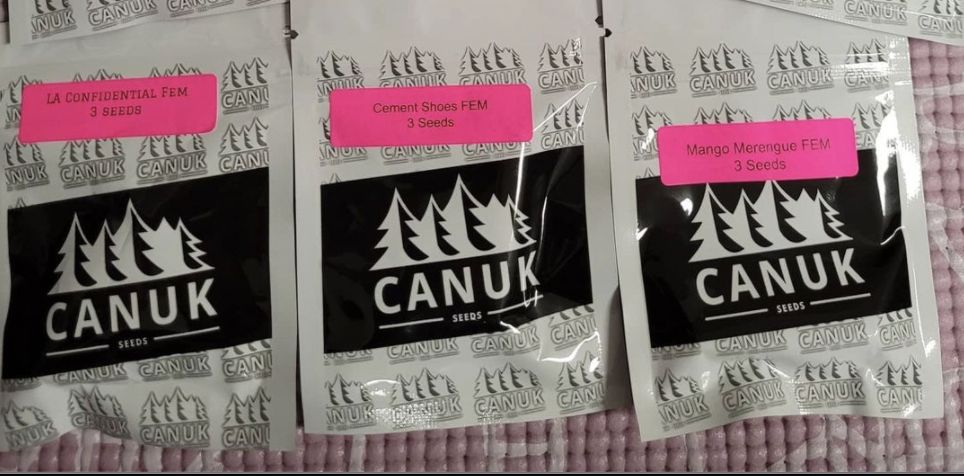 Canuk Seeds Cement Shoes is a hard tone indica that originated as the result of crossing OG Kush with Animal Cookies. It's another elite genetics of Afghan origin and the users could feel like flying in the air with wings. It is also famous for increasing the users' appetite while they could sleep for hours after taking a normal dose.
It is citrus tasting and sweet aromatic weed that is high in terpene. The growers and medical practitioners consider it a strong sedative if consumed during chronic medical conditions.
Moreover, this genetic is high-yielding, and the growers could obtain between 300 to 500 grams per square meter of foliage coverage. Its THC content remains between 24-30% if grown under good cultural practices, where it could mature in late September or early October, outdoors. However, indoor farming allows it to flower between the 8th to 10th week.
Canuk Seeds Conclusion
Canuk Seeds is a reputable and safe seed bank, they have seed warehouses in Canada and the UK so delivery is very fast. This seed bank also has a wide variety of cannabis strains and they are suitable for different levels of cultivation.
Canuk Seeds just needs to fix a few factors for a better customer experience. They have been doing their job well. For these reasons we give Canuk Seeds 4.6 stars out of 5.
The contact information
They are located on one of the busiest streets in Ontario, Canada, and can be reached via phone number (+1) 416-309-0359 during working hours.