Creating all of the conditions necessary to grow plants in a hydroponic environment is not easy, you might spend months trying to get it right and be rewarded with a weak product – step in the indoor grow box. These incredibly smart devices do all of the work for you, creating an environment which is perfectly conducive to growing your favourite plant, with the potent results you crave.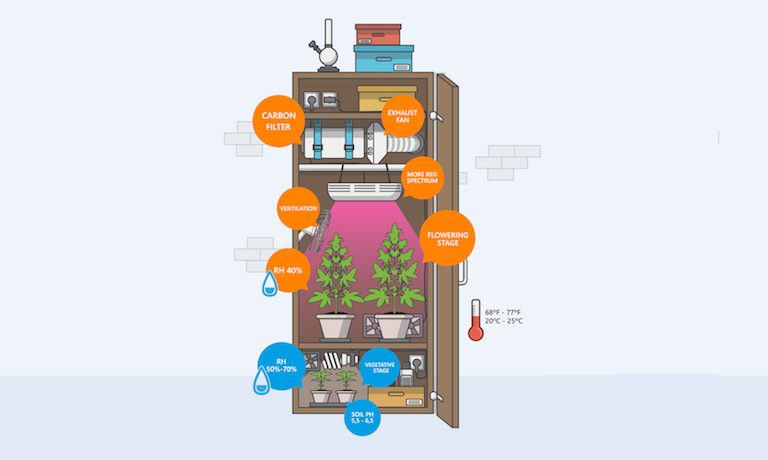 There is a multitude of these grow boxes and grow tents on the market, with different features and benefits. Here we take a look at the Top 10 Products currently out there that are suitable for either those who are beginners in growing, through to those that have experience, making your decision easier.
How does a grow box work?
If you are wanting to take your gardening habit inside, then a grow box (also known as a grow cabinet) is the perfect option for you. They are able to create an environment which is similar to mother nature, but in a much more controlled and reliable way that will help you get the best out of your plants.
Thanks to these devices you are able to control the amount of light, water and ventilation your plants receive at a click of the button. This means you don't need to rely on your memory or the weather for the perfect growing environment for the plant that will leave you feeling high. It also means you don't need to worry about bugs or animals damaging your plants either – it really is a win-win situation when it comes to indoor grow boxes!
What makes grow boxes such a good option?
A huge advantage of an indoor grow box is that they are discreet so no one will be able to snoop on what you are growing. Some can even be left for weeks at a time without the need for any input on your part. They are also incredibly efficient in terms of space, helping to make them discreet even from housemates if you don't want too many people knowing what you're up to.
Grow boxes are also great if time is of the essence for you, as with the right investment they can do all the hard work for you and speed up the time from planting to yield, to help ensure your product keeps you laughing.
Top 10 Grow Boxes 2021
Grow box solid, less mobile and usually comes complete with lights, air ventilation and odour removal built in.
Grow tent is mobile, flexible fabric, lower cost and often not complete kit.
#1 (Editor's Choice) Best Stealth Grow Box for Beginners: Yield Machine Max 4 Foot LED Grow Box
If you are new to growing but have a decent budget to spend, then you will not be let down by Unique-Hydroponics' Yield Machine Max. This not only does as it says on the tin, in that it has incredibly high yields, but it also makes it easy for newcomers as the box is ready-made, comes with all you need to get started, and means you don't have to wait for everything to arrive before you can dive right in to growing to your good health.
This stealth box also runs near silently, with the tiniest sound given off by the water bubbler. The low heat loss from the LED lighting system and the fact that the outside of the box stays at room temperature also helps to reduce the risk of unwanted outside attention. If you do want to conceal smell, it could be advisable to invest in a carbon filter to attach to the box, but otherwise, this box is ready to go for growing up to 2 full sized plants.
So if you like high yields (5 ounces from the 150-Watt LED bulb provided wouldn't be surprising) that keep themselves hidden with minimal fuss, then this is the grow box for you.
#2 Best Grow Box: Super Locker 8 Plant Vertical Hydroponics Grow Box
If you are looking into professionally growing medical marijuana, money is no object, and you want to grow multiple plants in a single weed locker, then this unit ticks all the boxes. You'll also gain access to the Series 'Grow Like a SuperPro' so you can learn to grow high-grade product to specific requirements. With efficient LED lighting, you won't be breaking the bank on energy whilst you do it either.
The dual growing chambers in this unit mean you can perpetually harvest your plants as each is controlled separately as per your specifications. The superb ventilation system, supplementary wall lighting, and closed system mean you will provide the perfect environment for your plants free from unwanted smells and humidity.
So if only the best will do for your growing needs, this well-designed locker with dual hydroponics system, built-in vertical and horizontal grow lighting, and air filtration and circulation with carbon-activated odor control is undoubtedly the product for you.
#3 Best Stealth Grow Box: Dealzer Grandma\'s Secret Garden 3.0
If you want a kit that doesn't require you to learn all the ins and outs of hydroponic growth, whilst giving you the benefit of it, Grandma's Secret Garden will be just the trick to helping you create the best parties in town. This product is also both designed for stealth and built to last, coming with a lifetime warranty that makes you sure of the quality you're buying into.
At  36″ tall, 24″ wide, and 13.5″ deep, this MDF grow box is lightweight but sturdy and is perfect for up to 7 auto-flowering plants. It also comes with a secure lockable door, a plentiful reservoir of 3.5 gallons, and 360-watts of light.
#4 Best Hydroponics Grow Box: The Stanley Stealth Hydroponic Grow Box
If you are looking for a setup for small-time growing that comes complete, then Hellogrower's grow box is a great bit of kit. With 150-watts of light, hydroponics, 2 fans, CO2 and water cooler you won't have to lift a finger for up to 15 days, making it easy to keep this grow-box your dirty little secret.
The excellent carbon filter ensures odours are removed before any air is released from the box and the box runs as quiet as a whisper, helping to make this one of the most discrete grow boxes on the market. As it runs with LED lighting it draws less energy keeping your bills low and generating very little unwanted heat.
This product comes with stacks of extras, including a decent 1.5-gallon tank, 2 net posts bubbler stones a Rockwool plug and much more. The relatively cheap cost also makes it a good piece of kit to learn how to grow with, whilst the steel construction and lockable 100% Mylar lined cabinet will keep out anyone you don't want to see inside. This is well worth a place in the top-ten grow-boxes on the market!
#5 Best Indoor Grow Tent: GROWNEER Mylar 4\'x 4\' 600D Grow Tent
Here you have a great quality, awesome value indoor grow tent. Growing is easy in this GROWNEER grow tent thanks to its easy setup, robust materials and cleverly thought out design.  The custom set up for this grow tent is a great bonus as there are adjustable venting options and the provision of 3 bars that can be added so that you can hang your lights at the position you want.
This grow tent is made out of a thick 600D canvas material, perfect for blocking out the light and keeping the light you want inside. This product has been praised for its ability to keep the light in – showing very little visible light even in a darkened room. It also comes with an in-built observation window so you can have a look at your crop without disturbing the perfect conditions you have created inside.
With the excellent customer service provided by GROWNEER, you are bound to be happy with your purchase.
#6 Best Hydroponic Grow Tent: TopoLite 48″x48″x80″ Grow Tent Hydroponic Complete Packages
If you are looking for a cheap hydroponic setup, then this kit from TopoLite comes with everything you need to get started from cloning through to the flowering stage of your growing process. Made from 600D Oxford cloth and 96% reflective and waterproof Mylar you are also able to provide the illusion of sunlight to your plants indoors, helping to keep your growing habits away from prying eyes.
The kit comes with bulbs of 120 and 240-volts so you can play around with different lighting depending on the type of plants you want to see budding. You are also able to test out sodium and halide power thanks to the Super Lumen option, whilst the built-in vent spacing leaves room for a fan and filter output if odour becomes an issue, although these will have to be bought separately.
Although there can be some water leakage due to the design the removable floor tray ensures any leakage is easily protected against, and the steel frame and sturdy lining both ensure this product won't be damaged easily. So if you want to grow a few small plants and want a complete kit that won't cost you an arm and a leg, this will be the best hydroponic tent for your needs.
#7 Best Grow Tent: CoolGrows 2x2x4 Feet Small Indoor Mylar Hydroponics Grow Tent
If you don't have enough money for a full-on grow box, then this superb product from CoolGrows makes being stealthy cheap and makes sure 99% of the light you generate is reflected back towards your plant and cannot escape. This magnifies its power whilst also ensuring its existence is kept concealed. The enclosed environment also gives you superb control over how much light your plants get, to ensure they grow fast and healthy in the perfect climate for their needs.
This product really is easy to put together and comes fitted with useful vents that are built in so you can ensure aeration, whilst the viewing window allows you to check on your plant without any negative effects from white light. This product is also available in multiple sizes, making it the perfect gateway growing environment if you are just testing the waters of your own home-grown goods.
So if you are after a great value product that keeps your activities hidden at the same time as creating the ideal environment for your growing habits, this will be the grow-box for you.
#8 Best Small Grow Tent: ECO-WORTHY 32″X32″X63″ Mylar Hydroponics Grow Tent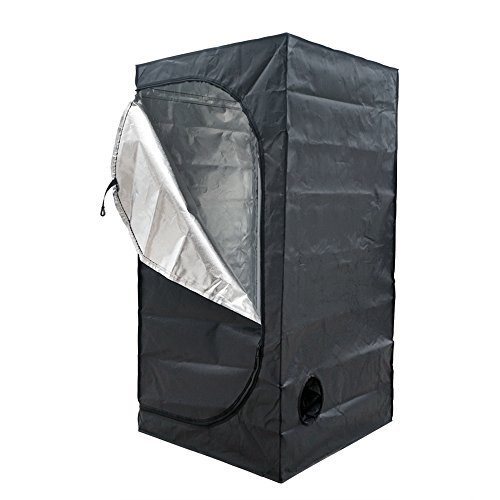 If space is at a premium in your living quarters then this hydroponic grow tent from Eco-Worthy would be a smart choice. Measuring 32 x 32 x 63 inches, it will slot easily into a small space and has the added bonus of being stealthy so no need to worry about those nosey neighbours.
The manufacturers have carefully designed this grow tent to make sure it is built to last, made out of heavy-duty 210D lightproof Oxford cloth on the exterior, and Diamond Mylar on the interior, it is completely waterproof and protected from unwanted external light seeping in.
Made with beginners in mind, this grow tent is easy to set up (or pack down if you need to move it). It comes with 2 metal rods for you to hang your lights from and is suitable for use with 400W, 600W and 1000W grow lights. Eco-Worthy are also well renowned for their customer service, so if you need any assistance they are just a phone call away.
For a simple, easy to use grow tent look no further than this excellent product from Eco-Worthy.
#9 Best Large Grow Tent: VIVOSUN 60″x60″x80″ Mylar Hydroponic Grow Tent
If you want to invest in one of the best grow tents on the market then take a look at this 60 x 60 x 80 inch grow tent by VIVOSUN. It allows you to create the perfect conditions for growing cannabis, and thanks to its size you can grow more plants. The price also makes this grow tent an attractive option, coming in around the $100 mark.
This grow tent is not only big, it is also clever. With a 98% reflective Mylar interior, it boosts its output efficiency, and a combination of the high-quality zippers and thick tear-proof canvas prevent the all-important light from escaping inside, or unwanted light from outside seeping in. You will also love the observation window within this grow tent, this means you don't need to disturb your plants by opening the door – instead just unzip the observation window and take a peek at how they are doing.
There are other clever design features of this grow tent, including an inner tool organizer and a removable floor tray to make cleaning easier. This grow tent really is an all-rounder and will make your growing experience a pleasant, stress-free undertaking.
#10 Best iPower Grow Tent: iPower 48″x48″x78″ 4\'x4\' Hydroponic Mylar Grow Tent
This grow tent from iPower has some great features. With its all-metal interior framework it is seriously robust and also promises to be rust-resistant, you also don't need any tools to put it together – simply insert each pole into its connecting piece and lock in place. With this simple set up you will be growing in no time.
With great weight bearing potential, you can accessorize to your heart's content as the metal poles can handle up to 110lb. Meaning you can create the perfect ambient environment for your cannabis. It also comes with a removable floor tray so you can remove any excess water easily without disturbing your plants. Your plants will also thank you for the viewing window incorporated into this grow tent, you can leave them in peace but still keep an eye on them.
This grow tent comes with a 1-year warranty, so if you're not satisfied you can get your money back.
Conclusion
While we love all of the products reviewed here, our Editor's Choice is the Yield Machine Max 4 Foot LED Grow Box. It is a perfect option for beginners to the growing game as it comes with everything you need to get started, and it has also been cleverly designed with ultimate stealth in mind.
As you can see, grow boxes come in many shapes and sizes. Whether you want a stealthy grow box, a mobile grow tent or complete weed growing kit, here we have the 10 best grow boxes currently on the market. With one of these in your possession, having a faulty crop will be a thing of the past and you can sit back and relax as your grow box provides the perfect environment for fruitful, healthy plants that give back way more than you'll need to put in.