Dr. Seeds Chem Dog Reviews with Unbox Video and Discount Code
Why would you choose Dr. Seeds?
In every article we are taking a closer look at a marijuana, cbd or seed supplier. This time; the relatively new company Dr. Seeds. Lets start with some reviews from peeps that ordered:) Also check out the unboxing video of Dr. Seeds with a discount code provided by 420BigBud.
You can find the video with discount code here
We gave them a solid rating of 4.7 stars out of 5. As 420BigBud we have almost a decade of experience with seeds, CBD-oils, hemp, growing and guidance. This is why we only allow the best suppliers on our website. Dr. Seeds is one of them.
Dr. Seeds Cannabis AUTO Seeds review #1
Melinda Purewise. From Canada. We ordered the girl scout cookies. These plants are actually a hybrid of the auto flowering plant, the girl scout cookies. They are more or likely the same as the feminized version. They are however easier to grow and this is also what we experienced! Girl Scout cookies are perfect indoor plants and flower within 8 to 9 weeks.
After our first harvest we could get around 550 grams of buds from it; some plants even more! Smoking this girl is like going on a holiday trip for a while. We heard about the name before and grew some other plants, but we will never go back to another plant.
The service from Dr. Seeds has been awesome. They provide the best information on the internet, out of every seed-bank in our opinion. So many seed banks lack quality and info about growing time, height & suitability; Dr. Seeds has it all. They also respons prompt to e-mails and we could not think of something negative.
Dr. Seeds Cannabis FEMINIZED Seeds review #2
420BigBud admin. From The Netherlands. We ordered the chem dawg seeds from Dr. Seeds. These seeds have A 27% THC and are one of the highest contained THC feminized plants in the world. The high lasts for hours and it gives the best full-body stone.
The plant should be grown with enough light; indoors or outdoors. They grow from the start, we saw first time growers, make fields of the chem dawg seeds. When grown indoors; you can use led lamps and the bright orange hairs will be visible even more. These plants can grow up to 5 feet tall indoors, and the flowering time is 60 days.
For this price; the chem dawg is one of the best plants out there. A nice lemon taste and easy growing is why we bought it. Dr seeds provides solid product information and their customer service can be called fast.
Dr. Seeds Cannabis CBD Seeds review #3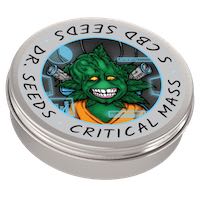 Matthew Wardin From USA. For my condition I ordered the CBD critical mass cannabis seeds from Dr Seeds. These seeds are the best for people with chronicle pain. After severing in the US military and my leg condition afterwards, the CBD critical mass has been the best for me ever since. The CBD plant is actually very large and contains around 6-8% CBD. Dr. Seeds even send me 2 samples to try for my condition, and they have been very helpful ever since. Great seed-bank!
What makes Dr. Seeds such a popular option?
They have 2+ years of experience in the cannabis culture. It is a reliable partner and they focus on one product with a broad variety of seeds. Because their information is so broad and precise, people like to order from Dr. Seeds. After the order, Dr. Seeds takes care of an up to date tracking code for shipping and information about their products (very good after-sales).
They have some sale actions; like win free seeds with a photo. But all together, they only provide discount coupon codes from time to time. The prices compared with other seed-banks are actually quite sharp already, and they have free shipping from orders above a $100.
Payment options (Dr. Seeds)
Dr. Seeds accept MasterCard, Visa & American Express. Unfortunately they do not yet have an option to pay with bitcoin or other cryptocurrencies. Because they are a quiet new company ,we think more options will follow in the near future!
Shipping & return policy of Dr. Seeds
As we already stated in our video; Dr. Seeds provides world wide shipping. The orders within Canada and North-America are also insured. If your order gets lost or something else happens, they will give you a full refund. Only outside these areas, shipping is at your own risk.
Dr. Seeds do not provide stealth shipping, but the package is discrete and only 5% gets ceased by customs. This is a very low percentage and comparing to other seed-banks actually quite nice. A shipment from Canada to The Netherlands only took 5 days! Free shipping from orders above a $100.
Dr. Seeds contact information
The contact information of Dr.seeds: [email protected] or fill in their contact form at: https://drseeds.net/submit-ticket/