The word 'mold' mainly refers to those fungi that grow in the form of hyphae i.e. multicellular thread-like structures. Fungi of the genera Aspergillus penicillium is mainly responsible for mold growth. They are found almost everywhere especially in the soil since it's their natural habitat. The organic debris or leaves or roots etc. are decomposed by molds to form humus. During their growth cycle on organic material, molds produce many spores that are spread through the air currents. These spores help in the reproduction of molds everywhere. Wherever there's some decaying matter present, the chances of spores in the surrounding air are higher. These spores when inhaled can cause several respiratory problems. Moisture and warmness are the basic requirements for the growth of mold. They don't take in energy from photosynthesis, instead, With the help of heterotrophy they take it from the organic matter they are residing in. They are found in green; fuzzy black and white; and brown colors with a musty odor, both indoors and outdoors. If white fuzzy molds are seen on the leaves, plants or on seedlings; or black molds that are easily detectable inside houses, then it is the right time for you to learn how to get rid of molds through several effective natural and organic remedies, before you start to have health issues.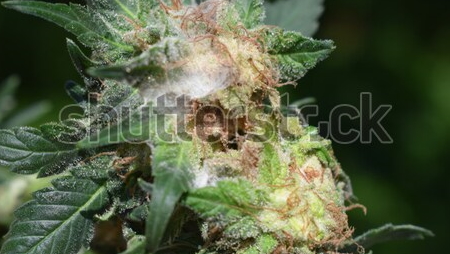 How to kill mold on plants?
#1 Liquid Copper Fungicide- Southern Ag (Chemical – Editors' Choice)
#2 Natural Industries Actinovate SP (Natural – Editors' Choice)
Add ½ teaspoon in 1 gallon of water and spray the entire plant foliage thoroughly.
#3 Prestop WP Biofungicide
Add 1 ounce of Prestop in 1 gallon of water and spray using a mist sprayer in the evening.
#4 Melaleuca peppermint concentrate- Naeterra
#5 Powdery Mildew Killer- Growers Trust
#6 F-stop – Fertilome
#7 The Amazing Doctor Zymes Eliminator
What is the mold?
Mold is a species that is neither considered in the animal or plant kingdom. It is a fungus since it does not take in energy through photosynthesis, and thus no energy from the sun is directly utilized by it. Instead, the sun radiation kills it. The only energy they get is from the organic debris on which they are growing. Their enzymes eat and decay the organic matter on which they are growing. These organic matters may include dead plants, animals and leaves, etc. The main requirement for mold growth is moisture. This moisture accumulation can be caused by humidity, water intrusion or condensation. Mostly molds only require the appropriate to stay wet for 24-48 hours before it starts growing. There is a mold named Xerophilic that can survive only with humidity. Other than moisture, the temperature requirement is there too. Most of them grow best in warm temperatures, whereas, there are still some molds present that can even grow at 2 degrees Celsius.

What does Black mold look like?
Stachybotrys chartarum is the name of the infamous black mold. This black mold can grow in houses and quite dangerous for humans and animals. It is advised whenever black mold is detected, remove it as soon as possible. It is greenish-black gelatinous in appearance. Also, seems slimy since there's always a coat of water on top. But if its water supply runs out, it might appear to be powdery and dry.  Moreover, there are many molds that might appear like the black mold, but to make sure what type of mold is it, a mold expert is duly required.
What does mold smell like?
Mold might cause toxic consequences to the inhabitants if it is one of the 14 infamous molds. The smell gives out to be musty if it is associated with the black mold or unpleasant like wet socks or rotten paper with other molds. Whenever molds eat, they release Microbial Volatile Organic Compounds (MVOC) that smells like there is something wet and has a pungent smell. Sometimes, the smell is also said to be meaty or earthy or alcohol fermentation smell.
What happens if you eat mold?
Eating mold will never kill you. As soon as a person digest it, the feeling of nausea and vomiting struck him, naming the food poisoning. If a person is allergic to it, then he may start having irritation in the throat, skin, eyes, etc. Though all the molds are not that harmful, there are some that can even cause cancer by producing toxic mycotoxins in your stomach.
How to clean mold?
If you want to clean mold through non-toxic home remedies, then below are some methods stated for you.
#8 Baking Soda Solution with Oil and Soap
White fuzzy molds on plants that can be killed by the bursting that little fungus by making an aquatic solution of the baking soda with the other components and then spray out on the affected areas. When it comes in contact with the fungus, it causes such a reaction that the cell wall of the fungus bursts out and thus kills the mold. The use of Oil and Soap helps it spreads evenly and stick effectively. For a one-gallon solution, 1 teaspoon of oil, 1 tablespoon of baking soda and 1 teaspoon of castile soap is mixed. This solution must be sprayed once a week to either kill the existing mold or to save the new sapling from getting infested.
#9 Dilute Milk Spray
Milk has the properties to weaken and diminish the white molds on buds or white mold on plants. But at the same time, if not used correctly, it can cause the growth of new molds too. To prevent it from happening always dilute solution of milk is utilized, in which the proportion of milk to water is 1:9. This remedy is applied on a weekly basis, so the re-growth of the fungus can be prevented.
How to kill molds?
Molds can be killed by the products mentioned above that are fungicides or through home remedies. Other than that, a few methods are written below:
#10 Cancrobium mold control
It is a professional formula that prevents the re-growth of mold and kills the already present mold. It contains no toxic chemicals like ammonia or bleach. This remedy is ideal for home-usage. It saves your home before any permanent damage may occur. Apply this solution in a thin layered form over the affected area and allow it to dry completely. Afterward, scrub the surface to clean the mold and then re-apply to save it from future destruction.
How to kill black mold?
If you see black mold in your house, then do not try to clean by yourself if you don't know much. Black mold, when disturbed releases many toxic fumes, that can cause serious health issues. Professionals know how to clean it with a little disturbance only. It is even advised to leave your residence temporarily too while the mold is getting cleaned.
However, if you are still willing to do it yourself and want to know how to get rid of black mold? then ammonia might be the best choice for you. Before starting the job, wear safety gloves and mask. Make a 1:1 solution of ammonia and water and spray evenly on the contaminated areas. Then allow it to sit for 5-10 minutes and then scrub it with a brush or scrub and clean it afterward. Apply the coat again if required, or to save it from future infection.