The effect of smoking weed and consuming CBD oil before & after an operation/surgery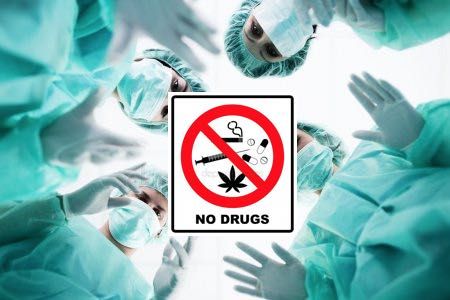 Because there is a growing number in weed users and marijuana users. We want to clarify some things about the different ways on consuming weed and also in combination after an operation or surgery. Because a surgery brings some fear with it, cannabis users are most likely to smoke or consume cannabis before the surgery or after. But is it really something that you should be doing? The recovery from a surgery can be quite painful, despite the reasons why you have to undertake an operation, most doctors will prescribe pain medication.
The most medicine, like opiates, can be very addictive and can have many side effects. Even an addictions from opiates can be the case; a lot of people in the US and the rest of the world are already calling this an epidemic. Unfortunately, most addictions are caused by are caused after the surgery and pain medications like opiates or hydrocons are being prescript. Most doctors like to prescribe less medications but because of regulation, they cannot.
Why is cannabis not used before & after surgery?
For many people there is a search to other pain medication. Several studies were conducted and these showed that marijuana and weed are the better pain medication. But can you even use weed or marijuana after or before the surgery? The answer is not as simple as it might seem; this really depends on some variables which we are going to discuss I this article.
Consumption, medical history and the use of every kind of cannabis are some of these variables that can play a great role in whether you can or can't use weed or marijuana before or after you're surgery. Every cannabis use is more or the less medial she people say. You relax, have less stress and you sleep better than without consuming marijuana. It can also be used to prevent certain health benefits. There is a smaller chance of dying during surgery when consuming weed before.
You are less likely to die during your operation when taking cannabis
Cannabis saves lives. The more studies, the more conclusions and even more important; the more prove that cannabis can have preventable properties; the better for the marijuana taker. A recent study which was conducted by some researchers from the University of Alabama in Birmingham in Boston show that people who use cannabis are less like to die during an operation.
To conduct their research, these scientists did look into the medical records of 9.5 million patients that every single one have taken a form of orthopedic surgery. At least five different kind of operations; hip operation, a shoulder operation, the total knee operations, fixation of the beckon and a nose operation. During the research, cannabis and marijuana were used and associated with less mortality with patients that has THA, TKA and TSA (traumatic experiences) so the scientists say. The conclusion is as mentioned above.
Smoking marijuana before the surgery
Different opinions, as we already states; there are some variables you have to take into consideration when determining whether or not smoking weed before a surgery is for you. It does sound tempting though; smoking a large joint before the operation. In combination with cannabis and anesthesia it can lead to some negative body effects.
The smoking of cannabis before an operation can cause slime production in your respiratory tract. This can be problematic during a surgery; the production of slime can bring some in your lungs; even hours after the surgery your body has to recover and cannot rely on everything in your body working at optimal condition. However; this effect is gone after 3 hours; you want to smoke a joint 3 hours before the surgery? We can say; no problem, it can even be good for you since you are more relaxed during the surgery. When you are a regular cannabis user, your health should be discussed with your doctor before undertaking a surgery. The variables we named before should be discussed Before you undertake a medical surgery.
Smoking marijuana after the surgery
So we discussed smoking weed and marIjuana before the surgery; what about after the surgery? A lot of research have been conducted regarding this. Some have shown that it has negative effects as a cure medication after a surgery. Remember that some studies are needed to really look into the influence of cannabis after a surgery. The healing process is also most likely slowed when coughing a lot.
The most cannabis users smoke marijuana instead of baking it or even use oil. Because after a surgery you are more likely to cough; we say do not smoke after a surgery. Make s space cake instead; so you enjoy the benefits is weed but not harm your lungs while doing it. For example; pulling a teeth can be classified as a surgery; you have painful gums and teeth.
We know that weed has some anti-inflammatory effects on the body and can be beneficial for the healing process. However; when you smoke, the smoke will affect your gums and teeth again, which can even be harmful for the recovery process. If you are really into pain after pulling teeth; you should again inhale marijuana on an edible basis and not smoking it. It has some great effects on the pain and recovery process; but always make sure you never smoke weed but consume weed instead after the surgery!
CBD oil before and after the surgery
We already gave some information about smoking weed after and before surgery. What about CBD-oil? We are going to answer this question right away, yes, yes and yes. Even when you never smoking or consumed weed before; take CBD-oil before AND after your surgery. There are not side effects and the down side of smoking weed is that is can be bad for your lungs; CBD oil does not have a side effect and does not produces slime after or before surgery. We are going to back the story of by an example of someone who used CBD-oil after and before a surgery.
CBD oil; a great example & case study
Sharing the experience; regularly I read column about people who are helped by cannabis and especially CBD oil; I want to share my experiences with you. I am 36 years old and working as a consultant for a major player in the IT-sector. Just recently, despite my relative young age; I am struggling with back pains for the last few years. It all happened after a car accident and the vehicle rolled over all away. I am now living with serious back pains for over 15 years now. Since the accident my back-pain also has not been stable at all; it even got worse as the years went by.
Regularly, it seems that my back even gives up all tighter and the pain becomes unbearable. In the beginning; several times a year I had good moments; but the good moments are becoming shorter and the bad moments are becoming longer, so it seems. In 2012 I was rushed to the hospital in an ambulance because my back was blocked all away. The doctor asked me to lift my fingers, but it started to go slow. A sign of paralysis symptoms, so they immediately got me into surgery. Before this, my wife brought me some CBD-oil to relax; I have been using it for only 2 weeks now but my back-pain was less.
The experience of CBD-oil on the human body
After the surgery they removed some bad nerves and the signs of paralysis were gone. But as a pain medicine I have already been given every drug imaginable. I wanted my CBD-oil; I toke more and more and felt like I have never felt before. It was like before the car accident; It was like I was the old guy before the accident. CBD-oil has really helped me before and after the surgery and I recommend it to anyone who has pain and suffer from severe back-pains especially.
I got introduced to CBD-oil from the IT-sector; the medical applications of weed were explained and it seems like some people were finally becoming pain-free. To make the pain bearable; I was given tremolo (an opiate) which my doctor gave me to slow the inflammations. This was good regarding the inflammations; but it had no effect on my pain. Especially after the surgery I noticed that the pain relieve was so good that I was starting to use more and more CBD-oil.
Why CBD-oil is the best medicine out there
There are many studies which showed the effect of CBD-oil on the human body, and they have been nothing but positive. The outcomes and conclusions, the variables which were researched were so severe and so good that we can only say that it has been positive for my back-pain. Whenever you want to take 5 or 10 drops a day, 20-30 or a whole bottle of CBD-oil; just try it. The pain reliever that works for me and I will never go back to regular drugs or medication. More countries are legalizing not only weed but also marijuana oil. I think this will be the next drug that has been monetized for years; we will look back in a few decades and figure out that this is a wonder medicine.