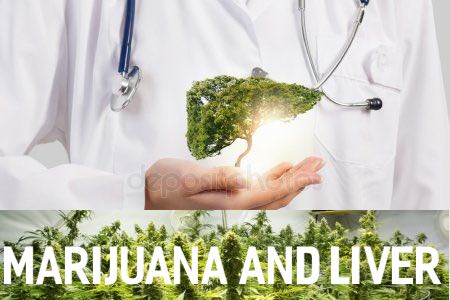 Liver diseases and the response of marijuana or cannabis. Endocannabinoide can play an important role in the treatment of liver diseases. It is about liver fibroses and lifer fatty which causes the most damage. Cannabis is getting more popular as a medical drug and it should be. Increasingly, cannabis of marijuana is being recognized as a drug or medicine which can help and let the liver work more effectively, even went it is already damaged. Moreover, it is also known that weed can contribute to treatments which can help with any human organ that gets infected.
#1 The cause of liver diseases
How do liver diseases even exists, how do they develop, and more importantly; is marijuana a good or a bad thing for your liver? Liver diseases can be heritable. They can also be caused by viruses, alcohol and drug abuse and obesity. Hepatitis is the most know virus which can harm or damage the liver. It can leave some nasty scars which cause the organ do disfunction. Alcohol and drug above are the most know causes of liver diseases and are caused by the way of living your life.
Around 10% of the world population have a problem with alcohol. Also the drug epidemic is becoming a bigger and global problem. Obesity is also a global problem and even in poor countries this is growing. After a rough estimation 350 million people have heavy weight and also health issues. At least half of these people have serious health issues, which includes liver diseases. The good news? Marijuana can help! Not only with the treatment of these diseases, but also with some inconveniences that come with this; like depression.
#2 The function of the liver
What is the function of the liver? The liver is one of the biggest organs in our body and it weights roughly 1.5 kilograms. The liver consists of two major parts which are just beneath the rib cage. The most important task of this organ is that it filters the blood and the digestive system, before it further gets through your body and becomes fat and other bad cells. You can see your liver as a gigantic filter system. The organ produces proteins and are important for attacking and preventing blood clotting. Which can be very dangerous for your hart and other organs.
It also gets rid of the toxic chemicals that are fabricated in drugs these days. Liver failures are a life threatening disease were you need immediate and medical help. Often it is a process that does not happen in one day, but over a longer period. Acute liver failures can happen in a period of less than 48 hours and are life threatening. The most known cause of this would be chronicle liver failures and can be caused by chronicle alcohol abuse. Cirrhoses is the causing problem of this. Viruses  including hepatitis A,B and C can also cause acute liver failures. These two main causes can also lead to more liver fat; which makes the liver execute its work bad and worse than before.
#3 The effect of marijuana on patients with a liver disease
Cannabis and hepatitis; out of multiple studies there are the same results; cannabis can be a blessing for people with viral hepatitis. Cannabis is helpful in a few different ways which we will discuss. Firstly, cannabis helps in decreasing depression symptoms, were hepatitis patients often are struggling with all their lives. It also stimulates people to stay off alcohol; which is another direct liver attack. Moreover, cannabis helps in combatting chronicle pain, which is often the care with vital hepatitis.
Cannabinoids can also contribute to releasing the pain with a liver disease, which is the leading cause of this illness. Cannabis can make people suffering from hepatitis make the treatment less painful and better bearable. A lot of patients are getting chemo these days, this will cause nausea and it can be very severe. It can also have a great effect on people who undertook a radiation regarding a liver disease. The most known side effect of cannabis is that they can undergo their treatment longer and better.
#4 Cannabis and liver fat.
Liver fats are usually caused by alcohol abuse. But it is also a disorder which is more common with people who have poor eating habits. It is a disease which is common in the USA. 1 on three Americans have this disorder already. Liver fat disease (FLD) is also spreading in more countries the last few decades and is becoming and epidemic. A liver which consists of 5-10% of fat can already be damaged and this damage can never be turned around again. A decent amount of fat in the organ can lead to fibroses, liver cancer and scar tissues. Losing weight (10% of your total body weight) is the only treatment known at this moment. There is no known medication that seems to work, but cannabis seems to be the perfect solution for people with the mentioned liver disease!
#5 A research on weed and liver diseases; the prove!
In a new study which is conducted by the University of Massachusetts medical school, they have researched what the influence of regular cannabis use is on the health of the liver. The researchers studied the medical data of 5.8 million patients from 3000 different hospitals. Their goal was to search if cannabis use has an influence on the developments of not alcohol related liver fats (NAFLD). It is an interesting research which shows the direct correlation of the use of cannabis and the lower chance of related liver fats. What the researchers found is that the link was the strongest with people who use a lot of weed. People who consume weed from time to time had only 15% less chance to develop a liver diseases as mentioned above.
The regular users of cannabis has a 52% less chance of developing NAFLD! This is however not the first study which shows the effect of cannabis and weed on liver fats. Another research from 2010 has shows that cannabinoids play a major role in the treatment of FLD. It even states that CB1 and CB2 receptors stimulate the liver fats of breaking down and especially in the liver. Looking at the above research and outcomes, the same research that smoking of cannabis in relation with liver fats can weaken hepatitis C patients complaints. After research, we really need some more answers and conclusions regarding the effect of weed on the liver.
#6 Cannabis and the effect of cirrhoses
Another topics would be cannabis and cirrhoses. Cirrhoses is the most common liver disease. The healthy cells will be damaged in a matter of time because of bad living habits. You should think about chronicle alcohol abuse, but not only this. With worse damage, the first to call spongy and flexible and soft liver becomes hard and lumpy. Because of this, the liver cannot work at its full capacity anymore.
Moreover, the present scar tissue will make sure the blood circulation will also be effected. Were you first had perfect veins and blood circulation, the liver will block some of this, then the blood supply to the milt will also be effected. This is the most important reason that these organ will also start to be effected and can even stop work all away. Again, there is no medicine against cirrhoses, only a liver transplantation will do sufficient work. It is known that people with liver cirrhoses have more CB2 cells than a healthy liver.
A research of 2005 from the Hebrew University medical school shows that cannabis is essential in regulating the immune system and nerves from a human being. They also found that cannabis is essential in the working of the nerve system as a whole. This includes a good working liver. The same research team did a research in 2011, with was carried out by magazine cell death and disease, they found that CBD oil can also contribute in the damaging of bad cells; which are often produced when having cirrhoses.
#7 Cannabis & alcohol users
Cannabis use also protects alcohol users from the negative effect of alcohol in regard to the liver, this includes fat of the liver, cirrhoses and liver cancer. This is the result of a work group which was made by and founded by scientists from different bodies of the United States of America, including the University of messanchussets, the Howard country general hospital center in Colombia, and some other hospital in Englewood, Maimonides medical center in Brooklyn. They studied data from 319.516 adults and their history of alcohol abuse.
The risk of developing alcohol diseases with patients that also used cannabis, was significantly lower than people who did not use cannabis. The risk of developing a fat liver was also diminished by 45% and the risk of developing alcohol liver cirrhoses was even reduced with 55%! The liver and its health even was improver with regular cannabis users then people who did not use cannabis. Some publishers conclude that their findings suggest that cannabis use can be associated with a better liver health for alcohol users.
#8 Does cannabis helps you drink less?
Can cannabis also be associated with less alcohol consumption? This is an important topic to talk about. The most common liver diseases are caused by alcohol. Marijuana or weed can contribute in less alcohol consumption and also a better liver. We showed that several studies conclude that weed or marijuana is good for the liver function. It is bad to smoke a lot of weed for your lungs; but there are many ways to consume weed. You could also bake weed in a cake or consume CBD oil, which has the same effect as smoking weed on the liver health. Now that we clarified marijuana is actually good for your overall liver health, we are going to talk about alcohol consumption in relation with weed.
#9 The proof of cannabis on your alcohol consumption
Some scientists from Harvard did an in depth case study of regular alcohol users, some of them used cannabis and some of them did not. Alcohol users are associated with a high level of pro-inflammation mediator. While cannabis is associated with a high level or interleukin beta; which has anti-inflammation properties. Auteurs conclude that cannabinoids connect marijuana use with a less pro-inflammation mediator with alcohol abusers.
As we already showed; cannabis or marijuana can with a medium usage be bad for the lungs when smoked. With smoking marijuana these is a lot of carbon monoxide that comes into the air. Marijuana cigarettes contain 70% more cancer carcinogens than normal cigarettes. The way of smoking is also more ore less harmful; when you inhale deeply; the smoke will last longer in your lungs. 1 blow can be the same as smoking 4 normal cigarettes. But why would you smoke weed? You could consume it on many different ways and it is good for the liver. Alcohol has been a public problem for many years. It has bad consequences with regular use and can even have a bad effect on your hart. Why not just bake a space cake?
#10 How to consume weed when having a liver disease
Space cake is the most known way of consuming weed or marijuana and can be most beneficial for your liver. Some doctors also provide CBD-oil; we do not recommend taking CBD-oil; because there are a lot of variations in CBD-oil we cannot assure that the same effect of weed will take place as it will with consuming CBD-oil. There is a lot of mixing of CBD-oil and finding the right supplier is very hard these days. It can even be said that the oil is not always the real thing extracted from the weed plant.
There is insufficient research regarding this area and also no shown effects of the oil in relation to your liver health. We recommend taking weed in a space cake so we are sure of the effects and all the studies to back it up. There are enough recipes of space cake or space brownies on the internet which provide a great way to start improving your liver health! Some great recipes can be found here.
#11 The great effects of weed on your liver condition
Recapitulating we can state the following in regards to your liver and the effect of marijuana or weed. The most common problem with marijuana and liver diseases is that is can also have a huge impact on your family live. When you have a poor liver functionality, there are some other inconveniences that occur. You could have a bad mood and feel like you have no energy to do something with friends or family. A poor liver health has more effects on your life as you might think. The way of dealing with this problem is obvious; consume more marijuana. As we showed in several research and studies, a direct effect on your liver health has been shown with a regular consumption of weed. The more weed, the better your liver health. The better your liver health, the more energy you have, a better life and a happy wife is a happy life 🙂