Seedsman is a secure, reputable online seed bank that has a wealth of experience. Seedsman seed bank is proud to be one of the largest seed providers in the world.
Unlike other small locations, Seedsman delivers global deliveries and they ensure that customers will be satisfied with their dedication, extensive experience and quality seeds.
We have purchased cannabis seeds from Seedsman many times and have drawn several reviews on them. Despite being a leading large seed bank in the world, Seedsman still has certain advantages and disadvantages.
We'll write our unbiased reviews below and hope it can help you decide if Seedsman is the best seed shop for you.
About Seedsman Seed Bank
Seedsman is a large seed bank and their website is a popular seed spot for many growers and smokers.
They are a long-established European seed bank, established in 2003 and have a very good reputation in the seed industry. Their seed bank is filled with different types of cannabis seeds, including those from world-renowned breeders.
Besides, they also self-breed and sell these hybrid seeds. With nearly 20 years of experience in the cannabis industry, they know and know what their customers need and give them what they want.
From the very beginning, Seedsman has shaped its brand with big goals in mind. They have built strong relationships with many of the top breeders and provide the highest quality cannabis strains to their customers.
In a short time, Seedsman has risen to become the largest seed bank in the UK. Their UK headquarters is always busy and has become the center of attention of the European cannabis community.
You can easily find the name Seedsman appearing densely on cannabis forums. They are one of the oldest and highly reputable seed banks. Today they are still the first choice when buying seeds from European growers.
Is Seedsman Seed Bank Legit?
Yes! Absolutely! Seedsman is 100% legal and they are a very reputable seed bank today. With nearly 20 years of experience in the seed industry, this seed bank is guaranteed to leave the most positive impression on customers.
Not only that, but they also spend part of their profits to serve the legalization of cannabis in Europe and some other regions. They work hard to bring a positive outlook on cannabis by lobbying or by holding charity events.
This seed bank wants people to look at the benefits that cannabis brings instead of focusing on the crime problem. They also want youth to not use cannabis irresponsibly and become a burden on society.
During its operation, this seed bank always strives to bring the best experience to customers. They also get thousands of reviews on Reddit or Trustpilot.
It's also a 100% safe seed place to buy seeds. Not only are they rich seed bank, but they are also very responsible.
In general, growers should treat this seed bank as the first place to search for seeds, including the rarest seeds. They have a good voice in the cannabis community and their seeds are selected from a large variety of sources.
Seedsman Seed Bank Review 2023
Seedsman is a large and long-standing leading seed bank in the cannabis industry, but they also have certain pros and cons. Nothing is perfect in the world, and so is Seedsman, they also need to improve on some things.
As Seedsman patrons, we also see the advantages and disadvantages of this seed bank. We've bought enough seeds from Seedsman to be able to give them our review.
After our experiences with Seedsman, we found that they have:
Pros
The enormous inventory of cannabis strain
High and stable seed quality
Germination guarantee
Delivery guarantee with Discrete packaging
Great promotions
Worldwide delivery
Free seeds
Cons
Customer service is not so good
Slow delivery time
These are general comments about Seedsman in our personal opinion. We will also summarize some more information as well as other detailed reviews about Seedsman below.
If you have time, take a moment to peruse our detailed Seedsman review. All of our reviews are objective and come from real experiences buying seeds from Seedsman.
Cannabis Seeds Quality & Selection
Seedsman owns an amazingly large seed stock with more than 4,400 different strains of cannabis. This is an extremely large number that any seed bank wants to own but not every seed bank can maintain it.
Seedsman's seed stock can be said to contain almost all of the cannabis strains available on the market. They offer from the most popular cannabis strains to the rarest ones. They also have many top unique and interesting cannabis strains that you cannot find in other seed banks.
Seedsman supplies seeds that are bred by themselves and they also distribute seeds from 65 other top breeders. They always update new strains of cannabis on their website and customers can always purchase the latest strains on the market.
The list is also extended with dozens of prominent brands such as Sensi Seeds, Barney's Farm, Buddha Seeds, etc. Seedsman is one of the richest and most diverse seed banks available today, and their storage capacity is astounding.
We consider Seedsman to be the largest supplier of cannabis strains today. If you can't find a cannabis strain at your familiar seed bank, try looking for it at Seedsman. They contain almost all strains of cannabis that currently exist in the world.
In terms of seed quality, we greatly appreciate Seedsman's efforts. Although they have thousands of seeds in their inventory, Seedsman maintains consistent quality and high germination rate for the seeds.
We bought Purple Ghost Candy Fem, Blueberry Fem, White Widow Fem, Critical Fem, Fuel D.og Fem and many more. The quality of these seeds is very good and there are only very few seeds that are difficult to germinate.
But we did see some complaints about some of the seeds being quite young, hard to germinate and not growing as vigorously as Seedsman advertised. Probably because there are so many seeds from many different breeders that there are occasional cases like this and Seedsman can't manage it too well.
Overall, however, the seed quality of Seedsman is quite uniform. They all have a high germination rate and grow well.
Germination Guarantee
Seedsman provides no express guarantee of germination for their seeds. But they only accept new seeds in exchange for customers in countries where cannabis is legal, and customers need to provide photos that prove the Seedsman seeds are indeed problematic.
You should also note that Seedsman only accepts to resolve any issues within 90 days after a successful transaction. So if you have problems with their seeds, quickly contact the Seedsman team for assistance.
But fortunately, Seedsman's seeds have very good quality and germination rate. Therefore, the cases of requesting the return of seeds that cannot germinate occur very rarely.
However, we think that a large seed bank like Seedsman should improve on the germination guarantee for customers. This improvement will be able to please a lot of people, including us.
If you are looking for a bank with an absolute guarantee of germination then ILGM is a suitable choice. ILGM offers a 100% germination guarantee to its customers and this seed bank does not require the customer to provide too much evidence or answer complicated questions.
Cannabis Seeds Price & Payments
Seed prices at Seedsman are quite wide. They have inexpensive strains and also higher-end strains, with higher prices. So Seedsman's customer base has also become much wider than that of other seed banks.
Whether you are a grower on a tight budget or a grower looking for premium strains, seeds can be purchased at Seedsman.
We have purchased seeds from many different seed banks, and by our comparison, Seedsman is a seed bank that offers seeds at top competitive prices. You will find many strains that are right for you at Seedsman.
To buy seeds at Seedsman at the most optimal price, you will not have to do too much work. All you need to do is like shopping at an e-commerce site.
After you have selected all the seeds you want to buy, you need to fill in the necessary information to create an order. This is also the time when you can enter discount codes for your order.
Then choose the appropriate payment method and confirm the order. As we mentioned, this website has a very user-friendly interface so customers hardly have any trouble ordering.
This seed bank ships to every country so their payment options are as wide as possible. They offer almost every form of payment available today so that every customer can order seeds with ease.
They accept bank and wire transfers, credit card and debit card payments, checks and money orders. Besides, they also accept payments in electronic money. This seed bank accepts payment in Bitcoin and cryptocurrencies operating on the Coingate cryptocurrency platform.
One thing you should keep in mind is that when paying with Bitcoin, you will get a 15-25% discount on your order. You will even be able to get free seeds.
In particular, customers will receive many incentives when paying with cryptocurrencies. And this is also a form of benefit for customer privacy when dealing with complex, cannabis-related orders.
If you have any questions, you can contact the staff directly on the website or via hotline, email. Seedsman has a staff ready to guide you every step of the way so you can pay properly. This is great support for international customers.
Overall, Seedsman offers a wide range of payment methods to its customers because they ship globally. This will help customers have a better experience and good impression with Seedsman.
Shipping & Return Policy
This seed bank distributes seeds globally, so they are very focused on their shipping policy. They are seen as a company that balances shipping costs and features.
The shipping range of this seed bank is very large and transport characteristics vary from region to region. However, they always strive to provide the best ordering experience for customers around the world.
The shipping time will depend on the travel distance of the order. And that is also one of the criteria to decide the cost of shipping. Shipping costs will also depend on the size and weight of the order, so this is considered a reasonable shipping cost.
This seed bank also regularly provides free shipping or discount codes for customers, so you can keep track of the updates on their website.
For UK orders, customers will receive their orders in 1-2 days. That time will be around 5- 14 days for orders within Europe and America. For the rest of the country, delivery is expected to be around 25 days.
However, under the complicated situation of COVID-19, the delivery time may be longer and they cannot deliver to some regions. So they really want sympathy from you.
All orders from this seed bank will be guaranteed not to disclose any information about this order. There is also no sign of Seedsman logo or markings on your order.
Orders will come in a sealed package and may come with any number of items. These objects will depend on the length of the distance traveled or simply on the person packing the order.
For orders from non-legalized cannabis regions, they will double-check before shipping to you to make sure the order is delivered to you safely.
They do not have any form of customer tracking of their orders like tracking Air Mail packages. However, they will provide shipping information for the order via the email address you provided with the purchase. So you can also know when your order is coming.
The return policy is also an issue as online orders somehow have problems. So customers want the seed bank to provide them with a reasonable repayment scheme.
Seedsman is an extensive seed bank with a refund policy, according to our review.
Specifically, they accept a full refund to the customer if the customer is not satisfied with the product they have purchased. Of course, that comes with the condition that the order is completely unused and has to be in the original state.
That means the customer cannot exchange another seed if there is any effect on the order. You also cannot exchange other products if you have damaged them.
To be able to return an order, the customer needs to first contact our staff to explain the reason for the return. And you can only refund the order and get the full money back if this seed bank accepts.
You need to contact them immediately after receiving your order, Seedsman will process your order within 14 days of it being delivered to you.
You can also exchange the order for another seed with absolutely no problem. This seed bank's customer care team will work hard to bring customer satisfaction.
Refunded orders will be worked within 90 days. This is also a pretty large number so that both sides can work most comfortably.
However, you should pay a little attention to their customer service department. If you have any problems with your order, you should contact them via email or hotline.
Their customer care system on the website is mainly automatic responses, so in some cases it is difficult to grasp the current situation. This seed bank has separate customer support phone numbers in certain countries. However, the system will switch to automatic reply when working hours are over.
While email communication can take up to 12 hours, it's worth the wait. The staff will respond to your email with their long experience.
Customer Service
In terms of customer service, we give Seedsman a high rating as we've only had positive experiences and haven't gone crazy once.
Seedsman's customer service staff is very professional and enthusiastic. They also have a good knowledge of cannabis so customers can ask them for advice on matters related to farming tips in addition to Seedsman's client policies.
They also work very hard to visit many cannabis forums and leave feedback under Seedsman complaints. These complaints will be resolved quickly by Seedsman staff, and they often offer appropriate solutions to compensate customers.
This is a good policy because Seedsman can leave a good image in the eyes of the cannabis community. And besides, they will not lose customers who leave those complaints.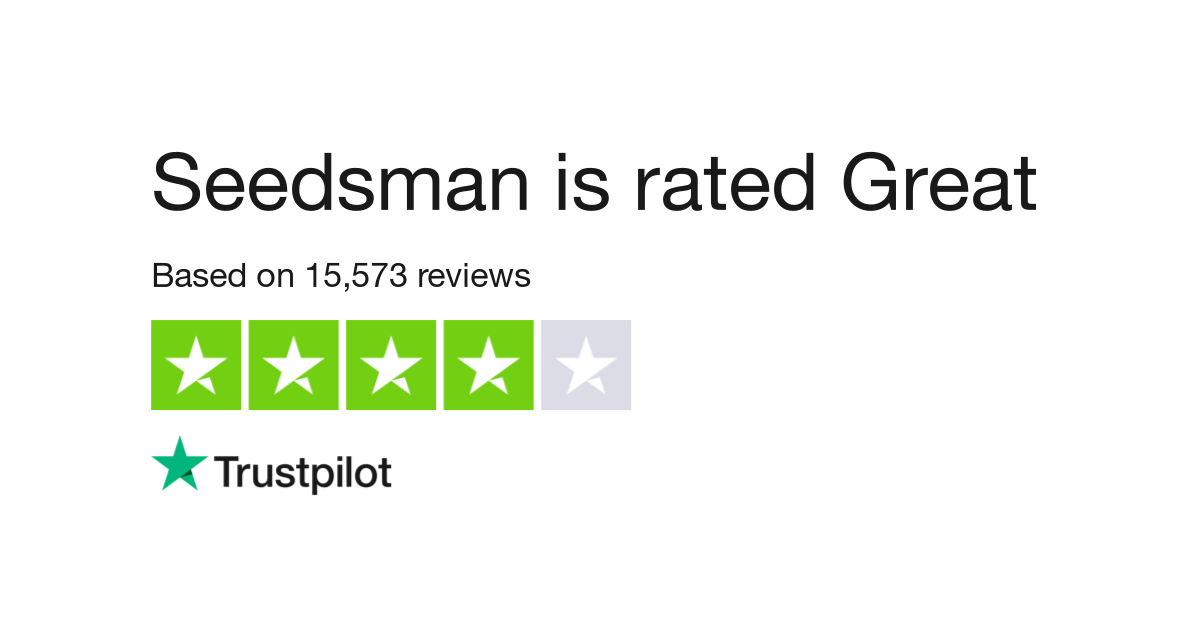 Seedsman is an established and reputable company, so they are very interested in how their customers can reach them. There are many ways growers can contact this seed bank to order or answer questions.
You can interact with them through their website. This is also the main route for you to order or find any seed.
Besides, you can contact this seed bank via phone numbers of some regions or email their support team.
However, they will only work from Monday to Friday during UK business hours 09.00 GMT to 17.00 GMT. So don't be surprised when your inquiries submitted after 17.00 GMT on Friday are answered the following Monday.
The company is headquartered in Barcelona, ​​Spain. However, they are gradually expanding their network, so customers in the future can reach them more easily and quickly.
Website & Promotions
Seedsman's website is quite simple but very clean. It contains all the information and strains that Seedsman has to offer and much more.
When you visit the seedsman.com website, you can easily find seeds by category clearly from them. The design of this site is very user-friendly and the customer can immediately find the preferred seed.
They classify seeds into three broad categories: cannabis seeds, breeders and medical seeds. So you can quickly find the right seeds for your goals and needs.
Each item will be divided into different criteria and the seeds are divided into corresponding criteria. Your job is to select the matching seeds and add them to the cart.
You can also find your favorite cannabis strain through the Seedsman website's search engine. They also have a useful blog integrated on the site and you can access a lot of other interesting content.
There is also another widget on the Seedsman website that allows you to view the prices of seeds in ten different currencies. This is very useful for international customers.
Seedsman is a huge seed bank and they also know how to delight customers with their discount codes. They have a lot of promotions and these are regularly updated on their website.
In this September, customers can receive a 20% discount on their bill by filling in coupon code "20AS-749972". And customers will receive a Feminised Bundle when their bill is greater than € 50 with coupon code "420FEM16".
They also offer other promotions for their loyal customers. Customers who buy more will receive more incentives and even receive gifts on their birthday.
In addition, this seed bank is always changing promotional products, not focusing on a certain strain. Therefore, customers will have many opportunities to buy many different strain seeds at preferential prices.
Seedsman Seed Bank Conclusion
Seedsman seed bank is truly a great seed buying site for both beginner and experienced growers. They have a lot of seeds and you can find a lot to choose from here.
It's good that you can still buy seeds from a favorite breeder when they run out of stock, or you can choose from a variety of rare seeds in one go to save money.
In terms of prices, this seed bank also offers the most favorable prices for customers. Compared to other seed banks in the market, Seedsman seed banks are also considered to be the cheapest.
Seed quality from them is also not an issue. Very few customers have problems with germination rates and their seed sources are also very clear.
However, the point where this seed bank needs to be upgraded and improved is customer care service. We understand a large number of clients, so they have to use an autoresponder, but all customers want to be consulted with a specific individual.
If they fix the problem, we're sure they'll become the most powerful seedsman, with no competition. That's why we give Seedsman 4,8 stars out of five.
The Contact Information
You can contact Seedsman by phone at +44 (0) 1451 844855 (Monday to Friday, 9 am – 6 pm GMT) or contact them via their support center.