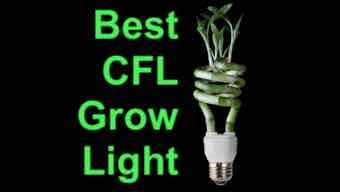 For more than two decades now, CFLs have been amongst the favorite when it comes to marijuana grow lights. They are known for their efficiency and affordability, making it a favorite amongst many cannabis cultivators. This is especially useful if you have confined spaces, which is the case with many novice growers.
With the abundance of the choices that are available for the best CFL grow light, which one should you choose? We are here to extend a helping hand. In the rest of this post, we will have a quick look at some of the alternatives worth considering. We'll also provide you with insights on everything you have to know about CFL lights, specifically in growing marijuana.
What is a CFL?
Before anything else, let us first have a quick look at what is CFL, which will provide you with insights on why it is preferred by some marijuana cultivators. To put it simply, CFL stands for Compact Fluorescent Lighting. This is a fluorescent light bulb that you can install directly on the standard socket of a light bulb. It is made as a replacement for the incandescent light bulb.
Benefits of Using the Best CFL Lights for Growing Weed
If you are wondering about what is the best fluorescent light for growing plants, you should take a look at CFL. It offers a number of compelling benefits, which will include the following:
Uses Less Energy: Compared to other types of fluorescent lights that you can use in the grow room, CFL is better because of the energy efficiency that it offers. It uses only ¼ of the energy that is used by incandescent bulbs.
Save Money: Of course, when you are able to cut down your energy consumption, it follows that you will have to pay lesser in your utility bills. Especially if you have a large grow room, the savings will be significant.
Good for the Environment: If you are conscious of how to minimize the impacts of your actions on the environment, it will also be good to use CFLs in your grow room. It is one of the best ways to reduce your carbon footprints.
Produces Minimal Heat: It is also a good thing that CFLs will not burn your plant from seedlings to harvest. This is basically because it produces minimal heat. Nonetheless, you have to take note of the right positioning of the light so that it won't be too close to the plant.
User-Friendly: One thing that makes this effortless to use is that it is already self-ballasted. Unlike other grow lights, there is no need to have a ballast. It will fit in standard light sockets.
Best CFL for Clones
#1 Westinghouse 3667000CFL Light Bulb Review
When it comes to clones, lighting is not much of a requirement. Light becomes more important when roots start to develop. However, if you want to use lights, you should look for one that comes with a low wattage, which is why this will be a great choice. It only has 5 watts, making it perfect for starting your clones.
This is a soft white, 2700k light. It is not as intense as the CFLs with higher wattages, so be sure to limit its use only for clones. For the vegetative and flowering stages of the cannabis, the amount of light it can generate will not be enough.
Q&A: Does this light get hot?
It gets warm, but not extremely hot. This can be attributed to the fact that it is only five watts. Even if you leave it turned on for a long time, this won't generate too much heat that could cause significant damage to the plant.
Q&A: What is the required height for positioning this light?
This is a CFL with a low wattage, so you have to position it closer to the plant to take advantage of its benefits. It would be best for it to be about only two inches from the top part of the plant.
Best CFL for Vegetative Growth
#2 Sunblaster CFL Self-Ballasted Propagation Lamp Review
This CFL grow light delivers wattage of only 26 watts and has 6400k light spectrum, which will be more than enough to provide the needs of the marijuana during the vegetative stage. It has 1,700 lumens. This light is equivalent to a 100-watt incandescent light bulb. Because of the low intensity, however, you will have to use several bulbs when you have a large grow room.
In terms of installation, there is no need to worry. It fits in a standard socket of a light bulb, so there is no need for complicated assembly right out of the box.
Q&A: How close to the plant should I position this CFL light bulb?
Generally speaking, this will depend on the stage of the growth of the plant. However, in the case of seedlings, you have to position it around 2.5 feet away from the plant.
Q&A:  How long should you need to leave the light turned on?
Similar to the height, this is also one thing that will depend on the requirements of the plants. At a minimum, however, you have to turn the light on for at least 12 hours in a day. Ideally, it should be on for 12 hours and off for 12 hours.
#3 Slow Dolphin Photo CFL Full Spectrum Light Bulb
Slow Dolphin is a manufacturer you can trust, and they have a wide range of quality products that come at a reasonable price. This CFL bulb can perfectly provide enough light for a substantial growing space in your home.
This light bulb has a simple design but is very durable. It can also bring the strongest, most optimal light to the growing space. This bulb has 45 Watt output but it provides the same output as the Regular Incandescent Light Bulb.
Q&A: How is the performance of this bulb?
You can be assured of the performance of this bulb. It is stable, providing 5500K light without flicker or interference.
Q&A: Is this bulb easy to set up?
Of course. Growers don't need to spend a lot of effort and time to set up this bulb for their growing space. It fits on to any E26/E27 standard socket so growers don't need to worry about setting up this bulb to work.
Best CFL for Flowering
#4 Satco S7334 40-watt CFL Soft-White Light Bulb Review
When the marijuana reaches the flowering stage, you need a warm white CFL bulb to ensure its best state of health. If the light intensity is too strong, this might end up killing the plant even before it reaches the stage of harvest. For that reason, this Satco light bulb will be a great choice.
Looking at the technical specifications of this product, it has 40 watts. Meanwhile, it has 2,600 lumens and 2700k medium base. It is also Energy-Star specified, which will provide you with an assurance of its efficiency. Even if you leave it turned on for an extended period, there is no need to worry about its electricity consumption.
Q&A:  What is the lifespan of this light bulb?
Based on the specifications, the light bulb has a rated lifespan of 10,000 hours. This is in no way close to what you can find in LED lights, but for CFLs and its price range, this is already pretty much decent.
Q&A: Is it compatible with a dimmer?
If you plan to use a dimmer for your grow tents, this is not for you. It won't work with a dimmer.
#5 Emart Full Spectrum Light Bulb
This bulb from Emart is a smart choice for any grower, especially those on a tight budget. This bulb not only provides full spectrum for plants in all growth stages, but it also specifically supports the flowering stage of plants.
In addition, this bulb is extremely durable, it can last up to 8000 hours. This bulb also does not require any accessories to set up and does not take much time to replace and maintain. This bulb has 105 Watt output but it provides the same output as the 500 Watt Regular Incandescent Light Bulb.
Best CFL Grow Light Setup (Light Kit + Hood)
#6 Hydrofarm Agrobrite FLCDG125D CFL Bulb Kit Review
The CFL bulb that is included in this kit has 125 watts and delivers a full-day spectrum. To add, it comes with a mogul socket and an 8-foot power cord, which will make the installation easy, even without being close to the source of power.
One of the highlights of this kit is that it comes with a reflector or hood, which makes it more effective in providing the light needs of the marijuana. It comes fully assembled. This means that all that you need is to have it plugged and it is ready to use.
For your peace of mind, the manufacturer is offering a one-year warranty.
Q&A: What is the coverage of the grow lamp?
Similar to other CFLs, it is quite limited in terms of its coverage. To be specific, it will be best for a grow tent that measures 4 feet x 3 feet. It will be good for one to three plants. Use more bulbs if you have a larger grow room or more plants.
Q&A: Is there a need for a ballast?
One of the things that you will love about this CFL lamp is that there is no need for a ballast that will regulate the current for the purpose of supplying the required voltage. This is also one of the reasons why the installation is simple.
Best CFL Grow Setup: Tips and Tricks
Regardless of the light that you are using, whether it is CFL or not, the right setup is important to ensure the best outcomes. With this, one of the most important is to have the right-sized grow room. This will depend on how many plants you intend to grow. If you are a beginner, I suggest that you start small. Master the basic techniques first before you have a bigger grow tent.
There are also some growers who would divide the grow tent into two portions. One for vegetative and one for the flowering stage. Nonetheless, this is unnecessary. If the plants grow at the same pace, no need to have a division.
Once your marijuana is already in pots or containers, the next important setup concern would be the position of the lights. Ideally, it should be about four inches away from the top of the plant. It can also be as near as two inches, provided that the CFL has low wattage.
The use of a reflective material is also important to maximize the benefits of a CFL grow light. This will also reduce the light leaks. Aside from this, it will also be good if there is a hood that can be positioned to direct the light exactly on where it is needed the most.
You will also need to invest in an electrical timer to complete the setup of the grow room. The latter is important because it automates the process of turning on and off the lights. There is no need for constant monitoring. This makes sure that there are enough light and darkness based on the stage of growth of the plant.
When it comes to the set-up, it is also important to take note of the right duration that the light should be turned on. It is an ideal option when it comes to the best light for cannabis seedling, but only when used properly. With this, as it has been recommended by expert growers, during the initial stages, the plant should be turned on for 18 hours, which should be followed by six hours of darkness.
You also have to pay attention to the number of CFLs that are present. One CFL will be enough for one to three plants, depending on the wattage and the spectrum. If it is a large space, on the other hand, you will have to use several lights.
What CFL Bulbs are Best for Growing: Essential Considerations
With the abundance of the options that are available on the market, you will most probably end up being overwhelmed. To make it easier for you to decide, these are some of the most important factors you have to consider:
Wattage
The wattage of the CFL is important because it is reflective of its performance. To find the right wattage, you have to determine the size of the grow room or the number of plants.
If you only have one to three plants and a small grow room, a low-wattage light will be enough. A wattage of more than 250 is considered as overkill. CFLs are made for small grow rooms, so you do not really need one that is powerful. Generally, 80 to 100 watts of light per square foot of the grow area will be enough.
Lumens
This is another technical specification that should matter when evaluating the alternatives. This will determine the suitability of the CFL. In the case of most of the models of CFL light bulbs, they give off 2,500 lumens.
Kelvin
The Kelvin scale measures the color temperature of the light bulb. For lights that will be used during the vegetative stage, 6500K will be good. On the other hand, during the flowering stage, it will be best to use at least 2700k light.
Final Verdict
With the use of the best CFL grow light, including the products that have been mentioned above, it will be easier to ensure the healthy growth of your cannabis. Deprived of the heat and light from the sun, CFLs will be effective in improving the external environment to make it more favorable for the weed.