Initially, it looks more important to me to convey to our readers what is "White" lights in the real sense and how does it look white. Sun is white, and it emits a combination of visible light containing a rainbow of colors that appear white to us. White can't be called a spectral color. But, the output of interacting several light spectrums together. Similarly, any White LED grow light can't replace sunlight but somehow resembles sunlight in brightness and color spectrum due to artificial arrangements.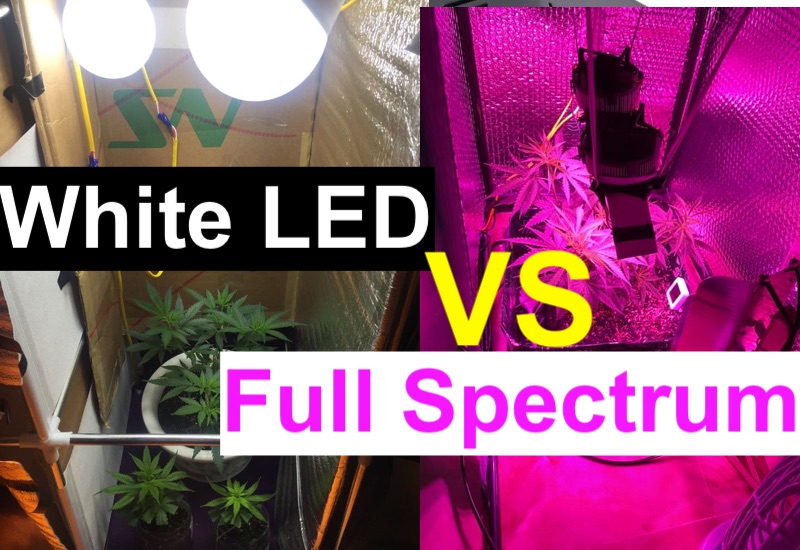 Human eye-cones could differentiate between three prominent members of rainbow colors., i.e., Green, red, and blue. If a combination of red, green, and blue represent an equal strength, it will form a light that appears white to the human eye. There are numerous diverse means that the human distinguishes white light from the mixture of the different cog of colors. Yellow light stimulates two eye cones that are red and green. Hence, a mix of green and red also appears white to the human eye. Moreover, several other combinations also appear white to the human eye, even if the spectrum of light is not complete.
LED Diodes
The Diodes used in LED lights manufacturing are unable to produce white light directly as an individual light only designs to produce one color. The recent advances in LED manufacturing use blue LED coated with Phosphor that emits a yellow light but, it appears white to the human eyes due to highly induced Color Rendition Index. Plant advantageously absorb more amount of red and blue lights. One of the biggest advantages that come with white LEDs is that they keep the growing environment and surfaces of the plants cool. Some clients even questions are white led lights good for growing or will white led grow plants? The answer to both questions is YES.
There is another truth that white light LED grow light helps plant to complete the process of photosynthesis more effectively and speedily, for it contains the biggest portion of red and blue wavelengths that plants need for this process.
Several manufacturers claim that their LEDs are best producing white lights. But, the growers mostly rely on the real users and trust their reviews for the performance of any sorts of LED grow lights. Here is the list and reviews of the Top 5 Best white led grow based on the satisfaction level of growers;
Top 5 Best White LED Grow Lights
#1 Gavita Pro-1700E
Gavita Pro-1700E is a powerful source of white light that consumes less electric power.
The Gavita Pro-1700E is best rated for outputs equivalent to 1700 μmol/s with an efficiency of 2.6 umol/j, which is considered best for Cannabis, herbs, and long-tenured vegetable crops. Moreover, the surface area it covers is 4×4 feet at flowering stages and 5×5 feet for vegetative and seedling stage. Only one light could cover a huge area where the usual installation is two or more lights for the same purpose. It is the best supplemental light that possesses the far-red and deep red spectrum necessary to continue photosynthesis by the initiation of the electron transport chain. Overall, emitted light resembles sunlight with the combining use of LM301B diodes from Samsung and Osram. It modifies its cooling capacity with passively cooled bars that reduce noise while operating within the system. Here is the link for viewing customer's comments and rating on Amazon for white led grow reviews;
 #2 Spider Farmer SF-1000
It's an excellent low-budget white light having the similar diodes that are installed in Gravita Pro, i.e., Samsung LM301B. Spider Farmer is a reliable name and holds the trust of hundreds of satisfied customers. Spider Farmers is more efficient than Grovita as its photosynthetic photon efficacy is much higher than Grovita. It's PPE is 2.9 umol/j compared to 2.6 umol/j in Grovita.
The uniformity in light penetrating through the plant's canopy makes it an ideal light for boosting production in sorts of growing arrangements. With the consumption of only 100 Watts, it achieves a vegetative footprint of 3×3 feet and a flowering footprint up to 2×2 feet. MeanWell driver allows connecting several lights with integrated dimming exclusively advantageous for the big cultivated areas in commercial farming and indoor growing environment.
Here is a live link to see complete dimensions, specifications, and customer reviews;
#3 Horticulture Lighting Group-HLG 550
Excellent white light with Inventronics driver and Samsung LM301H diodes that draw only 500 watts when running on full capacity. There is no match to its flowering and vegetative footprints which, are 4.5×4.5 feet and 6×6 feet, respectively. Overall, HLG uses 4 quantum boards that deliver extraordinary full spectrum while light. PAR efficacy is 2.65 umol/j with a trustworthy passive cooling system that offers to maintain temperature easily.  It's sleek, lightweight, very bright, and typically made for professional growers. 89% of clients review it positively and rate 5*.
Here you can review detailed specifications of this product;
#4 VIPARSPECTRA 2021 Pro Series P1000
VIPARSPECTRA P-1000 LED grow light adopts SMD Technology that yields high PAR output, high energy efficacy up to 2.7 umol/J, and 2×2 feet – 2.5×2.5 feet footprint flowering and vegetative growth stages of the plants. The dimmer knob allows adjusting the light to the needs of plants at different growth stages. It's an exceptional light for achieving higher yields per square feet area in greenhouse and hydroponics arrangements. Heat dissipation controlled excellently with solid Aluminum that enhances the lifespan and working efficiency of Pro Series. It hardly consumes 100 Watts and saves a lot of energy expenditure.
For detailed specifications and reviews, here is a link,
#5 Phlizon-CREE Cob Series 1000W
COB LEDs are known for their stability, bright light, less thermal resistance, and low light reduction, while their most important feature is longevity. CREE Cob light holds all these features that are designed to deliver high PPFD responsible for boosting growth and increasing productivity compared to other LED grow lights. Moreover, this light maintains a combination of 100 beads that deliver the critical wavelengths for the entire needs of the plants growing in any indoor environment. The active footprint is almost 4×4 feet and installed with the vegetative and bloom switches. They also have an experienced Research and Development Wing that takes care of the product 2 years after it sells to the customers.
Check product rating, specifications, and customer's review by clicking this link;
Product List Related to White LED