Best UVB LED Grow Light for Weed ( 2023 Reviews & Buying Guide)
Growing weed indoors is possible, but not exactly the easiest thing to do, especially for beginners. The plant is deprived of natural sunlight, which can be a significant hindrance to its growth. That being said, UVB grow lights can provide a promising solution, but you have to use it right.
The UVB grow light has the capacity to mimic the natural sunlight to induce the growth of weed. Nonetheless, it can also put too much stress on the plant and can have it killed. With this, while it holds a lot of promise, you have to observe caution in its use.
If you are on the lookout for a UVB grow light that you can use for weeds, keep on reading the rest of this post and we'll share with you some of the top brands and models available on the market, as well as the features that make them exceptional. Top Picks for UVB Grow Lights
The table below will provide you with a glimpse of the models that we recommend, followed by a more detailed discussion of what you can expect from each of them.

#1 ViparSpectra V600 600W LED Grow Light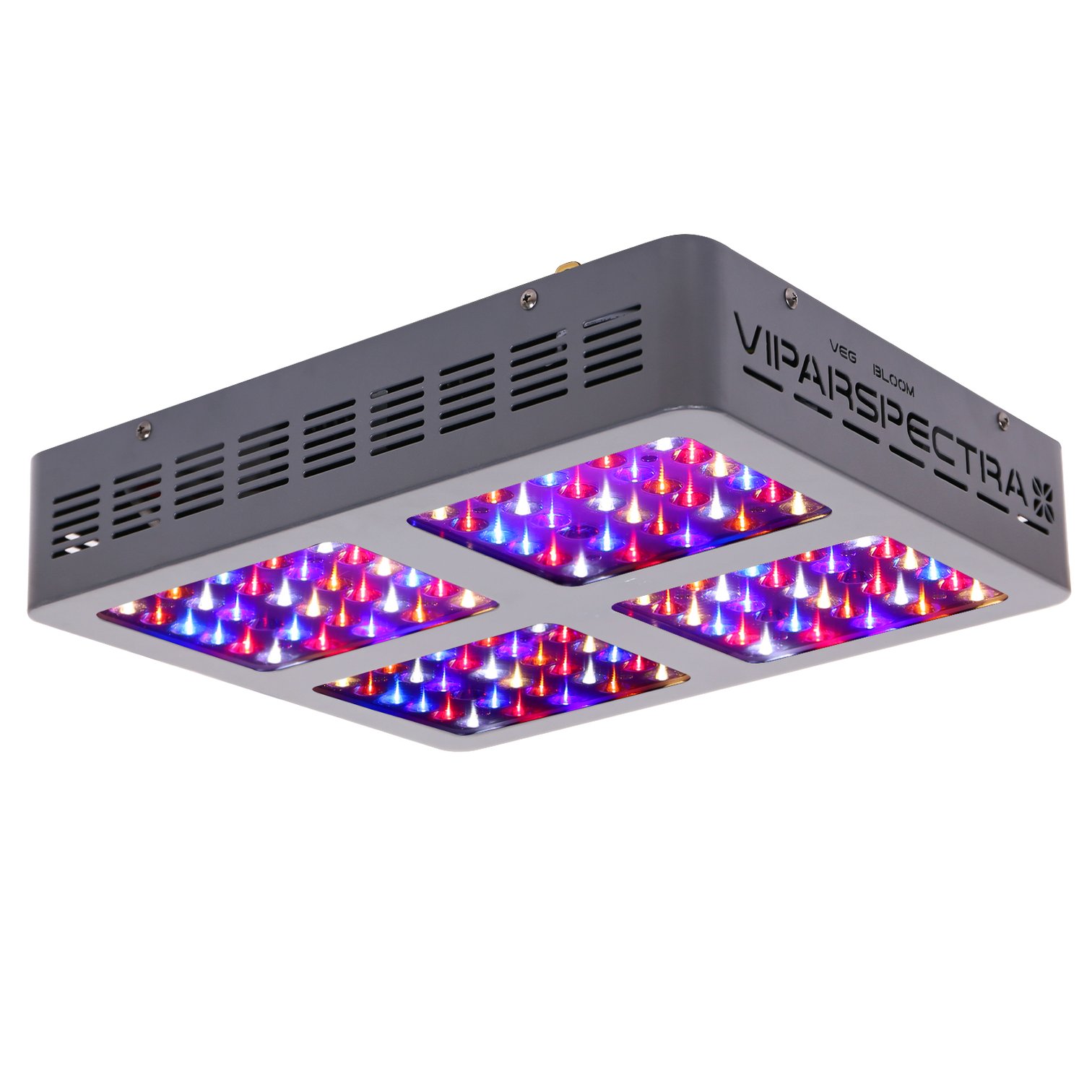 ViparSpectra is the leading LED grow light manufacturer today and their products are always well received by customers. For this reason, this is definitely one of the options that you should make a part of your list.
This V600 600W LED Grow Light has full spectrum, providing natural light like sunlight for your weed. This ultimate full-spectrum lighting will help keep your plants healthy at all stages of growth.
The high-yielding technology incorporated in the grow light is another thing that makes this exceptional. It has more wattage than most of its competitors, which is one of the reasons why it can perform better.
It is also boasted because of its efficient design, it received UL certification, has excellent fire resistance so it is very safe. In addition, the monolithic aluminum heatsink system combined with a very quiet fan at high speed keeps the LEDs cool even during continuous operation. So the life of this LED also increases from there.
#2 ViparSpectra XS2000 240W Infrared Full Spectrum LED Grow Light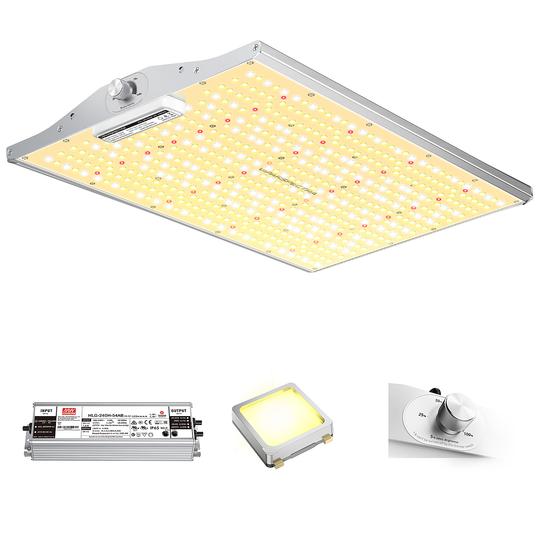 This is a top Infrared Full Spectrum LED Grow Light currently on the market in our opinion. Not only does it offer high energy efficiency, but it also has outstanding longevity and quality, with a reasonable price tag.
The full spectrum of this ViparSpectra XS2000 LED includes 660nm of red led, 3000K and 5000K of white led and IR led. These lights describe exactly like natural sunlight and provide maximum support for growers growing weed indoors.
This model uses 240W Mean Well driver which allows to provide high PAR output. From there, it helps boost yields while saving electric costs in the most optimal way. This high-tech driver can ensure stable performance while the LED works for a long time.
This LED also has a dimmer button that allows growers to adjust the appropriate brightness from 5% to 100% brightness for each stage of cannabis growth. Don't forget Samsung LM301B Diodes are also a notable highlight of this model.
The cooling system of this LED is enhanced with large heat sinks. They cool very well and especially without any fan or noise to be found.
#3 ViparSpectra P4000 400W Infrared Full Spectrum LED Grow Light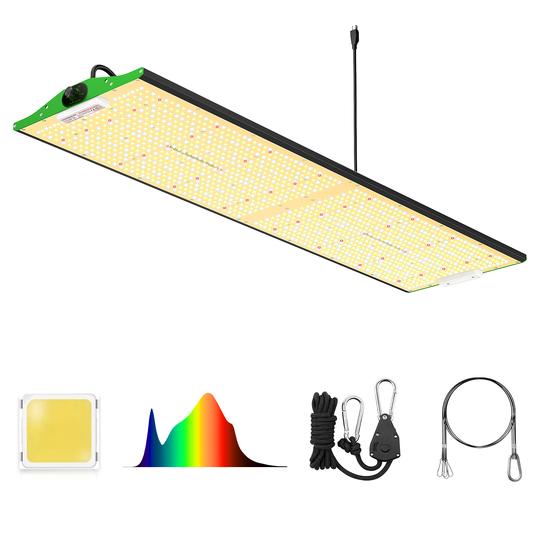 If you want to find a quality SMD LED light, don't miss this model. It is an extremely superior SMD LED light and we highly recommend this model. And moreover you will have the opportunity to own it at a reasonable price compared to such premium quality.
This model uses the newest SMD LED technology and is capable of providing high performance, along with high PAR output. You also don't need to worry about the light penetration of this LED. It has wide coverage and definitely works well with your small cannabis garden.
We were also impressed with the 400W Sosen driver. This driver helps increase operational productivity with only the lowest power costs. It also produces high PAR output along with outstanding lifespan for this LED.
Besides, this LED also has a dimmer button that allows growers to adjust the brightness of the LED from 5-100%. This adjustment is necessary for growers to be able to implement growing techniques to increase the yield of the cannabis plant.
ViparSpectra's 36-month warranty and 30-day money-back guarantee will certainly give customers peace of mind when ordering this model from them.
#4 ViparSpectra VA2000 2000W LED Grow Light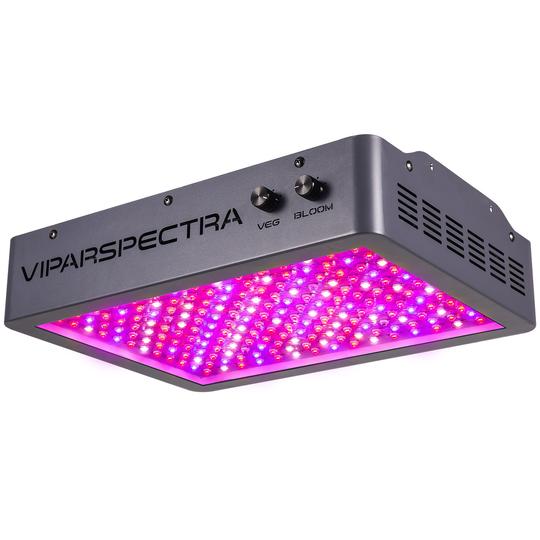 With this VA2000 2000W LED Grow Light from ViparSpectra, growers don't need to worry about their indoor cannabis plants not being able to receive all the necessary light. This LED light serves as an indoor sunlight source for cannabis plants when its owner needs privacy.
Like many other ViparSpectra LEDs, this model also received UL certification. It proves that this LED can completely guarantee safety while enhancing light penetration.
Besides, this LED light adopts high-durability 10W Dual Chip LED. It also exhibits strong performance even when operating for a long time.
This LED provides full spectrum lighting, including IR, which is especially helpful for all stages of the cannabis plant's growth from germination to flowering and harvesting.
Moreover, this LED only consumes 395W and it can replace 600W HPS/MH lamp. This is a beneficial economic problem that any customer wants an answer to.
#5 ViparSpectra VS2000 200W Infrared Full Spectrum LED Grow Light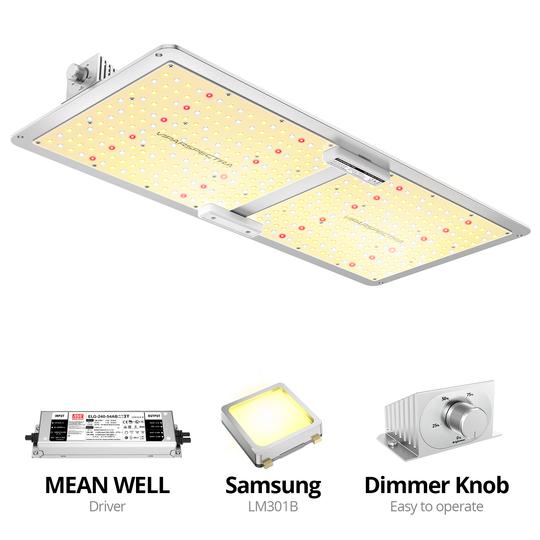 Here is another Infrared Full Spectrum LED Grow Light that we think you should really add to your priority list. It is a high quality LED that is capable of maximizing crop yields which we think is particularly beneficial for cannabis crops.
This LED uses Samsung LM301B diodes, latest LED technology, Mean Well driver and high quality detailed parts. That's why this LED has outstanding performance, along with a remarkably long lifespan.
This model offers full spectrum with 5000K white, 3000K warm white, 660nm deep red, and 730nm IR light. These lights will help your cannabis plant thrive in all stages of growth. In particular, it can assist in speeding up the flowering time and improving the yield of your cannabis crop.
Besides, this LED light also has a dimmer knob that allows you to adjust the light intensity to suit each stage of the cannabis plant's growth. From the time the cannabis plant is a seed to the time it is harvested.
The area of ​​this lamp is quite large but customers do not need to worry about its heat sink. The large solid aluminum heatsink ensures that the LEDs are always at their ideal cool temperature. And it also doesn't have a fan so it's not noisy.
#6 Lumini Hydroponic LED Grow Light with UVB
As a full cycle light, one of the advantages that you can expect in this product is the flexibility that it is able to offer. This is basically because there are different modes that can be chosen. You can choose from Vegetative, Flowering, or UVB.
The master controller is one of the innovative features that you can find in this weed UVB grow light. With the use of the latter, you will be able to control the lights that are incorporated into the unit. There are four saved modes that can be chosen from the timer.
Safety is not one thing that you have to worry about in this grow light for weed. If in case the fan becomes defective, the light will automatically dim by as much as 20%. More so, if one LED burns out because of power surge, the rest of the LEDs will not be affected.
What is a UVB Grow Light?
A lot of you might have heard about LED grow lights, but UVB lights are seldom talked about. As shown in the products mentioned above, however, UVB lights are effective in improving the growth of weeds. More of this will be tackled later on.
To understand UVB, you have to know that there are three main types of wavelengths that reach plants, including weed:
Ultraviolet A or UVA: It has a radiation of 320 to 400 nm. They make up 3% of the photons that can be found in sunlight. They also do not cause any damage to the DNA of the plant.
Ultraviolet B or UVB: It has a radiation of 290 to 320 nm, which is more than enough to damage the plant's DNA. With this, the UVB light is activated only in the late stages of growth.
Ultraviolet C or UVC: This is the most extreme from the three and already has the ability to kill living cells, especially considering the fact that its radiation is 100 to 290 nm.
How UVB Affects Weeds
For many starters, this is probably the question that you have in mind. One of the most important things to point out is that UVB has different effects in different plants. Therefore, it is wrong to say that its effects on weeds will be similar to others.
Among others, one of the most important functions of UVB is that it improves the production of THC. The latter is a cannabinoid, which is believed to be a defense mechanism of the weed. When there is UVB grow light, it has greater UV exposure. The outcome is that it will defend itself against ultraviolet radiation, which is why it can produce a higher level of THC.
According to some weed growers, the use of UVB grow lights can help in increasing THC production by as much as 30%, although such claim is still a subject of debate these days. It allows the development of a protein molecule, which the weed develops as a way to defend itself from the damaging heat of the sun.
To investigate this claim, a research from Maryland has been conducted. The findings indicate that those that have been exposed to UVB radiation showed a higher level of THC, which is enough reason to believe that such supplementation is beneficial in growing marijuana.
Conclusion
This post discussed some of the best options that are worth considering if you are looking for the best UVB grow light for weed. The options are quite limited, but still, this does not mean that they are all the same. Take the time to evaluate the five products mentioned above and it will be easier for you to reach the right decision.