While growing Cannabis hydroponically, the growers face so many challenges when it to creating an environment that typically meets the growing needs of plants indoors. The cannabis growers are well aware that they need to correct the temperature, humidity, nutrients pH, reservoir water, and many other factors that make an environment that becomes conducive for cannabis growth.
Similarly, indoor odor control is another dominating factor that they control through ambient ventilation and install multiple vents for this purpose. Recent advances in cannabis farming bring a solution for several issues for growing cannabis by using grow cabinets that primarily work inline with the hydroponic system but, the arrangements to control internal factors are marvelous. These devices recently term as "Grow Closets" and a few of these grow closets adopt automation to control the internal environment for growing cannabis plants, while the growers don't need to monitor each aspect that they otherwise control growing with traditional grow systems.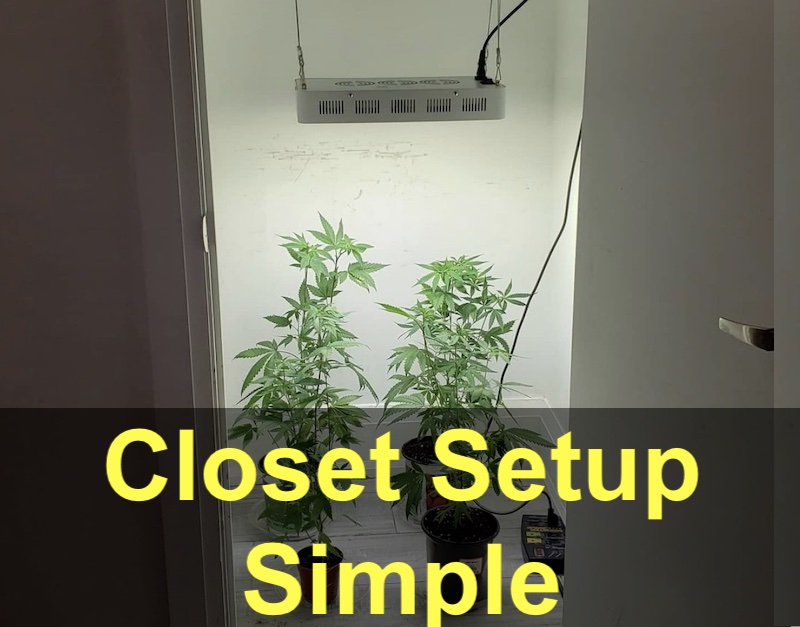 Grow Closets offer simple clarification to all internal growth factors and the growers don't need to worry once the internal factors get automated. These grow closet setup offer precise design and features that accommodate cannabis plants throughout their lifecycle. Some grow closets offer customization and some others come with automated features that adjust internal growth conditions according to the need of the cannabis plants depending on the variable growth stages.
Using a hydroponic closet setup is a pretty much attractive idea since they are capable of eliminating odors along with regulating the entire growth conditions for germinating cannabis seeds, raising seedlings, and caring transplants to successfully transform them to the flowering stage. Hence, a hydro grow closet could easily maintain and adjust conditions that your cannabis plants require throughout their growth and development.
A hydroponics closet resembles an ordinary grow cabinet that is capable of providing adaptable conditions to cannabis plants that enclose in a grow tent. The Closet hydroponics setup is getting popular among the cannabis growers for they acclimatize cannabis plants for the features they possess. Moreover, they provide cannabis plants with an environment where they could grow to exhibit their full yield potential.
More beauty is in adding grow lights that deliver full spectrum for the ultimate lighting needs of cannabis plants in a grow closet set up. Also, using a closet weed grow setup eliminates the risk of insect pests that often damage cannabis plants to a large extent and cause significant yield reduction. Moreover, the quality of the produce also destroys and the product no more remains edible or useable in the case of weed.
Let's get acquainted with the accessories and equipment that a majority of manufacturers install while setting up a hydroponic closet for growers. Generally, a set up needs a grow tent, Grow light, exhaust fans, carbon filter, reservoir, and nutrients. Some other accessories hydroponic closet may adopt are timers, clip-on-fans, and insect traps. Whereas the state of the art hydroponic closet could adopt automation and precision features for the ease of growing cannabis plants in their closets. We will review the best available and highly adopted closet based on the customer's choice and their feedback. Let have a look at what types of the hydroponic closet are available on the market place;
Reviews of 10 Best Closet Hydroponic Setup
#1 Cash Crop-6.0-2 Plant LED Hydroponics Grow Box
Cash crop hydroponic closet allows you to grow two cannabis plants that could gain a height of up to 3 feet. It's a pretty small closet that could provide 2 pounds of buds after drying biomass from two cannabis plants. The growers could effectively with this hydroponic closet that comes installed with everything that controls and stabilize the internal growth factors in the box other than cannabis seeds. It also uses two LED grow lights: one at the top and another on the sides that provides the full spectrum needed to grow cannabis plants successfully throughout the growth stages. Two mute fans and a double nutrients reservoir installed in the system control both odor and nutrients needs. This durable closet is made with quality wood in the US and the growers could fit it in any available space for its sleekness. Cash crop could be an awesome selection that could fantasize cannabis growth with a different style. Here is a link to see detailed specifications;
#2 Grobo-Solid Hydroponic Grow Closet
Grobo closet hydroponic system installs an automated system that the growers could easily handle using a cellular phone. The growers could select the types of plants they want to grow from the Grobo App and they are done. This makes cannabis growing extremely easy since the environment once set for growing could lead the growers to harvest 2-3 ounces of buds per grow cycle. An activated carbon filter helps controlling odor and a security lock prevents access to unauthorized persons. An automated crop selection runs the LED lights as per crop requirements during different growth stages and regulates pH and EC of the nutrients solutions accordingly. Moreover, the closet is highly energy efficient as the growers could limit their monthly electricity bills up to $5 only for running the system at full capacity. It contains a pH, and EC sensor, coco peat, and nutrients for one cropping cycle of cannabis. It's incredibly a great addition for the hobbyist and an ideal closet weed grow setup. See product specs and price here;
#3 SuperCloset-Locker 3.0 LED Grow Cabinet Hydroponics
SuperCloset claims it a fireproof grow closet made with quality Steel that installs a lock as well to stop accessing unwanted people. They also install K3-300 Watts Grow light that uses 3 Watts diodes each along with an optical lens to provide a complete 12 band spectrum for the optimum growth of cannabis plants. The optical lens enhances light penetration into the canopy of cannabis. They also configure a small chamber for securing seedlings and clones in the closet. Moreover, Super Closet comes with a nutrients box, filters, and fans that stabilize the internal growth environment for cannabis plants. A separate T-5, 20-Watts light for the seedlings and clones in 66″x15″x24″ space where the growers could attain a height of 3 feet for 8 cannabis plants. A pH kit, TDS tester, hydroton clay pebbles, and rock wool also includes in the package.
#4 PollenWizard-ET-2XL Grow Cabinet with Digital Controls
Although it's not a fully automated closet hydroponics system. However, they place digital monitors inside the closet for regulating the humidity, temperature, and LED light which the growers could easily connect using Bluetooth on their smartphone. A smart app is free for both IOS and Android users that allows them to correct the internal growing environment according to the requirement of the plants inside a closet. If the growers could utilize the ET-2 cabinet right above the main closet for seedlings, they could successfully take harvests from the cannabis plants in 60 days only. With digital connectivity, the growers could easily monitor and control both humidity and temperature as the application warns about both factors. Moreover, the closet design offers zero condensation within the growing environment as it leads to fungal and bacterial infestations. Here is a link to see warranty and replacement options;
#5 WeGrowHerbs-Grow Cabinet Amsterdam Complete
This closet measures nearly 6 feet in height whereas, both the depth & width is 2 feet. They offer several plugs and play versions and the growers could assemble the closet in just 30 minutes. For making, XPS sandwiches PVC panels without releasing any toxic substances. WeGrowHerbs also install an Inline fan, activated carbon filter, fan silencer, and 600 Watts Phlizon LED Grow light with timers. It's an excellent system for growing odor-free cannabis plants. They also provide an extended solution for getting fresh air into the closet and preventing light losses at the same time. Moreover, the closet comes with a manual containing all the instructions regarding setup and growing your cannabis indoors. The growers could see detailed product description and specifications through this Amazon link;
#6 Unique Hydroponics-Yield Machine Max LED Grow Box
Unique Hydroponics one of their highest harvest closet with installing new SMD technology in LED light manufacturing that ensures full wavelength in 12-band spectrum. They control internal closet odor with an activated carbon filter and Ona Block. However, Ona Block is not recommended to control odor in a controlled environment room that grow cannabis plants. The cannabis growers could effectively grow their plants in this 4-feet tall and 18 inches wide closet for quality harvests. They also offer to grow nutrients such as Maxi Grow and Maxi Bloom with the package. This closet uses deep water culture and allows you to grow 9-cannabis plants at a time. The exhaust and intakes are fine. Overall, it is a closet that includes everything you need to grow cannabis plants hydroponically. See the detailed product description and price using this Amazon link;
#7 Dealzer-Grandma's Secret Garden 3.0 – Hydroponics Grow Box
Although its nutrients reservoir allows cannabis growers to plant 9- plants at a time. But, don't expect all plants to mature due to the limitation of space in this 3 feet tall closet. Each cannabis plant needs between 1-3 square feet of growing area to reach its maturity. This grow closet provides you almost 3 square feet where you could either plant 3 (short stature strains) or 1 (Tall strain). Otherwise, it's an exceptional closet as for the quality and features are concerned. This closet also comes with a high intensity grow lights that help plants to grow fast. Dealzer also offers a nutrients pack that could supplement your cannabis plant needs for up to two years. They also use Ona Block to remove odor from the closet along with activated carbon filters. Overall, it could be a great addition to your growing environment. See product description and customers' ratings using this Amazon link:
#8 Growzilla-4 Plant Vertical Hydroponics Grow Box
Another single chamber vertical hydroponics grow closet that could supplement the growth requirements of 4 medium statured cannabis plants from seedlings to maturity providing you an estimated 3 pounds of dried matter per growing cycle. They offer everything the growers need to plant in the closet except cannabis seeds. They also use Mars brand Quantum board LED lights on the top of the closet and install fans for controlling grow closet odor. Moreover, the reservoirs are prefilled with nutrients that meet the feed needs of 4 cannabis plants. Overall, it's a user-friendly system to start with. See a clink for details;
#9 Grandma's Secret Garden 5.0-4 Plant Hydroponics Grow Box
The cannabis lovers looking to grow three to four cannabis plants for personnel use could find this closet best suits them. Three and a half square could grow extensively grow 3-4 marijuana plants that typically depends on the height and the spread of planting species. Four plant reservoirs come with a nutrients program to meet the entire feeding needs of cannabis plants for a full lifecycle. Odor control and LED lights are fine for the speedy growth of cannabis plants in the closet. Grandmas' Secret Garden is a reputable brand that the growers trust for the sturdiness and efficacy of the grow closets. Shipping is in the country of origin with lifetime valid warranties except for the grow lights that could run up to 50000 hours. See this link for a detailed description and placing an order on Amazon;
#10 Hellogrower-30″ Stealth Grow Box with LED Light & Hydroponic System
Stealth Hydroponic 30″ LED Grow Box might be ideal for growing all sorts of plants, but, the cannabis growers could grow only one plant that could reach full maturity for its dimensions. However, they use powerful exhaust and fresh intake air fans that control both odor and humidity in the closet. Additionally, the installed 45W LED grow lights are power-efficient and keep the closet environment cool. A timer was installed to enable light scheduling and could easily automate. The carbon filters also help in controlling the closet odor. This closet is easy to grow for the first time users of the hydroponic system for their plants. Although they provide 6-planting sites in the reservoir that uses DWC hydro methods to grow plants, the provided space could hinder the complete growth and development of cannabis plants growing in this closet. Here is a link to see details of the Hellogroweer Grow Box;
(26 Products)Related Closet Hydroponic Setup
| Top Sales | Product Link | Price |
| --- | --- | --- |
| | EMSCO Easy Picker Raised Bed Grow Box – With 30″" Stand, 4 Casters, and Supply Storage Grate – Self-Watering | from $77.46 |
| | Emsco Group 2370 Hydropickers Compact 24" x 20" Footprint – Mobility Provided by Casters Non-Electric Hydroponics Grow… | from $69.88 |
| | Deep Water Culture (DWC) Hydroponic Bucket Kit 5 Gallon, 6 inch | from $45.99 |
| | INTBUYING Hydroponic Site Grow Kit 72 Site Ebb and Flow Deep Water Culture Garden System with Nest Basket Water Pump and… | from $129.00 |
| | General Hydroponics HGC706980 WaterFarm 8-Pack Hydroponic Grow System | from $1,083.55 |
| | CLONE KING 25 Site Aeroponic Cloning Machine Expect 100% Success Rates | from $69.95 |
| | Hydrofarm Net Cup, 3-Inch, 12-Pack | from $8.10 |
| | General Hydroponics Flora Grow, Bloom, Micro Combo Fertilizer set, 1 Quart (Pack of 3) | from $32.99 |
| | Grodan A-OK 1″"x1″" Sheet of 200 Rockwool / Stonewool Starter Cubes for Cuttings, Cloning, Plant Propagation, and Seed… | from $16.99 |
| | General Hydroponics Eco Complete Power Grower GH4830, Green | from $106.40 |
| | AeroGarden 903100-1200 Black Ultra LED, 1 Kit | from $229.99 |
| | PonicsFarm NP2-2 inch Net Pots Cups – Heavy Duty NO Pull Thru Rim Design – Orchids • Aquaponics • Hydroponics Slotted… | from $9.95 |
| | GROW!T GMC10L – 4mm-16mm Clay Pebbles, Brown, (10 Liter Bag) – Made from 100% Natural Clay, Can be used for Drainage… | from $21.99 |
| | HTG Supply Bubble Brothers DWC Hydroponic System – 6-Site Classic | from $129.95 |
| | Hydrofarm GCTR Tomato Trellis Garden on Wheels Tree Tower, Green | from $54.90 |
| | 6 in. Wide Lip Bucket Basket – Round Plant Container with Mesh Bottom – Hydrofarm HG6RDBK | from $13.99 |
| | Leca Clay Orchid/Hydroponic Grow Media – 2 lbs. | from $14.55 |
| | General Hydroponics GH5100 General Organics Go Box GH,Black | from $54.94 |
| | EarthBOX 80155 Garden Kit, Terra Cotta | from $62.99 |
| | General Hydroponics Rapid Rooter Plant Starters, 50 Plugs, Black | from $18.97 |
| | Jump Start CK64060 Heat Mat, Tray, 72 Cell Insert Hot House, Black | from $39.95 |
| | Jump Start CK64050 Germination Station w/Heat Mat Tray, 72-Cell Pack, One size, 2″" Dome | from $27.95 |
| | Deep Water Culture (DWC) Hydroponic Bubbler Bucket Kit by PowerGrow Systems (4) 5 Gallon – 6″" Buckets | from $119.99 |
| | G&B 7pcs Aquaponics Floating Pond Planter Basket Kit – Hydroponic Island Gardens Aquarium | from $60.12 |
| | Hydrofarm GCTB Tomato Barrel with 4-Foot Tower | from $31.99 |