Currently on the market, there are many companies working in the field of nutrients and plant supplements. Choosing a reliable and quality company from among so many does not seem like a simple task for many people.
If you are looking for a reputable place to find supplements for your plants, House and Garden Nutrients is an ideal choice. They are a reputable company, specializing in providing the best nutrients, treatments to any commercial gardeners, hydroponic facilities or greenhouse operations to achieve the greatest yield.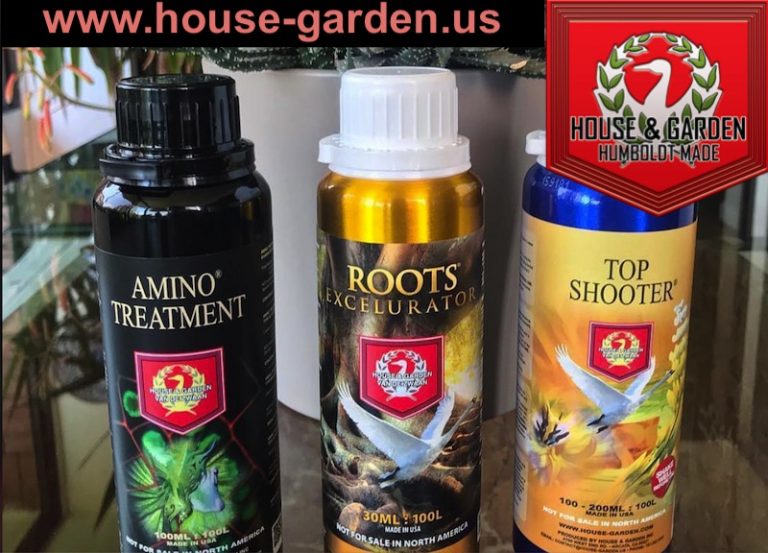 They have a lot of products, and they are all secret recipes, but extremely effective. If you are still unfamiliar with this name, here are some information that we have gathered about House and Garden Nutrients.
What Can I Get from House and Garden Nutrients (www.house-garden.us)?
Many people refer to this company as the House Garden Holland Nutrients, the name coming from a Dutch family who owns house and garden nutrients. They founded this company more than 30 years ago and are slowly developing it.
Now they have grown their company greatly, becoming a leading position in the horticultural industry. They get a lot of positive reviews on Reddit – a popular forum with objective and hard reviews.
Besides, this brand is also very famous for organic products. They have special formulas that help plants grow fast, keep healthy and give high yeild.
When you visit their website, you will find that they have a variety of nutrients and plant supplements for sale available. Their products have received many awards and been recognized by a large number of customers.
They provide base nutrients with products such as Coco A and B, Hydro A&B, Soil A&B and Aqua Flakes A&B. They also sell additives like Drip Clean, Magic Green.
It is impossible not to mention Stimulators with prominent names such as Roots Excelurator, Amino Treatment, Bud Xl or Shooting Powder. Besides that, they also have substrates and starter kit – an ideal choice for those who don't have a lot of experience.
Why Should I Trust House & Garden Nutrients?
There are many vendors out there but why should I choose to use products from House & Garden Nutrients? You can search for any online review of this manufacturer to see why they are so popular.
This manufacturer has a very high reputation for its products and they always know how to please customers. And remember that not all companies can survive for decades and still maintain that great affinity.
This company always devotes a lot of effort to research the purest, most economical, effective and safest formulations. They also built a very high environmental awareness in each of their studies.
With each of their products, they always think about whether it will have a serious impact on plants or growers. They pay great attention to the waste issue and try to minimize negative impacts as much as possible.
This manufacturer's research team in Humboldt County, California, is also doing well in its role in research. They are willing to cooperate with other partners such as universities and farms to build new products in a better direction.
They also constantly strive and learn towards a more advanced and quality product. They are not tied to any old recipe from decades ago, so you can rest assured your crops will have access to the most advanced agricultural products.
That is also the reason why a small farm in the small town of Almere, outside of Amsterdam in the Netherlands can become a large factory in the United States.
People love those safe and effective formulas from this manufacturer. Although the recipes are secret, they still trust them to use on their farm, greenhouse or small garden.
What Does the House & Garden Website Have?
Besides their products, you can also find some cool stuff on their website. Those are also a few things that any farmer, grower should understand.
When you visit www.house-garden.us, you will find two special items, Nutrient Calculator and Feeding Schedules. These are two items that you cannot ignore if you are a beginner, do not have much experience in taking care of your greenhouse or small garden.
With the Nutrient Calculator section, customers will know what nutrient supplies their plants need. What you need to do is to fill in the growth parameters of the crop, then the system will process and give you a list of items that you need to buy.
This way, you will not take much time to calculate or lack any nutrients for your garden. With this tool, customers can also avoid wasteful investments with their budgets.
They will also provide you with mixing instructions so you can use the formulas most efficiently. They give very detailed instructions and if there is any problem, you can contact their technical support.
For the Feeding Schedules section, customers will also be provided with schedules and gardening tips depending on the growing stage of the plant. This is what this company has synthesized and researched over the past few decades to help customers develop their farms, greenhouses and gardens in the best way.
In particular, besides English, they translate these documents into Mandarin, Spanish and Hebrew versions so that foreign customers can access these experiences. This is a big plus for this manufacturer.
How Can I Buy Products From Them?
You can order directly on their website and that's the fastest way. They deliver to many parts of the world and you can easily order products from them through the website.
For customers in Australia or surrounding areas, you can visit www.house-garden.com.au, they are the brand's exclusive distribution site in Australia. Their address is in PO BOX 216, Seacliff Park SA 5049, Australia.
Besides that, they also have a number of retail stores across Australia and you can find your nearest store on their webiste.
They also have the House & Garden Nutrient App which is available on both the Apple App Store and the Google Play store (for free).
If you have any questions, feel free to contact them via email [email protected] or fill out the Contact Form via their website (www.house-garden.us).