What are Grow Lights?
The plant grow lights are the artificial light source that is used to initiate and stimulate plant growth and provide the spectrum of light that is necessary to start the process of photosynthesis in the plants that are either deprived of direct sunlight or no light source exists at all. They are generally electrically powered and are used to provide the spectrum of the light that is similar to the sun in the conditions where the day lengths are short and plants are unable to receive the number of lights required for their optimum growth. Depending on the nature of the plants being grown, grow lights can be adjusted to meet their requirements of temperature, intensity, wavelength, and distance according to the growth stages such as germination, flowering, vegetative growth, and buds or fruit formation till the maturity of the plants to the final harvests.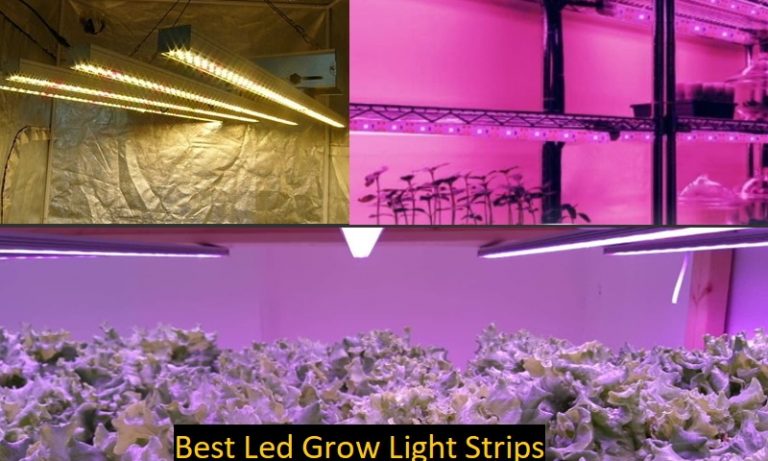 LED Grow Light Strips
If you are not fully aware of the type of grow lights that meets the need of your indoor plants then LED grow light strips are the best solution for early birds. These strips are fully compatible to design a complete growing system with its accessories to enhance the range and size according to the growing requirements and suit well to the underground conditions where direct light is the major issue.
The LED grows light strips are also an ideal solution if you are interested to grow herbs, Vegas and microgreens in many limited spaces to meet their requirements otherwise not possible to do with ordinary light. Its prominent feature is 3 colors light spectrum where blue spectrum is used for growing, the red for the blossoms while the entire spectrum range can be kept in use at once. Here is a complete list of the best LED Grow Light Strips to choose one as you consider best suitable for growing your leafy greens, vegetables, herbs and Cannabis.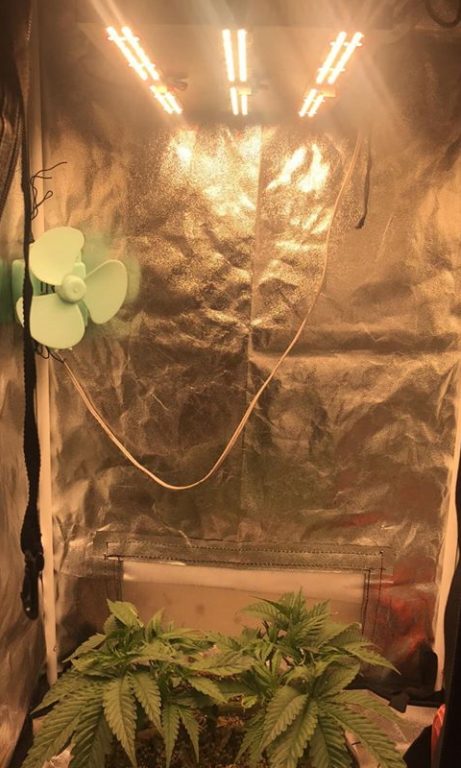 Top 5 Best Led Grow Light Strips
#1 Sondiko LED Grow Light Strip
This 10W Strip having 48 LED's including 36 red and 12 blue bulbs comes with the automated timer while you don't need to worry about switching it on or off. It can best suit you when you are preparing for vacations.
its brightness is adjustable at 4 different levels from 25% to 100% as per plants requirements while the spectrum range varies from 420 nm to 800 nm. Mounting and installation are easy with adhesive pads and powerful magnets while the length of the strips is around 13 inches making it ideal to use for growing a big range of microgreens including fruits and vegetables.
#2 MIXC 4 Pack LED Strips Light Bar
These 28W Strips come with 5 different brightness levels that are adjustable from 20% to 100% depending on the plant need according to their growth stages whereas it suits well to Greenhouse or home plants growing indoors. It's considered ideal for seedling growth and to meet the light requirements of succulents for both germination and vegetative growth.
Each strip comprises 14 chips to deliver the spectral range of 460 nm to 680 nm while 4 strips contribute 56 chips in total with 40 red and 16 blue chips needed for better food assimilation and vegetative growth of the growing greens. Installation is dammed easy while it can be placed inside an iron frame or wood panel as its heat dissipation is extraordinary and never warms up in the longer use.
#3 Yoyomax-Grow Light
This 30W Strip contains 39 red and 21 blue to provide the best spectrum of the plants need while they keep on growing indoors, successfully and is best suited to commercial Greenhouses and indoor gardening plants with the flexibility to adjust the timer for different intervals from 3 hours to onwards 12 hours or so.
it has a rotatable neck that can be placed right over the individual plant or more plants at the site at the same time. It contains 3 head plant strips with 6 brightness options.
#4 Cholas-LED Grow Light Strips
This 36W Strip comes with 132 LEDs in 3 pieces bar that are connectable to each other with the added extensions with the spectrum range of 400 nm to 840 nm that is excellent for growing vegetables, flowering, herbs and Cannabis plants with automated timing options and suits well when you are away from your home for vacations.
it has 5 brightness control levels with 3 modes of light to switch on or off according to the plants growing stages to help them in either germination and flowering or vegetative growth. Easy to install, handle and take care of afterward.
#5 Litever-Grow Light Strip Kit
This 45W kit contains 4 pieces each 16 inches in length with the spectrum range of 420 nm to 800 nm. Its multiple spectrum help grows indoor plants such as vegetables, microgreen, herbs, and Cannabis successfully. The light spectrum of 420-470nm is needed for seed germination, sprouts, and strong roots. Light spectrum 610-680nm for vegetative growth and flowering whereas 700 nm to 800 nm improves photosynthesis in plants.
it can be easily installed on a grow shelf, grow room or cabinet where you are intended to grow vegetables, herbs, and Cannabis plants indoor. This kit comes with a warranty and easy to install manual for the client's guidance.
What to look for when buying LED grow lights?
You need to consider the following features when you are considering a purchase for growing your favorite plants, indoors.
#1 Wattage (How many led watts per weed plant?)
You need to consider the size of the grow room and the plants that are inside to determine the right wattage of the light strips to buy. For a small grow room with only one or a few plants, you will already be good with a light that has a minimal wattage. If the grow tent is large, you need a more powerful light or use several light  strips.
#2 Light spectrum (What is the spectrum resolution for weed?)
The light spectrum is the wavelength of light that the plant needs at different stages of growth. The light spectrum needed to grow indoor weed varies for different growth stages. Usually, weed needs blue wavelength during germination and vegetative stages and red at flowering stage The best Light Spectrum for growing Cannabis differs during different stages of growth in plants and what they need. The weed plants, like all other plants, rely on the light spectrum for signs about their growth. Blue light is particularly useful during vegetative growth, while the red light is particularly useful during the flowering stage. For the best results, you will also want to supplement these with the other colors on the visible light spectrum. Similarly, all other plants use the light of different wavelengths during different growth stages but generally, blue light is important for initial plant growth and red for flowering and bud formation.
#3 Amount of light
Weed plants are adaptable to blue and red wavelengths for germination, vegetative growth, flowering, and bud formation. So, select a light that delivers the entire range of the light spectrum that your plants need. Even if you are not growing weed plants, it is necessary to select a full spectrum light for your grow room that exhibits the following wavelengths range.
Ultra Violet (380-410 Nanometer), Blue (1st Spectrum 440-450 and 2nd Spectrum 450-460 Nanometer), Orange (605-610 Nanometer), Red (1st Spectrum 620-630 and 2nd Spectrum 655-660 Nanometer), Far Red (730 Nanometer).
#4 Wattage per square foot and coverage area
Your grow lights are supposed to be operative most of the growing time probably 12-14 hours if you are growing Cannabis. So, it is import to know the wattage and the daily light consumption your selected lights will consume. On the other hand, your selection must be based on future gardening programs keeping in mind that these selected lights would go a long time with you. Your selection must be based on the type of plants and the area they might cover during their growth. Large spaces need more lights while growing 1 or 2 plants indoor should limit you buy accordingly.
#5 Low Heat Emission
High heat omission may be of substantial damage to your lovely plants due to burning issues. Choose only those light that is durable and protect your plants from the heat burns. The lights remain close to the plant's foliage whereas high heat omission lights are prone to burn plants when kept lightening for several hours during a day. So, make a careful choice by selecting a light that omits a balanced heat.
#6 Quality of materials
The quality of any material is judged only after you use it. There might be several products with different capacities and prices but you may not aware of the quality. Go and check the brand repute, check existing users' reviews and check the portfolio of the company for their business history. Make purchases after you are fully satisfied with the product and services by the supplier.
#7 Energy Savings
Your grow lights are supposed to be operative most of the growing time probably 12-14 hours if you are growing Cannabis. So, it is import to know the wattage and the daily light consumption your selected lights will consume. Go the energy-saving options that will not increase your cost of production for the particular plants especially if you are a hobbyist and not supposed to grow commercially.
#8 Lifespan
LED lights are supposed to operative for the years under normal conditions in your grow room. Check for the maximum viable guarantee that consists of years with the replacement options. Don't compromise on quality for cheap purchase as it would harm you in the long run.
#9 Easy to use
Be sure that the product you are going to purchase is easy to handle, easy to install and operate.
Why do people buy led bars do not buy led wires?
People buy LED bars to avoid one of the following wiring mistakes that are made while connecting wires with the LED bulbs and to the source of light like a stabilizer or electric generators.
Sometimes, wires are not fully exposed and don't make contact with the correct wire or port on your LED lights. The wires often get crossed up or touched which may increase the risk of electric shock. Another reason is possibly the loose, overwrapped wires and serial connections that result in the voltage drop whereas in the LED bars people don't face such problems as they simply need to connect the LED bars with the electricity source.
Led grow light strips (Pros, Cons and Features)
LED Grow light strips have emerged as the best technology of the recent times with several Pros over the conventional lights for their horticultural use along with a few Cons that are constantly being addressed by the manufactures and things are shifting in the right direction while several issues have already been fixed by them together with reduction in prices and efficacy.
Let's have a look at major Pros and Cons regarding LED Grow Lights strips.
#1 Pros of LED Grow Light Strips
#1 Long Life
These are manufactured to deliver more than 50, 000 hours of lightening while this duration is increasing day by day with the efforts of quality manufacturers in this industry whereas a few manufactures are guarantying even 60000 hours of working that has become possible due to low heat emissions by these lights contrary to the conventional lights that heat up early to have a limited lifespan. Keep in view their lifespan, you can grow unstoppable greens without any need to replace them that reduces the cost of production.
#2 Speedy Harvests
With these LED Grow light strips, you have a key at hand to tell your plants it's their time to grow more as you have the options to keep them on for 24 hours without telling your plants it is snowing outside your place at the moment. The longer working doesn't heat them up and they keep on growing under the conditions that you master for them. You can reap multiple harvests during a single cropping season by increasing the amount of red light to induce more flowering that means more harvests and higher production.
#3 Healthy Growth using full spectrum
LED Grow Light strips reduce the effects of heat emission along with delivering the accurate wavelength of light that is needed for the beneficial growth of the plants. Ultra Violet and Infra-Red rays are limited that otherwise harm plants and burn the foliage of the plants to cause considerable damages. The plants grow healthy after negating these factors and produce successful yields. Grow strips provide the complete range of wavelength that is needed for their effective growth.
#4 Toxins Free
Since the Grow strips don't discharge or use substances like mercury and unhealthy gases and are 100% environment-friendly and recyclable, are certified by Restriction of Hazardous Substances Directive posing no threat to humans or environment around them, are more beneficial and productive.
#5 Low Temperature Performance
They are designed to operate under low temperature for many hours while they don't heat up like conventional lights that need a separate cooling system and exhaust to minimize the effect of heat. In result, plants keep on growing under properly without the installation of cooling pads, exhausts and air conditioners to keep the grow room cool.
#6 Desired light Wavelength Saves Energy
LED grow light strips are capable of providing us with the desired wavelength of light during different stages of their growth. i.e. Blue wavelength during germination and seedling while increasing the red wavelength for vegetative growth and flowering whereas for the ordinary lights, one can't intervene with their wavelength. The energy can be fully utilized that saves a lot of money for growing your precious greens. It is estimated that Grow light strips save up to 60% energy compared to the conventional grow lights.
#2 Cons of LED Grow Light Strips
There have very few cons but the most common being the following.
#1 High Priced
Apparently, the quality products look costly when compared to the conventional lights but are durable as already discussed. First time purchase might cost you but in the long run, that proves fruitful for the growers. On the other hand, manufacturers are inclined to produce low-priced quality products with time.
#2 Unidirectional light throw
The light thrown by LED Grow lights strips is often unidirectional while you need to bring the lights closer to the plant's canopy and this issue has been resolved in most of the strips with their rotating heads that can be placed well over the canopy of the plants, where desired.
#3 Low Heat & Dirt Resistance
These strips are prone to dirt and their heat resistance is low compared to the conventional systems. Exposing them to grow rooms under high temperatures may damage them while they easily catch dirt and humidity in the grow room that affects their performance.
Led Grow Light Comparison between (led bars and led bulb)
| | |
| --- | --- |
| LED Bars | LED Bulbs |
| Bars have the multiple lights | It's a single bulb that is used purposefully |
| Already design to produce full-spectrum | They need to be arranged according to need |
| Prefixed Red & Blue lights in 3:1,4:1 & 5:1 ratio | You need to choose each color for the combination |
| Beneficial for individual or a few plants | It can be used for big setup i.e. Greenhouses |
| Rotary heads to throw light on plants | They are fixed above the plant |
| Don't need wiring, just connect with the light source | They need extensive wiring according to the diagram |
| Bars can be fixed at any place | They need a certain place to fix |
| Easy to Install and operate | Complex to handle |
| More productive for household users | Used for large commercial setups |
LED Grow Light Strips distance
Grow lights are used when there is unavailability or lack of direct sunlight and a mistake can result either in plant withering or burning of the foliage if put so close to the plants. Proper use may enhance the yield and health of the plant and for that purpose, you need to follow the owner's manual for the proper placement of LED Grow Lights Strips for your indoor plants.
#1 Grow Lights distance from plants
Grow lights of different power capacities will behave differently and their distances will also vary from the canopy of the plant. For example, A 250 W led grow lights can be kept at the distance of 1 to 2 feet from the canopy of the plant while using for 2 to 4 plants only whereas 450W grow light may serve around 8 plants in the distance of 15 inches to 30 inches. The distance keeps increasing with an increase in Watts and may go up to 3 feet in 900 W grow lights.
#2 Grow Lights during the vegetative stage
The vegetative stage is the most crucial stage of plant development that it makes its entire biomass during this period while it determines the amount of flowering a plant will exhibit during the next stage. Vegetative growth period can be handled with 16 hours of continuous light per day or in some cases it can further be prolonged for 24 hours to obtain smooth growth. For the plants exposed to 16-18 hours of light per day will be ready in 6-8 weeks to move into the flowering stage.
#3 Grow Lights during Flowering stage
The exposure of the plants to indoor grow lights will determine the flowering initiation and the period it will keep continuous flowering. Generally, the exposure to the lights is reduced to 12 hours per day, red light is increased along with the far-red light of the visible spectrum that will determine flowering. The flowering under these conditions remains to continue for 8 to 10 weeks that determine bud's formation along with stem elongation whereas flowering is reduced when bud's formation is at its peak. Plants need more Phosphorus and Potash for healthy flower formation than Nitrogen at this stage.
How to care and maintain LED Grow Lights?
Always keep them clean and free of dirt and smoke.
Keep a look at spiders or insects that tend to develop a nest in the grow spaces and use this space for their hidings. Blowing compressed air will help you to eliminate them when lights are turned off.
Always use a power stabilizer when several lights are connected in the row and working simultaneously.
Keep your connectors and plugs free from the rust accumulation as it may hinder the supply of electricity and may cause damage to your lights upon heating up.