Whether you are a beginner to cannabis growing, or an old-timer who is thinking about changing their technique, selecting the right growing method takes some thinking about. You need to select a medium that suits both your growing space and your skill-set so that your marijuana plants prosper. You will definitely have heard of soil growing but what about Coco Coir? In this article, we pit these two growing mediums against each other to help you decide between the two.
To help you out, here are the marijuana seed bank that work in any country.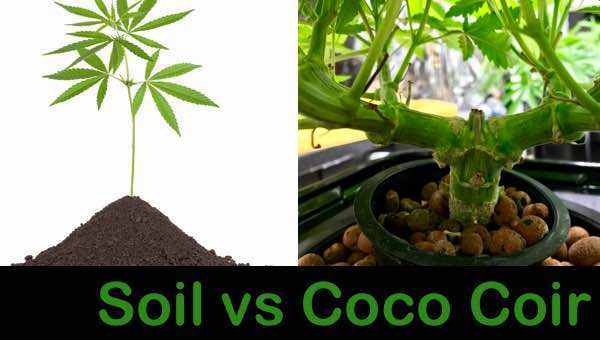 Coco Coir is better for:
Control – you can control exactly what nutrients your plants receive
Fast growth and bigger plants
Drainage and aeration
Soil is better for:
Beginners – as nutrients are already present and it is a more forgiving growing medium
Time-saving – requires less attention
Organic gardening
What's is the difference between Coco Coir and Soil?
What is coco coir? Let us explain.  As the name suggests, coco coir is made up of fibrous coconut husks and is a pretty recent discovery to the gardening world. It wasn't until the 1980s that keen gardeners discovered that coco coir can be a perfect growing medium which promotes strong roots and vegetative growth. It can be either be added to soil or used on its own for hydroponic growing.
Soil as a growing medium you are likely to be more familiar with. This tried and tested method is popular amongst growers who like to produce their cannabis organically, in the most natural way possible. Soil can be used for indoor growing but is mainly used for outdoor cultivation. One key difference between soil and coco coir is that soil contains nutrients whereas coco coir is similar to an unfertilized soil and requires nutrients to be added to it.
What are the Pros and Cons of Coco Coir?
Coco coir is effectively a perfect neutral growing medium that you can customize so that your cannabis plants receive the optimum balance of nutrients and water. This gives you maximum control over what your plants receive, so if you get this right you will be looking at big yields and tasty harvests. Generally, plants grow larger and more quickly in coco coir than in soil.
Coco coir also has excellent drainage while at the same time being ultra absorbent – this means that your plants won't be going thirsty – however, it does require more frequent watering than with soil. This medium is also known for its superb aeration qualities which supports the growth of strong and healthy roots. What's more, this natural and renewable energy source will help your green credentials.
While easier than other hydroponic mediums, the major con of using coco coir is that getting the right nutrient solution can be tricky if you are new to the game. To give yourself a good start make sure you select nutrients that are specifically designed for use with coco coir.
What are the Pros and Cons of Soil?
In comparison to coco coir, soil already harbors many beneficial nutrients and microbes to nourish your plants and help them to fight disease. It is generally regarded as an easier growing medium than coco coir as you don't need to become a nutrient expert to make sure your plants stay healthy, rather you just need to rely on mother nature herself.
Growing in soil is also less time consuming as coco coir as, in addition to not requiring a carefully balanced nutrient routine, your plants will require less watering. So if a low maintenance growing medium is what you are looking for, soil could be the option for you.
While you can add nutrients to soil, you will never have the same amount of control as with coco coir which is seen as a negative by some growers. However, for those of you that prefer a completely natural method of cannabis cultivation, the good old-fashioned soil medium may be just the ticket.
#1 Best Coco Coir for Weed: FibreDust Coco Coir Block
This exceptionally fibrous coco coir comes in a huge 17-gallon pack that will help you get the type of growth structure that weed plants will thrive in. With this in your setup, you'll help to foster strong root growth and ensure they have the space to breathe. You'll also improve both water and phosphorous retention helping to ensure your plants grow healthy and strong through their well-nourished roots.
The major pros of this product are that: it is 100% recyclable and has an endless supply; it will make your plants less susceptible to insects and fungal infections; it improves water retention and drainage at the same time; it has a neutral pH value between5.2 and 6.8 suitable for most weed plants without the need to add lime, and; it is packed full of nutrients and fibers rich in bio-stimulants. Just remember to get the right nutrient solutions that will complement coco coir use.
#Coco_Coir #Yields #pH_Neutral #Nutrients #Water_Rentention
#2 Best Perlite to Use with Coco Coir: Four Winds Trading
If you have opted to go for a coco coir growing medium as you love the additional control it gives you, then it is a good idea to add perlite into the mix. Perlite is neutral so won't affect the pH level and guarantees your plant's roots will get proper drainage and aeration to truly foster strong healthy plant growth. This is a fine grade perlite which works great with coco coir to ensure proper drainage that can otherwise be an issue.
The major benefits of this product are that: it will improve the drainage of coco coir setups; it makes it easier for roots to penetrate making plant growth quicker; it creates a great environment for clones or seedlings, and; it will make your plant pots lighter making it easier to optimize the light your plant receives. The downside of this product is it doesn't come in a bigger bag.
#Perlite #Coco_Coir #Drainage #Yields #Root_Growth
#3 Best Soil for Cannabis Seeds: Fox Farm FX14023
If you prefer to grow in soil because of the flavor enhancement properties, but want to make sure your plants always have the right environment, then this seed starter soil will be right up your street.   This mix is perfect for seedlings or when transplanting your seedlings or clones into a new environment. It also ensures you can ensure your plant is getting the best nutrients at each stage of the growing process as these needs change over time.
The major pros of this soil are that: it is the best soil on this list in terms of root growth enhancement; it has both excellent water retention and rapid drainage suitable for heavy initial watering, and; it is packed full of nutrients to give plants a boost in the early stages of growth that will ensure a strong and healthy plant develops.
#Soil #Seedlings #Clones #Nutrients #Yields
#4 Best Potting Soil for Cannabis: FoxFarm Ocean Forest
If you are a beginner to growing weed and just want to use a medium that has been tried and tested for millennia, then you'll no doubt come down on the side of soil. This soil is probably the most popular option for first-time growers as it is perfect for pot plants (no pun intended), has a great texture that will foster strong root growth, and is packed full of the sort of nutrients that will see yields reach the top end of your seed packet estimations.
The other major pros of this soil is that: it can be bought in bulk; it is 100% organic; it contains guano, crab meal, humus, and worm castings; it has good drainage and water retention without the need for the addition of coco coir or perlite; it is pH adjusted, and; you won't need to add nitrogen fertilizers to see your plants flourish in the early phases (although you'll still likely need this when it grows). The con of this soil, like all soil, is that is heavy, heavy, heavy!
#Soil #Organic #Nutrients #Yields #Drainage
#5 Best Soil and Coco Coir Mix for Weed: Big Rootz Potting Soil
If you've decided that the benefits of growing cannabis in a soil and coco coir mix meet your growing needs better, then this soil will be a must. This soil is packed with nutrients that encourage rapid plant growth due to its excellent texture, water retention, and drainage. With added mycorrhizae, coco coir, worm castings and compost this soil mix will also ensure your plant's roots have the perfect environment to make a sturdy base.
The major pros of this mix are that: it is great for beginner growers as it is pH adjusted; it is packed with nutrients that foster rapid root and plant growth; it is the perfect blend of texture, water retention, and drainage to ensure healthy aerated roots, and; it is specially designed by experts so you don't have to spend loads of time understanding the needs of your plants in order to produce the best yields.
#Soil_Mix #Yields #Potting_Mix #Yields #Nutrients
Conclusion
Both coco coir and soil are excellent growing mediums for cannabis cultivation. Deciding between the two really comes down to how much time and effort you want to put into your crop. With coco coir, it will require closer attention to detail which may be attractive to some but not others. For a more low maintenance growing medium, soil would be a good choice. You can even use a mixture of the two to get the best of both worlds! Make sure you check out our best coco coir and best soil selections above to get you off to a good start.