[Personal Experience] Gorilla Seed Bank Review 2023: UK Seed Bank With Great Customer Care
Website: www.gorilla-cannabis-seeds.co.uk
Gorilla Seed Bank is a well-known UK seed bank and they are a reliable place to buy cannabis seeds. Gorilla seed bank has established a good reputation in the cannabis market in Europe and America.
Gorilla seed bank has many advantages to become the top prominent seed bank in the UK and EU. However, they also have some disadvantages that need improvement to become better than ever.
Based on our personal experience after buying seeds at Gorilla seed bank, we have drawn the pros and cons of this seed bank to write a review about them.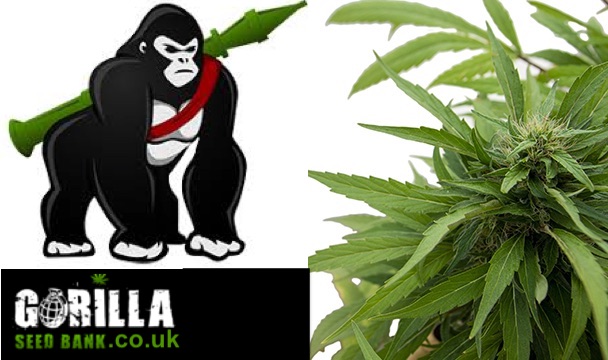 Here's how we feel about the Gorilla seed bank after buying seeds from them many times.
About Gorilla Seed Bank
Gorilla seed bank was founded in 2011 by Alex, a person who has been with the cannabis plant for a long time. Alex founded the Gorilla seed bank because he went through so many unsatisfied times buying seeds from online seed banks. Since then, the Gorilla seed bank is built on the things he experiences and wants to overcome to bring out the best in the cannabis community.
Europe and the Americas have many seed banks and growers have a wide selection of cannabis seeds for their gardens. However, not all seed banks are safe and legit to be comfortable investing.
Among those seed banks, Gorilla stands out as a quality and reputable seed bank. They are also an online seed bank that has an extensive delivery system and excellent customer service.
Although Gorilla does not have the same extensive experience as some of the other seed banks, they have become an impressive seed bank with growers. They received a lot of positive reviews from customers on Reddit as well as Trustpilot.
The Gorilla Seed Bank is not a seed bank with a long history in the cannabis industry. This company has only been established in 2011 but in contrast, has a strong appeal to growers.
The company gradually became a formidable competitor to other large seedbanks with its excellent seed quality and excellent customer service.
Although the company does not have a long life, the employees who work for Gorilla are very experienced. They know how to bring the best quality seeds to their customers.
This seed bank has a lot of professionals working on it and most of them have 40 years of experience in the cannabis industry. They can do well in many fields so that is one of the factors that create prosperity for the company.
Is Gorilla Seed Bank Legit?
Yes, absolutely! Gorilla seed bank is completely legal and they have quite a say in the community. The seed bank staff are also experienced in the cannabis industry, so you can buy their seeds with complete peace of mind.
They ship their seeds all over the world. The seeds have good germination rates and clear origin. If you are a retail buyer or grower who needs large quantities of your crop, the Gorilla Seed Bank is a reliable seed buying site.
Their UK headquarters are ready to give you whatever information you ask for them. Gorilla seed bank does not hide nor use any information illegally. And all transactions at Gorilla seed bank are transparent and reliable.
Gorilla Seed Bank Review 2023
Gorilla seed bank is not a perfect seed bank, they also need to improve many factors to become better. Nothing in this world is perfect, but positive changes bring about positive things.
We have purchased enough seeds from the Gorilla seed bank enough to be able to give our reviews of this seed bank. Our opinion may not be like some other opinion, but hopefully, you can take this as an objective opinion and can refer to it.
We found that the Gorilla seed bank has:
Pros
Large selection of cannabis strains
The seed quality is uniform and quite high
Great customer service
Worldwide delivery with reasonable fee
Available many payment methods
Accept payment in Bitcoin
Free seeds & Discreet shipping
Cons
No germination guarantee
Delivery time is not consistent
Methods of communication with customers are not diverse
Those are our general reviews of the Gorilla seed bank after purchasing cannabis seeds from them. We also write more on the detailed review below, if you have time then can take a moment to read about our review below.
Cannabis Seeds Quality & Selection
The Gorilla seed bank has a large seed collection with a wide variety of varieties. They offer the most common strains of cannabis up to the rarer ones. In general, you won't be disappointed with the Gorilla seed bank's seed collection.
Growers can find feminized strains, medical strains or autoflowering seeds. They also sell seeds from Barney's Farm, Big Buddha, Dinafem, Bomb Seeds, and many other names.
We bought Blue Treacle Auto, Critical, Blackberry Auto, Amphetamine, and more. They have lots of other unique cannabis that we'll try out in the future.
Although they do not breed themselves, they are very focused on choosing from different sources. Hence the seeds from them always have a high germination rate.
This seed bank also regularly updates new seed types to bring more options for growers. They supply seeds from 60 top breeders and continuously expand their seed collection to bring more choices to their customers.
In terms of seed quality, among the cannabis seeds we bought from the Gorilla seed bank, we found that their quality was quite equal. Only about 10% of the seeds we bought were non-sprouting.
In general, we value Gorilla seed bank with a high quality seed collection that stands out more than most other seed banks in the Americas and Europe. These seeds are carefully selected to provide the best customer experience.
That is also the criterion that Alex aims for his seed bank. He late first overcomes the seed quality, then comes the quality of service.
No Germination Guarantee
You should be aware that the Gorilla seed bank does not offer any germination guarantees on its cannabis seed orders. That means you will not get any replacement or support policy if your seed does not germinate successfully.
This is a big pity as there are many seed banks that now offer a germination guarantee to their customers. ILGM, for example, offers a 100% germination guarantee to customers who purchase cannabis seeds at their website.
So this is a factor that Gorilla seed bank accidentally reduces its competition. Customers are now very focused on guarantees and offer when they buy, they want their investment to give them the most benefits possible.
But perhaps the Gorilla seed bank is not offering a germination guarantee to its customers because they are in compliance with applicable UK laws. So it's a pity for Gorilla seed banks when they lose many potential customers.
We think the Gorilla seed bank can offset the germination guarantee limitation by offering more incentives to customers. It's a good way to retain more old customers and increase new ones.
Cannabis Seeds Price & Payments
This seed bank is known as the cheapest cannabis seed distributor on the market. They are considered the first address that growers think about when they want to reduce the burden on their wallet.
They even sell seeds about 30% cheaper than original breeders. If other retailers have lower prices, they will also adjust their rates. They offer a wide variety of cannabis varieties and you can buy them in bulk for a much cheaper price than some of the other famous seed banks.
Generally, customers will be able to buy seeds at the lowest price at this seed bank.
And the fastest way growers can buy seeds at Gorilla is to order them directly on their website. This seed bank's website has a very friendly design, we also didn't find any clutter on their website.
Customers just need to add their favorite seeds to the cart and then fill in the required information. This seed bank ensures that customers' personal information is completely confidential.
They also accept a variety of payment methods, making it easier for overseas customers to pay. They allow customers to pay by cash, check or bank transfer.
Customers can also pay via credit and debit cards. They also encourage you to pay with bitcoin as this is a private and secure form of payment.
However we still want Gorilla seed bank to offer more payment methods. Currently, the customer file of Gorilla seed banks in European and American countries is increasing, and they also receive a lot of attention from the international cannabis community. So adding a number of other payment methods will also help them increase the number of successful applications from foreign customers.
But you can rest assured that these payment methods are all very safe and secure. Gorilla seed bank does not use unauthorized customer information and they do not provide this information to any third party.
In general, customers from all regions of the world can easily pay for their orders. If you have any questions, you can contact the customer service team directly, who are always ready to help you.
Shipping & Return Policy
Korea and Brigadoon are the two areas where the Gorilla seed banks do not ship their seeds there. Outside of these two areas, Gorilla seed bank accepts and is willing to deliver their orders to customers.
The Gorilla seed bank delivers its seeds from their UK-based warehouse, then uses Royal Mail as the carrier. All orders are shipped sneakily and are as safe as possible. Gorilla seed bank always tries to deliver seeds as quickly as possible to customers in order to keep the freshness of seeds, thus the germination rate is higher.
When ordering from this seed bank, you can rest assured that there is no personal information leakage. They also won't put any information regarding the seeds you order, or the Gorilla advertisement on your order envelope.
Delivery times are also not a big deal for this seed bank either. All efforts are made to deliver in the fastest time to customers.
UK customers can expect to receive their order within 1 day of placing an order. If it is later, it will certainly not take more than 3 days for the order to arrive. The Gorilla seed bank will be free for any order over £ 99, including purchases outside the UK.
Orders in the US and Cannada will arrive at the delivery address in about 5 days. For the rest of the countries, the expected delivery time will be around 20-25 days.
However, currently under the complicated situation of COVID-19, the delivery time may be slower than expected time.
All orders are delivered in a bubble envelope. There aren't any hint of cannabis seeds on this envelope.
The seeds will be guaranteed in their best condition when transported. Orders are sent completely discreet and unnoticeable.
They also provide stealth transport if the need arises. The seeds you purchase will come with an item that disguises itself as an order you place on an e-commerce site.
Of course stealth transportation will be a bit more expensive than conventional transportation. But this transportation service will increase safety and can avoid a customs search.
This seed bank can also track orders if requested by the customer. In the event that your order is lost, lost, or seized, Gorilla seed bank is happy to send you a new order, completely free of charge.
Recently, however, many customers believe that they have to wait a lot longer than expected because of the out-of-stock situation. So customers have to wait several more days until the seeds are filled at the Gorilla seed bank's warehouse.
So Gorilla seed bank should limit this situation so that customers don't become too annoyed by waiting. Luckily we did not encounter such conditions and orders arrived as originally planned.
Customer Service
We can tell you that the seed bank's customer service is really good. We will place them in the top 5 seed banks with the best customer service.
They really focus on individuality when consulting and answering customers' questions. It was Alex, the founder of this company, who had a bad experience buying seeds from seed banks in the past, so he knows what the customer really needs.
They are available in many channels to give the best customer care, they also limit automatic questions when customers need help.
Customers can contact this seed bank via phone, email, Facebook or even blog. They will try to help you in the fastest time.
Through their website, you will not find a chatbox, but instead their email address and phone number. You'll also find Facebook and Twitter, and getting in touch with them is also a good option.
If you want the fastest support then contacting Gorilla seed's team's bank by phone is an option that we recommend. They provide phone numbers for domestic and US customers.
Most of the staff at the Gorilla seed bank have good knowledge and technology in the cultivation and strains of cannabis. We think this is also the pride of Gorilla seed bank.
These customer care staffs are very enthusiastic and keep a professional attitude throughout the working process. They are also very active in cannabis forums and follow Gorilla seed bank reviews.
They will contact customers with low ratings of Gorilla seed banks on these forums, then find out about their problems and recommend remedies. They also take care of the customers leaving good reviews on them.
Note that, Gorilla seed bank reserves the right to cancel customers' orders if they feel or detect any fraudulent or illegal behavior of the customer. But they will also offer full refunds to customers with these cancellations.
In general, Gorilla seed banks don't have a long history but they are very professional when it comes to looking after their customers. That is the point that we as well as many of the guest growers love at this seed bank.
Website & Promotions
Gorilla seed bank has a simple website but a very clean layout. You may find this website has a somewhat old design but it still contains all the necessary information and is easy to navigate.
Once you visit their website, your first impression is this seed bank's list of the most popular seeds. Besides that, they will be divided into different categories that contain even more seeds.
The headings have a clear form and color so that customers can easily find and identify information. They also use a funny tone for their posts. We were impressed with this tone and surprisingly many other customers, too, called it the Gorilla tone.
Besides, the Gorilla seed bank website also has many other useful extras. A simple example like a search toolbar allows you to quickly find your favorite cannabis strains. Minimize the search and time for you.
Besides, their website also has another great feature which is a currency converter. The built-in tool allows customers to view prices in six different currencies. These currency rates are continually updated to provide the most accurate value for each conversion.
And can't help but mention the order tracking tool of Gorilla seed bank. By visiting their website, you can track your order and plan when your order will arrive. This tracking will give you more peace of mind knowing your order's itinerary, and we also appreciate this tool.
If you want a history of your purchases, you can also find them on the Gorilla seed bank website. This utility can help you buy back your favorite strains of cannabis previously purchased without having to search again and again.
Gorilla seed bank knows how to please its customers by regularly providing promo codes. They are also well known for being a regular seed bank with free shipping and free seed giving to customers.
Shipping cost from them is also considered reasonable. Unlike many other seed banks, they always strive to provide the best experience when customers shop. And if your order is over 100 GBP, you will get free shipping.
Promotions are updated by this seed bank on their website. They really stand out and you can easily see these promotions immediately upon visiting the site.
Gorilla Seed Bank Conclusion
In short, Gorilla seed bank is not an old company, but they have the qualities to become the best and prestigious seed bank. Although relatively new, they are a seed bank that offers a wide variety of seeds with high germination rates, including rare seeds.
Besides, they also have a lot of incentives as well as focus on their shipping policy. They ensure orders are delivered to customers in the fastest and safest way. Otherwise, they will resend you a new order free of charge.
Customer care is what we value most in this seed bank. Individuality is highly valued and there are hardly any inconveniences. If at this rate, the Gorilla seed bank will soon become the dominant force in the seed industry. We rate Gorilla seed bank with 4.5 stars out of 5.
The Contact Information
You can contact Gorilla seed bank by phone from 9am – 5pm GMT on UK phone line Monday to Friday: +44 1934 807 173 / +1-720-316-6474
Or you can leave a voicemail or email them at [email protected]