The cannabis growers could surely get confused while seeing the claims and offerings on different cannabis seed strains especially, The Canadian Seed Bank Reviews compel and urge them to grow cannabis in urgency without knowing the right practices and climate requirements. The newbies often face issues at the first planting due to the several decisions they take based on the reviews hurriedly. Planting needs passion and typically a bit more attention and care if you're growing for the first time.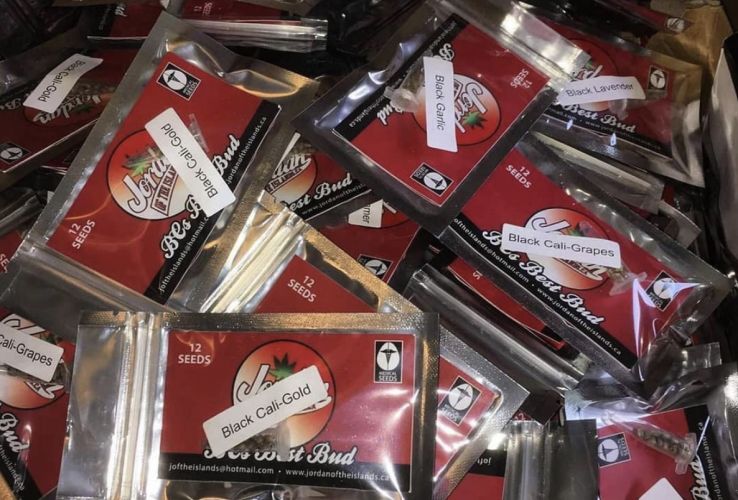 A best Canadian seed bank will offer elite and pure genetics at the priority provided they are backed by quality breeders who typically produce for them but, this is not true always. Instead, plant breeders are nothing to do with seed selling since they're the persons behind any promising strain that you grow in your garden.
Location
The Jordan of the Islands is also a group of plant breeders who are busy refining and developing new cannabis genetics for the last 28 years in Vancouver Island, British Columbia, Canada. The cannabis breeders enjoy a very favorable climate for planting, developing, and crossing multiple characteristics strains after selecting superior characteristics that marijuana users prefer. That's the reason that Jordan of the Islands is behind several cannabis cultivars that you often see in multiple catalogs presented by different Seedbanks. Moreover, Jordan of the Islands Seeds has the most experienced breeder in British Columbia with a legendary marijuana strain Jordan of the Island God Bud that sells through many Canadian seed banks to everywhere in the world. I would like to highlight one thing that I am writing Jordan of the Islands review as a plant breeder, not a user since I am away and Cannabis Indica grows wild at the location where I live.
A breeder is always supposed to alter plants' genetics according to the users' demand and that's what cannabis breeders are doing at Jordan of the Islands for cannabis lovers. The breeders, technical, and advisory staff at Jordan of the Islands is super cooperative and guidelines are superb for the hobbyist and professional cannabis growers. Often, their strains are award-winning for both flavor and yield potentials. British Columbia Fall Harvest Cups, Cannabis cups, The Karma Cup, and Tokers Bowl highlight their outstanding efforts behind these superior genetics.
Shipping
The Jordan of the Islands Reddit upvotes also represents the performance of several strains throughout the world. The Jordan of the Islands shipping is also discreet and fast as they ship worldwide using stealth packs with complete privacy. Here are some of the elite genetics from the Jordan of the Islands with a short description of each;
Top Strain of Jordan of the islands review
#1 Jordan of the Islands-Purple Kush (PK)
Jordan of the Islands Purple Kush is primarily an Indica strain with high narcotic effects that keeps you high for hours. The majority of Kush strains are with purple buds that usually grow more than one-meter-tall with the same spread. The yield potential is always excellent and they could flower between 45-55 days provided they get the best growing conditions. The growers enjoy its inhale-able thick smoke with superior taste.
#2 Jordan of the Islands-Black Garlic
Jordan of the Islands Black Garlic emerges as a cross of Blackberry Kush with Garlic Breath. It is a medium stature bush that speedily gains weight near maturity. It's very easy to grow and care for and could flower in only 55 days provided it cultivates indoors, otherwise, it could take longer and start flowering in late September or early October. Its spread also nears its height so it is better to train mildly during vegetative growth.
Jordan of the Island autoflowering strains is Afghani Magnum Auto that was recently released as a result of a cross between Budha and Indica strains from Afghanistan. This autoflowering marijuana bush is outdoor growing where it could flower in 70 days or delayed flowering could achieve in 90 days. This strain never likes transplanting so a suitable sunny garden site could help you grow it throughout the season. Grows best outdoors where it will become an above-average size and possibly even monster-sized plant. You can feel a soothing taste and unique aroma if it grows outdoors.
#4 Jordan of the Islands-Chemo
Jordan of the islands Chemo is the late-maturing strain that could flower in mid or late October. However, it could take 60 days to mature and flower indoors. It's indica dominant and high THC cultivar especially developed for cancer patients with the assistance of the Canadian government. It's a medium-height woody bush with big and elongated buds. You can't find any match since it's highly sedative and could perform better in acute medical conditions.
#5 Jordan of the Island-Blueberry
Jordan of the Island Blueberry is again indica dominant, high yielding but altered to mature early under an indoor growing environment that could flower as early as in 45 days only. Its buds are densely arranged which mature to a lavender blue from purple. Its great tasting that resembles blueberry with an aroma of fresh fruits. The growers could plant it outdoors as well where it would mature in late September.
#6 Jordan of the Island-OG Kush
Jordan of the Islands OG Kush is a strong medicinal strain that is liked by the majority of cannabis fanatics due to its healthy aroma and superior tasting weed. OG Kush crosses with several other strains to develop a high THC level and production level is an average in OG Kush for the multiple crosses to get desired characteristics. OG Kush is short maturing cultivars that could flower within 60 days if planted indoors.
#7 Jordan of the Islands-Black Candyland
Black Candyland strain Jordan of the Island has the majority of characteristics inherited from Sativa cultivars and it released as a result of crosses between BB Kush, Animal Cookies, and Candyland. Sativa dominance determines its high yielding ability, early maturity, and high resinous characteristics which make it an ideal strain to extract a higher percentage of THC and CBD. It could flower within 65 days of sowing indoors. However, it could await late September to flower outdoors.