LED Grow Lights near me (light store)
If you are pretty sure that you can find LED grow lights at nearby light store then there is no harm provided that you know a lot about the quality and specifications needed to grow your plants and the local sellers is authorized to raise warranty and abides by the return policy of the manufacturer as often online suppliers do.

Even though it is advisable to compare with the prices that some online store is offering along with benefits and incentives for the purchasers. It has been widely noticed that prices on convenience stores are often high compared to online stores especially Amazon.
What to ask at a led grow light shop?
When it comes to buying then it is necessary to know what to ask at an LED grow light shop near me so that you buy a perfect light for growing indoors. A few questions that a shop owner may ask before you buy including your purpose whether you are interested to germinate your plants from the seeds, types of the plants to be grown, size of the plants at maturity or you want to transplant already grown plants under LED lights. The next important thing is the coverage area your prospected plants are supposed to occupy along with your budget and wattage used for growing these plants. Finally, will these selected LED grow lights be able to give the best spectrum of light needed for the optimum growth of the plants, you are interested in.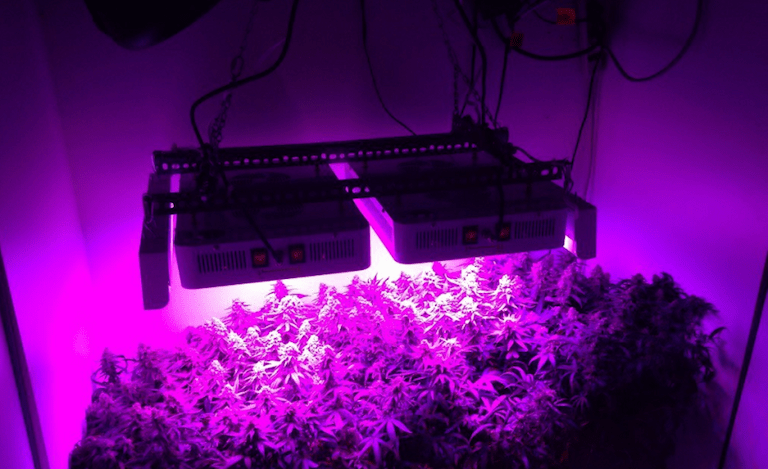 I just started planting, which lamp to use, how much to capacity, and which lamp technology to use?
To start with the basics, plants need plenty of light when grown from seeds or in the seedling stages to perform the process of photosynthesis that converts energy into usable sugars. Different plants respond differently when exposed to the light during different stages of growth but you must be sure that plants need a greater amount of blue light while they are in the starting phase and this need continues until they reach to the vegetative stage and beyond that, they need more amount of red light compared to the blue. Whereas in the blooming periods to fruit formation stages, they are dependent on both for the successful harvests. So, the selection must be based on their need during the entire stages of the growth where an LED lamp of full capacity that emits the full spectrum of wavelength from 380nm to 780nm would possibly meet the light needs during all stages of your plant's growth.
What light is needed to grow plants?
Any type of light that provides the full wavelength intensity for the right duration at the desired angle of a plant can help you grow plants in your grow room. Sunlight is ideal in having the full spectrum of light with rainbow colors. Any light that possesses the wavelength similar to that of sunlight is capable to allow plants to grow under it successfully. The plants take advantage of full-spectrum for their growth whatever the source may be. Generally, any light that holds a full spectrum from 380nm to 780nm is ideal to grow any type of plants under it.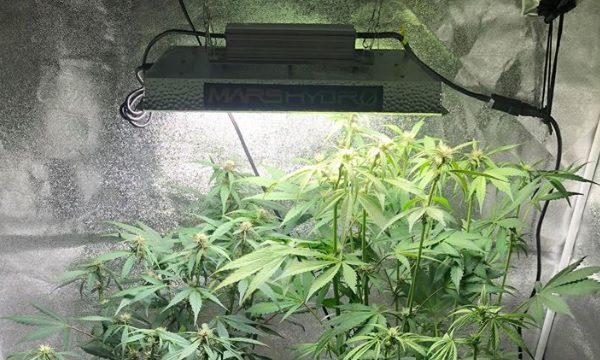 What wattage do I need to grow plants?
For the short duration plants, 30 Watts/square foot is the optimum level while for long-duration plants and crops such as Tomatoes that need 40 Watts/square foot to grow and bear successful fruiting.
But if you are supposed to grow Cannabis, it needs around 50-80 Watts/square foot for the entire stages of plant growth. So, the best method to know the actual Wattage use of any plant is to multiply its cover area with the supposed wattage per square foot.
How many watts do I need for 6 plants?
Different LED manufacturers provide lights of varying efficiencies although the Wattage consumption remains similar in often cases. A bright light of similar capacity from a good manufacturer may consume less wattage compared to other consuming more wattage for the same brightness. As a general rule, if 6 plants grow in a 12 feet space they will need around 250 Watts of actual power but keeping in mind the efficacy and efficiency of any light it is suggested to grow these plants under 350 to 400 watts for the reason of energy loss and for the actual light that reaches the surface of the plants.
How much does a grow light cost?
The lights of varying capacity and wattage have different prices and the same is true for the different categories of the light being used as grow lights. HPS and Fluorescent lights are cheaper compared to LED lights of the similar capacity and the same is true for the lights of varying capacities within the LED grow lights but the cheaper lights such as HPS and Fluorescent raise high power consumption bills at the end of the growing season while LEDs appear costly when purchased but add little to the seasonal electricity bills compared to HPS and fluorescent lights. Moreover, they are easy to maintain and run longer than any other light. If an LED light costs $8 per month to run for 16 hours, HID of the similar capacity may cost you above $32 per month.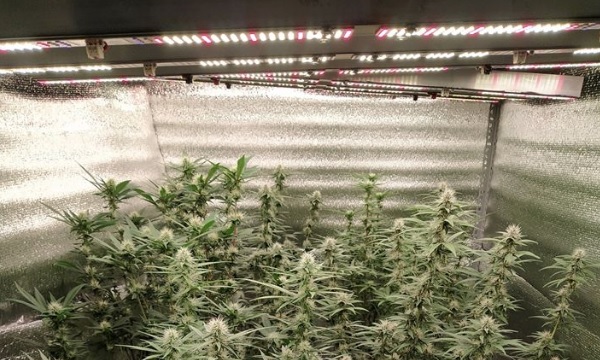 Why do people often buy on Amazon, not at convenience stores?
As already mentioned, because buying on amazon will be cheaper than buying at convenience stores while customers prefer to buy from the Amazon store due to one or more of the following reasons.
– The products they buy are unique and not found elsewhere.
– The prices are low while free shipping is available to their home.
– It is a one-stop-shop where they can buy anything they need.
– The product reviews were the motivator for shopping on Amazon.
– Finally, the convenience and time saving was also among the reasons to buy from Amazon.
Should You Buy from USA Manufacturers?
It is great to know that American citizens would love to buy American products is serving a sort of trap for potential US manufacturers. Yes, they want to buy from Americans and willing to pay extra for that. The magical phrase "Made in the USA" is the biggest charm for them. On the other hand, hats off for the Chinese manufacturers who are offering some superior qualities on the less or similar costs and competition the US manufacturers sitting a thousand miles away from the United States.
Where can I buy LED grow light if there are no shops near me?
One of our customers just inquiring what are the places to find full spectrum led grow lights near me? My answer is very simple where you don't have any shops near you to buy nearby then Amazon is the market place that keeps you at home to not simply buy but the suppliers manage a free delivery to your doorstep in some instances. Well judged, Amazon is very near to any of the shops in your area to search and buy the product of your choice backed by the manufacturer's warranty and free delivery to your place. Here is the review of the top 5 LED grow lights of similar capacity & power consumption for the medium users based on their performance while the feedback comes directly from the customers.
Top 7 LED Grow Lights Review from Amazon
#1 King Plus 1000 Watts
It contains double chips 10 Watts each while replaces 600 Watts of HPS with brighter light to save the maximum amount of energy. Price is also competitive while the performance is superb for all types of plants in your grow room.
Vegetative and bloom switches are a good option to provide sufficient light through the entire stages of plant growth for the maximum harvests. Both vegetative and bloom switches are added with extra white light to speed up the process of growth and flowering. Also supported with 3 years of technical Service and free return, if found any issue within 90 days of delivery.
#2 MARS HYDRO TS 1000 Watts
It uses SMD in its LED technology to yield the highest PAR output up to 709umol at the distance of 18 inches from the canopy of the plants is an ideal light for growing Cannabis and vegetables including microgreens and herbs in your grow room. They claim for the yield maximization up to 30%.
it consumes only 150 Watts with a maximum coverage up to 9 square feet area while dimmer option allows you to control and adjust its lights according to the need of your plants. The distance is adjustable with a daisy chain from 12 inches to 24 inches as per plant's requirements.
#3 ViparSpectra VA600 600W Full Spectrum led Grow Light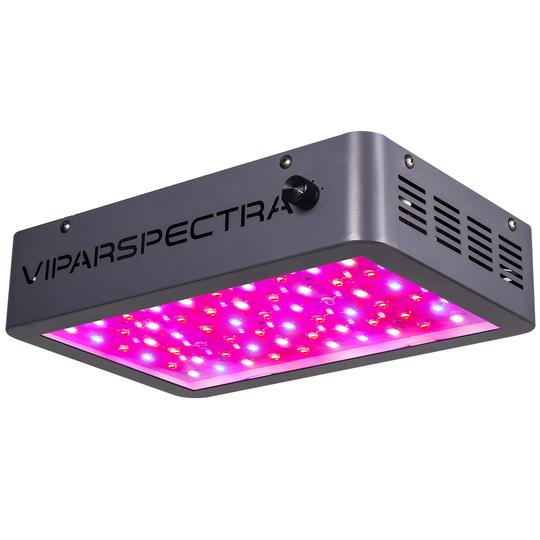 ViparSpectra is one of our favorite manufacturers and they are also the leading LED manufacturer today. They have produced a wide range of LED grow lights and this VA600 600W Full Spectrum led Grow Light is a famous model of ViparSpectra.
This LED has received UL certification, so users can fully trust its safety. This model guarantees no harm to the plant or the user. It has been enhanced with anti-fire reflection, efficient heat dissipation and thus enhanced its safety and life span.
This model uses Dual Chip LEDs (10W) and provides full spectrum lighting (including IR) for every stage of plant growth. Growers can adjust brightness from 0-100% to increase performance for each stage. If you want to link more LEDs, you don't need to use extra wires because there is already a daisy chain feature.
#4 Lonwon

LED Grow Light 3x3ft Coverage Full Spectrum 
The amazing price that matches the qualities of any superior manufacturers but a bit costly on power consumption as it draws some 320 Watts when operating at the full swing. Other features are similar to the high-priced lights but working is fine. It's an ideal light to grow Cannabis and Tomatoes which means it is a full-spectrum light.
It's relatively a product from the new manufacturer in the market while they are making a difference with their quality and 3 years of worry-free customer service.
#5 ViparSpectra VB1000 100W Full Spectrum LED Grow Light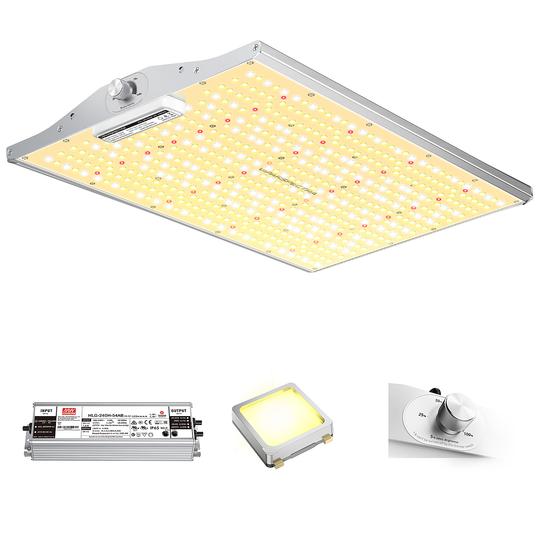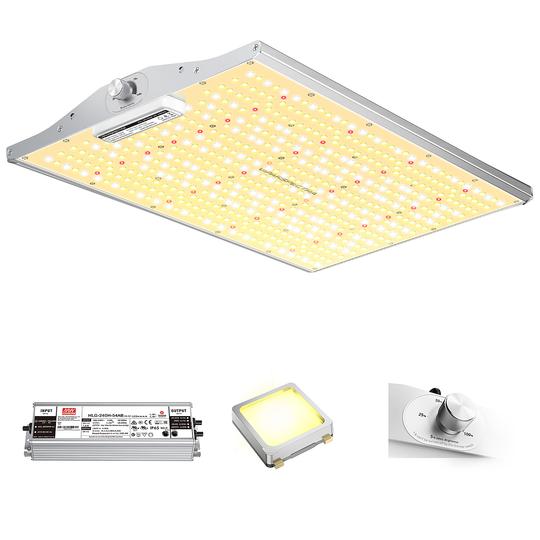 This is a high quality LED grow light model with optimum efficiency of ViparSpectra that we think you should add to your priority list. This model can cover full spectrum light for a considerable area of indoor plants.
This LED grow light provides full spectrum, maximum support for all vegetative stages of plants. The light that this LED grow light provides includes 3000K warm white, 5000K white, 660nm deep red, and 730nm IR light.
Besides, this model also has dimmer knob so growers can adjust the brightness of LED lights. Growes can also adjust the brightness of the light. For example, enhancing red light and infrared light to shorten flowering time and improve crop yields.
#6

COB LED Grow Light Full Spectrum Plant Growing 
The best of its type with the additional feature of Color Rendering Index and Chip on board where you don't need to change the hanging height once you hang it on the recommended distance of 16 inches away from the canopy of the plant and adjust lighting with the controller as guided in the user's manual.
the energy saving is marvelous with dimmable function because the plants get light according to their need at different stages of growth. It has also dual 10 Watts chip while the manufacturer offers a 1-year warranty with the return policy as well.
#7

SPIDER FARMER SF-1000 LED Grow Light 
Another medium-priced light with a bright spectrum that allows you to harvest 30-40% extra compared to the lights of a similar capacity using less energy. It uses Samsung LM281 Diodes. Power consumption is roughly 1000 Watts, mute fans, and covers 9 square feet in seedlings and 4 square feet at the flowering stages.
SF lights have full color and wavelength in one place so you don't need to look for another light to compensate at different growth stages. The manufacturer uses waterproof gum on the board that prevents diodes from corrosions. They also provide free shipping with 3 years of local service warranty.
What happens when plants get too much light?
The process of the plant's growth is disturbed when exposed to extra light as the heat associated with the light is troublesome for photosynthesis. The temperature in the tissues of the plants is triggered due to the extra heat while the water percentage becomes low in the plant sap due to its need for cooling the plant tissues. The plants may wither and die if it persists for longer.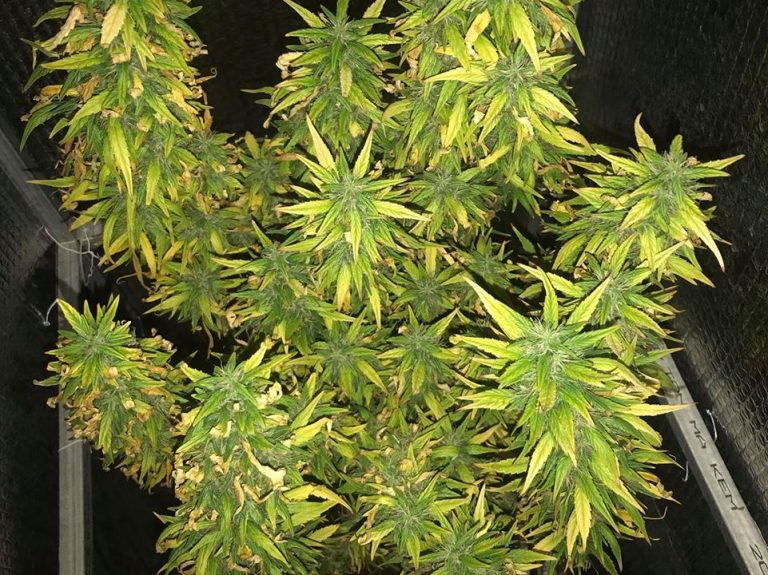 I should choose LED Grow lights or HPS, fluorescent for Cannabis plants?
LED lights are best for energy consumption, heat, and light energy they produce. The less heat emittance in LED lights is the key to success for growing Cannabis compared to HPS or Fluorescent lights. Choosing an LED light will make through to the entire stages of the Cannabis light needs right from seedling to bloom until the final harvests.
Why is LED grow light good for cannabis?
HPS and Fluorescent lights release different wavelengths and not typically made to meet the entire requirements of the Cannabis plants during different stages of growth. LEDs provide them with their lighting needs uniformly and uninterruptedly. More blue light during seed germination and seedling stages, increasing blue combined with less red at the vegetative stages and redder in the flowering stages. Other features of LED lights such as their full spectrum, PAR values, and low energy consumption make them a good choice for growing Cannabis in your grow room.