Almost entire indoor growers understand how to regulate growing conditions when farming in a greenhouse, hydroponics farming, or at a growing space where it becomes pertinent to adjust conditions that plants love to grow. Similarly, the grow rooms and the grow tents are the best options that allow growers to create conditions that plants require for optimum growth. However, it becomes more advantageous for the hobbyist and new growers to adjust the internal environment in a small or a confined space such as a grow tent of a small or medium capacity.
The only challenge they face is the selection of a grow tent. This selection becomes easier if they understand the relation between the plant spacing and their square foot lighting needs that plants absorb using their canopy. Humidity and the temperature come next. Only after knowing the three basic requirements for growing indoors, it becomes much easier to decide the size of a grow tent that either they need two room grow tent or they could proceed with 2 in 1 grow tent option.
Two Room Grow Tents
Keeping in mind the growing space available in two room tents, we also need to focus on some important factors that help growers regulate the temperature, air circulation, lights, and nutrient flow with ease. Since several varieties of grow tents are available on the marketplace, we need to pick your brand carefully as farming is not a one-day practice and the tent you choose goes a long way with you and your lovely plants.
As far as the functioning and the structural makeup of a grow tent is concerned, it's a small compartment made typically for the plants and allows maintaining the growing needs. Generally, they are made with several types of fabrics that internally line with reflective surfaces that reflect light to the plant's canopy. The purpose of using reflective materials is to enhance the coverage area of lights installed inside a grow tent. Another advantage is keeping the pests and infestation away from the environment.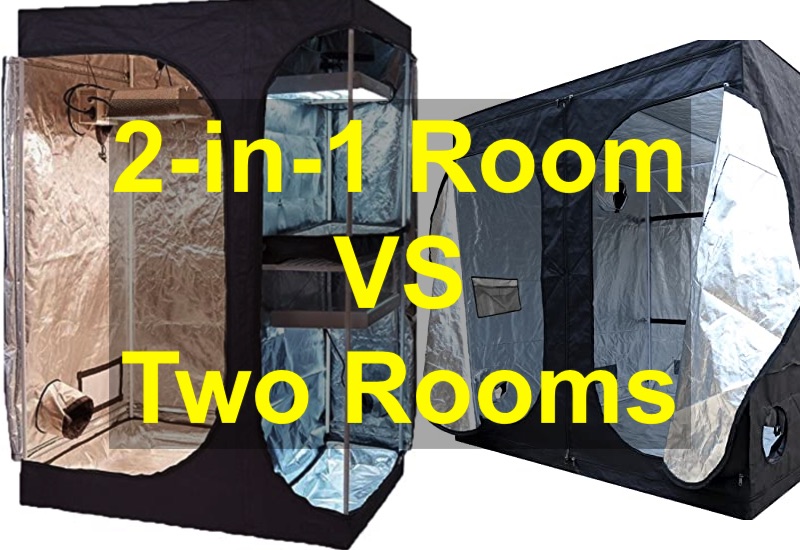 Having all these advantages and features together, plants fully take advantage of performing the process of Photosynthesis and accumulating chlorophyll in the leaves. Grow lights perform the role of stimulators and allow plant shoots to grow in their direction. Manufacturers also use reflectors of varying makeup that reflects light between 80%-100%. Fans utilized to control humidity and heat inside the grow tents. All these benefits together allow growers to cultivate their favorite plants throughout the year, whatever the outdoor growing condition might be.
The customers who already got experience with growing plants in grow tents are a great asset in providing potential guidelines for the new clients. Here you can see the comparison of the Top Best Two Room Grow Tents based on their performance and buyer's reviews.
Top Best 2-in-1 Grow Tents 2023
#1 VIVOSUN 2-In-1 Grow Tent
This version offers a design that could complement all farming operations throughout the growth of your precious plants. Especially Cannabis and Vegetables which, are otherwise difficult to grow in outdoor conditions. 2 room grow tent allows your plants a boosted growth during vegetative and flowering. The third room provides space for the propagation of seeds. That means a single grow tent meets the growth requirements during all stages.
Canvas quality also supports the offered price for a durable and flexible fabric that supports strongly built metal poles made up of frivolous aluminum for holding the weight of canvas. Another common issue that often observes with grow tents is their complex assemblage, which  VIVOSUN resolves with easy installation procedures that take hardly fifteen minutes to assemble and disassemble without using any professional tool kit.
Quality SBS Zippers make it easy for the growers to use them freely without worrying as they are free to operate, easy running, and grips are strong enough to grasp in the fingers. Moreover, if there raises any complaint regarding zippers, they are there to address it on priority. Finally, cleaning grow tents are always a complementary segment for their operations. VIVOSUN uses a waterproof mylar interior that could wash easily with a mild detergent or a soap. Overall performance is excellent and the users are happy with the product and after-sale services.
This link contains product specs and customer's reviews;
#2 VIPARSPECTRA 2-in-1 Grow Tent
As it appears from its size (60″x48″x80″), it has a reasonably large size compartment. Overall, the compartment splits into two growing spaces. One larger grow space for vegetative and flowering stages, while the second half is again two-tier, i.e., one for propagating from the seeds and the other for taking care of sprouts and seedlings. A removable mylar sheet separates all three chambers hence, the growing conditions in all chambers could regulate separately depending on the growing needs of the plants.
The Canvas used is a tear-proof with durable zippers and doubly stitched that stops leakage of light and the internal mylar lining helps reflecting light at all desired angles inside the tent. It also enhances the intensity of light and the plants could grow successfully even if the medium intensity lights keep functioning. The ventilators allow fixing filters and fan and rectangle netted-window keeps insects, pests, and dust away from the tent. Cleaning is dam easy and the system is firm and keeps erect with the help of strong metal corners and poles. A window with a removable plastic cover allows you to monitor the growth performance from the outside of a grow tent. Satisfied customer reviews and 1-year limited warranty make it a super choice for the professional growers.
This link contains product specifications and customer's reviews;
#3 GROWNEER 2-in-1 Grow Tent
GROWNEER is one of the best quality manufacturers of grow tents of several variants. Their 2-in-1 grow tent holds all the features of VIPARSPECTRA other than the size and some additional window for viewing the growth performance of the plants. A similar section for vegetative and flowering stages and other for propagation either from the seeds or raising seedlings. It means it allows growers to continue growing crops during all stages year-round. It's relatively a large tent that measures 4ft x 3ft x 6ft and allows plants to grow to their full height and spread, similarly.
Two separate windows for an individual chamber, strong 600D fabric, and sturdy zippers make it an ideal choice for hydroponic growers. However, GROWNEER is still struggling with the zippers' complaints but, their customer's service is doing best in taking all complaints in this regard. Overall, it's a strong tent with maximum light reflection, heavy fabric, sturdy structure, and easy cleaning options. Growers are happy with the improved version and there is a mix up of customer's responses and views about the product.
This link contains product specifications and customer's reviews;
#4 MAXSISUN 2-in-1 Grow Tent
MAXSISUN is relatively a new brand in the market that manufactures two-room grow tents for growing several indoor plants including Cannabis, herbs, and microgreens. They also manufacture multi-compartment tents whereas this version holds two champers with varying space., i.e., One large chamber measuring 48x48x80 inches and another small chamber measuring almost 12x48x80 inches of space. This division allows you to grow plants of varying heights and stages in the same grow tent.
The plants could grow tall up to 6 feet or above. One of the most prominent features of its mylar-coated layer is the maximum light reflection of up to 100%. Anyhow, users could better confirm this claim. Overall, Product and client's views are satisfactory and they declare it a stable tent for meeting all sorts of crop growth requirements especially Cannabis. Moreover, it could hold weight up to 120 pounds due to metal poles and zinc-plated metal bars. Other features are similar to the 3 grow tents already discussed above.
This link contains product specifications and customer's reviews;
#5 TopoGrow 2-in-1 Grow Tent
TopoGrow is relatively a smaller grow tent with advantages similar to GROWNEER AND VIVOSUN allowing users to grow on two-tier in two separate chambers for the vegetative, propagation, and seedling development stages. It also uses 600D oxford fabric with diamond Mylar interior lining that reflects 100% light on the canopy of the plants growing in the structure. Overall the structure is a sturdy metalloid with multiple ventilation points and a cord for hanging LED light. Minimum light leaks from the system while the customers look satisfied with the overall performance of this version.
A ventilation kit is recommended for the better performance of plants. Metal rods are coated with white paint whereas the heavy weighted tight zippers and double stitching not only reduces light leakage but enhances its performance. It installs quickly without using any tools in minutes. when shipped, it reaches with 1 piece of grow tent, 1-removable floor tray (Water-proof), 2-pieces Nylon belts for filter straps, and 1-booklet containing all information for quick assembly. Overall, it's an excellent product for a perpetual harvest that keeps the height of the plants compact and allows us to increase yield potential. Other features are similar to the grow tents already discussed.
This link contains product specifications and customer's reviews;
Top Related to Two Room Grow Tents