There are plenty of cannabis strains. Most of them, like other plants, are blue. However, some of them grow in a harsh environment. They need to be prepared for bad conditions such as cold temperature. Due to that, they produce anthocyanins – a purple pigment which gives cannabis purple colour. Interestingly, it can change from red to blue depending on the acidity. Purple strains are appreciated and expensive. After a few years of crossing and breeding cannabis, we have a lot of purple strains. Because of their chemical protection, strains with purple pigment are good for outdoor breeding. However, among the best outdoor purple strains, you can also find some types, which are great for indoor breeding. In general, these plants contain a high level of THC. Below we present our best purple strains. Some of them have unique features! If you consider tasting any of purple strains – keep on reading!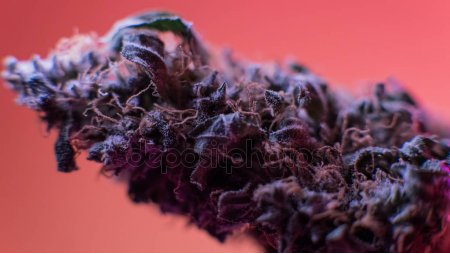 Top 13 Best Purple Strains 2020
#1 Purple Haze (Editors' Choice)
Buy from ILoveGrowingMarijuana (EU)
Let's begin with the most popular one. It's named after Jimi Hendrix. It's claimed to increase mind and physical energy. Because of some Haze's effects, it can be used in the medical field. Some users report stress reduction, headaches healing, cramp reduction. This strain is used commonly during gigs and other events to increase social skills.  For people who have enough hard head for Haze, it's a good way to improve creativity after using it. So, Doesn't it good for everybody? Unfortunately – No. Some users can feel overwhelmed. This strain isn't recommended for patients with paranoia or panic too.
Like every substance, Purple Haze can lead to side effects as cotton mouth and flushing cheeks. For those who are interested in breeding this strain of cannabis, we have some good news. First of all, it's easy to grow! The second, the time of flowering is quite short. It's from 7-9 weeks. Unfortunately, seeds of original Purple Haze are difficult to buy online. Probably you will have to be content with "clones" of the original one. Because of its flavour, it's worth to taste. The mix of spicy, sweet, berry, earthy must be tasty!
#2 Purple Trainwreck
Seedsman's Harlequin CBD Feminised Seeds
If you are looking for relief for pain through purple strains, this one is great for you. Trainwreck is used widely in medical cases. A lot of researches and trials have shown that it's effective in pain, insomnia, anxiety, nausea and loss of appetite. One of the biggest advantages of this strain, as a drug, is long-lasting effects. Because of that, patients can use it before sleeping and the effects last through all night.
This plant is a hybrid of sativa and indica strains. So, it leads to body effects (because of indica origin) and mind effects (because of sativa origin). Purple Trainwreck is an offspring of Mendo Purps and Trainwreck. Like in other cases of use cannabis, you must be careful because of side effects like dry eyes and euphoria. Tasting of this strain will be a good experience, due to a nice mix of flavours: pine, citrus, lavender. This plant is quite easy to breed, but it isn't a high-yielding type. It can provide you with about from 1 to 3 Oz/Ft.
#3 Purple #1
Seedsman's Harlequin CBD Feminised Seeds
This is the most legendary purple strain which is claimed to hit the market in the early '80s. Purple #1 is recognised because of its effects. Number one will provide you with fast-hitting high, which comes fast, goes as fast. Despite short-lasting effects, it's worth to try it, because of the intensity of feelings. As a typical hybrid of indica and sativa, Purple 1 will give you mind relaxation with some kind of euphoria.
Because of its high (from 1.5 – 2,5 meters tall) it is dedicated to outdoor breeders. Yields are average, you can expect about 300 grams per one plant. In our opinion, it isn't one of the best purple outdoor strains.
#4 Shaman
To be honest with you, the name isn't a coincidence. The effects that will provide with you can be real magic! Imagine fast-acting, psychedelic feeling with euphoria. It sounds great! However, this is not everything. This weird-sounding plant is widely used in the medical field. Migraines, depression and arthritis- Shaman can help you. WARNING! It's not recommended for patients with PTSD, anxiety, bipolar disorder.
Marijuana connoisseurs appreciate it, because of its original taste which is a mix of flower, spicy, earthy and citrus flavour. Unlike Purple 1, we recommend it for everybody with a green thumb, who want to breed this strain. The yield is quite big. This is one of the best purple outdoor strains.
#5 Purple Afghan Kush
Seedsman's Harlequin CBD Feminised Seeds
This indica-dominant award-winning strain can provide you with a relaxing effect. It will catch your attention because of its flavour and potency. The most interesting fact is that Purple Afghan Kush will lead you to fully relax without unnecessary overwhelming. If you are looking for high-THC strain – this one is for you. It contains about 25% of THC. Both recreational and medical results have made this plant popular through a lot of cannabis users. Let's talk about Afghan's effects. If you want deep relaxation during the high – you can count on this strain. After that you can expect a great night – this purple plant is great for insomnia.
Like the previously mentioned strain, Purple Afghan Kush is one of the best purple outdoor strain for growing. The last thing we should talk about is taste. It has a sweet and fruity aroma. It's something like pineapple, grapes and apples.
#6 Deep Purple
Seedsman's Harlequin CBD Feminised Seeds
As you have noticed until this moment, the majority of purple strains give you great taste. However, this one is probably one of the bests. Could you imagine sweet, berry, rich smoke? You don't have to. Just try Deep Purple strain. Ok, but the taste isn't the most important. Because of its sedative effects, you can use it to treat insomnia or to make your sleep better. Besides, it can be used to relieve pain. Before using, be warned that using this plant can lead to couch-loch and discourages mobility.
#7 Purple OG 18
Seedsman's Harlequin CBD Feminised Seeds
If you are a plant enthusiast, and maybe cannabis grower, you will love this strain. This is one of the prettiest cannabis plants. Appearance isn't only its only advantage. The second thing, which comes to mind after hearing the name of this strain, is intense high, which affects both mind and body. Besides, the taste is as strong as its results. After smoking this weed, you will be probably unfocused and sleepy. So, we recommend you to use it in the late evening, before sleep. Alike the other strains, which lead to sedative effects, OG 18 can be used for insomnia, stress reduction and pain.
Because of easy breeding, it's recommended for breeding it on your own. This plant is short with large buds before harvesting.
#8 Las Vegas Purple Kush BX
Seedsman's Harlequin CBD Feminised Seeds
The name of this strain isn't an accident. The high of it can be as insane as LA city. So, to begin with, we warn you that the results of that could be even narcotic. The flavour isn't as impressive as, for example, Deep Purple. It's something like the lavender taste.
Breeding this plant can be hard. Above all, this is clone strain, so seeds may vary each other. The best way to breed "original" one is growing it from cuttings from a single "mother plant". Unfortunately, its seeds are rare and difficult to buy. Because of its origin, it's the best purple indica-dominant strain.
#9 Purple Stilton Autoflowering
Seedsman's Harlequin CBD Feminised Seeds
While reading about purple strains, you probably noticed that the majority of these plants are high THC variants. This one is a bit different than them. First of all, Purple Stilton contains quite a high CBD level. Because of that, it has huge medical potential and relaxing effect.
So, what would you expect after tasting it? Happiness, even euphoria (it's dependable on dose).
Like OG 18, this strain has an impressive appearance. Its small height allows you to breed it, for example, on your balcony. Despite the small size, yielding is quite big. If you want to grow it on your own – in our opinion, this one is great for it!
#10 LSD-25
Seedsman's Harlequin CBD Feminised Seeds
First of all, we want to warn you. If you consider tasting this strain, you are probably a brave guy! This is one of the strongest cannabis plants. Ok, if you still there, you have probably have made a decision. Which effects should you expect? In one word: strong. The high will give you a lot of creativity and psychedelic effect. If you are a sensitive person and smoke it, you have a chance to experience some visual effects. Like almost every purple strain, LSD-25 is used to moderate pains.
We recommend breeding this strain on your own because it's quite simple. You have to remember to hydrate it regularly.
#11 GDP
We would like to present you another large-yielding plant. This one is used widely in the medical field. It's great for insomnia, pain, stress, appetite loss and muscle spasm.
Short flowering time (60 days) will be interesting for breeders.
#12 Ayahuasca Purple
You have probably noticed that some of the purple strains are strange clones, which are hard to breed from seeds because of a variety of their origins. This plant is another example of that. It's unique because of its potency too. Ayahuasca will provide you with deep relaxation. It can leave you "couch-locked". We recommend you to use it in the afternoon and evening.
Unfortunately, there isn't a lot of information about this strain. Interestingly, products of this aren't as popular as its seeds.
#13 Purple Paro Valley
The first sativa-dominant strain in our best purple strains ranking! This cannabis race present in two phenotypes: green and purple. The first one is shorter, it has shorter flowering time and shorter buds. The second one is more attractive during the flowering. Purple phenotype occurs more often in the nature than green. Purple Paro Valley has a wide application in medicine. You can use it in: anxiety, pain, stress.
It's unique because of its taste and aroma. You may say that the majority of purple strains have great flavour. Ok, but what would you think if we say you that taste of Purple Paro Valley, aside of sweet and lavender aroma, contains a hazelnut? You should taste it!
If you like to experiment with breeding, this one is exactly for you. You can mix it with another one to develop new cannabis hybrids!
Summary
Ok, we have to finish soon. Let's put all information about best purple strains together.. The majority of plants are indica-dominant ones. We have only a few sativa strain in our best purple strains list. So, we shouldn't be surprised than almost all of the plants presented here lead to similar effects. The last-mentioned issue can be really interesting for the medical world. Look, each of them has anti-stress and sedative results. Because of that, there is a chance to use it commonly in stress, insomnia and even anxiety. We don't recommend to try plants from this group of cannabis in the morning and afternoon because of their sedative effects. It will lead you to fall asleep, low energy and low concentration.You have to be careful during tasting some of the purple strain because they can lead you couch-lockage.  Sensory impressions are important too, so tasting strains mentioned above could be a great experience. All of them have similarities to each other taste. Some of them have a unique flavour (for example Purple Paro Valley). Purple strains are really breeders-friendly plants. Because of their nature, they are resistant to an adverse environment. In addition, they can give you from medium to huge yielding. Despite several similar features, every strain is characteristic because of its distinguishing features. The time of flowering is quite short and size of buds are quite big.
We hope, that we have encouraged you to try purple strains. After reading this article you know almost everything about them! Hope you enjoy it!
https://www.leafly.com/strains/purple-haze
https://www.wikileaf.com/strain/purple-haze/
https://www.wikileaf.com/strain/purple-trainwreck/
https://www.leafly.com/strains/purple-trainwreck
https://www.leafly.com/products/details/dutch-passion-purple-1
https://www.wikileaf.com/strain/shaman/
https://www.cannaconnection.com/strains/purple-afghan-kush
https://www.wikileaf.com/strain/purple-afghani/
https://www.cannaconnection.com/strains/purple-afghan-kush
https://www.cannaconnection.com/strains/purple-og-18
https://www.leafly.com/strains/purple-og-kush
https://www.cannaconnection.com/strains/las-vegas-purple-kush-bx
https://www.leafly.com/strains/las-vegas-purple-kush-bx
https://www.cannaconnection.com/strains/purple-stilton-autoflowering
https://www.wikileaf.com/strain/lsd/
https://www.wikileaf.com/strain/ayahuasca-purple/
https://www.leafly.com/strains/ayahuasca-purple
https://www.mandalaseeds.com/Catalogue/Purple-Paro-Valley