Cannabis is usually green or light brown in color, but it is available in many other colors. One of them is purple.
Color is the first external attraction when growers look for cannabis strain for the upcoming crop. 93% of growers make buying decisions based on color and visual appeal. It is a reason for the popularity of purple strains.
The second reason for this popularity is the seductive taste and aroma of purple strains. Not only is the color attractive, but purple strains are also cannabis quality strains, never absent in the best cannabis strains rankings.
In this article, we have compiled a list of 13 best purple strains for outdoor growing. Hopefully this list will be helpful for growers to choose a purple strain that suits them.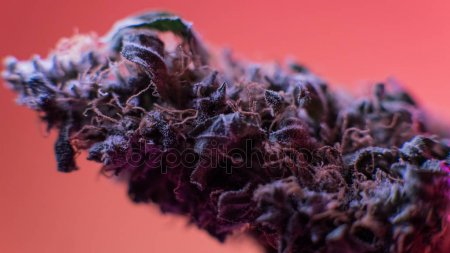 Top 13 Best Purple Strains 2022
#1 Purple Haze – Best Overall
Purple Haze contains the genes of Purple Thai and Haze, which dominate 70% of Sativa. Purple Haze is a strain that is appreciated for its ability to raise the mind and has great medical effects for smokers.
It is also a strain that can reduce stress, cure headaches, reduce cramps and improve social skills. However purple haze is not recommended for paranoid or panic patients.
Purple haze is perfect for both beginner smokers and newbie growers. It is gentle enough and excited to have a pleasant mouthful of head smoke. And purple haze is also considered a strain that is easy to grow, can grow quickly without the need for complex care techniques.
This strain flowers quickly after about 7 weeks. Because of Sativa's superiority, it is suitable for growing outdoors and strong growth in warm sunlight. It has a height of about 110-150cm, growers need to be trimmed so that it is not moldy.
Purple haze contains high THC content of about 14% to 18% and buds contain high resin content. Growers can harvest about 100+ g / plant when planting it outdoors.
#2 Purple Kush Auto – Best Autoflower strain
The Purple Kush is considered the leading Indica strain and it always asserts its position in the purple strains. It is a strain that contains very high levels of THC, about 25% and makes it an immediate and powerful relief medicine in the long run.
This strain originated in the Kush region of India near Afghanistan, where conditions are harsh, so it basically has a strong vitality. When Ruderalis is added, it has more growth stability and makes it easier for growers to take care of.
Purple Kush is usually grown outdoors around late September, but it is not limited to the autoflower version. Purple Kush Autoflower can grow up strong in any weather conditions. Growers can harvest about 800g / plant, a staggering number.
#3 Tropicana Cookies Purple – Best Taste
Tropicana Cookies Purple is the best flavored purple strain on this list according to our reviews. The name itself is a great suggestion for the taste of this strain. The sweet biscuit flavor will bring an unforgettable experience to the smoker.
Tropicana Cookies Purple has a relaxing and significant mental effect. Besides, it has many medical effects such as pain relief and anxiety relief, especially suitable for paranoid patients.
Despite the Indica dominant, Tropicana Cookies Purple is particularly fond of growing up outdoors. This strain grows up especially quickly when it is exposed to sunlight. Growing outdoors in warm temperatures will improve the natural flavor and improve yield.
This strain also does not require complex care techniques, so newbie growers can also refer to this strain.
#4 Purple Urkle – Best Effects
Purple Urkle is a balanced strain between 50% Sativa and 50% Indica, it is famous for being a great effect cannabis strain. Because no strain is completely dominant, Purple Urkle perfectly balances entertainment value and medical effects.
Purple Urkle has soothing effects and helps smokers relax both the mind and the body. It also works to treat pain, stress, anxiety, insomnia and anorexia.
Not only widely appearing in coffee shops or used in medical clinics, but Purple Urkle is also loved for its appearance. It brings a great combination of purple and light brown.
Purple Urkle does not require growers to have much experience. It loves warm sunshine and grows well in such conditions. Therefore, it is suitable to grow outdoors in warm climates.
If grown under favorable conditions, Purple Urkle can yield about 260g / plant.
#5 Purple Gelato – Best Quality
Purple Gelato is an Indica dominant strain, it is not famous for its strong effects but famous for resin-caked buds. These buds are really impressive and have the best quality on our list.
Purple Gelato is the dominant strain of Indica and contains very high levels of THC. Purple Gelato has a high THC content of about 22% and a CBD content of 0.6%. It really is like an attractive dessert both in smell and appearance. Purple Gelato is highly sought after in cannabis stores.
Purple Gelato can relieve body and mind fatigue immediately. Patients who experience problems with muscle spasms or those who are paranoid, depressed, and pressured can find this strain.
However, Purple Gelato is not easy to grow, even the most experienced growers may have difficulty with this strain. Purple Gelato is a delicate strain, requiring the most ideal conditions to grow. Growers need to spend a lot of time observing its growth process for timely interventions.
Purple Gelato grows up strong in warm weather and ideal humidity. While it may be difficult to take care of this strain, top-notch buds are worth the effort.
#6 Purple Trainwreck – Best Yield
Purple Trainwreck is a cross between Mendo Purps and Trainwreck, it is a strain dominated by Sativa. Purple Trainwreck is known as a strong strain and has a unique purple color when the temperature drops.
Purple Trainwreck smells of lemon, lavender and pine, quickly making smokers happy with the smooth smoke surrounding the space. It has a strong uplifting effect and brings a wealth of energy.
Purple Trainwreck grows up strong in a warm and dry climate. It can be up to 3 meters high and shaped like a Christmas tree. If properly cared for, growers can harvest from 1.2 to 2.4 kg/plant. This is a very impressive figure for a bumper crop.
Growers should take care to provide them with enough nutrients as well as warm temperatures. Regular pruning is also needed to ensure the highest yield is achieved.
#7 Purple #1
This is the most legendary purple strain which is claimed to hit the market in the early '80s. Purple #1 is recognized because of its effects. Number one will provide you with fast-hitting high, which comes fast, goes as fast.
Despite short-lasting effects, it's worth to try it, because of the intensity of feelings. As a typical hybrid of Indica and sativa, Purple 1 will give you mind relaxation with some kind of euphoria.
Because of its high (from 1.5 – 2,5 meters tall) it is dedicated to outdoor growers. Yields are average, you can expect about 300 grams per one plant. In our opinion, it isn't one of the best purple outdoor strains but it is worth trying.
#8 Deep Purple
As you have noticed until this moment, the majority of purple strains give you great taste. However, this one is probably one of the bests.
Could you imagine sweet, berry, rich smoke? You don't have to. Just try Deep Purple strain. Ok, but the taste isn't the most important. Because of its sedative effects, you can use it to treat insomnia or to make your sleep better.
Besides, it can be used to relieve pain. Before using, be warned that using this plant can lead to couch-loch and discourages mobility.
This strain will flower after about 8 weeks and does not require growers to have much experience to make it bloom. Plants have a medium height and a high or low yield depends on the conditions in which it lives. Overall, it prefers warm temperatures and no high humidity.
#9 Purple OG 18
If you are a plant enthusiast, and maybe cannabis grower, you will love this strain. This is one of the prettiest cannabis plants. Appearance isn't only its advantage. The second thing, which comes to mind after hearing the name of this strain, is intense high, which affects both mind and body.
Besides, the taste is as strong as its results. After smoking this weed, you will be probably unfocused and sleepy. So, we recommend you to use it in the late evening, before sleep. Alike the other strains, which lead to sedative effects, OG 18 can be used for insomnia, stress reduction and pain.
Because of easy growing, it's recommended for growing it on your own. This plant is short with large buds before harvesting.
#10 Las Vegas Purple Kush BX
The name of this strain isn't an accident. The high of it can be as insane as LA city. So, to begin with, we warn you that the results of that could be even narcotic. The flavour isn't as impressive as, for example, Deep Purple. It's something like the lavender taste.
Growing this plant can be hard. Above all, this is clone strain, so seeds may vary each other. The best way to grow "original" one is growing it from cuttings from a single "mother plant". Unfortunately, its seeds are rare and difficult to buy. Because of its origin, it's the best purple indica-dominant strain.
#11 Purple Stilton Autoflowering
While reading about purple strains, you probably noticed that the majority of these plants are high THC variants. This one is a bit different than them. First of all, Purple Stilton contains quite a high CBD level. Because of that, it has huge medical potential and relaxing effect.
So, what would you expect after tasting it? Happiness, even euphoria (it's dependable on dose).
Like OG 18, this strain has an impressive appearance. Its small height allows you to grow it, for example, on your balcony. Despite the small size, yielding is quite high. If you want to grow it on your own – in our opinion, this one is great for it.
#12 LSD-25
First of all, we want to warn you. If you consider tasting this strain, you are probably a brave smoker! This is one of the strongest cannabis plants. Ok, if you still there, you have probably have made a decision.
Which effects should you expect? In one word: strong. The high will give you a lot of creativity and psychedelic effect. If you are a sensitive person and smoke it, you have a chance to experience some visual effects. Like almost every purple strain, LSD-25 is used to moderate pains.
We recommend growing this strain on your own because it's quite simple. You just have to remember to hydrate it regularly. It will flower after about 9 weeks and then yield about 50-250 g / plant.
#13 Purple Paro Valley
Purple Paro Valley if a sativa-dominant strain in our best purple strains ranking. This cannabis race present in two phenotypes: green and purple.
The first one is shorter, it has shorter flowering time and shorter buds. The second one is more attractive during the flowering. Purple phenotype occurs more often in the nature than green. Purple Paro Valley has a wide application in medicine. You can use it in anxiety, pain, stress.
It's unique because of its taste and aroma. You may say that the majority of purple strains have great flavour. Ok, but what would you think if we say you that taste of Purple Paro Valley, aside of sweet and lavender aroma, contains a hazelnut? You should taste it!
If you like to experiment with growing, this one is exactly for you. Late planting and pruning is what we recommend to make plants grow well. Trimming the bottom shoots is also a way to enhance the health and  strength of the upper branches.
Final Verdict
Above is a list of the top 13 strongest purple strains for outdoor growing. The names on this list are carefully selected and based on the most objective assessment.
No matter what the purpose of the purple strain you are looking for, thorough research before you start is an important step. Hopefully, the above information will help you.