Kush is a strain grown naturally on Hindu Kush mountains long ago. This mountain range stretches across the border of Afghanistan and Pakistan, it is one of the few geographical areas where cannabis plants grow naturally. And this is also the origin of the name Kush.
This strain dominates Indica and brings many outstanding features from Indica. Kush is prized in the cannabis genetic chain because of its impressive crossbreeding ability and stable genetics.
Kush strain also exhibits strong vitality when it can survive under extreme weather conditions, low water consumption, high productivity and easily manageable height.
So this strain is suitable for many regions and climates, different planting methods and even beginners can take good care of it.
Below is a list of the best Kush strain that we have compiled. These strains are easy to grow, do not require a lot of care experience and are suitable both indoors and outdoors.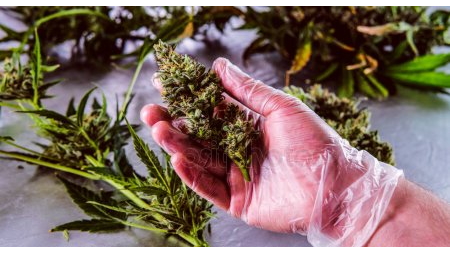 Top 13 Best Kush strains
#1 OG Kush (Best Seller)
OG Kush is the strongest and most famous Kush strain. OG Kush has each received an award from the Cannabis Cup under the Best Indica category.
OG Kush is a hybrid of Hindu Kush and Chemdawg, which dominates the Kush. This strain feels good but has a strong sedative effect. It also has the ability to enhance excitement making it the perfect strain to feel good.
OG Kush has the ability to relieve pain, nausea and cure anorexia. However, do not overdose because it will lead to paranoia.
It is a traditional feminized seed and has a relatively fast flowering time. OG Kush only needs about 2 weeks to finish the overall growth period, then takes a few weeks to flower.
OG Kush has an average height of about 1 meter, has a thick white layer covering the bud, a pleasant aroma. It produces an output of up to 500+ g / m2.
However, OG Kush is a bit hard to grow with beginner growers. For inexperienced growers, you can start with
OG Kush Fast Version Feminized Marijuana Seeds
.
#2 Hindu Kush (Best Compact Size)
Hindu Kush is a pure and legendary Indica strain from the Hindu Kush mountain region. It has a complex flavor and aroma, accented with musk and sweet pine.
The Hindu Kush is an extremely ideal option for growers who cannot grow cannabis legally. It is compact and short in size, cannot exceed 5 feet tall.
Despite its modest size, the Hindu Kush is quite bushy and blooms a lot. Short flowering time only about 45-50 days. In particular, it is resistant to diseases and mold.
The Hindu Kush is suitable for growing indoors and even beginner growers can take care of it. This strain can also withstand extreme weather conditions thanks to its thick fur and stubby branches.
Grower without much experience can start with the
Hindu Kush Feminized Marijuana Seeds
.
#3 Bubba Kush (Best For New Growers)
Bubba Kush is what often comes to mind when people think of the dominant effects of the dominant Indica line. Bubba Kush is especially relaxing and provides the most pleasant healing for stoners.
For growers, Bubba Kush is quite easy to grow and can be grown both indoors and outdoors. However,
Bubba Kush Autoflower Seeds
are the strain that we highly recommend for growers.
This strain is very powerful and also very potential. It is also a good choice for growers who want to grow cannabis indoors without being noticed. It can grow in tight and discreet spaces.
Bubba Kush Autoflower is short, stout and has broad foliage. It doesn't need a lot of special care to bloom quickly. Growers only need to provide it with necessary nutrients and moisturization.
However, growers need to pay attention to pruning foliage to reduce their density. This allows light and air to penetrate evenly, maximizing productivity.
Bubba Kush produces 400-450 g / m2 when grown indoors.
#4 Purple Kush (Best Appearance)
Purple Kush is a great example of the properties of the dominant Indica line. This strain has purple foliage and will often have a strong earthy, grape flavor, as well as a relaxing and drowsy effect.
Purple Kush is not only known for its unique purple color, but it is also known for its strong ability to grow both indoors and outdoors.
Purple Kush has a medium height, stout trunk, suitable for growing indoors than outdoors. It has a fairly short flowering time, only about 8-9 weeks.
With
Purple Kush Feminized Marijuana Seeds
, if grown indoors, growers can harvest 400g / m2. This strain produces dense shoots, which are also resistant to mold.
#5 Master Kush (Best Resistance To Pests)
Master Kush is another classic of the Kush strain, inheriting attributes directly from the Hindu Kush. It gives the same effect as Bubba Kush. Master Kush was awarded by the High Life Cup 2017.
Master Kush is particularly popular in coffee shops in the Netherlands. This strain is an extremely strong and pure Indica strain.
Master Kush Feminized Marijuana Seeds
will grow into medium sized plants. This strain has modest height and broad foliage. It is suitable for growing in tight areas and for growers who do not have much space for growing.
Grower can harvest 450 g / m2 when grown indoors and 500-800 g / plant when grown outdoors. Flowering time is about 60 days and they are resistant to many pests.
#6 Skywalker OG (Best Yield)
Skywalker OG is another classic Kush strain. It is the result of a cross between OG Kush and Skywalker. Skywalker OG has a rich and complex flavor and aroma, which gives the same effect as OG Kush.
However, Skywalker OG has improved a lot of productivity compared to OG Kush.
Skywalker Feminized Marijuana Seeds
can flower after about 8 weeks. They can thrive both indoors and outdoors.
Growers can harvest 500 – 600 g / m2 when grown indoors. But to harvest such a large amount of buds, the grower needs to pay attention to the lighting conditions because Skywalker OG loves light.
And with Skywalker OG, growers also do not need to remove male or hermaphrodite plants to avoid pollination.
#7 Afghan Kush (Best Flowering Time)
Afghan Kush is a subtle combination of successive crosses of the Kush strain. Afghan Kush has a unique herb scent and brings a relaxing and calming effect t stoners.
Afghan Kush Feminized Marijuana Seeds
grow very stable. It does not require growing in any particular environment, but it will give more yield if the climate is warm and has lots of light.
This strain is superior to other popular Kush strain. Many plants even reach 2 meters high. Therefore it is more suitable to grow outdoors.
Its flowering time is about 8- 9 weeks and the yield is very high. Growers can harvest 400-450g/m2 when grown indoors and 500-700g/plant when grown outdoors.
#8 Vanilla Kush (Best Fast-Growing)
Vanilla Kush is the sweetest strain of the current Kush strains. It displays the sweet and greasy flavor of vanilla combined with lavender. Vanilla Kush contains what is most loved from Kush, and is further improved.
Vanilla Kush has a fast-growing time and does not require much special care. It is ideal for indoor growing and even the inexperienced growers can handle it.
Growers need to wait about 9 weeks for Vanilla Kush Seeds to produce the biggest buds and quality. This strain yields 250g / plant and grower can completely increase yield by SOG or SCROG.
#9 Lemon Kush (Best Resinous Buds)
Lemon Kush is known for her sweet, refreshing citrus notes. Lemon Kush makes you giggle and be happy and provides more tranquility and entertainment.
Lemon Kush Feminized Marijuana Seeds
will grow into medium-sized plants. Although not tall, it has many large branches, which makes Lemon Kush ideal for growing indoors.
Lemon Kush takes 8-10 weeks to flower and creates significant sticky and resinous buds. This strain is also suitable for beginner growers. It produces a yield of 400-600 g / m2 when grown indoors.
However, the grower should note that early training and pruning are necessary to create healthier and better plants.
#10 Power Kush (Best Productivity)
Power Kush is an important feminized cannabis seed that plays a key role in the genetic source of cannabis strain. Not only that, but Power Kush is also really a productivity monster that rare strain can compete with.
With Power Kush, growers can harvest many bumper crops and even inexperienced growers can do it. Power Kush can be developed in any location, any area.
This strain only needs about 50 days to flower. Her whole body is full of big buds. Grower can harvest up to 550 g / m2 indoors and 1100 g / plant outdoors.
However, growers need to keep in mind moisture to avoid mold buds because Power Kush is very sensitive to moisture.
#11 Cataract Kush (Best Thick Buds)
Cataract Kush is a cross between OG Kush and LA Confidential. The resulting hybrid between a high-yield strain and a fast-flowering strain promises an impressive potential of Cataract Kush.
Although the size of Cataract Kush after maturity is not too large, it actually gives an ideal yield. It can produce enormous thick and resinous buds after only about 60 days.
When these buds dry, they will be a little gray and slightly black. Growers can harvest 425 g / m 2 indoors and about 500 -800g / plant outdoors.
#12 Critical Kush (Best Vitality)
Critical Kush is another spectacular Kush strain.
Critical Kush Feminized Marijuana Seeds
as adults will produce significant buds and are covered by a thick layer of resin.
Although this strain does not grow taller, it is healthy enough to yield the best yield.
Growers can harvest up to 500 g / m 2 indoors and 600-900 g / plant outdoors. This is an impressive figure for medium-sized plants.
For Critical Kush, growers only need to water and provide the nutrients they need to grow plants. However, do not allow the surroundings to be quite humid, it will cause buds to be moldy and pests.
#13 Amnesia Kush (Best For Commercial Growers)
Amnesia Kush is a great choice for commercial growers. It can provide amazing productivity for growers along with strong growth.
Amnesia Kush can grow in a variety of conditions, it can be grown outdoors and indoors.
Amnesia Kush tends to thrive upwards, so it is taller than some other Kush strain. So growers should also pay attention to its height development.
Amnesia Kush is considered difficult to grow with beginners, but growers can choose
Amnesia Kush Autoflower Marijuana Seeds
to make it easier to grow.
This strain can produce huge buds with great productivity. Growers can harvest 500-600 g / m2 indoors and 600-800 g / plant.