Many of cannabis enthusiasts look for strong, high THC strains. A good alternative for them is Kush and OG strains. These races contain a high level of THC. Which are the best Kush strains? How to choose the best OG strain? If you want an answer – keep on reading!
Let's tell something about Kush strains. Their origin was from plants growing in Afghanistan, Pakistan and North-Western India 1300 years ago. The name comes from "Hindu Krush" – a mountain chain that forms the border between Pakistan and Afghanistan. Nowadays. there are a lot of Kush strains which are hybrids. We have made a research about them. As a result, we present a list of our the best Kush strains of cannabis.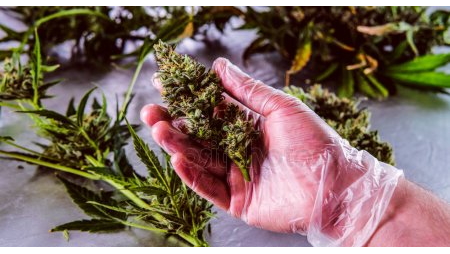 Top 13 Best Kush strains
#1 OG Kush
The most popular and the strongest Kush strain is OG Kush. If you are looking for cannabis which contains high THC level – you are in a good place! Due to its THC level (average 27%), this is the strongest Kush strain. What can we feel after using it? First of all – uplift in mood and even euphoria. Of course, it's dependable on dosage. In general, effects of OG Kush focus on the mind. Users claim that smoking increases social behaviour due to a better mood after that. In medical cases, pain, nausea and appetite loss can be treated with OG Kush. You have to be careful with the dosage – an overdose of OG Kush may lead to paranoid behaviour.
Ok, we should tell something about the origin of OG Kush. Its crossbreed between Hindu Kush and Chemdawg. Unfortunately, OG Kush breeding is difficult. So, if you are looking for the best OG Kush consider buying it in a reliable market. [1][2][3]
#2 Hindu Kush
It contains about 15 – 20% THC of the total phytocannabinoids level. The sedative effect of this breed can be useful in stress and anxiety relief. During some trials, anti-nausea effects were found too. So, the best time to use it is evening. We don't recommend to use it in a day because it can drop alertness.
Hindu Kush isn't the strongest Kush strain but it's the parent of several Kush strains. This is a really popular cannabis race due to its relaxation effects. A lot of cannabis connoisseurs claim that smell of Hindu Kush is one of the most interesting. It's some kind of lemon, oak wood pine in one aroma! [4][5]
#3 Bubba Kush
If you expect the next one, high THC strain – you aren't wrong. This weird-named race of cannabis contains about 23% THC of total phytocannabinoids. What should you expect after using it? Especially relaxation and calmness. Due to that Bubba Kush is useful in several medical cases such as depression, anxiety, chronic pain and insomnia.
If you are interested in growing marijuana on your own – Bubba Kush is the best for you! It's recommended for beginners because this strain is easy to grow. As you may have guessed, the parent of this race is Hindu Kush. The harsh smell of this cannabis can induce cough, so be careful during smoking it! [6][7]
#4 Purple Kush
Like the majority of Kush strains, Purple Kush is widely used to induce relaxation, calmness and sleepiness. Surprisingly, despite a high level of THC (average 23%), these effects are developed slowly. Due to that, you have to wait for a while to feel them. It's the biggest difference between Purple Kush with the other Kush strains. High doses of Purple Kush may lead to euphoria and even paranoid behaviour (huge dosage). If you feel depressed, have some troubles to fall asleep, this strain may be good for you! You can expect 2-3 hours of "high" after using.
If you use cannabis not only for its effects but also for taste and smell, this one is worth to taste. The smell of Purple Kush is a mix of grapes and sandalwood musk. It sounds exotic, doesn't it? Its origin isn't unique. It's developed after crossbreeding Hindu Kush and Purple Afghani. To be honest: It could take place in a natural environment because these two races grow in the same area. [8]
#5 Master Kush
Is it possible to increase creativity using cannabis? Yes! This strain is right for it. A lot of users report rising creativity and intellectual skills after using Master Kush. Any other effects are similar to other Kush strains. In which cases you can use it? It's said that this kind of marijuana will be helpful in anxiety, depression and stress. You must be careful if you consider consuming Master Kush as an edible. It can lead to euphoria and anxiety. Due to that, smoking this strain would be safer.
Besides its effects, Master Kush is a really interesting plant for some reason. If you are interested in natural science it would be amazing for you that this strain is…tetraploid (The majority of plants are diploid). The high popularity of Master Kush is caused by a wide use of it in coffee shops, especially in the Netherlands – the country where Master Kush was bred. [9][10][11]
#6 Skywalker OG
Firstly, I have to warn you. This is probably the strongest Kush strain. It's not recommended for beginners. Why? It provides you with a strong high, which comes quickly. Some users call it: "flying in clouds". It isn't strange – Skywalker OG contains up to 30% THC. Ok, if you aren't a beginner and you are still interested in tasting it we will tell you which other results you should expect. As you probably have guested, they will be familiar with the results provided by Kush strains mentioned above. So, if you look for relaxing connected with some pleasure experience Skywalker OG is the best strain for you.
As few of Kush strains smell and taste of this one is original. It's a bit spicy and herbal taste, which are similar to its taste. Skywalker OG will be great for chronic pain, stress relief and insomnia. If you consider growing it on your own I have bad news for you – this strain is difficult for cultivation. [12]
#7 Afghan Kush
Despite several hybrid Kush strain, the "Afghan", parent for a lot of them, is still popular. The reason is its effect. This kind of marijuana will make you very calm, lazy and unproductive. Due to that, it's a great idea to use it after a long, hard day. Like other Kush strains, it can be used in medical cases such as insomnia, chronic pain.
Taste is similar to other Kush strains. It's a bit spicy, woody and herbal. If you are a beginner grower and you consider the cultivation of Afghan Kush – forget about it. These plants grow to about 2 meter high! [15]
#8 Vanilla Kush
In our opinion, this is the most underrated Kush strain. Ok, you may say that it doesn't have unique features which are different from the other representatives of this group of cannabis strain. Although this one has something special – wonderful taste! Due to that Vanilla is popular among weed connoisseurs. Could you imagine the mix of vanilla and floral flavour in one? You don't have to! You can taste this strain of marijuana and feel it!
Like the other Kush strains, Vanilla contains high THC level and have sedative effects. [16]
#9 Lemon Kush
Stimulating and relaxing effect in one? Here you are! Due to the mix of Sativa and indica genes, Lemon Kush can provide you with a high which will be a mix of mentioned above effects. It must be a really interesting experience…
The name of this strain is a great description of its smell and taste. It's a bit citrus, sweet and fresh flavour. [17]
#10 Power Kush
This is the second one, which delivers you 2 opposite feelings during one high! As the race mentioned above its worth to taste it. Users describe the high as balanced – a bit relaxing and uplifting during the same time. We recommend you to smoke it because of its's woody and citrus smell.
Power Kush is the next evidence, that the majority of Kush strains are quite simple to grow. It grows fast too! The next interesting fact for growers is that the production of power Kush is high. It is possible to deliver to you about 550g from 1 square meter. But it's not all. If you give her sun and space, it can grow up to 3 meters and deliver….1 kg harvests! [18]
#11 Cataract Kush
If you consider testing it, you are doing it on your responsibility! If we have to describe Cataract's effects, the simplest way to do it is to call it: couch-lock. Sedative and relaxing effects of it are really strong, so the users feel that they are not able to leave the sofa. Also, a lot of Cataract users report a paranoid vision. If you are an enthusiast of feeling like these, Cataract Kush could be great for you.
The taste is inconspicuous. It reminds some kind of fruity aromas. We recommend smoking it than ingesting. This method can protect you against the paranoid vision. Cataract Kush is popular among growers due to low difficulty in growing. [19]
#12 Critical Kush
The last we would talk about is award-winning Critical Kush. This one is recommended for nighttime for depression and insomnia. The high isn't so strong. It's like the total experience of well-being.
This strain has about 2% of CBD and about 26% of THC. The taste and smell are typical for the whole Kush family. It's earthy, spicy with citrus and lemon notes. Due to low difficulty growing level and effects, we suppose that this strain has big potential to be widely used soon. [20]
#13 Genes, effects, differences.
If you are still here, we suppose that you are highly interested in cannabis. Ok, so let's resume everything we talked about before. All of the Kush strains have 80-99% indica genes. This origin explains relaxing and sedative effects of them. According to some studies, all of indica strains provides these results[13]. After the lecture, you probably thought why some of the strains contain "Kush" in their names and the other has "OG". For the first one, the answer is simple: one of its parents is Hindu Kush. What about "OG"? Hmm. There is a problem. There isn't any reliable information what "OG" means. Some resources claim that this is a short form of "ocean grow", the other mention about "Original Gangster". We wouldn't investigate which one is correct but we should look at the interesting study [14]. From it looks like that the difference is about the composition of cannabinoids and terpenes in each strain. According to the results of the PCA trial, we can distinguish OG strains from Kush strains. Although in common OG strains are presented as variations of Kush strains. If you are interested in growing cannabis on your own, some of Kush and OG representatives will be great for you due to costs of seeds and level of difficulty in growing. Of course, growing Afghan Kush can be insane, but maybe Bubba Kush is best for you?
We hope that this article will help you in choosing the best OG strain or the best Kush strain. We have presented several races of cannabis from each other group. All of these strains provide similar effects and feelings. Although they can lead to different "high". It may vary on its time and intensity. We recommend you to take care of a dose! Besides paranoid behaviour, side effects aren't serious (dry mouth and eyes). OG and Kush strains are great for recreational use, for relaxation and to calm down. Some of the users appreciate some strains due to their unique taste and smell, for example, Vanilla Kush.
Strains with lower THC level than the other strains and these which have more Sativa genes will provide you relaxing and uplifting high in one! Best examples: Power Kush and Lemon Kush. A lot of kush strains are award-winning plant in various categories. Unfortunately, in a lot of countries using these genres of cannabis could be illegal due to high levels of THC.
[1]https://www.wikileaf.com/strain/og-kush/
[2]https://www.cannabis.info/en/strains/og-kush
[3]https://www.leafly.com/hybrid/og-kush
[4]https://www.ncsm.nl/strain/hindu-kush
[5]https://www.wikileaf.com/strain/hindu-kush/
[6]https://www.wikileaf.com/strain/bubba-kush/
[7]https://www.leafly.com/indica/bubba-kush
[8]https://www.leafly.com/indica/purple-kush
[9]https://www.leafly.com/indica/master-kush
[10]https://www.wikileaf.com/strain/master-kush/
[11]https://www.ncsm.nl/strain/master-kush
[12]https://www.wikileaf.com/strain/skywalker-og/
[13]https://jcannabisresearch.biomedcentral.com/articles/10.1186/s42238-019-0001-1
[14]https://www.longdom.org/open-access/cannabinoids-and-terpenes-as-chemotaxonomic-markers-in-cannabis-2329-6836-1000181.pdf
[15]https://www.cannabis.info/en/strains/afghan-kush
[16]https://www.cannabis.info/en/strains/vanilla-kush
[17]https://www.cannabis.info/en/strains/lemon-kush
[18]https://www.cannabis.info/en/strains/power-kush
[19]https://www.cannabis.info/en/strains/cataract-kush
[20]https://www.cannabis.info/en/strains/critical-kush