When you have realized that your love for good quality cannabis can be paired with your green-fingered skills or your quest for a new hobby, you'll no doubt want to find a good local store to get you started. Check out some of the top places in your area using our 'cannabis seeds near me' tool below.

Visiting a store in person allows you to get tips from people truly in the know about getting the best yields and speak to like-minded connoisseurs with a passion for marijuana. In the meantime, before you have found the local store that will become your home in the next few months and years by using our 'marijuana seeds near me' tool, here are some of our top questions to ask to find the
best strains
for your skills and grow space.
How big does my grow space need to be to grow cannabis?
The first thing you need to think about before you get into anything is how big your available growing space is. Just because you've decided your favorite smoke is the 'Dutch Dragon' weed you got last week, this doesn't mean you should go out and buy those seeds straight away if you're not planning to grow outdoors or don't happen to have a huge indoor growing space. However, don't be put off giving home growing a try if you aren't blessed with lots of space as with micro-growing techniques you can get decent yields of specific strains.
If you have a small space, you might want to look into grow tents which come with dimensions on the box making it easy for you to know what to look for when it comes to buying your seeds. If you have plenty of room, you'll need to give more thought to the growing process, what lights are you going to use and how you are going to maintain the optimum conditions that are going to help your plant produce bigger yields.
What lights should I use to grow cannabis indoors?
These days LED lighting has made great strides in the world of cannabis cultivation. These run much cheaper than the classic High Intensity Discharge (HID) lights most people associate with growing cannabis and also make it easier to regulate the temperature. However, if you're budget is lower then don't risk going for a cheap LED setup as they still have some way to go to bringing good quality kit down to affordable prices. Just make sure to regulate the temperature and humidity!
What are the best indoor strains?
Cannabis strains are essentially different types of cannabis that have varying properties depending on their family type and how much they draw on the Sativa and Indica families. Having been around for thousands of years there are now huge numbers of different strains that have been cross-bred and hybridized for different purposes leaving some more suitable for the great outdoors and others loving to be cultivated indoors.
3 of the best high yielding strains for beginners that are worth asking about when you've found your local store using our 'weed seeds near me' tool are:
#1. Blue Dream
This grows easily and is a mood booster as well as a pain reliever
#2. Northern Lights
Great for regular users suffering from aches and painstakingly.
#3. White Widow
Great for those who like a heavy stone
What are the best outdoor strains?
Growing weed in the outdoors can be slightly more challenging than when growing indoors as it is much harder to create the perfect environment outdoors and you and your plant are much more at the mercy of the elements. Nevertheless, in climates favored by the plants, it is actually the natural habitat for the 'weed' plant and as the name suggests it is sturdy and likes to spread. The other good thing about growing outdoors is that it is more environmentally friendly.
3 great cannabis strains to grow outdoors are:
#1. Bubba Kush
This is great for those suffering from insomnia.
#2. Critical Kush
This is a good choice for those not blessed with a super warm climate as it does well in the cold.
#3. Super Silver Haze
This is a good choice for the inpatient grower as it produces yields quickly but needs a warm climate.
What growing method is best for cannabis?
A good method to start out with for beginners that is easy to do but helps improve yields is known as 'topping & fimming'. This is probably the most widely used technique and involves either 'topping' off plant growth with a clean cut to encourage bushier growth or 'fimming' whereby around a quarter of the main stem is left. This method does increase the time it will take for your buds to form but helps you grow your plant bushier easily.
A good method for intermediate growers who want to further improve their yields is called 'low-stress training' or 'LST'. This helps you to improve yields whilst controlling the height of your plant so is also good for those with a small grow space. Essentially you train your plant to grow in a flat, almost 2-dimensional structure helping to get more light to all the flowers of your plant and encourage more condensed and intensified growth.
Experienced growers will want to check out the SCROG or 'Screen of Green' method of growing which enables maximum yields in any grow space with careful training and pruning of your plants around a screen.  This helps you maximize light reaching its target and massively aids big bud production.
Top Marijuana and Weed seeds near me 2022
#1 Best auto-flowering seeds for indoors: Crop King Seeds' Sour Girl Seeds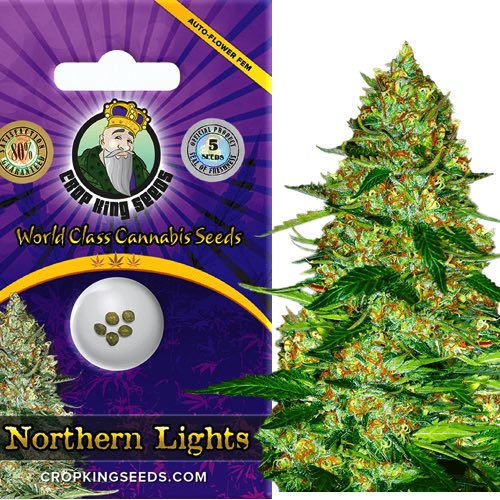 Buy from Crop King Seeds (Canada)
If you're just stepping into the world of cannabis growing and are worried about having to go into a store to buy your seeds you'll be pleased to know you can buy loads of great cannabis seeds online. If you're also nervous about how to grow your weed plants then starting off with auto-flowering strains might be a good idea. These auto-flowering seeds can actually be grown indoors and out but seem to do the best indoors and produce impressive yields with minimal effort.
The major pros of these seeds are that: they have extremely densely packed buds which means they produce bigger yields in a smaller space (great for the indoor grower); they produce plants that give you a gradually enhancing high rather than one that knocks you down straight away and one that is mostly centered in the mind rather than the body; they are packed with THC and CBD, and; they are very consistent in terms of germination so you won't be disappointed after planting.
#auto-flowering_Seeds #Sour_Girl #Marijuana_Seeds #Indoor_Cannabis #CBD
If you're looking to grow indoors and don't fancy heading to the store to buy them then a great choice to start with are these seeds which produce blueberry flavored buds. The high from this homegrown is not too intense which means it is a good choice if you are using marijuana for medicinal use or are needing to stay active after you smoke. The buds grow nice and densely but you will need to cure these buds for at least a month to enjoy the best flavors and potency.
Other major pros of these seeds are that: they grow into large bushy plants covered in wondrous THC crystals meaning big yields and plenty of leftovers to be made into hash or edibles; they taste absolutely delicious; the high is pretty mellow but has a nice cerebral buzz, and; you don't have to be an expert to get good yields from these feminized seeds. The downside is they are not the cheapest seeds you'll find.
#Blue_Dream #Cannabis #Cannabis_Seeds #Hash #THC
This auto-flowering strain makes growing weed easy whether indoors or outside, but you'll get superb yields, if you have the space and are graced with the climate to allow you to grow this batch of seeds outdoors. This strain is derived from the notoriously delicious Northern Lights but offers a more balanced stone thanks to the increase in Sativa in this hybrid. If you're after an easy outdoor grow you won't be disappointed with this batch.
Other pluses about these seeds are that; they are great value; they produce yields right at the top end of what auto-flowering strains can achieve; the flavor of the bus is lightly spiced and earthy; when grown outdoors they produce plenty of vegetation if you want to give making edibles a try, and; they are ready in just over 60 days. You will need to give your buds a proper month of curing time to make sure they do not smoke harshly.
#Cannabis_Seeds #Northern_Storm #Weed_Seeds #Curing_Weed #Auto_Flowering
Best Feminized Cannabis Seeds for Outdoors: Seedsman's Afghan Kush
If you're looking for a sturdy outdoor strain that is easy to grow yet produces big yields, then you will be knocked off your feet by this incredibly productive strain. This is an Indica dominant hybrid which means it produces loads of resin and the effect on the body is strong in terms of all-round relaxation. You'll need to cultivate these seeds in a warm climate if you are going to grow outdoors.
The other major pros of these seeds are that: they produce plants with up to 20% THC; they can be grown indoors and out but get the best yields outdoors; they will be ready for harvest in as little as 8 weeks; they are great for people struggling with insomnia, and; the flavor is a surprising blend of citrus and menthol with earthy undertones which will leave you smiling. The downside of these seeds is that you do need a lot of space with how tall they grow.
#Cannabis #Afghan_Kush #Outdoors_Growing #Feminized_Seeds #THC
Best feminized cannabis seeds for greenhouse: True North Seedbank's 24K Gold (aka Kosher Tangie) FEMINIZED Seeds (DNA Genetics)
If you're looking for a seed that grows great in a greenhouse, helps with both aches and pains and struggles with sleeping, and has been bred to be grown by the absolute novice, then these 24L Gold seeds from True North should make you sit up and take notice. A wicked blend of Indica and Sativa means you get both a cerebral high and a relaxed body enhancing both creativity and relaxation. If you like citrus flavors, you'll love this.
Other big pluses of these seeds are that: they produce tall plants with lots of vegetation when grown in a greenhouse that will be covered in resin and be great for edibles; the high is very difficult to better so you might make this your strain of choice once you've tried it, and; it produces good yields even if you aren't a great gardener. The downside of these seeds is that they are costly and usually take over 10 weeks to be ready for harvest.
#24k_Gold #Cannabis_Seeds #Weed_Seeds #Greenhouse_Marijuana #Feminized_Seeds
Best auto-flowering cannabis seeds for greenhouses: True North's Amnesia auto-flowering Feminized Seeds (Canuk Seeds)
If greenhouse growing is your thing, but you're not ready to step into figuring out what cannabis plant photoperiods are, then you might just like these quick flowering seeds. The weed you get from these seeds gives you that delightfully giggly high that will have you and your fellow partakers in stitched on the floor. Great for social anxiety too, this smooth high is a strain that is growing in popularity the world over.
Some of the other best things about these seeds are that: they are favorite in Holland, a land known to know good weed; it can be grown easily both indoors and in a greenhouse and either way it won't grow too tall; it produces decent yields due to the densely packed buds, and; it is resistant to mold making it easy for a novice to grow. It is also packed full of THC at 20%!
#Amnesia #Marijuana_Seeds #auto-flowering #Sativa #Fruity_Cannabis
Conclusion
So whether you want to find a store near you using our 'cannabis seeds near me' tool, or want to just get straight on and order seeds online, you should now be well equipped to decide where to setup your grow space and how to find the perfect strain for all of your desires.