Ever since man could hunt and gather, we have always had weed at our side. Well before the advancement in agricultural technology, marijuana usually contained between 1-6% THC levels; there was no real determinant as to what THC or CBD level each cannabis strains contained. Prehistoric man just opted for the stronger and darker weed, to him that was the best strain.
Now, with the advancement in technology, which includes sensors, devices, ICT, testing, robotics, weed strains have become efficient, measurable, environmentally adaptable and safer than before, because we can now measure the cannabinoid contents of each cannabis strain.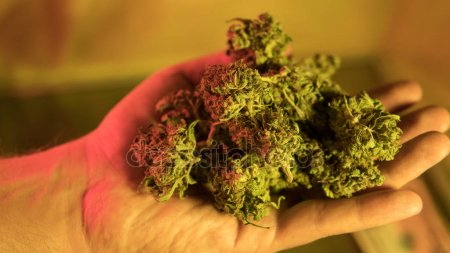 Most times, I get asked by newbie smokers what the best weed of all time is, while there is no actual overall best, different strains have their perks and pitfalls. But in general, some strains stand out above the rest. That's why I have put this list together, to help newbie smokers decide on what strains are fit for them or help smokers who would want to explore new strains different from what they are used to.
We all know THC (tetrahydrocannabinol), that chemical constituent of cannabis responsible for the sweet high we all experience. Well, the misconception we all have is that the higher the THC, the stronger or potent is the weed strain. But, how dominant or efficient a strain is not subjected to its THC composition alone, other factors like terpenes and other cannabinoids all contribute the overall potency of the strain.
Top 10 the best Strains of all time
Best weed strains to grow
If you're new to cannabis, you should know by now that there are a ton of strains out there, and all of them have very little in common. It is therefore essential as a newbie grower to know which strains will be hassle-free, letting you build your gardening skills. As a newbie grower, it's preferred you look towards genetically enhanced strains. Over time, these strains have been ducted to be favorable, high yielding and producing high quality.
#1 (Editors' Choice) Blue Dream Cannabis Strains
Hybrid strains like Blue Dream are a well-known strain, particularly with veteran weed smokers. It is also known for its favoritism towards newbie growers. The strain gives a subtle balance between calmness and a sweet memorable high. Blue Dream is also known for its medical benefits, giving daytime reprieve to ailments like pain, stress, and fatigue.
Besides, seeds and nursery shrub of this strain are readily available. It is quite popular when stacked up against other good strains like root rot and powdery mildew.
Without a doubt, Blue green is one of the famous strains out there, and this is for a reason. The strain not only has benefits for growers but users as well, with a unique berry flavor and perfect delivery every time.
#2 Dutch Treat Cannabis Strains
Another stable hybrid classic with its roots in Amsterdam, and suddenly became a world favorite with the Pacific Northwest owning much of the claim is the Dutch Treat. It's a gratifying hybrid with cross-ratio favored towards Indica.
This strain is perfect for growers, especially if you want to grow your weed indoors. Benefits of cultivating this strain couldn't be overemphasized, from producing high yields, quality buds and crowning it with a tantalizing candy-like aroma when piped. If you're located in around the pacific northwest, this strain shouldn't be difficult to find, grow, and smoke.
#3 Green Crack Cannabis Strains
Another of my all-time favorite is the Green Crack, (don't you love the way it sounds when pronounced?). The Green Crack is another strain known for its distinct properties. Originating in California, the Green crack is a Sativa dominant weed. The strain gives off a welcoming citrus aroma and a high-lifting upshot, leaving you wanting more.
It's a known fact that most Sativa strains are hard to grow due to its prolonged flowering time, and its upright growth pattern. Green crack is one particular strain that can be managed effectively. While Its Sativa characteristics are pronounced, its indica genes within are evident in the way the weed flowers quickly. But sadly, this strain a clone-only strain, meaning you cannot find it in seed form, making it a bit arduous to find.
#4 Cinex Cannabis Strains
The Cinex is another classic Sativa dominant strain. This strain contains THC levels of between 18 to 24%. Its genetic composition is rooted in Vortex and Cinderella 99. Popular for its ability to elevate your euphoria and its ability to focus one's productivity, the Cinex is a high yielding, and thick plant, a trait it inherits from the Cinderella 99.
While the euphoric effect is mostly from the vortex. The crossing of both makes for the perfect hybrid every grower would want to have, especially if you are starting. Also, because the Cinderella 99 is resistant to mold and mildew, allows the Cinex to be a super Hybrid, every novice grower should grow in their backyard.
Best Indica strains of all time
If you're a newbie in the marijuana space, you've probably heard about Indica and Sativa. While Sativa is weed responsible for the euphoric, energetic high you experience when you smoke it, Indica on the other hand, causes the body to relax, eliminating nausea, relieving pain and taking you to dreamland by making you sleepy. With these features, Indica cannot be shoved aside. That is why I have made a list of what I consider to the best Indica strain of all time. So when next you smoke a sweet wrap of Indica you can find a variety of options to pick from, suited just for you.
#5 Afghani Kush Cannabis Strains
The Afghani Kush is an Indica strain that originated from the middle east. The strain is well known and is the root of a lot of popular Hybrid strain out there today. The Afghani Kush leaves one feeling relaxed and laid back, if you want a strain to combat insomnia, with a soothing calm sedated feel, then, the Afghan Kush is just right for you.
The strain is known for its resilience; it can survive in almost any soil type. All this and a lot of other characteristics makes the Afghani Kush one of the most populous strains of all time.
#6 Death Star Cannabis Strains
Death Star is another populous strain of all time. The strain was created from the fusion of Sensi Star and Sour Diesel, to create one popular strain among smokers and breeders.
Possibly, one unique feature that makes the Death Star common is its intoxicating and alluring aroma, or perhaps it is the name, that just sends chills down your spine. In all, the Death Star is an Indica strain everyone should taste.
#7 Purple Urkel Cannabis Strains
Another Popular Indica strain that originated from Califonia. The purple Urkel is different and accessible, foremost, for its a unique purple coloration, which could be likened to those of purple berries. The strain is a root strain for Hybrid strains like the GDP ( Granddaddy Purple) which was created by crossing the Purple Urkel with the Big Bud. The High from the Purple Urkel leaves a euphoric feeling on the body and mind.
#8 G-13 Cannabis Strains
Arguably, the first and (until this post was released) only strain bred by the US Government for research purposes, at the University of Mississippi. The G-13 is another prevalent Indica strain. In 1986, the strain was secretly smuggled to the Netherlands where it quickly gained widespread recognition among the populace.
The popularity of the G-13 is even evident in its Hybrid strain, which all attach the name to its names like the G-13 Hashplant and the G-13 Haze. The G-13 is another fine strain you regret if you would want to try.
Best sativa strains of all time
Now let's move to another species of marijuana, Cannabis Sativa. I wrote extensively about the effects of the species and when and how it is appropriate to use the sativa, be sure to read that post. Well, in this post I'll be picking my best Sativa strain of all time.
#9 Acapulco Cannabis Strains
With its origins in North America. This Sativa dominant strain is now commonly referred to as the Mexican Sativa. Over the years, Acapulco has been instrumental in creating other excellent hybrid strains available today, like the Skunk, Blueberry and even the Multiple Haze.
When the bud is broken open, it gives a sweet burnt coffee aroma. The high from the Acapulco leaves you euphoric and happy. Another legendary strain that is sure going to be with us for a long time to come
#10 Tangie Cannabis Strains
Tangie is another superb Sativa strain that graced the world from Amsterdam and has quickly gained the hearts of cannabis lovers around the world. The strain was a re-creation of the Tangarine Dream which gained wide fame in the i980's and 1990s.
This Sativa strain has a sweet citrus aroma, more like Tangarine and it's tacky buds make for elated yet laid back effect. It is also reasonably easy to grow.
Best hybrid strains of all time
The advancement in technology has seen breeding and genetically improved considerably. There has never been a time in history, such as now when we have a lot viable, yet potent hybrid marijuana strains. A hybrid strain is created when you cross two or more parent stock or Dominant stock together intending to create a plant with a set of desirable traits. Desired traits could be resistant to diseases, high yield, aroma, yield quality, etc.
The Nevil's Haze (also known as the Original Haze)
Also known as the A5 or sometimes simply the Haze. This lady was created in North California by the Haze Brothers. In the 80's it was migrated to Amsterdam. This tall lush green is an ideal strain if you wish boost creativity, focus, and not zone out.
A perfect strain. The Nevilles Haze has a Citrus, flowery, sweet flavor, and most importantly, it's easy to grow.
#11 Skunk #1 Cannabis Strains
One of the earliest hybrids of cannabis breeding is Skunk #1, a rare mix of three legendary strains, the Colombian, Mexican and Afghanistan. The was created in the 1970s by the then, Sacred seed Co. This hybrid strain has since become one of the favorites among cannabis connoisseurs from around the world.
A beauty to behold, this strain can do thrive both indoors, and outdoor gardens, better be careful when you plant it indoors, it leaves a sour skunky earthy aroma, thus its name. Skunk #1 is also a notable parent for a lot of other hybrids strains like the Church Island Sweet Skunk, lemon Skunk, Skunk Berry and lots more.
#12 Cannatonic Cannabis Strains
A distinct hybrid strain with a Spanish heritage, this breed is significant for its low THC content, we'll below 7%. Perfect if you want to feel moderately high and feel laid back and relax. Did I mention it's rich in CBD, the Cannatonic is we rich in CBD, between (8 and 18%), and it's used medically to relieve anxiety and stress, it is also used to treat insomnia?
The Cannatonic also leaves her trail in other hybrid strain and many variations like the Cannatonic X, which has a good percentage of CBD. The Cannatonic hybrid has earned a well-deserved space in our list.
How to measure potency?
Contrary to popular belief, potency is more complicated than it seems, with factors like varied cultivation methods, lab testing environment, lab testing standards (testing have not become a standardized process yet).
So, this list I've put together is not about the cannabis strain with the highest THC content, nor is it about the cannabis strain with the highest sales record of all time.
Rather, this list is composed of strains that have made smokers come back again and again; a list of strain with a distinct reputation, which was acquired for a genuine reason. In our previous post, I wrote extensively about Sativa and in my opinion, the best Sativa strains. If you're a newbie, one fact you should know is that there is practically any cannabis strain for any circumstance be it pain, insomnia, happy, sad, focus, there is a strain out there for you. We have covered some cannabis strains unique to specific physical or psychological scenarios. If you want to sieve the dominant cannabis strain from the chaffs. If you're going to get the best of the best, we encourage you to read the list to the end.
Some other mentions also include:
Grape Ape – Indica
Afgoo – Indica
AK 47 – Hybrid
Jean-Guy – Hybrid
Red Head Stranger – Sativa
Jack Herer – Sativa
Panama Red – Sativa
Harlequin – Sativa
Golden Goat – Hybrid
Master Kush – Indica
Pez – Indica
Plushberrey – Indica
Larry OG – Hybrid
White Widow – Hybrid
While this might be an exhaustive list, the are a ton of good cannabis strain every weed connoisseur should try. I hope you enjoyed our list? Did your favorite anxiety make the list of the greatest weed of all time?