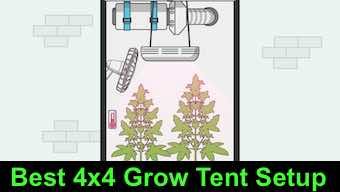 A grow tent is one of the pre-requisites for growing marijuana in an indoor environment. The right choice of a tent will have a huge impact on the success of the cultivation of marijuana. More than the right tent, however, you also have to pay attention to what goes inside the tent, including all accessories to complete the setup to help you create a conducive environment for the growth of marijuana.
If you are curious about the essentials of the best 4×4 grow tent setup, keep on reading and learn from some of our recommendations. Aside from the tent itself, you also need accessories, including carbon filters and inline fans, among others. Read on and learn about the things that you will need for setting up your grow room and I will help you to choose the best seed bank that ship to usa
Best 4×4 Grow Tent
#1 Apollo Horticulture Mylar Hydroponic Grow Tent Review
Made by one of the most trusted brands amongst indoor growers of marijuana, this 4×4 tent has a height of 80 inches. Among others, one thing that makes this exceptional is the use of Mylar as the wall material, which can increase light intensity significantly. This is one of the best reflective materials available amongst weed cultivators.
Construction-wise, this can prove to be an exceptional product. It is double-stitched and comes with heavy-duty-zippers. The metal poles and the fabric are also thick, which makes it easily withstand the test of time. With the way it is constructed, the ideal indoor environment is maintained.
In terms of assembly, there is also no need to worry. Even if you are a novice, installing the tent does not need to be a difficult task. There is an instructional pamphlet that is included for a step-by-step guide on how to assemble the tent.
To provide you with peace of mind, this grow tent comes with a 90-day warranty from the manufacturer.
Q&A: Is this light-proof?
Yes, the manufacturer guarantees that this grow tent is 100% light-proof. There is no need to worry that outside light will penetrate the interior, as long as you make sure to keep the main door zippers closed. The seams are also double-stitched, eliminating the likelihood that light will be able to enter.
Q&A: What fan is recommended for this tent?
Based on the reviews of other users of this tent, a 6-inch fan will be more than enough to cover the entire area.
#2 Best Indoor Grow Tent: VIVOSUN 48″x48″x80″ Mylar Hydroponic Grow Tent
When growing cannabis indoors it is very difficult to create the optimum conditions yourself (in terms of humidity, light, and temperature), and if this is something you are familiar with then it is high time that you invested in a grow tent. With one of these clever devices, you won't need to worry about creating the perfect conditions for your marijuana as it does it for you.
This tent from VIVOSUN has been carefully crafted by those in the know. You can set it up within minutes (and you don't need any tools) and it is made out of strong 600D canvas so will block light from both escaping and entering. It also contains a ventilation fan opening so you can control the humidity. Another great feature is the viewing window so you can take a look at your plants without disturbing the conditions.
#Grow_tent #Indoor_growing #Indoor_cannabis #Hydroponics #VIVOSUN
#3 Best Value Grow Tent: CoolGrows 2x2x4 Feet Small Indoor Myla Hydroponics Grow Tent
If you are new to hydroponic growing then having a grow tent in your life is essential. With a grow tent you don't have to worry about controlling the necessary conditions for growing cannabis as these clever tents are built to do this. This grow tent from CoolGrows is a great choice for beginners as it isn't too pricey.
This solid grow tent can be set up easily and once it is up it stands strong and sturdy. It has been made with longevity in mind as the material is tear proof, and it is also designed to prevent light escaping. There is also a removal spill tray so you can get rid of any excess water when watering, and the viewing window makes it easy for you to keep an eye on your plants. A great all-rounder for any hydroponic grower.
#Grow_tent #Indoor_growing #Indoor_cannabis #Hydroponics #CoolGrows
#4 Best Grow Tent for Ventilation: iPower 48″x48″x78″ 4'x4′ Hydroponic Myler Grow Tent
Investing in a grow tent is something which you won't regret if you are wanting to grow cannabis hydroponically. From those starting cannabis growing for the first time to those that have been growing for years, a grow tent is a firm favorite amongst marijuana growers. We love this grow tent from iPower thanks to its carefully thought out design and great value price.
Energy bills are often the biggest cost when it comes to growing cannabis, but with this grow tent you can be sure that the light from your grow lights is not being wasted thanks to the 95% sealed light proof mylar which this grow tent is made out of. Other top features of this grow tent is the double layer ventilation ducting holes and ventilation windows – this makes for a super grow tent for controlling humidity.
#Grow_tent #Indoor_growing #Indoor_cannabis #Hydroponics #iPower #Ventilation
#5 Best Hydroponic Grow Tent: iPower 32″x32″x63″ Hydroponic Mylar Grow Tent
Choosing the right grow tent for your cannabis plants is an important decision. A grow tent will be the home of your plants and will make sure that they are kept in the most optimum growing conditions possible. With a tent from the well-renowned iPower you can't go wrong, which is why this 32 x 32 x 63 Mylar Grow Tent ticks all of the boxes.
With a helpful user manual included you will have this grow tent set up in no time. Thanks to its thick quality material it will keep the light in and make sure any unwanted pests are kept out. It also has a removable floor tray so cleaning is easy, and there is even a storage pouch for your tools. We also love the observation window which makes it straightforward to take a look at your plants without unzipping your tent.
#Grow_tent #Indoor_growing #Indoor_cannabis #Hydroponics #iPower
Best Light for 4×4 Grow Tent
#2 Viraspectra PAR600LED Grow Light Review
As this is a LED grow light, one of the best reasons to choose this is its energy-efficiency. Even if you leave it turned on for an extended period, there is no need to worry about its electricity consumption. It also has an extended lifespan, which the manufacturer estimates to be about 100,000 hours.
One thing that makes this a stand out compared to most of its competitors is the built-in fan in the middle. There is no need to worry about the production of too much heat. It has 3.2-inch front fans that will allow the lights to run cool. It is also a good thing that the fan runs quietly. This is even made better by the fact that it also has aluminum cooling heat sinks.
To provide you with peace of mind, the light comes with a 30-day satisfaction guarantee and a three-year warranty.
Q&A: What stage of growth is best for these lights?
This is a full-spectrum light, and hence, it will be good for all stages of growth. This makes it a versatile option for a grow light. From the vegetative to the flowering stage of marijuana, it can provide the spectrum that is necessary.
Q&A: How far should it be positioned away from the plant?
Based on the technical details from the manufacturer, if you are going to use this in a 4×4 tent, the height should be about 24 inches from the top of the marijuana.
Best Carbon Filter for 4×4 Grow Tent
#3 Vivosun 4-inch Air Carbon Filter Review
For a 4×4 grow tent, a 4-inch carbon filter will be more than enough, and this product is one of the best options you might want to consider. The superior carbon quality is perhaps its best asset. It is made of Virgin Australian activated charcoal, which is capable of producing an airflow that is 100% filtered. This allows it to capture more contaminants compared to its leading competitors.
It comes with an inner and outer mesh, which makes it possible to increase the open area by as much as 53% for the improvement of airflow. The filter flange and base, on the other hand, can be switched to be able to extend its functional life. The Velcro pre-filter can also be changed as desired.
A lot of marijuana growers will also enjoy the versatility of this carbon filter, making it useful in more ways than one. You can use it in a wide array of set-ups and be guaranteed that it will deliver top-notch performance.
Q&A: How long will the filters work?
This will actually depend on the conditions of the grow tent where it is used, such as the quality of the air and the impurities that are retrieved. In general, at about 350 CFM, the filter will last for about four to six months.
Q&A: What is included in the package?
When you purchase this product, aside from the carbon filter itself, the kit is also inclusive of changeable Velcro pre-filter and carbon filter belts.
Best Inline Fan for 4×4 Grow Tent
#4 TerraBloom 4-inch Inline Fan Review
A 4×4 grow tent is considered small, which is exactly the reason why this size is more than enough. This is a 4-inch inline fan with 188 CFM. Later on, you will learn how to compute the CFM that is suitable based on the size of a grow tent.
Among others, one of the best things about this fan is the variable speed control, which will provide you with the freedom to set its functions exactly as desired. The speed can be adjusted from 60% to 100% through the built-in speed controller.
In terms of construction, the main material that is used in this fan is ABS plastic, which also makes it lightweight. In fact, the weight is only 4.2 pounds, which allows you to easily mount it in the ceiling with the use of zip ties.
There is no need to worry as well when it comes to cleaning and maintenance. It will be almost effortless to keep it in its best shape. It has removable duct ends for ease of cleaning.
Q&A: Is the motor enclosed?
You will be happy to know that the motor of this inline fan is enclosed in a plastic casing. This means that it will be protected from external elements that could possibly speed up wear and tear. This also minimizes the noise that is produced by the fan.
Q&A:  Can you use the fan 24/7?
Absolutely! There is no need to worry even if you leave it functioning round-the-clock. It is energy-efficient and it also comes with thermal protection, so your safety is guaranteed! If in case the fan overheats, it will automatically turn off on its own!
Best Hydroponic System for a 4×4 Grow Tent
#5 PowerGrow Systems Deep Water Culture Hydroponic Bucket Kit Review
For a 4×4 grow tent, the small size of this DWC hydroponic system will be more than enough for your needs. It comes with a 5-gallon FDA-approved container and a 6-inch basket lid. For most people who are just starting out in growing weed in a hydroponic setup, this will be more than enough.
There is a water level marker, which will make it easy to monitor the water in the system. Plus, with the bucket drain, it will also be effortless to empty the water when needed.
This kit comes with a one-year warranty from the manufacturer.
Q&A: What is included in the system?
You will enjoy the best bang for the buck as it is complete with almost everything that you will need to get started with hydroponics. Aside from the bucket and the basket lid, it also has an air pump, air stone, air tubing, rockwool seeds starting plugs, and a growing medium.
Q&A: How many can fit in a 4×4 tent?
It will be safe to have at least three in one grow tent. Four will most probably be too crowded already. Each unit is good for a single plant but will be great for big strains.
Best 4×4 Grow Tent Kit: The Essentials for your Own Set Up
If you are thinking of building your own 4×4 setup, the rest of this section will give you a quick look at what you will need and some important insights to help you to come up with the right decision.
Tent
At the most basic, you will need to have the best grow tent that you can use. The good thing about a 4×4 tent is the fact that it is compact, which means that it can be easily used for indoor growing. There is no need to have the luxury of space.
When choosing a tent, it is important to consider the materials that are used. The interior wall, for instance, will be great if it has a reflective material, such as Mylar. The latter will help to increase the intensity of light without the need to increase energy consumption. The body should have double seams and durable zippers, providing an assurance that outside light will not be able to penetrate in the tent. It will also be good to have a viewing window so that there is no need to open the door often. If you open the door frequently, the environment can be affected and this will have a negative impact on the growth of the plant.
Light
As we all know, light is important for the photosynthetic activity of plants. Without light, plants will not grow. In an indoor environment, since the plants cannot be reached by direct sunlight, you will need to have it supplemented. Read about the best grow tent lights in our guide and learn which one is best for your needs. For a summary, here is a quick look at some of the types of lights that will be best for a grow room:
LED: This is what we can recommend for a 4×4 grow tent setup because it is energy-efficient and long-lasting.
CFL: This type of light is somehow weak in terms of its intensity and will be best for clones or when starting out. If you will use it for a 4×4 tent, make sure to hang it closer to the plant, about one to two inches.
HID: Lights that fall under this category can be either metal halide or high-pressure sodium, both of which are effective for all stages of growth.
T5: This is a fluorescent light that operates at a low temperature. It is not a popular choice for a 4×4 grow room as it is meant for a larger area.
Carbon Filter
With the best carbon filter, the odor can be prevented in the grow tent. It will help to get rid of the impurities that are present in the grow tent, making it an essential component of odor management. Certain components of growing marijuana, including fertilizers, can cause a foul odor, which can be eliminated when you are using the right carbon filter.
To find the right size of carbon filter for a grow tent, you need to multiply the length by width and the height. So, if you have a 4'x4' tent and the height is 8 feet, you need to find a carbon filter with at least 128 CFM.
Inline Fan
Meanwhile, using the best inline fan is important in providing the ventilation in an enclosed grow space. With the use of an inline fan, which is also known as duct booster fan, it will be easier to manage the internal environment, such as in terms of the temperature, humidity, and moisture that is present.
If you have a 4×4 grow tent, you will already be good with the use of a small inline fan. On average, most growers would opt for a fan with a diameter of six inches. This will be more than enough for your grow room.
Hydroponics System
There are different mediums for growing cannabis in an indoor environment and one of the most popular is hydroponics. It offers a number of benefits, such as having a total feed control to influence the growth of the marijuana. It is also believed to result in bigger yields, provided that you do it right.
If you decide to grow marijuana through hydroponics, there are different systems that are available, which include the following:
Deep Water Culture: Also known as DWC or bubble, this is the simplest and cheapest system, which makes it an ideal choice for novices. You will have a bucket filled with oxygenated water and nutrients. The plant will sit on the top of the bucket and it will be held by a medium such as pebbles. The roots, on the other hand, will be left hanging.
Flood and Drain: This method is also known as ebb and flow. It is also popular for its simplicity. Compared to DWC, it is easier to maintain and it is also more forgiving. With this system, the weed will sit on the top of a pot with rockwool, pebbles, or any other suitable choice for a growing medium. Nutrients will be pumped to the plants.
Drip Irrigation: Also called a top-feed drip system, your plants will sit in a pot with an appropriate medium. Nutrient-rich water will then be pumped on the top of the plant and it will pass through a series of tubes to reach the roots of the plant.
To know more about the best hydroponic nutrients for 4×4 grow tent, read our guide here.
Best 4×4 Grow Tent Setup: FAQs
Before we end this post, to provide you with more knowledge on marijuana growing, here are some of the most common questions that a lot of beginners have and our answers.
How many plants in a 4×4 tent?
It is important for plants to have the space that they need to breathe. When the grow room is crowded, they will most likely die. Diseases can also easily spread. Four plants will be an ideal choice. It should be noted, however, that there are other things that can also have an effect on this, such as the wattage of the light that is used or the strain of the marijuana. Obviously, for bigger strains, you will need a larger space in the grow room.
How to set up grow tent ventilation?
Setting up the grow tent ventilation can be a tricky process for most people, especially for beginners. Generally speaking, there are three main elements that make up a grow room ventilation – basic exhaust fan, duct fan, and carbon filter. The latter is actually optional, but it would be best to have it since it plays an important role when it comes to odor management, especially if you want to have a stealth setup.
There are two ways by which it will be possible for you to bring air into the grow tent:
Passive Intake: This will make use of passive airflow and negative intake. While air will be blown outside, there is no fan that will blow the air inside. If you will choose this for your ventilation, it is important that you have a hole that is four times larger than the size of the exhaust, which will prevent the fan from overworking.
Active Intake: This is going to draw the air directly from the fan. One fan will blow the air in while there is another fan that will blow the air out of the grow tent.
What wattage of light is ideal for a 4×4 grow tent?
Based on the opinions that have been shared by marijuana growers online, a 4×4 grow room needs to have a light with 600 watts. Of course, there are still other factors that will come into play, such as the type of the grow light that you will use. Pay attention to the on-off cycle of the light, which will depend on the stage of the growth of the plant.
What are the best strains of marijuana for a 4×4 grow tent?
A 4×4 grow tent is limited in terms of its size, and hence, you need to choose marijuana strains that do not grow too big. With this, some of the best strains that you might want to include on your list include Purple Haze, Madonna, Gold Leaf, and Bubble Gum.
What is the optimal temperature for a 4×4 grow tent?
There is no definite answer to this question. On average, the temperature needs to be anywhere from 70 to 80 degrees Fahrenheit, which will also depend on the requirements of the plant strain that you have. Using oscillating fans will be great to better manage the temperature in the grow room.
Is there a need to use a reflector?
You will benefit from using a reflector in your grow tent, especially if you only have one light. This will help to improve its intensity. Rather than using a hood to reflect light, it would be best to use a tent with Mylar walls to provide a reflective surface.
What is the best height for a 4×4 tent?
In a 4×4 tent, it will be good if the height is between 5 to 7 feet. This is a proportionate size to make sure that the internal environment is just right for the growth needs of the marijuana. If it is too short, you might run out of space for the light and other accessories. Additional height will allow you to grow larger strains and to use more powerful lights.
Wrap Up
If you are interested in growing marijuana indoors, the best grow tent setup needs to be one of your most important concerns. More than the tent itself, you also have to be meticulous when choosing the accessories that will be needed to ensure the healthy growth of the cannabis. Keep an eye on the products that have been mentioned above, and for sure, it will be easier to get started on the right foot!