Building a grow room is one of the most important when it comes to indoor gardening. It provides a controlled environment that is suitable for the growth of your plants. Humidity and temperature are two of the things that you have to manage. This is where the importance of an inline fan enters the picture.
As an indoor grower, I know the struggle of choosing the right equipment to use. With this, I have personally curated this best inline fan guide, which will provide you with insights on some of the top products available on the market.
More than listing some of the top choices that are available on the market, I will also be sharing valuable insights that will help you to understand the importance of an inline fan and how to evaluate the options.
Read on and be an informed buyer! This will make it easier for you to pick the best inline fan for grow room.
What Is an Inline Fan?
An inline fan also goes by the name of duct fan or duct booster fan. You can have it attached to an existing ducting or install as an aftermarket piece. In a nutshell, its function is to provide ventilation in an enclosed environment. It is used for managing air, humidity, and temperature in the grow room, which will be vital in the health of the plant.
Inline fans can also help in keeping the grow lights cool. It reduces the amount of heat that is generated by the lights and that reaches the plants. In some instances, they also come with screens, which will be effective in keeping pathogens out.
Why Is Ventilation Necessary?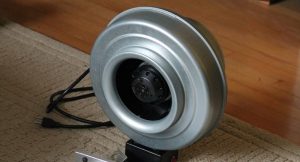 Why bother with the installation of a grow fan? Well, the answer is because you need to provide ventilation to the plant. Whether it is cannabis or any other plant you are growing, being in a well-ventilated environment will be vital to its overall growth and health.
If you grow the plants in an open garden, they get to enjoy the cool breeze. The air, rain, and sunshine, among others, contribute to their health. Indoors, however, the same thing cannot be said. With this, ventilation is important as it makes the environment more conducive.
Ventilation is important because it allows you to control the humidity in the grow tent. Plants emit water vapor and this leads to increase of humidity in the room. If this is not controlled, this can lead to the presence of pests and diseases that will inhibit the growth of the plant. Being well-ventilated prevents this from happening.
Meanwhile, plants can also suffer from excessive heat even when they are enclosed. As noted earlier, this heat can originate from the grow lights. The plants can end up being burnt with too much heat. Again, this is where ventilation plays a critical role.
How to Choose the Best Inline Fan
As you search for the best grow room fan, these are some of the most important things that you have to take into consideration:
Material: This is an important consideration as this will be indicative of the performance and quality of the inline fan that you will choose. Steel is one of the most common. In most instances, steel is also powder-coated, providing it with the ability to resist external elements that could lead to physical damage.
Size: The diameter of the inline fan determines its size. The larger the grow room is, the larger is the fan that you will need. This is because it will be more powerful, making sure that the entire area of the tent will be properly covered. If the grow room is small, a 4-inch inline fan will be sufficient. If it is large, a 10-inch fan will be a good pick.
Noise: As it generates air, noise can be an issue. If you live in a small house, the noise can be loud and annoying. With this, settle for a model that generates as little noise a possible. The fan must provide whisper-quiet operation. Innovative features have been introduced in the past to make fans powerful without making a noise at all!
Speed: Do you want the inline fan to run slow or fast? It will be good if you will have the freedom to adjust the speed as desired. With this, so that you will be able to customize it, you need to find one that comes with a speed controller.
Power: The power of the fan refers to how much air it can generate. This is expressed as CFM or cubic feet per minute. The higher the CFM, the more powerful the fan is, and hence, it will be suitable even if you have a large grow tent.
Motor: As you determine the power of the inline fan, you also have to look at the motor, which will have an impact on its overall performance. A high-quality motor needs to be powerful without making a lot of noise and while maintaining energy efficiency. It will also be good if the motor is maintenance-free.
Ease of Installation: There is no need for professional help when installing an inline fan. Choose a product that comes with a user-friendly design so that installing and operating the unit will be a snap on your end. A mounting bracket should already be included. It should also come with detailed instructions from the manufacturer.
Warranty: What happens if the inline fan becomes defective? If it is still within the warranty period, you can return it to the manufacturer. They can have it replaced or repaired, depending on the terms and conditions. At the very list, choose a product with a warranty coverage that lasts for a year.
How to Clean and Maintain Inline Fans in Grow Rooms
With all the dirt and dust that the fan is able to extract in the grow room, cleaning and maintenance should be part of your routine. To do this, here are some of the most important things to keep in mind:
Remove the housing and manually clean the inline fan without the need to take it out of the duct or where it is installed.
If it has not been cleaned for a long time, it would be better to remove the entire fan from its position. Take out the removable parts and clean. Pay attention to the edges. Do not soak in water as there are electrical components that could end up being damaged.
As a part of a routine maintenance, make it a habit to wipe the exterior of the fan so that dirt and dust won't accumulate.
Using a paintbrush will work like a magic trick when cleaning inline fans. Simply brush off the dust on the surface.
Depending on the type of the inline fan that you are using, you can also add a sort of filtration mechanism.
Lubrication can also prove to be necessary. Adding a lubricant to the moving components will help to reduce friction, and hence, noise can be eliminated.
Our Top Picks for the Best Inline Fan
Let me make it easier for you to shop for the best inline fan for grow tent. Listed below are the top choices available, as well as some of the notable features that make them my personal favorites.
1. Active Air 760 CFM In-Line Fan
The housing, which is coated with ceramic, is perhaps one of the best things about this product. It is known for its durability, which is great given the fact that it comes at an affordable price.
Still, with regards to its construction, it should be also pointed out that the AC motor is thermally-protected, which will provide an assurance of its extended service life. The molded impeller also demonstrates longevity.
It is also a good thing that the fan will operate quietly and in the absence of creating too much vibration.
With a diameter of 10 inches, this inline fan is lightweight, which makes it easy to install. Mounting brackets are already included in the kit that you will purchase. More so, with 760 CFM, this is designed for large grow rooms.
2. iPower 190 CFM Inline Duct Ventilation Fan
If you are on the lookout for the best 4-inch inline duct fan, this is one that should be on the top of the list. This is smaller than the product mentioned above, but the performance is never compromised.
In terms of the power, this fan has an airflow of 190 cubic feet per minute, which is for smaller grow rooms. Meanwhile, the noise level is less than 48 decibels, which also makes its operation ultra-quiet. The maximum ambient temperature is 80 degrees Celsius.
It also comes with a ceramic-coated body, which is one of the reasons why it fares well when it comes to durability. Plus, it has a permanent lubrication, which is basically why it requires almost zero maintenance.
For your satisfaction, it is also good to know that the manufacturer is offering a warranty for 12 months.
3. Hurricane 780 CFM Inline Fan
With a diameter of 10 inches and a power rating of 780 CFM, this is another product that is perfect for large-scale applications. If you are a commercial grower, as opposed to a hobbyist, this is an ideal choice.
The inline fan is made of steel with powder coating. With this, you can be confident that it will be impressive in terms of durability.
Mounting brackets are already included in the kit, as well as comprehensive instructions. With the latter, the installation can be completed in just a few minutes.
Lastly, there is a five-year warranty offered by the manufacturer, which should already make you confident that the quality will be hard to match.
4. Growneer 440 CFM Inline Duct Fan
This model has a diameter of 6 inches and an air flow rate of 440 CFM, which is perfect for grow rooms that are mid-sized.
One thing that we loved the most about this product is the variable speed control. With the latter, you will be able to easily customize the speed based on what is most suitable for your plants and grow tent.
It is made of high-quality steel, which will provide a guarantee of its durability. There is also a leather sheath cover, which is beneficial when it comes to the reduction of noise and vibration.
5. VenTech 440 CFM Inline Duct Fan
This inline duct fan comes with a diameter of six inches and a flow rate of 440 CFM. The speed, on the other hand, is 2,730 RPM.
One of the best features of this product is the superior aerodynamic body, which is also known for its durability. The main material used is steel with powder coating, which makes it resist external elements that could speed up wear.
When you purchase this fan, you will also receive a mounting bracket, which will make the installation a snap to accomplish.
This inline fan comes with a one-year warranty from the manufacturer.
6. VIVOSUN 203 CFM Inline Duct Fan
This is an ideal option for small to mid-sized grow rooms as it has a diameter of 4 inches and rating of 203 cubic feet per minute. The fan speed, on the other hand, is 2,500 RPM. It will move air effectively to provide maximum ventilation.
With a noise output of only 49dB, you can expect that it will produce minimal noise, despite the fact that it comes with a powerful fan.
The durability of this model is also unquestionable. Most of the parts are made of galvanized steel. They are also factory-painted, which is beneficial in terms of being able to resist corrosion.
Lastly, it has an aerodynamic design, which will allow it to generate a strong air flow in the grow tent.
7. TerraBloom 100 CFM Inline Fan
With an airflow rate of only 100 CFM, this is one of the least powerful of the products mentioned in this guide, which makes it most suitable for a small grow tent. As an intake fan, it will help to bring fresh air in a controlled growing environment.
The manufacturer stands behind the quality of their product, which is why they are offering a warranty that lasts for one year.
8. Best Quiet Fan: 4″ 47 CFM Silent Inline Duct Booster Fan
In order to properly ventilate your grow space, you will need to calculate the cubic feet per minute your fan needs to be able to move. This Silent Inline Duct Booster Fan from TerraBloom is the perfect option for small to medium grow rooms and is a great choice if you are looking for a fan that is quiet and economical.
This fan is one of the quietest around, measuring only 25 dBa of noise – this is barely anything at all and much quieter than a regular fan. This will mean that you can enjoy you can keep a grow room in your home without having persistent and annoying fan noise. What's more, this fan is also super efficient – using 30% less energy than a regular fan, something your pocket will thank you for when it comes to energy bills. The only negative of this fan is that as it is quite powerful, you may need to purchase a fan controller to go with it.
#Fan_Speed_Controller #Odour_Control #Grow_Room #Grow_Tent #Efficient #Quiet
9. Best Value Fan+Speed Controller : VIVOSUN 203 CFM 4 Inch
In order to control the humidity in your grow room or grow tent, a fan is an essential device. But a simple fan is not all you need, you also need a fan that is fitted with a speed controller – this is so you can keep noise and vibration levels to a minimum keeping you, your plants and your neighbors happy.
This ventilation fan with a variable speed controller from VIVOSUN ticks all of the boxes. It delivers powerful air flow (203 CFM) at only 49 dBa noise level. The faux leather cover surrounding the fan also helps to muffle sounds and vibrations. The only con of this product is that, while it is quiet, it isn't the quietest on the market – but you can rectify this by adding on the VIVOSUN silencer to really keep noise levels to a minimum.
#Fan_Speed_Controller #Odour_Control #Grow_Room #Grow_Tent #Efficient
10. Best Value Fan+Speed Controller: Apollo Horticulture 4" Inch 190 CFM
Investing in a good quality fan for your grow room or grow tent is essential for the health of your plants. This fan from Apollo Horticulture has been designed specifically for indoor growing so you know that here you have a product tailored to your cannabis growing needs. This fan will keep your plants properly ventilated and you can adjust the speed of the fan to your needs thanks to the speed controller.
Promising to create the perfect environment for your plants, this fan also packs a punch with a power rating of 68W and delivering a fan speed of up to 2630 RPM. It also comes with a mounting bracket included so no need to purchase anything extra. The only downside of this fan is that it is a little noisy, measuring at 69 dBa noise level.
#Fan_Speed_Controller #Odour_Control #Grow_Room #Grow_Tent #Efficient
11. Best High-End Fan+Controller: AC Infinity CLOUDLINE T4 152 CFM
Keeping your cannabis plants well ventilated is one of the key requirements of making sure your plants stay healthy when growing indoors. Fortunately, this can easily be done with a fan – particularly one with a speed controller so you can carefully control the temperature in your grow room or grow tent.
This Inline Duct Fan from AC Infinity has an inbuilt thermostat and speed control so that you can get the level just right for your plants and the fan will automatically adjust if there is a temperature change. This fan also runs smoothly and quietly so it won't cause annoyance in your household. One con of this product is the price – it is at the higher end of the market but for this, you are getting a state of the art product.
#Fan_Speed_Controller #Odour_Control #Grow_Room #Grow_Tent #Efficient #Temperature_control
12. Best 300W Fan Speed Controller: iPower Exhaust Fan Speed Controller 350W
If you are trying to keep the noise of fans to a minimum in your grow room or grow tent, then it is well worth looking into purchasing a fan speed controller. They enable you to run fans at lower speeds which helps to bring down noise and vibration levels. With this nifty device, you will be able to precisely control fan speeds without adding any extra cabling into the mix. It also comes with excellent safety features.
The main pros of this product are that: it will ensure you can control the noise coming out of your grow room; you can precisely control fan speeds; it prevents fan motor burn out; it is easy to install;  there are no additional cables, and; has great variability in speed. The negatives of this product are that it can only be manually controlled, meaning that you can't hook it up to smart technology.
#Fan_Speed_Controller #Odour_Control #Grow_Room #Grow_Tent #Fan_Vent_Blower
Conclusion
Now that you are done reading this best inline fan guide, I hope that it is easier for you to make the right choice! With a well-designed and high-performing fan, ventilation in the grow room does not need to be a problem.