Best Sativa Strains: 10 Strains That Boost Your Creativity and Focus
Not all cannabis strain will have the same effect, each strain will have a strong effect on a certain field. And for those who are looking for a strain that has a strong effect on concentration and creativity, you've come to the right place.
Unlike the Indica strains, Sativa has the ability to activate dopamine release for an immediate sense of elation. And this cheerful feeling is often associated with concentration and creativity.
Below we will provide a list of the best Sativa strains which boost your creativity and focus. These strains have been selected by us objectively and hope you choose the right one.
Top 10 Strains That Boost Your Creativity and Focus #1 Green Crack – Best Overall
Green Crack is a good candidate for the top position on this list. Green Crack is not only famous for being associated with Snoop Dogg but it is also favored by the relaxing effect, the energy filled with surprising creativity and concentration.
Green Crack contains very high THC content of about 21% and that is why it has a good effect on the mind. This strain is a cross between Afghani and Skunk, these are two extremely famous and respected strains.
That is also why Green Crack stands out so. It can thrive in any area, indoors or outdoors. This strain also has high yield with trichome-coated buds and that pleases growers.
Growers can acquire about 300g indoor 600g outdoors. This strain can withstand severe weather conditions due to inheriting this trait from parents.
Growers should be aware that these plants are quite tall, so when grown indoors, make sure to provide enough growth space for them. This strain also requires regular trellising.
#2 Blue Dream – Best Effect
Blue Dream is the strain that dominates 60% Sativa and is a cross between Blueberry indica with the sativa Haze. This strain is widely favored for its pleasant effect, good impact on the brain's creativity and its low sedative effects.
Blue Dream contains high levels of THC above 17%, it can help you relax, reduce stress and also help you work more concentrated. Blue Dream is also popular in clinics.
Blue Dream can grow up both indoors and outdoors but outdoors is more ideal. This strain will grow taller quickly and growers might be surprised at this speed.
When grown outdoors, growers should use a preeminent soil to add flavor to buds. As for indoors, hydroponic cultivation is the best option.
Growers should provide plants magnesium, nitrogen and some other essential fertilizers. This strain needs lots of water to flower so growers should also be aware. They will flower after about 8 weeks, and if properly cared for, the highest yield will be about 600g/ plant.
#3 Sour Diesel Autoflower – Best For New Growers
Sour Diesel is a powerful Sativa dominant strain that growers should not overlook. This strain works to improve distraction and uplift and inspire.
The auto-flowering version of Sour Diesel is a strain that promotes plant growth and makes it easier to flower. This version is extremely suitable for newbie growers and those who are not good with plant care techniques.
Sour Diesel Autoflower has high THC content and can bring medical and entertainment costs. It can be grown both outdoors and indoors, Sour Diesel Autoflower is also rated as a strong vitality strain.
This strain is medium sized and does not require too much-growing space if grown indoors. Growers also do not need to equip many expensive light sources to make them flower.
Sour Diesel Autoflower is about 80-160 cm tall and they will bloom after about 9-11 weeks. This may be a long time, but it's worth the wait. This strain will delight you with high yield and dense buds covered in resin.
#4 Jack Herer Autoflower – Best Sativa Autoflower
Jack Herer Autoflower dominates Sativa in which Sativa accounts for 70%, 20% Indica and the remaining 10% Ruderalis. This strain retains the prominent features compared to the original version but improves flowering ability, helping growers care easier and more leisurely.
According to our assessment, Jack Herer Autoflower is the best Sativa autofower strain. This strain has a positive effect on the mind, helps reduce stress and increases the ability to be creative with new thoughts. It is also a highly effective auto strain and suitable for all growers.
Jack Herer Autoflower contains a high THC content of about 16.25% – 20% and a low CBD content of 0.14%. This strain can thrive both indoors and outdoors. But they are especially growing quickly and giving the highest yield under the Mediterranean climate.
This strain flowers quickly after about 8 weeks. Plants are resistant to pests and mold attacks and bring the thickest buds to growers.
#5 Durban Poison – Best Strain For Energy
Durban Poison is an extremely powerful strain of Sativa, which first appeared in South Africa and later became a rare and top quality strain. Durban Poison contains high THC content from 17% – 25%, it is considered as a medicine that can fill the body with energy and creativity.
Durban Poison is just like its name, it makes people unable to resist the natural flavor and eye-catching appearance. This strain provides chunky, heavy buds and has immense resin glands. Besides, it is impossible to ignore trichomes covering all over the plant.
Durban Poison can grow in many different conditions, indoors or outdoors is not a problem. However, they will grow to a fairly large size so growers if do not want to be noticed should grow them indoors.
And when growing indoors, Durban Poison also gives higher yields when planted outdoors. Growers can collect about 550g indoors. And growers should also pay attention to the choice of hydroponic cultivation to get the highest yield.
#6 Chocolope – Best Strain For Focus
Chocolope is a cross between Cannalope Haze and OG Chocolate Thai, it contains a fairly high THC content of about 17% and brings many positive effects. Chocolope is a pure strain of Sativa, it will make you satisfied with the smell of sweet chocolate and help you relax, increase concentration.
Chocolope is suitable for both beginners or experienced people. It is also rated as easy to grow strain and very resilient, strong. This strain can grow up strongly both indoors and outdoors, but ideally outdoors because it prefers sunlight and large spaces to grow.
Chocolope is also suitable for beginner growers, you do not need to worry if you make mistakes when taking care of plants. During the vegetative process, this strain can consume quite a lot of water and nutrition so growers don't need to worry about watering or overfeeding.
This strain will flower in about 9 weeks with beautiful and dense buds. Growers can harvest about 600g / m2 outdoors and plants can be up to 150cm tall. Growers can completely enhance the yield of this strain by pruning techniques, SOG and Scrog.
#7 Trainwreck – Best For Spirit
Trainwreck is a potential Sativa strain and is the leading candidate in the menu at coffee shops. Trainwreck is also considered a perfect dessert to use in the evening or late at night.
Trainwreck is an easy to grow strain and can grow in any environment. It not only pleases growers but also smokers. This strain brings relaxation to the mind, provides mental energy to help you increase your creativity.
This strain contains an average THC content of about 16.5% and a CBD level of 0.49%. Growers can grow it both outdoors and indoors. These plants grow up quickly and strongly under warm climates, like those near the equator, and they also like lots of light.
Growers just need to pay attention to providing all the necessary nutrients and some fertilizers and pesticides, mold. If taken care of them properly, growers will harvest about 250g.
#8 Amnesia Haze Autoflower – Best Taste
The Amnesia Haze Autoflower is a hybrid of popular strains, the Amnesia Haze and the Cannabis Ruderalis. It's made for a perfect alternative for growers who want a different variety of Amnesia Haze that is flexible to grow and has auto-flowering capabilities.
This green has a growth cycle of 65 to 90 days. Grown indoors, you should expect the green to reach heights of 55 to 90cm, with a lush yield of around 355 to 450 g/m2.
On the other hand, if you choose to grow this green outside, you should expect the green to reach heights of around 95 to 130cm and a startling yield of between 130 to 180g/plant.
The Amnesia Haze Autoflowering is perfect for daytime smokers, leaving you feeling energetic and alert. With a decent 16% of THC, this strain gives off a lemony citrus taste and gratifying demeanor.
#9 AK-47 – Best Sativa Hybrids
AK-47 is the best Sativa hybrids we can find. This strain brings a relaxed, happy experience, thereby improving mood, filling the mind with creative ideas.
AK-47 is a strain that is not too easy to grow but does not require growers to have a lot of complex techniques. With a THC content of 19%, the AK-47 is favored by many smokers for gatherings or relaxing afternoons, the popularity of which makes growers more likely to grow this seed.
This strain also has a high yield, about 500g outdoors and 600g indoors. If well cared for, they can be even more productive.
With this strain, growers need to take care to prevent mold and root buds. They are quite sensitive to moisture, so they are susceptible to mold attacks. This strain has a relatively short flowering time of 7-9 weeks when flowering produces a very strong fragrance so if growers do not want to be noticed, they should be grown indoors.
#10 Little Dwarf Autoflowering – Best Size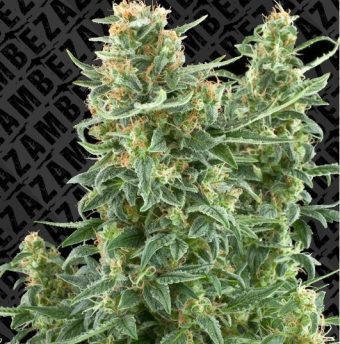 Just as its name implies, the little dwarf is a slow grower. A perfect companion to Sativa growers who don't want anyone to know what's up in their gardens. The strain is as you imagined, a short-statured shrub.
This green can reach a height of 35 – 80 cm under 50 to 60 days. However, this should not be a ticket for you to underestimate this green, its yield is well over impressive. Its auto-flowering nature and manageable size make the little dwarf newbie-friendly and are perfect if you're growing your first garden pot.
Little dwarf boosts of 14% THC and indoor yields can reach a high of 200 to 260g/m2, while if you decide to take it outside you can achieve returns of 45 to 90g/ individual plant. Little dwarf gives off a pleasant aroma, with a touch of spiciness. The high from this green can spike creativity and leave you feeling content and joyous.
Why Should I Choose Sativa Strain To Improve Concentration and Creativity?
If you are very familiar with your cannabis, you will know that selecting the appropriate type of cannabis to consume can be such an arduous task. You will want to grow the right Sativa strain perfect for your taste; whether you desire creativity, Focus, medicinal properties, energy, or you want to experience the excellent high, there is a Sativa strain just for you.
Sativa strains are dominant taller cannabis plants with a more elongated growth pattern; it also produces longer buds. Sativa is also known for its more uplifting effect. Sativa plants are known to reach heights of 2.0 – 4 m, if the weather is very favorable, they can reach as high as 5- 6 m.
Also, Sativa strain is considerably affected by the environmental climate in which they grow. If you chose to grow this lush green weed in a warm environment the color of the plant will become somewhat reddish, on the flip side, if you grow the dense green strain in a much colder climate, your Sativa plant could have the colors of purple hues or even purple depending on other varying factors.
Contrary to Indica, Sativa leads to the trigger for the release dopamine, giving you an elated feeling, often this feeling is associated with creativity, energy, and Focus.
Unlike many beliefs, using Cannabis strains will not inevitably lead to laziness and a calm demeanor. Sativa strains are also known to boost energy and promote drive.
The science behind how Sativa boosts energy and positive drive is linked with the CB-1 and CB-2 cannabinoid receptors located in the brain. These receptors are, in turn, connected with the body's dopamine levels. When the dopamine levels in the body peaks, a feeling of pleasure or reward are often associated.
Sativa strains is usually associated with calmness and relaxation. The image a lot of people paint when thinking about smoking the green herb having a laid back, red-eye, and having phlegmatic nature (not talking much).
While there are several strains of Sativa that give this calm demeanor, there are also strains that provide the total opposite. So many Sativa strains can get you laser-focused, energetic and make you cognitively high to concentrate better.
These Sativa strains are suitable if you want to sit down and get the job done, write, paint, read, or code. A lot of athletes and sports individuals also make use of these strains before every workout session to boost alertness and even enhance performance.
Final Verdict
To boost creativity and concentration, there's nothing better than a Sativa strain. And to satisfy your personal or commercial needs, you should be aware of each strain. Hope you can choose the Sativa strain that best suits you in the list above.