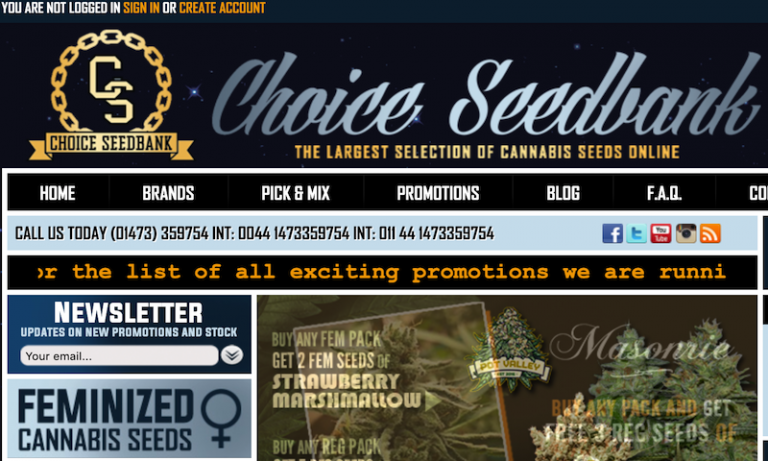 Origin: United Kindom
Support (Mon – Fri: 9am – 5pm ): Phone: 0044 1473 359 754, Email : [email protected]
Mode of Payment: Debit/Credit cards, postal/money orders, from within the United Kingdom, prepaid visa cards, and cash
Days of Delivery in the U.S.: Approximately 25 days, although most can receive them within 6 to 12 days.
Shipping: Worldwide
To help you out, here are the high times top seed banks that work in any country.
Choosing a seed bank is not an easy task
From product quality, attentive customer service, discreet shipping, and more, it may seem like an impossible task to find a company that ticks all the necessary boxes.
Choice Seed Bank is one of the most trusted seedbanks basically because they ship to wherever you at. This is unlike many European seedbanks that deliver their seeds only in countries that are part of the European Union.
Why you should buy From Choice Seed Bank
All of the seeds are developed only by expert breeders. They are hand-checked and undergo stringent quality control. On average, their seeds will have a germination rate of up to 90%. Whether you are a beginner or connoisseur, they have a strain that will be perfect for your needs. They have feminized, regular, and auto-flowering seeds for anyone.
And also their stealth shipping is guaranteed. The seeds will be hidden inside a product that is unrelated to marijuana. There is also a tracking code in each packaging. There is no need to fear that you won't receive the seeds you have ordered.
Pros of  Choice Seed Bank
High-quality seed genetics Lab-tested strains
The website has lots of information for growers
Cons of Choice Seed Bank
High credit card processing fee
High order minimum to receive free shipping Not a vast selection of strains
Delivery and Packaging
No one wants to wait for a long time before their seeds arrive after ordering. With this, check the delivery times from the website and make sure that it won't take long before it finally comes on your footsteps.
To add, the Company should also provide stealth packaging. This means that it will be shipped as a discreet product. Nobody would know that there are seeds inside the packaging, which will also minimize the likelihood that it will be intercepted. If the packaging is suspicious, the concerned authorities will have it blocked.
Strain Selection
When choosing a reputable seed bank would be the number of seeds and strains that are available. Whether you need Indica, Sativa, or hybrid strains, they should be possible. More so, whether you are looking for regular, feminized, or auto-flowering seeds, the seed bank must offer them.
If you are still a learner, you have to think of the purpose why you are growing marijuana to choose the strain that will be suitable for your needs. For instance, if it is for medical marijuana, Northern Lights and White Widow are some of the best strains. If it is for having a good sleep, on the other hand, White Rhino and Bubba Kush will be excellent choices. For anxiety, choose White Fire Alien or Juliet.
Choice Seed Bank Top Comments

Comments #1: ok so i ordered on march 14th and i recieved them march 25th. packaging was great all seeds were intact, though not in breeder packs 🙁 but with a larger order or pick and mix orders i can understand then having to take them out i guess.. I didnt have ANY problems with ordering or shipping and will definetly be a returning customer. I can reccomend this company to get your beans to your door safe and discretely.. i took advantage of their bitcoin promo and got a nice little promo for using them
Comments #2: Hey everybody I've used the tude for all my orders with no problem.but recently tried choice seed bank do to the tudes credit card issue, well placed a order and they gave a tracking number when I went to check it royal said they don't recognize the tracking number I emailed them twice about this issue and still have not heard back its been about a week so I feeling a little sketchy bout these guys
Comments #3: Well its been a week and still not able to track so I guess I'm out of two hundred dollars no more choice seed bank
Comments #4: yes these guys are legit and this is 100% attitudes sister site for anyone doubting. and the package definitely originated and was sent from the UK
Comments #5: Very legit and a happy camper
Comments #6: Every time I search for choice seeds or choice seed bank, google nor yahoo will display the choice seed bank result. I have to come to this thread and click the link in order go to the site. My computer blows.
Comments #7: Placed order on 26th received them today, I'm a little worried about the strawberry banana it looks really small and immature
Comments #8: My tracking numbers not working either. Its been 6 days since shipped. Not that worried about it. They are a stand up company. I have gotten shipments in as little as 6 days in the past to the east coast.
Comments #9: I was toying with getting seeds even though I don't need any, I love the tude. so I was happy to see this website, I had an email my purple pineberry was in. ( edit – apparently I got the last one it's out again)I decided to wait til this morning and then my order didn't work, but I being in customer service myself, didn't panic. I left the order on the screen and called them. I spoke to simone again. I have spoken to her in the past, so nice. She processed my visa over the phone and asked about the error and said they would look into it.
Comments #10: Ah ya, I don't know what to think. Just got my order in the mail today. Opened up the package, no seeds! Only two bracelets?? I did the "leather goods" shipping option in original breeder packs. I'm really pissed & confused!! I've used attitude since 2009 placing a couple grand worth of seeds. Always received them no problem, I'll call them tomorrow and see what is up. Right now, all I have are 2 bracelets worth $430!!!!
Comments #11: Package WAS NOT opened by customs!! Completely perfectly sealed.
Comments #12: Never had a problem with Choice, except for the credit card not working, just went onto Choice today, had a problem with the visa debit, but as stated in this thread, just choose visa & it works!