DIY Grow Tent – How to build your own Grow Box
When growing weed yourself you get one of the seed banks that ship to usa, canada and make sure that you create the optimum conditions for your plants to thrive. Many growers do this by creating their own DIY grow tent or grow box, while this might sound complicated it really is something you can do with a little bit of thought and effort no matter what your living quarters are like. In this article, we explore how you can build your own grow tent or grow box in just a few simple steps.

Key requirements of a grow tent
For marijuana to grow successfully indoors it needs to be within a controlled environment and good seeds – that is so that it receives the perfect conditions it needs. These are the conditions that you need to control:
#1 Light
The grow tent needs to be 100% lightproof as you want to be able to control the light received by your plants. Marijuana plants need 12 hours of darkness and 12 hours of light so a lightproof space is essential.
To create the perfect lightproof space for your plants you will need:
– LED grow light: for creating the correct light setting for your plants.
– Mylar: this magic material is a highly reflective film which helps to spread the benefits of your LED grow light inside the tent and also blocks out any external light from getting inside the tent.
#2 Airtight
An airtight tent or box is essential both to be able to control the environment and temperature of the plants, but also to keep the smell of the plants contained. It can be pretty potent when growing weed so keeping that stench contained is essential. Making the space airtight will also help to keep out pests that might pray on your plants.
To create the perfect airtight space for your plants you will need:
– Solid material for the frame: usually PVC pipes are a good sturdy choice.
– Mylar: again, using Mylar will help to create a strong and robust grow tent.
– Duct tape: to help everything get secured into place and ensure any gaps are filled.
#3 Temperature
In order to succeed cannabis plants need to be in the correct climate. While we can't all live in the optimum setting for growing weed this environment can be mimicked in the grow tent or box. Marijuana plants need to grow at a temperature of around 20 – 25 degrees Celsius when they are cuttings and seedlings, and around 28 degrees Celsius when the plants are older, not dipping to any lower than 18 degrees Celsius at night.
To create and maintain the optimum temperature for your plants you will need:
– Ventilator: investing in a good ventilator will help to keep your plants at the correct temperature as you can set the desired level and it will maintain this temperature throughout.
#4 Moisture
Any grower will tell you that getting the correct humidity in your grow tent is essential for the success of your plants. Cannabis plants need different levels of humidity during specific growth periods so you might want to think about investing in an air humidifier – depending on the size of the grow tent you are planning on making.
To create the correct level of humidity for your plants you will need:
– Temperature/humidity sensor: you can keep an eye on the humidity in your grow tent by investing in a temperature and humidity sensor – this will let you know if you need to take steps to alter the humidity levels if they are too high or low.
– Air humidifier: with an air humidifier you can set the level of moisture required in the grow tent and then let the machine do the work. A great way of ensuring your plants are in the optimum environment for whatever growth stage they are at.

| Image | Product Link | Price |
| --- | --- | --- |
| | NAVAdeal Silver Reflective Mylar Film- 82 x 47 Inch Set of 2- Garden Greenhouse Covering Foil Sheets, Highly Reflective, Effectively Increase Plants Growth, 100% Environmentally Safe | from $ |
| | VIVOSUN 4 Inch Prefilter for 4inch Carbon Filter | from $ |
| | E26 Socket,Ceramic Standard Medimun Screw Socket E26 E27 Bulb Lamp Holder,E26 Light Socket with Wire Lead for Halogen Incandescent LED Light Bulb (4-Pack) | from $ |
| | Philips T2 Spiral CFL Light Bulb: 6500K, 100-Watt, Daylight, E26 Medium Screw Base, 4 Pack | from $ |
| | iPower GLDUCT4X8C 4 inch 8 feet Non-Insulated Flex Air Aluminum Foil Ducting Dryer Vent Hose for HVAC Ventilation with 2 Clamps | from $ |
| | Hydrofarm Active Aqua Air Pump, 1 Outlet, 2W, 3.2 L/min | $$ |
| | iPower 4 Inch 8 Feet Non-Insulated Flex Air Aluminum Ducting Dryer Vent Hose for HVAC Ventilation, 2 Pack, 4 Clamps included | $$ |
| | Simple Deluxe HIWKLTCLAMPLIGHTSX2 2-Pack Clamp Lamp Light with 5.5 Inch Aluminum Reflector up to 60 Watt E26 (no Bulb Included) 6 Feet 18/2 SPT-2 Cord UL Listed | $$ |
| | Sylvania CFL 2700K 100W Replacement Bulbs (Pack of 6, Model X28161LV) | $$ |
| | KINGSO E26 E27 Light Sockets, 6 Pack Edison Retro Lamp Holder for DIY Projects 200℃ Heat Resistant No Fire Hazard, E26 E27 Medium Screw Light Holder | $$ |
| | VIVOSUN Digital Indoor Thermometer & Hygrometer with Humidity Guage (2 Pack), Accurate Temperature Humidity Monitor Meter for Home, Office, Greenhouse, Indoor Garden (Button Battery Included) | $$ |
| | Simple Deluxe HIWKLTCLAMPLIGHTMX2 2-Pack Clamp Lamp Light with 8.5 Inch Aluminum Reflector up to 150 Watt E26/E27 Socket (no Bulb Included) 6 Feet 18/2 SPT-2 Cord, 150W, Silver | $$ |
| | 50W Led Grow Light Bulb, Led Plant Bulb Full Spectrum Grow Lights for Indoor Plants Vegetables and Seedlings, LED Plant Light Bulb for Hydroponics Indoor Garden Greenhouse and Organic Soil (E26 78LED | $$ |
| | LORELL 6inch Clip-On Fan,2-Speed,5inch Cord,8inchx6inchx9-1/2inch,White | $$ |
| | VIVOSUN Clamp Lamp Light with Detachable 8.5 Inch Aluminum Reflector up to 150 Watt E26 Socket (No Bulb Included), 6 Feet Cord, UL Listed, Pack of 2 | $$ |
| | Sylvania 13W CFL T2 Spiral Light Bulb, 60W Equivalent, 850 Lumens, 2700K Soft White, Non-Dimmable (8-Pack) | $$$ |
| | iPower GLFANXBOOSTER6-a 6 Inch 240 CFM Inline Duct Vent Blower Booster Fan for HVAC Exhaust and Intake 5.5inch Grounded Power Cord, Low Noise, 6inch, Silver | $$$ |
| | Philips 823031 CFL Light Bulb 13W T2 Twister Daylight 6500K, 60 Watt Equivalent; 8-Pack | $$$ |
| | Grow tent flexible trellis net 2 pack , one size fits all. | $$$ |
| | Outcrop Innovations 100w Indoor LED Grow Light Bulb for Growing Plants, Vegetables, and Flowers - 150 Individual LEDs Full Spectrum PAR with E27 Base for Hydroponics Greenhouses Indoor Gardening | $$$ |
| | SANSI 24W LED Plant Light Bulb Full Spectrum LED Grow Light Plant Lights for Indoor Plants, E26 Grow Light Bulb for Hydroponics Greenhouse Houseplants Vegetable Tobacco, Sunlight White UV IR | $$$ |
How to Build Your Own Grow Tent
#1 Make the Frame
Using your PVC piping construct your grow tent frame in the size that you need – bearing in mind that it needs to fit in your ventilator and be able to hold your LED light/s.
Check out this YouTube video on constructing the perfect frame using PVC piping:

#2 Construct the Tent
Now you have the frame in place you can now use your Mylar to create the tent itself. This needs to be applied with the reflective white side on the inside so that it can keep the light in and block external light out. You can secure the Mylar to the frame using a good helping of duct tape. Make sure you leave just one opening to allow you to get in and out of the tent!
Here are some top tips on securing the Mylar (or whatever material you choose to use) to the frame:

#3 Set-up the ventilation system
Whatever system you opt to go for when ventilating your tent you need to ensure that when you build your grow tent you allow for the system to feed in and out. For more tips on how to set up a ventilation system in your grow tent you can check out this article.
#4 Set-up your LED lights
So that your plants receive the necessary light, you can now attach your LED lights to the PVC piping. You can either do this by attaching it to the piping itself, or your LED light might have the capacity to hang from the PVC framework.
How to Build a Grow Tent for under $2
If you are on a budget check out this super easy and cheap way of making a grow tent for under $2!

Conclusion
Setting up your own grow tent couldn't be easier, and with a few simple materials, you can create the optimum environment for your marijuana plants. It's a great way to start in the world of indoor growing and also won't break the bank as most of the materials can be bought from your local hardware store. Good luck!
Homemade grow tent in Toilet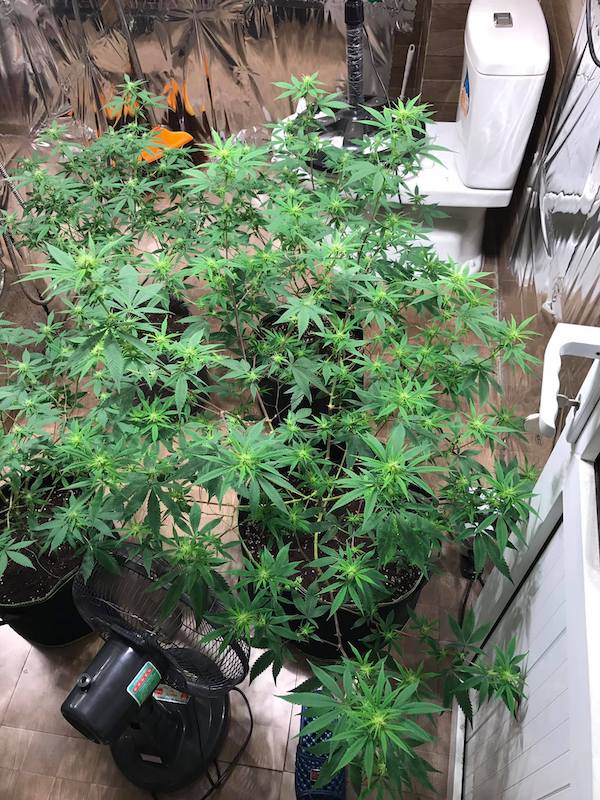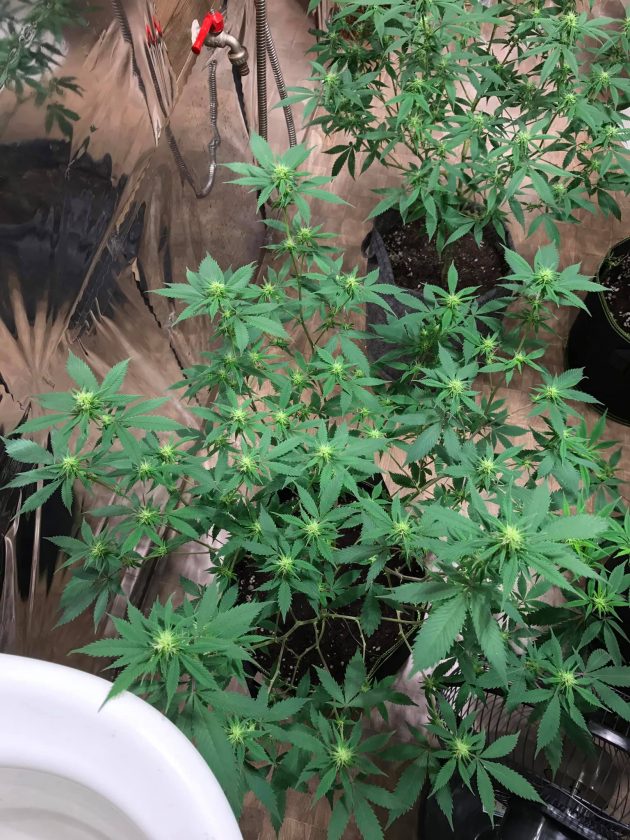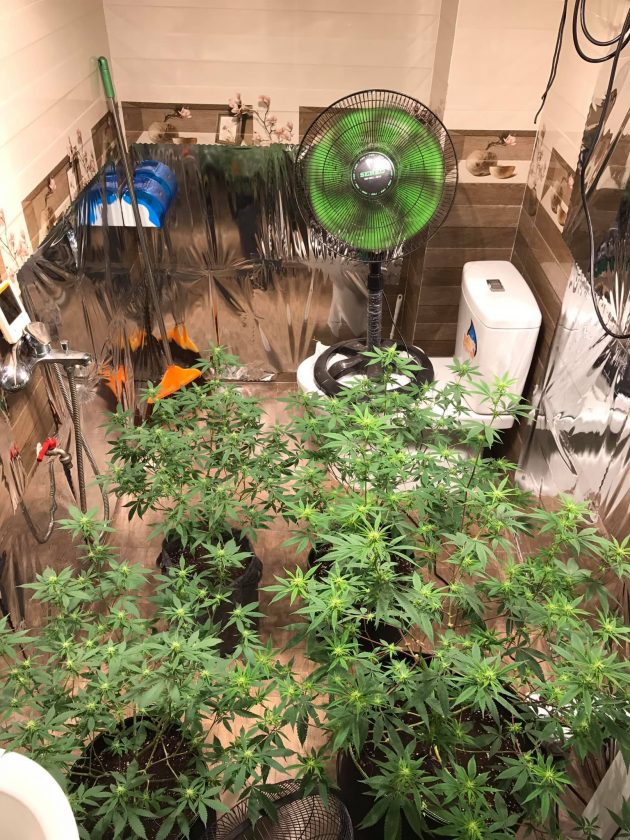 Homemade grow box ideas
#1 Homemade grow box ideas by Caster Caravel
#2 Homemade grow box ideas
#3 Homemade grow box ideas
#4 Homemade grow box ideas
#5 Homemade grow box ideas
#6 Homemade grow box ideas