The best grow boxes allow you grow marijuana discreetly inside while seeming to be ordinary cabinets or drawers at the outside. There's nothing strange about that and no one know that you are growing marijuana. Not only that, marijuana grow box is an excellent solution for who don't have enough land for growing plants or simple want to grow their marijuana in the environment that they can control.
Grow boxes come with everything you'll need to start growing plants inside. The box makes it simple for you to control temperature and moisture levels, reduce noise and smells from growing marijuana process. Marijuana smell is a major issue among those who want to cultivate their own plants at home.
Although growing marijuana at home can helps save your money, purchasing on the best grow boxes is still a significant financial investment. You will want to make sure that you get excellent grow box for your needs, which can automatically maintain the certain conditions of marijuana, helps them grow faster and produce a higher yield. Here are the types of grow boxes and top 10 best grow boxes in the market that may assist you to makes the right decision.
How does a Grow Box Work?
Growing marijuana at home is now a trend among many marijuana enthusiasts and medicinal marijuana users. It seems and sounds like requiring a lot of effort, or that it needs far too much expertise. And once you start digging into things, you'll see how many things you need to do and care about when growing plants by your own.
You have limited space and there is no any extra room in your home. It is even not mention the time you'll have to spend watching plants develop. And if it doesn't function the right way, you've squandered a lot of cash. Buying a grow box seem to fix all these issues.
Many grow box just require you to sow your seeds and doing a few basic procedures then waiting is all the rest of your work. A grow box is a completely closed box that makes a perfect growing environment for marijuana. Except for the seed, you can find all the things you'll need to cultivate marijuana, including lights, fertilizers, growth media, an air ventilation system, thermometer, so on.
A grow box mimics the natural environment for cannabis plants, but also allow you to monitor and adjust some aspects like humidity, ventilation, light, and other elements that impact development because everything is enclosed in a compact space. That means, your plants won't be affected by natural like the weather, soil's quality or anything that could cause your marijuana to yield unhealthy outcomes. This enclosed environment also significantly decreases the danger of illnesses or infections.
Grow Box vs Grow Tent
Many customers mess up about grow boxes and grow tents, and most manufacturers are responsible for this confusing. Because the functions and purposes of grow boxes and grow tents are alike, it's easy to understand why does the mistake arises.
Grow boxes and grow tents are pre-assembled kits provides users with lighting system, constructed watering systems, ventilation systems, and other features that make life easier for indoor growers. Modern and automated equipment and sensible features like automatic timers, digital abilities, and energy-saving techniques are available on both grow boxes and grow tents, making gardening maintenance easier.
Grow boxes and grow tents, on the other hand, range significantly in terms of style, dimensions, and materials. Grow tents are intended for bigger-scale development and culture. They are not designed for stealth or hiding for these reasons. Grow tents may be huge, ranging in size from 24 feet to 1020 feet and occupying whole rooms. They're usually constructed of strong, long-lasting materials like woven Nylon or other industrial textiles. Grow tents has simpler constructions, but they're not as adaptable or as easy to conceal as grow boxes. If you want to hide grow box, you should spend a full room or section in your home to hide it in.
Basically, a grow box is smaller, stronger, and more discrete. Grow boxes can be made of a variety of materials, but they are usually made with extremely durable ones, such as industrial plastic, wood, or steel, are preferred. A grow box is created to fit everywhere in your home and have a pleasing appearance.
Soil vs. Hydroponics
Hydroponics and Soil-based re the two methods of growing marijuana in grow box. The primary difference is that hydroponics utilizes nutrient-rich water solution instead of soil, which includes clay pellets, peat moss, and other materials. A hydroponic setup is used in many grow boxes nowadays since it increases growth speed, makes the process easier, and less messy. However, soil-based solutions have their own set of advantages.
Pros of growing in soil
Cultivating marijuana in soil is the greatest way to do it within low budget and maintain the flavor and quality of marijuana. Sold-based method makes better flavor in the end
To guarantee your plants have all the nutrients they need and boost their health, you can easy provide the plants with fertilizer materials like manure or earthworm castings to your soil. This is what makes soil growing is easier than hydroponic growing.
Beneficial fungus are found in soil
Cons of growing in soil
Growing on soil requires more room, so if you are limited space, this may not the great ideal.
It is more difficult to detect and fix the issues in soil-based systems.
Soil-based growth does not create as much nutrients as hydroponic systems do.
Pests and pathogens can be found in the soil.
Pros of Hydroponics
Increase harvests by giving your plants the exact quantity of nutrients they need.
Pests and soil-borne illnesses would be less of a threat.
Increase adjustment ability, making it easier to fix any problems in the system.
It takes up less space than soil growing and increase the harvests speed.
Automate the growing process by some technology method like deep water culture.
Cons of Hydroponics
It requires more cleaning devices
When compared to soil cultivated, the taste and flavor are less attractive.
Throughout the operation, you will need to pay more concentration on it.
10 Best Marijuana Grow Boxes 2021 for Beginner
#1 Best overall: Grobo Solid Automated Grow Box System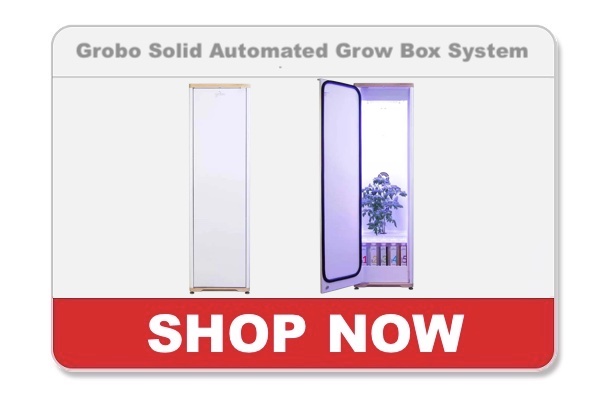 Grobo is the well-known brands in the grow box business. What makes Grobo outstanding is that they allow people utilize technology to make it easier and more efficient to grow healthy, fresh, and high-quality indoor plants. With this Grobo Solid, you can be able to cultivate high-quality plants with cutting-edge technologies. This Grow Box includes all of the functions that can operate automatically and necessary for cultivating plants easily in the shortest amount of time. It is simple to use and does not require any prior knowledge, making it ideal for beginners. You just need to sow the seeds, choose a recipe of growing from the app, and then wait for the marijuana to develop.
Grobo Solid is not only attractive to the eye as it resembles an ordinary closet with elegant design, but it is also quite efficient. Its capacity is 2.9 gallons, which can contain multiple plants, and the smartphone management is convenient as if you are not at home, you still can keep an eye on your plants or monitor the amount of watering and light. Even if marijuana is not the plants you grow, the specialized software of Grobo also provides light and nutrition formulas for many others plants.
The high-tech sensors feature will detect if your marijuana requires nutrition intake. Then, the box will provide it with the necessary nutrients and even adjusts the pH level as needed. Aside from that, it is equipped automated Led lights and temperature sensors. All of these features making Grobo Solid best grow box on the market. However, some reviews report that this grow box is noisy and they found light leakage problem.
#2 Best Hydroponics Grow Box: Cash Crop 6.0 – 2 Plant LED Hydroponics Grow Box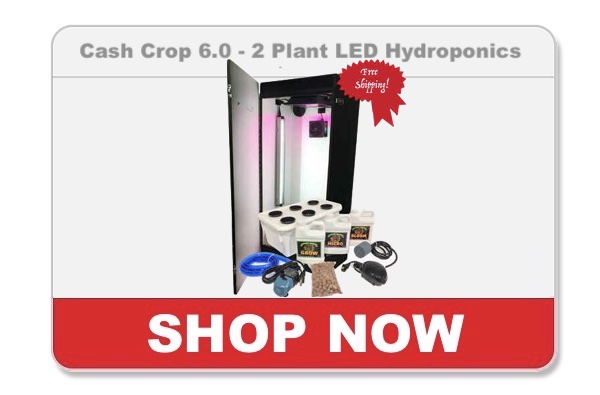 The plant's complete growth lifetime is between 8 and 12 weeks. However, if you choose hydroponics instead of soil, you may speed up the process by two weeks. Besides, hydroponics box also offers for a more hygienic growth environment. The Cash Crop 6.0 now features better LED lighting, more planting rooms, and more intensity to boost plant develop. These amazing characteristics might help you get the most out of your crop.
Because the LED light requires very little electricity, this hydroponic unit is an energy-saving alternative. For newbies, the Cash Crop 6.0 is a fantastic place to get start. It offers everything you need and can be able to cultivate up to six plants.
It's a close system, fully automated grow box. It is also equipped with built-in odor control fans. This is very simple to use as even for those who have never used hydroponics before. Cash Crop 6.0 comes with tech support services for free. The drawback is this this unit does not come with smart apps.
#3 Best affordable marijuana grow box: SuperBox LED Smart Grow Box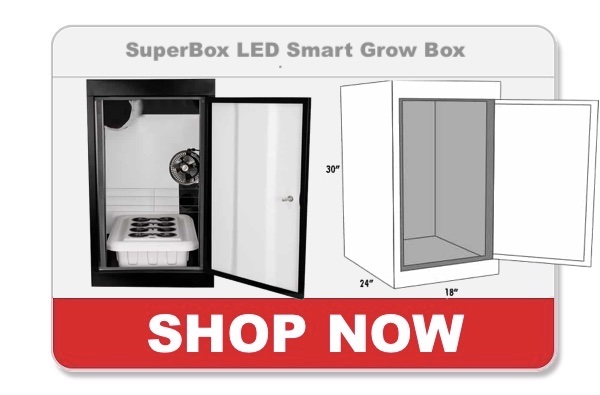 If you are looking for the grow box that comes with modern function, work effectives and affordable price, there is nothing better than SuperBox LED Smart Grow Box. Although this is not the cheapest options out there, this is definitely the best value got the money. In under $1000 segment, this grow box is hard to match since it contains many features that can be found in more costly options.
I love the small, compact size of this box, this is an ideal option for who have limited space, or lower ceiling for indoor gardening. It is available in both Hydroponics and Soil configurations. With the hydroponics arrangement, this box can accommodate enough room for eight plants or six plants if you choose the soil configurations.
SuperBox LED Smart Grow Box include mart-tech, so you just need to download app to manage light and water schedules by any smart phone or tablet. It features a WiFi GrowCam, which can help you watch your plants inside the box via your phone.
#4 Best discreet marijuana grow box: Green Goddess Supply The Armoire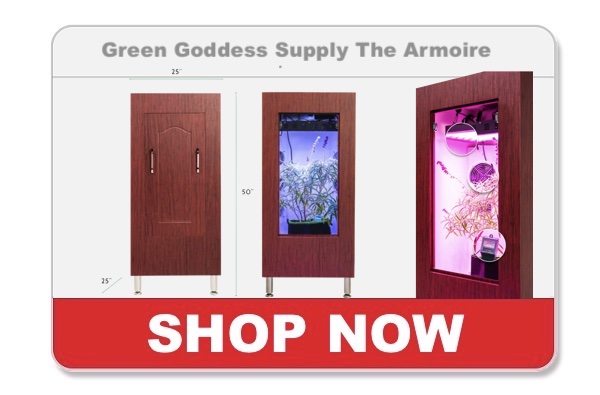 This Green Goddess Supply – The Armoire is absolutely the most easy-to-use, quality and discreet way to cultivate marijuana plants. Since it resembles a part of home décor, it is not only incredibly inconspicuous grow box, but it perfect unit for people who have nowhere else to place their grow box except their bedroom or living room.
The box is equipped with all the essential features to establish a perfect condition for marihuana to developed such as Air circulation fans, 12 spectrum timed light, temperature and humidity thermometer, childproof automatic lock.
#5 Best large grow box: Superclost – SuperNova Smart Grow Closet
The SuperNova Smart Grow Closet is considered as one of the biggest grow closet. With measurements of 78 inches high and 46 inches wide and 24 inches deep. the size appears even more remarkable if you know that its room can hold up to 12 large plants in a hydroponic system and 8 large plants in a soil setup.
SuperNova Smart Grow comes with all the things plants need to healthy grow indoors. It includes carbon air filtration technology & lockable door for odor control, dual growing chambers helps you shorten the time between grows, buil-in hygrometer and thermometer. With all these features, you do not need to spend more time or money and it do not require any experience.
#6 Best compact grow box: SuperStar Smart Grow Box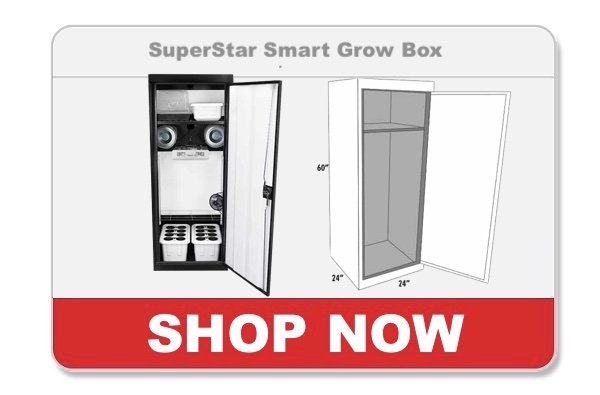 It is very hard to find the other one that can beat SuperStar Smart Grow Cabinet in term of compact dimensions but still provides large yields. This is why this device is one of the best-selling grow cabinet of SuperCloset. This grow cabinet has a lot of features but still small enough to fit into any area if you have tight space for indoor gardening and do not drawing notice.
This compact and durable indoor growing box has everything needed to get started growing right away. It looks like a regular cabinet, allowing hide your secret grow box from prying eyes. It also features a lockable door secures and made with heavy-duty steel material. This little unit can be placed at any space while providing sufficient growing space for marijuana.
It is designed with a dual-chamber compartment. Seeds are planted in the top chamber for germination. The lower chamber may be used to produce veggies and flowers. The grow box features smart control system, which allowing you to check the development process of plants and LED illumination from your phone or tablet.
#7 best grow box kit: Grandma's Secret Garden 6.0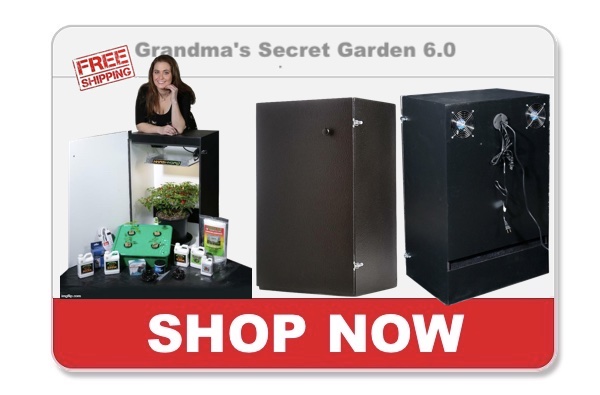 Grandma's Secret Garden will be the great grow bow for beginner who doesn't have any experience about hydroponic growing but still received the advantage of it. This is because the starting kit includes everything you'll need to grow your marijuana plants by a simple hydroponic setup.
to grow up to four cannabis plants. The Grandma's Secret Grow Box includes a handcrafted wooden grow box with LED illumination. It also comes with a set of convenient fertilizers and a hydroponic system feeding timetable. You can be able to grow 20 times quicker by this Grandma's Secret stealth grow box than what you could with other normal planting methods. In addition, this grow box comes with a lifetime warranty.
One more thing I love about this grow box is that it comes with a lifetime warranty. This unit may require you an initial investment. Nonetheless, it will begin saving up to thousands of dollars over the course of the year.
#8 Best Value for the Price: Stealth Grow Box – Hydroponic LED Grow Box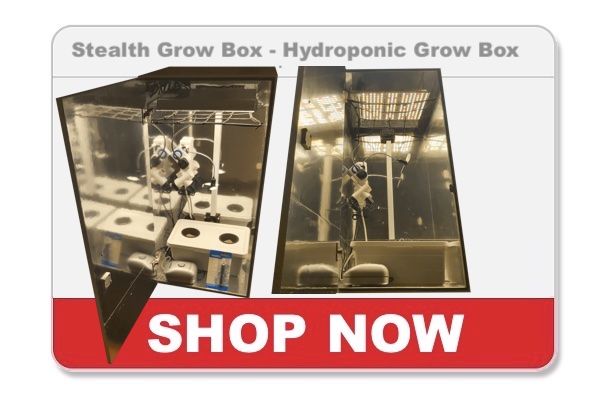 The drawback of this grow box is that Stealth Grow Box only available in Europe and UK. But if you are living in the Europe and UK, this unit is absolutely incredible option as it offers the perfect balance of price and quality.
With under $1000, this grow box can provide large yield that will astound even the most seasoned gardener, and you can upgrade yours cultivate experience with a variety of modern features such as temperature and humidity meter, nutrition sensors, double activated carbon filter, webcams, LED/CFL lights, and more. This LED Hydroponic Grow Box is the combination of quality with lush growth to give an economical choice for growers.
#9 Best Grow Tent for Hydroponic: MELONFARM Grow Tent Mylar Hydroponic
Although Mylar hydroponics not all-in-one as other grow box, it does not come with modern and automated features, it also requires experience to successfully grow health plants. However, it is a very affordable and commercial option. Mylar hydroponic grow tent system is a high-quality grow tent of Melonfarm. The tent kit includes the body, metal poles, connectors, and a bottom tray. It also provides an easy-to-follow instruction. There are no tools needed to assembled this tent thanks to a professional instruction.
The tent has observation window that allows you to keep an eye on your plants and the groeing process without opening the tent. The MelonFarm tent is made out of superior 600D canvas thick cover and lined with highly reflective Mylar inside, what make it the durable and long-lasting tent.
Additionally, the canvas is non-toxic, tear-resistant, and double stitched. The Mylar lining is completely reflective, allowing light to be reflected, intensified, and maintain temperature more effective. Thanks to the zipper and thick material, light and odor cannot be leaked out, and the tent's condition is constant within.
Ventilation holes are designed for circulation and to transmit power cords and wires from the interior to the outside as necessary. Melonfarm provides 30-day refund guarantee for their products as well as a 20-month warranty.
#10 Best Large Grow Tent: OPULENT SYSTEMS Hydroponic Mylar Water-Resister Grow Tent
Opulent Systems Grow Tent could be your perfect option if you're seeking for the greatest marijuana grow tent that is larger than other selections. There are 8 sizes of tent to choose that ranging from 24″x24″x48″ to 120″x60″x80″.
It is made with mylar lining inside. This lining layer is made from 98% highly reflective water-proof mylar, which support plant growth. It features a zipper, which prevent light leaking and also light spilling form the outside to protect your plants from dirt, bugs, pests, and this is another feature we appreciate about this tent.
The grow tent is constructed of tough materials, including a 600D fabric with double stitching. Easy-to-use another aspect that makes it is appreciated by many beginner gardeners. Even if you have never use grow tent before, it is straightforward and easy to setup.
It also features a visible observation glass for simple supervision, a detachable tray bottom for maximum hygiene. There is also a storage bag to keep your tools and supplies in place. These things are just a few of the wonderful features.